Now, what's not to like in Pasta ? Actually for a veryyyy long time I didnt quite like it. Till the McDonalds / Pizza Huts came to India. Even then Pizza was the ultimate Italian dish. But Pasta, ummmm.. has been a slow entrant for my palate, although not for my kiddo. Like most kids her age, she has swung between I-hate-pasta to Make-pasta-everyday stages, often confusing me with her erratic demands to make or not to make them ! 
Till finally (and what appears to be a plateau), Pasta seems to stay. Although she loves Pasta in Red Sauce like her dad, I quite prefer it in White Sauce. Of course, there are a zillion ways to make it low cal and low fat too – which is quite today's dish :  3 – Pepper Pasta in Low cal White Sauce. 
Adapted from Charul's recipe here (whose blog I am paired with for this edition of Blog Hop Wednesday), as usual I gave it a mild twist to make it more Indianised (and suit my personal palate). Charul's blog is very attractively and aesethetically designed,with each recipe almost calling out to be read and savoured. And for many days after the Blog Hop Schedule was announced, I kept deliberating between the Kalakand and Panner Gulab Jamun -from her blog -both my personal favourites. But then Pasta won finally, and I am glad I liked it 🙂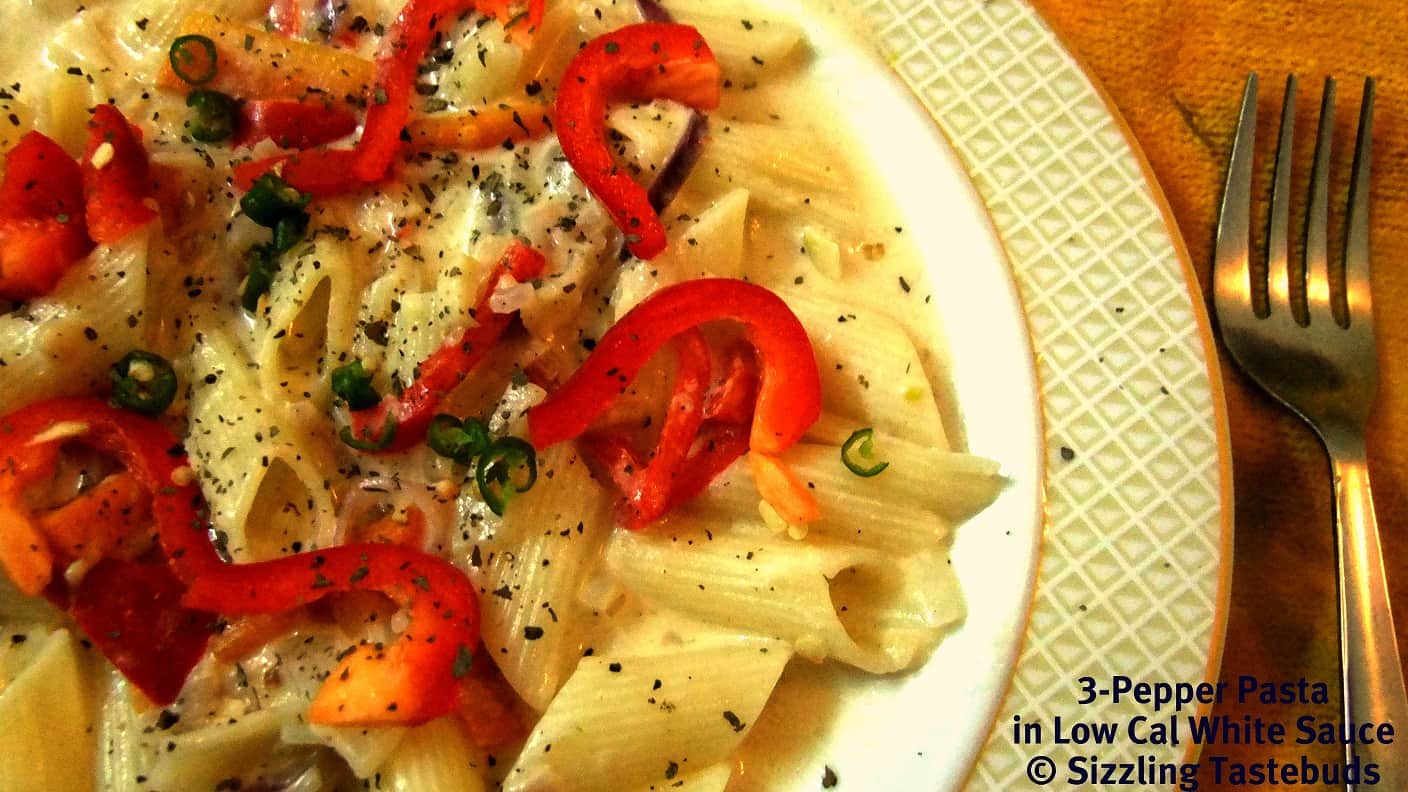 Pin

And after a long time, this must be the first dish I ever cooked to my own liking, without having to bother about leftovers or if the family likes it. For S and kiddo, I made it with Tomato sauce (recipe coming soon). And Penne is our all time favourite. So, instead of the shell pasta in the original recipe, I used Penne in White Sauce. You may also bake this dish in the oven if you so wish. 

This goes directly to :

Prep time : 10 mins. Cook time : 15 mins.Serves:2

Serving Recommendations :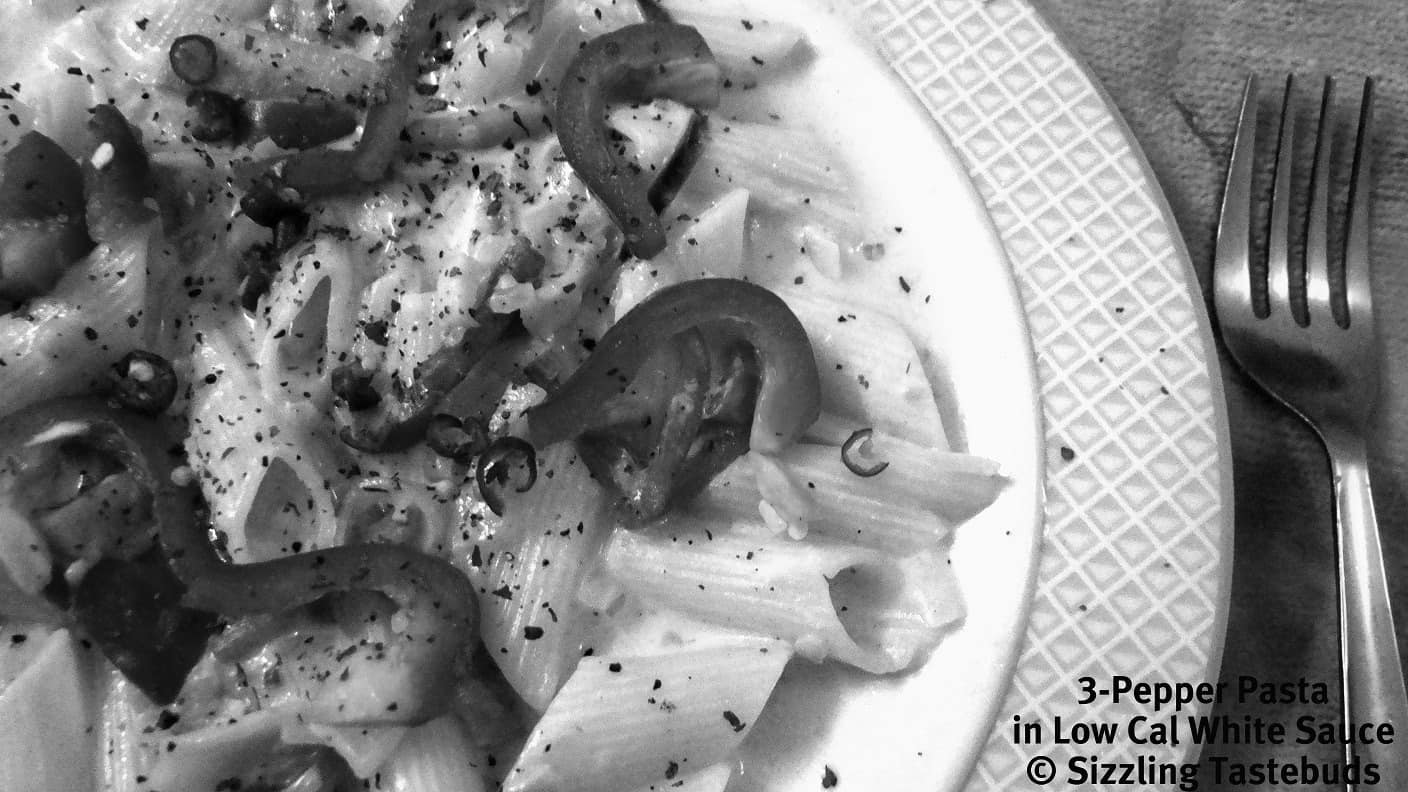 Pin
Ingredients:
Pasta – any shape – 1/2 cup ( I used Penne)
Olive Oil – 2 TBSP
Salt – to taste
Bell peppers – 1/2 cup – cut into strips (I had Red peppers so used them)
Green Chillies – 2 nos – finely chopped.
Tomato Sauce – 1/2 TBSP
Tabasco sauce – 1/4 tsp

Grated Cheese – 2 TBSP (the more, the merrier)
For the Sauce:
Whole wheat flour – 3 TBSP
Skimmed Milk – 1.5 cups
Black Pepper Powder – 1 tsp (adjust to taste – I like my pasta quite spicy, and hence the 3 peppers)
Salt – a pinch
Topping:
Dried herbs (mixture of oregano,basil & Red Chilli flakes)
Method:
1) Boil pasta with little salt and as per pack instructions. Drain and drizzle 1 TBSP of Olive Oil into it. 
2) For the Low Cal White Sauce: 
Heat 1 TBSP of oil. Add the Whole wheat flour into it and roast it till a nice aroma wafts out. Tip in the boiled skimmed milk and vigorously whisk it in. Turn heat to low, and add salt, black pepper powder. Let it simmer for 3 -4 mins till the White Sauce reduces slightly. 
3) Add the boiled pasta, chopped green chillies, Tabasco and Tomato Sauces. Give it a nice stir. 
4) Transfer to serving plate and top it with dried herbs & grated cheese.
5) Enjoy warm along with any bread and/or soup.