Red rice idly was my first initiation into delicious vegan dishes .As part of my journey & toe hold into vegan dishes, this and many other dishes called for no dairy or processed / refined products yet served wholesome filling and tasting food. I had this first at a Sharan seminar (google sharan-india.org for more info).
Honestly I was skeptical when I heard of this, but if anyone did a blind tasting of this dish (literally speaking), they couldn't tell the difference. Diabetics benefit greatly from this Idli as its wholesome and filling. Folks at home (husband and mom) loved it a lot, and gave a thumbs up ! The elder one ate the idli reluctantly but both kids loved the dosa made from this batter. We had these Idlis with Raw Turmeric and Ginger Chutney.
Made with Whole black Urad dal (that's the protein source for today) and whole red rice (unpolished), this is yummy with tiffin sambhar and / or any chutney.
It's so filling that with just 2 idlis, your fibre and wholegrain quotient for the day is taken care of. If you are Idli fans like we are, take a look and do make this. I can assure you would be floored.
I haven't made any changes to the original recipe. But do ferment it a bit more as it's wholegrain and unpolished, it takes a little more time to ferment and also cook (approx 12 mins per batch)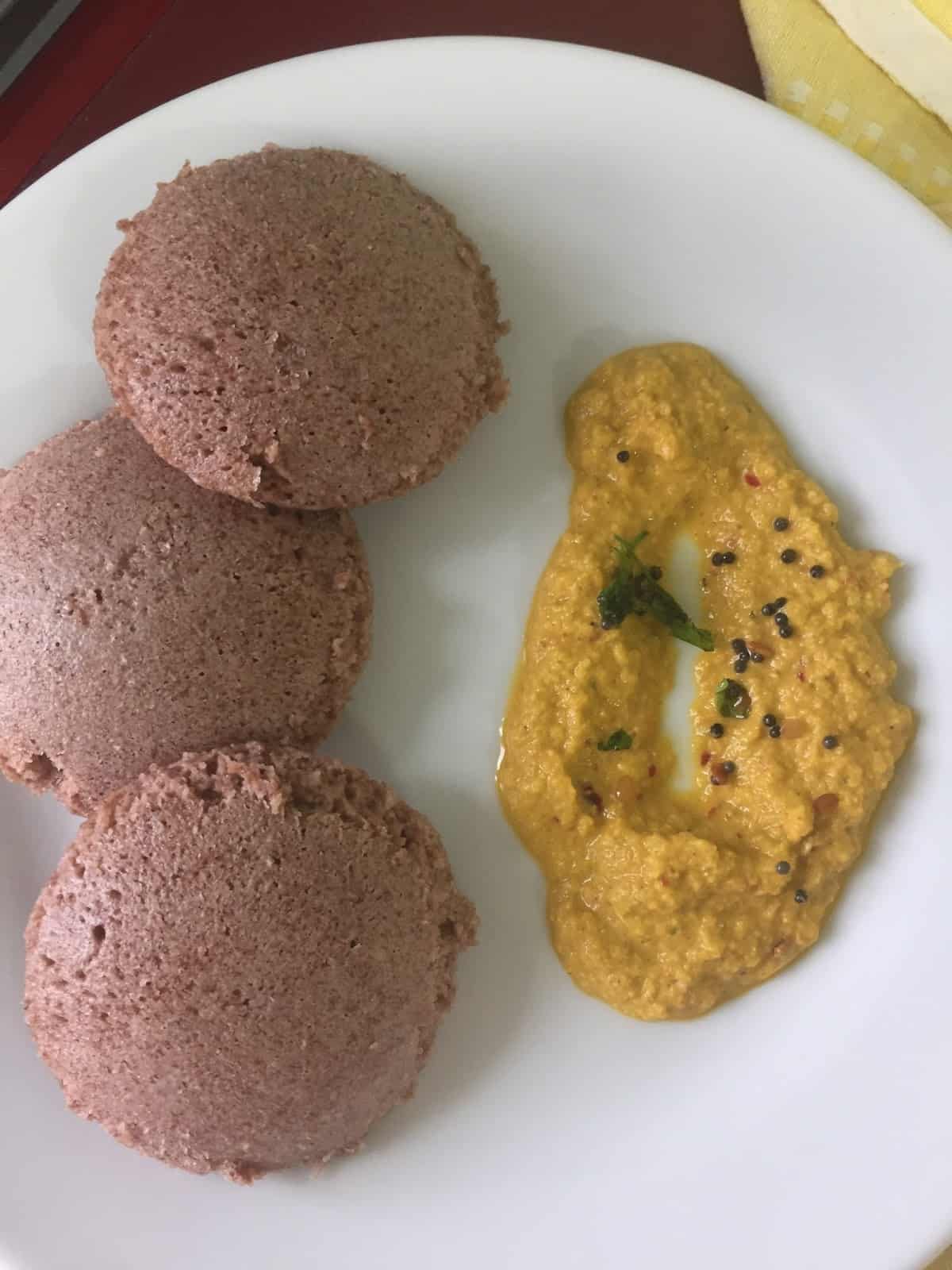 Pin

Red Rice + Whole Black Urad Dal Idli – GF and Vegan Dish

Cuisine : Indian | Course : Breakfast or Dinner Ideas

Served with Tiffin Sambhar or Chutney

Protein Source : Whole Black Urad Dal (unpolished)

Black Whole Urad dal (unpolished).

Pic Source : here

Prep time (including soaking) : 6 hours, grind : 20/30 mins ; Fermentation : 8-10 hours (or overnight till mildly sour)

You would need
4 cups unpolished red rice
1 cup whole (black) urad dal
1 tsp fenugreek seeds
salt to taste
How to :
Wash and Soak the dal and rice separately for 6 hours. Soak the fenugreek (methi dana) along with the Urad.
Grind the dal till fluffy adding the soaked water a bit at a time. Remove to a bowl.
The red rice is extremely hard to grind despite the soaking, so grind to a coarse batter adding 1-2 handfuls at a time. This takes 20 mins minimum
Add the ground Urad dal and grind for 4-5 mins more.
Add salt and ferment overnight.
Next day, beat the batter well and spoon into greased idli moulds.
Steam for 10-12 mins.
Unmould and serve hot (Doesn't taste good while eaten cold)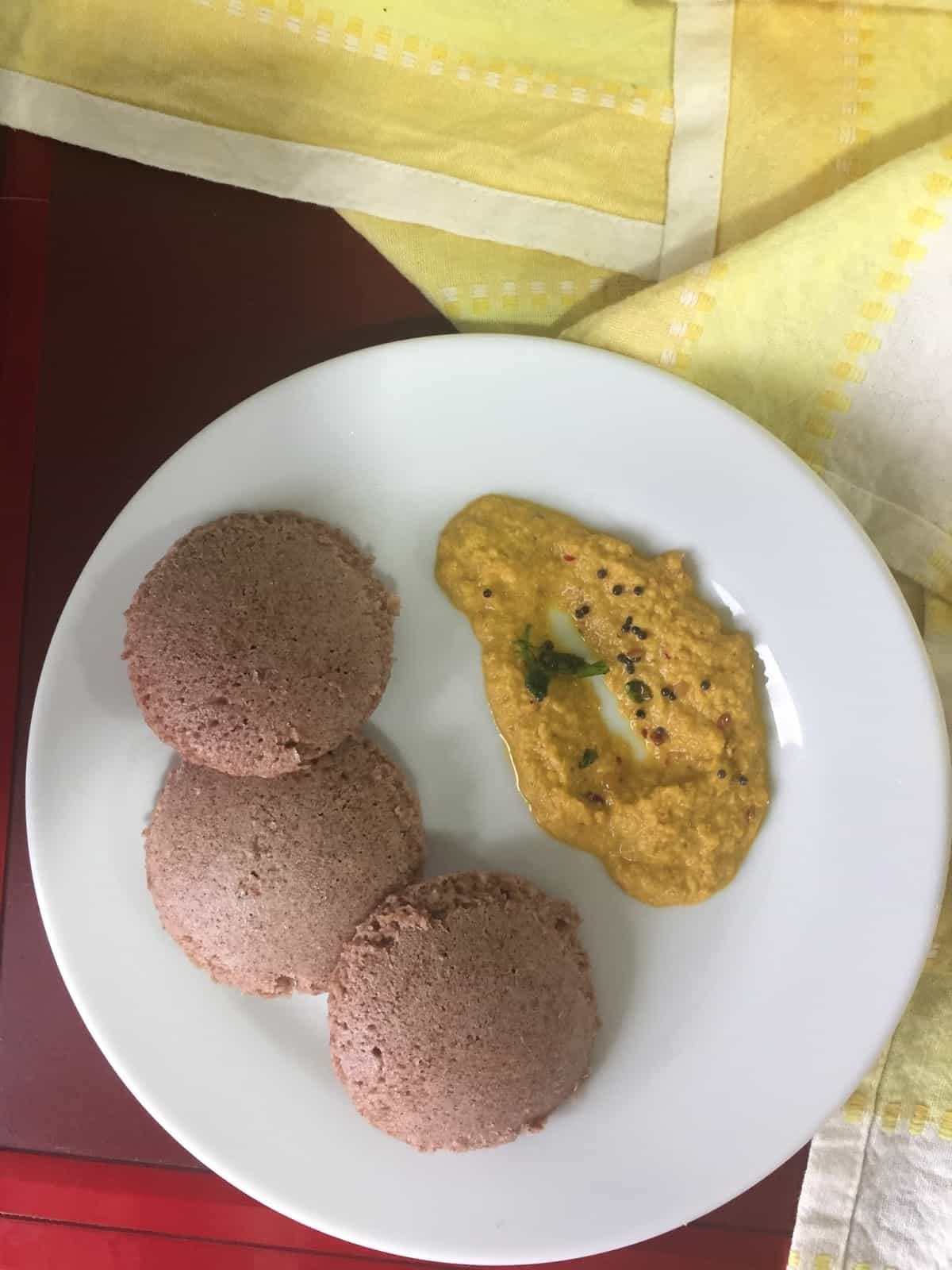 Pin
For Dosa batter:
You can also make amazing crispy dosas the next day with the same batter (just add a few tsp of water to get a more flowing batter for dosas). And then proceed to make Dosas as usual
Pin
Check out the Blogging Marathon page for the other Blogging Marathoners doing BM# 80