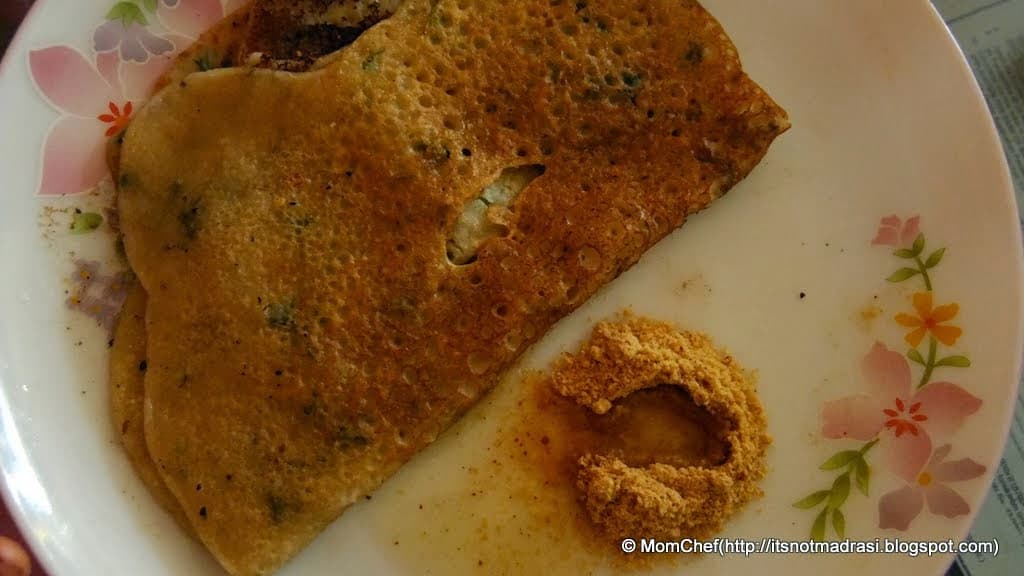 Pin

The dosa is a fermented crepe or pancake made from rice flour and black lentils.It is a typical dish in South Indian cuisine, eaten for breakfast or dinner, and is rich in carbohydrates and protein. Dosa is a day to day diet for people in present day Tamil Nadu, Andhra, Karnataka and to some extent Kerala also.

The origins of Dosa has been widely discussed in various literatures and books: First reference to Dosa occurs in the Tamil Sangam Literature from around 6th century AD. The Sanskrit classic Manasollasa written in 1051 AD by Western Chalukya king Somesvara III describes Dosai. English food writer Pat Chapman, Lisa Raynor and Indian writer Thangappan Nair state in their books that Dosa originated in Udupi, Karnataka, but they do not mention its reference in Tamil sangam literature.

Whatever the origins,  Dosas are also made in instant (unfermented) forms too.. It's called "Dhideer Dosa" (Instant Dosa) or Karicha Maavu Dosa (Dosa made by mixing flours), which is presented today. I fondly remember my grandmom making this batter in huge quantities to feed all of us for the evening snack when we were back from school – often we lost track how much each one of us devoured. Instant Dosa / Karicha maavu Dosa tastes heavenly with Molagapudi (red chilly Powder) soaked with til oil J slurp ! Although optional, this dosa might be served with Chutney / sambhar..

The important point to note for this dosa is to get the proportion of the ingredients right, and also the temperature of the tava (skillet). Also critical is not to let the batter sit overnight (in the fridge / open) else the dosa might turn black ! After all, Instant is truly Instant !

Update:  Am sending this post to two events:

a) Jothikaa's "B for breakfast" event

and

Preparation Time : 10 mins

Cooking time (per Dosa) : 1 -2 mins max

Ingredients: (Serves 2)
Maida – 1 cup
Rice Flour – 1 cup
Atta – 1 cup
Rava / Semolina – 3 tbsp
Salt
Oil – to fry / cook the dosa.
For tempering
Oil – 1 tbsp
Mustard Seeds – 1 tbsp
Urad Dal – ½ tsp
Red chillies / green chilles (broken / slit) – 2 (optional)
Curry leaves & Coriander – chopped – 2 tbsp
Hing – ½ tsp
Method:
1)      Mix all the flours well and add salt.
2)      Prepare the tempering with the oil, mustard seeds, urad dal, hing, chillies , curry leaves , coriander and hing.
3)      Pour the tempering into the dry flour
4)      Now add as much water as required to make a flowing batter. It shouldn't be too watery or too thick – just as much as milkshake consistency.
5)      Heat the skillet. Sprinkle water and douse the excess heat. Rub the tava / skillet with one half of an onion to remove stickiness.
6)      Grease the skillet with a teaspoon of oil now.
7)      Pour the batter (do not spread it with the back of the spoon like you would do with other dosas). Let the dosa make an amoeba like shape.
8)      Drizzle oil over the dosa and the edge till it turns crispy. Do not cover the dosa.
9)      Flip over once the edges are slightly browned and cook on the other side till crispy and golden brown
10)  Serve hot
Tips:
·         This dosa is to be served hot off the skillet. Usually turns messy and sticky when cold.
·         Monitor the temperature of the dosa tava / skillet. Usually non stick works best.
·         Sprinkle few drops of water after every dosa and rub with half of an onion (cut along the rings) to avoid sticking and overheating.
 N.B: References of Dosa origin – wikipedia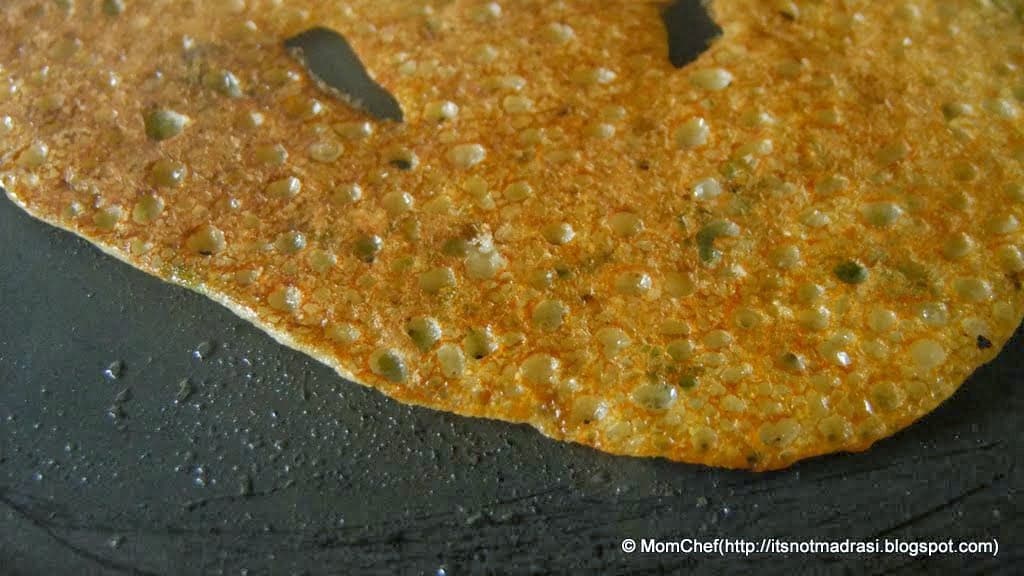 Pin