Khichdi. Kichadi : make no mistake – these are two different dishes, made entirely in different ways, although I am presuming one has influenced the other. While shortlisting the dishes, somehow I was stuck on Rice and then slowly moved to millets.


Towards the fag end of the prep period in March when I had given up on doing this BM, Valli reminded (me) on our whatsapp group that Pongal, Upma were also 'khichdi' in their own way as they used grains ! 


Oh boy, that was truly a turning point although I should have read the clause in detail (which Valli so cleverly camouflages, but it takes a clever student to decipher the underlying codes and turn it to one's advantage :p) and use it !


Nevertheless, Rava Kichadi in Tamil cuisine means a simple upma with some unique spices and veggies. For us at home, we have ALWAYS been adding veggies in the everyday Upma  and even for Avarekaalu Akki Thari Uppittu (Field Beans Upma with Broken Rice) we use Field beans / Avarekaalu. 


And then we have Rava Vangibhath (Upma with Vangibhath powder with or without veggies) or even the Kharabhath. So, for me personally I had to make this with Bansi Rava (broken wheat rava – fine quality) and present it specially for the BM.  This dish can be served for Breakfast or Tiffin (evening), but I have seen my aunt make this or even Godhuma Rava Thakkali Upmafor their evening dinner too, when they want to skip eating rice or rotis at night.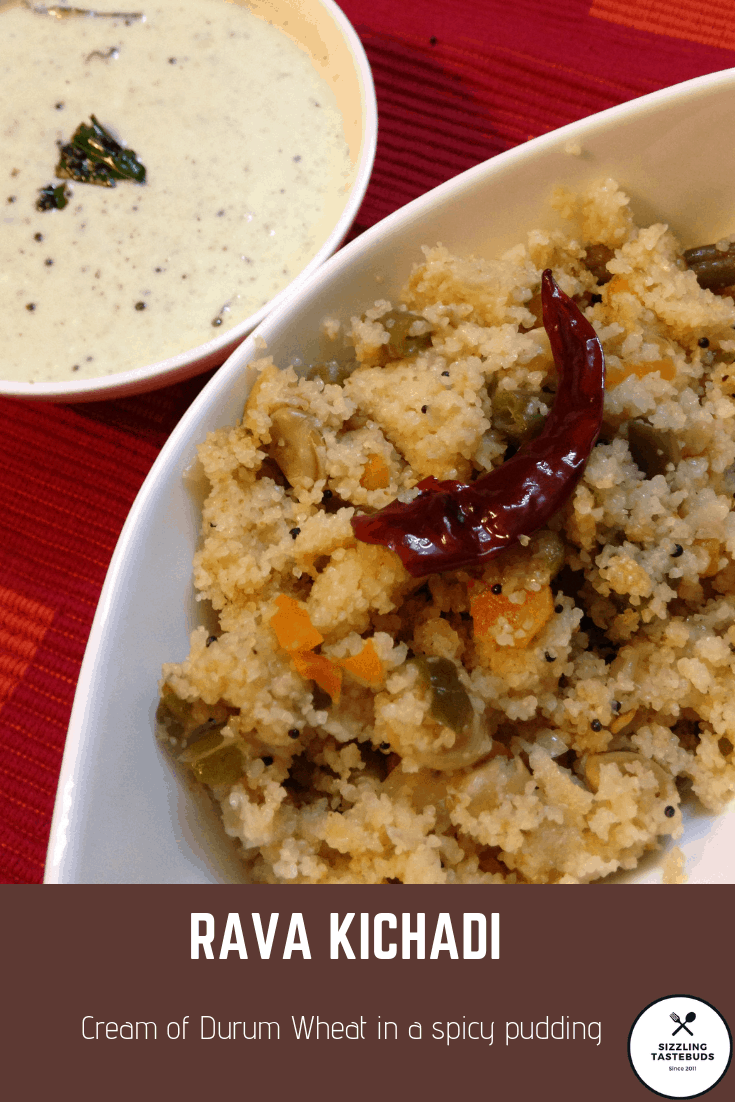 Pin



Prep time – 15 mins, Cook time – 10 mins, serves – 2



You need:

Bansi Rava (fine Durum wheat rava) – 1 cup

Ghee / Oil – 3 TBSP (skip ghee for vegan)

Chopped veggies – 1 cup (generally carrots + beans + peas are used)

Turmeric – 1/2 tsp (opt.)

Cinnamon – 1/2 inch

Tempering : Mustard seeds 1/2 tsp, Urad dal 1/2 tsp, curry leaves, Chopped green chillies (2), Broken red chillies – 2

Onion – 1 medium (opt.)

Tomato – 1 medium

Chopped coriander leaves & lemon juice – for garnish

Ginger – 1/2 tsp grated

 

PIN FOR LATER

 
Pin


How to:
Dry roast Rava for 2 mins till aromatic, keep aside. Steam chopped veggies (except onions and tomatoes) either in microwave or steamer till 80% done
In the same pan, add oil, make the tempering. Now add the cinnamon, grated ginger, turmeric, onion and tomatoes. Saute till onions are translucent and tomatoes are slightly mushy. Add 2 cups of water and let it come to a rolling boil.
Now add the roasted rava and gently mix till there are no lumps.
Cook and cover till rava is done. Gently mix, finish with lemon juice and coriander and serve hot.
It tastes as it is. I served it with Coconut chutney.
PinCheck out the Blogging Marathon page for the other Blogging Marathoners doing BM#99