Rajma Chawal is – at its simplest – Beans and Rice – How many zillion combos can you make with that ?  
But Rajma-Chawal (Kidney Beans curry + Rice  : an Indian favourite) fit the bill appropriately and here's my version of making the ever-popular dish from India. Rajma a.k.a Kidney beans features regularly in my house in other dishes, so this dish got made exclusively for the blog 🙂
The spice levels in the dish are medium, and as it's a very forgiving recipe , it can be made in bulk, stores well and also feeds a crowd. 
Tips to make the best Rajma Chawal!
Can Rajma be made in Instant Pot?
 Yes, pre – soaked beans can be cooked in an Instant Pot too (that recipe coming up shortly)
Can I use Raw beans to make Rajma (without soaking)?
Soaking helps the beans soften and quicken the cooking process. Soaking also helps remove phytic acid which prevents absorption of nutrients.
So, let's get cooking! 
Considering that this bean is not so popular at my family, I have found the following ways to feed the uber-protein-rich bean to the family :
Fresh Rajma Sundal
Fresh kidney beans stir fry. This is a No onion no garlic, vegan and GF dish. Sundal is usually served for Navratri (Indian Festival)
Check out this recipe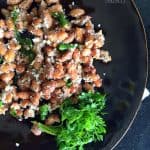 Kidney Bean Sesame Seed Dip | Rajma Til Dip | GF and Vegan
A protein rich Dip made with Kidney beans & roasted sesame seeds. 100% gluten Free and Vegan 
Check out this recipe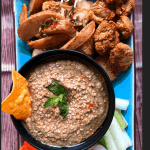 Kidney Bean+Sesame Dip (GF, Vegan)
Rajma Pulav (One pot Indian meal with rice and kidney beans)   
Kidney bean+ Sweet Potato Tikki ( vegan patty)
In Indian households, there are a zillion ways to make today's dish. This is a method I learnt from a neighbour and considering I make it rarely, it works for me. Some purists would add Kaali Urad dal (black Split gram) also to Rajma, but I make it only with the beans.
Soak time – 10 hours, Cook time – 15 + 15 mins ; serves – 2 to 3 
What you need:
Rajma ( I used the Kashmiri / small variety) – 2/3 cup (1 cup=200 ml)
Salt – 1 tsp
Oil – 2 tsp
turmeric – 1/2 tsp
Whole spices – Bay leaf – 1 , whole cardamom – 1 , cinnamon – 1 inch
Garnish – lemon juice 1 tsp + chopped cilantro 1 tsp
Masala / spice paste:
Onions – 2 large
Tomato – 1 large
Red chilli – 2 medium
Ginger garlic paste – 1 tsp
Dry spices :
garam masala – 1 tsp
Red Chilli powder  – 1 tsp
Amchur / Dry mango powder – 1 tsp
Coriander powder – 2 tbsp
Jeera / cumin powder – 1 tsp
How to:
Wash and soak the beans for 8 hours or overnight. After that, drain all the water, add fresh water and cook till tender (and slightly mushy). Drain and retain the water in which you cooked the bean. 
In a pan, heat oil. Add the whole spices, saute for 1 min. 
Then, saute the onion-tomato paste till oil leaves the sides – about 2-3 mins on medium heat. 
Now add the turmeric, dry spices, salt and the cooked beans along with some of the cooked water.
Mix well and let it simmer on low flame for 8-10 mins till the dish turns creamy
Garnish with chopped cilantro and lemon juice and serve hot with steamed Rice / any flatbread