Niramish Kichuri is a Bengali staple with rice and lentils cooked in a satvik (no onion no garlic) base with vegetables. Served for lunch or brunch with a veggie side.
Bengali cuisine for me is more than the roshogollas and Sandesh. As a staunch vegetarian, it means Ghugni, Rasamalai (my fav!!) and Begun Bhaja and the ubiquitous Kichuri of course ! I had eaten today's dish as a combo meal during my stay at a friend's house at Kolkata a few years ago.
Panchphoron (a mix of 5 spices) is a lifeline ingredient as is mustard oil. I had the former but not the latter. And as much as I wanted to make a slightly larger spread, last week had been hectic which leaves very little time for myself .
This Combo Meal from Bengal today – Niramish Kichuri with Alu Phulkopir Bhaja (Vegan and GF) is very low on fat, but high on nutrition and protein. Niramish Kichuri is also called Bhoger Kichuri for thsi is without meat or onion garlic and is offered during the Annual Navratri festival (Pujo) for Bengalis.
Without much ado, let's begin to make this. I made just one portion of each for myself , but the quantities can be easily doubled / tripled. For the quantities below, a child and an adult can easily finish their lunch so plan accordingly. 
Other easy One Pot meals you may like:
Kariveppalai Sadam | Curry Leaf Spiced Rice| Karivepaaku Chitrannam
Karivepalai Sadam is a spicy and healthy One pot meal made with a special Curry Spice Powder and cooked rice. Gluten Free and Vegan, this is an easy lunch / dinner recipe! 
Check out this recipe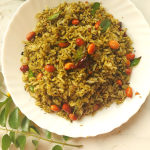 Jollof Rice | South African Jollof Rice
Jollof Rice is a quick One Pot meal (Vegan+ GF) that is bursting with spices, peppers and is usually served as main Course with meat / veggie sides.
Check out this recipe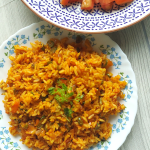 Lucknowi Veg Biryani | How to make Vegetarian Biryani Lucknowi Style
Vegetarian Lucknowi biryani is a fragrant and flavorful rice dish made with basmati rice, aromatic spices, vegetables, and saffron-infused milk.
Check out this recipe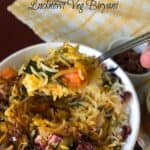 Thengai Saadam | Iyengar Style Coconut Rice | Navratri Prasadam
Thengai Saadam or Temple Style Coconut Rice is a No onion No garlic Tempered Rice with Grated Coconut and basic spices. Can also be made for lunchboxes.
Check out this recipe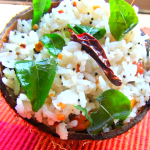 A) Niramish Kichuri – Niramish in Bengali means without any meat. This Kichuri is light on the stomach and perfect for Summery days like these when you don't want to be spending hours in the kitchen. Govindobhog rice is primarily used here, but Tukda Basmati is recommended as a substitute. Its a quick & great meal to put together for bachelors too !
You would need:
1/4 Spilt yellow dal (Moong dal)
2/3 cup govindabhog (sub with basmati rice)
1/2 cup Mixed Veggies (I used 1 carrot, 6-8 french beans and a handful of fresh green peas)
1 Tomato (I didn't add)
1 tsp Oil
1/3 tsp Cumin powder
1 TBSP Ghee (skip for vegan , I didn't add)
1 inch Ginger (cut into juliennes)
1 tsp cumin seeds
2 broken red chillies
1 Bay leaf
1 tsp Salt (or to taste)
1/8 Turmeric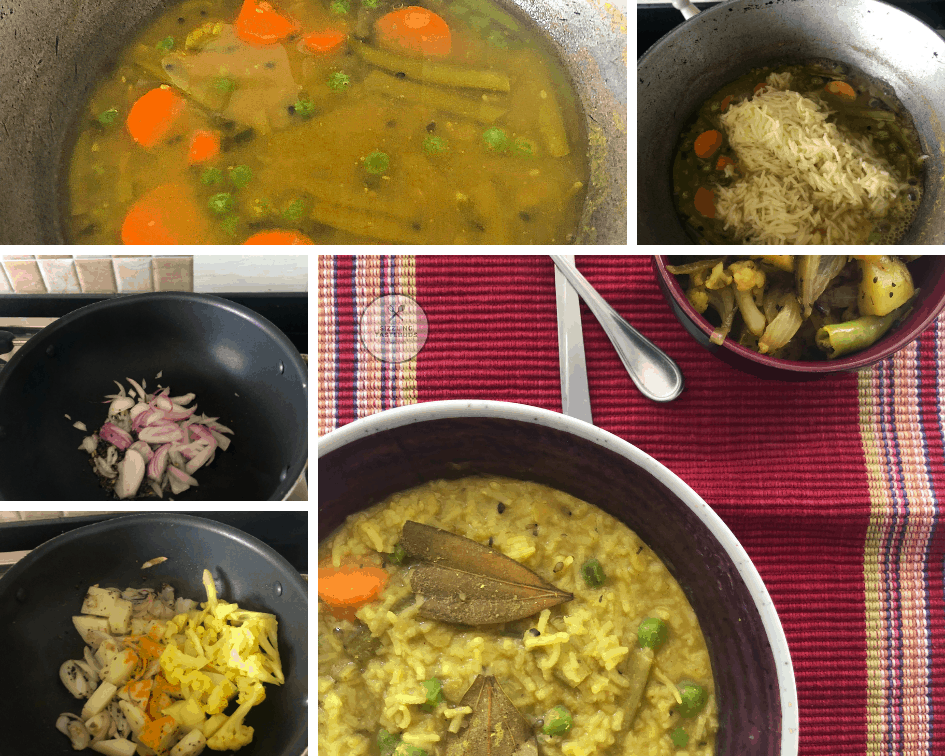 PIN FOR LATER
How to make Niramish Kichuri
Soak the rice and dal separately for 20-30 mins . In a pan, add the soaked dal along with water, turmeric, veggies , ginger and 2 cups of water and let it.
Cook till the veggies are 80% done and the dal is cooked fully. Don't add any salt while the dal is cooking, it will slow down the process (a pressure cooker is NOT recommended for this dish).
Meanwhile par boil the rice with a pinch of salt till 80% done
While the dal has cooked, add the parboiled basmati rice and a little more water 1/4 cup and let the rice and dal cook fully.
In a tempering pan, add the ghee and oil. Splitter cumin seeds, split green and red chillies and bay leaf, switch off and add cumin powder along with a tsp of water so the spices don't burn.
Add this tempering to the khichdi along with salt now to taste, mix well. Serve hot with papad or any fry sauté. I served it with Alu phulkopir bhaja
B) Alu phulkopir bhaja – serves 1
You need:
Cauliflower florets – medium – 1/2 cup
One medium potato – peeled and cubed
Oil – 1 tsp
Panchphoron- 1/2 tsp
Onions -1/2 medium (sliced thin) – optional
Salt – to taste
Turmeric -1/8 tsp
How to make Aloo Pulkopir Bhaja
Par boil potato and cauliflower separately with little water and a pinch of salt and turmeric (I microwaved them for 4 mins each).
You may also deep fry the veggies till crisp and drain and use (as is done the traditional way)
In a pan, add oil and temper with 1 slit green chilli and panchphoron. Sauté the onions till slightly translucent.
Add the par boiled veggies, salt & sprinkle 2-3 tsp of water.
Cook covered till veggies are soft. Serve with Luchi (Bengali puffed breads) or any bhaat and Kichuri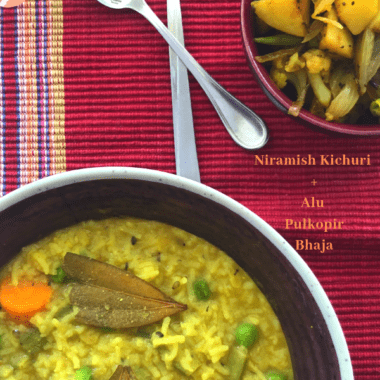 Niramish Kichuri with Alu Pulkopir Bhaja- Bengali Combo Meal
Niramish Kichuri is a Bengali staple with rice and lentils cooked in a satvik (no onion no garlic) base with vegetables. Served for lunch or brunch with a veggie side.
Ingredients
What you need to make Kichuri
1/4

Spilt yellow dal

Moong dal

2/3

cup

govindabhog

sub with basmati rice

1/2

cup

Mixed Veggies

I used 1 carrot, 6-8 french beans and a handful of fresh green peas

1

Tomato

I didn't add

1

tsp

Oil

1/3

tsp

Cumin powder

1

TBSP

Ghee

skip for vegan , I didn't add

1

inch

Ginger

cut into juliennes

1

tsp

cumin seeds

2

broken red chillies

1

Bay leaf

1

tsp

Salt

or to taste

1/8

Turmeric
What you need to make Alu Pulkopir Bhaja
1/2

cup

Cauliflower florets

medium

1

potato

medium, peeled and cubed

1

tsp

Oil

1/2

tsp

Panchphoron

Bengali spice mix

1/2

Onion

sliced thin – optional

1/2

tsp

Salt

1/8

Turmeric
Instructions
How to make Niramish Kichuri
Soak the rice and dal separately for 20-30 mins . In a pan, add the soaked dal along with water, turmeric, veggies , ginger and 2 cups of water and let it.

Cook till the veggies are 80% done and the dal is cooked fully. Don't add any salt while the dal is cooking, it will slow down the process (a pressure cooker is NOT recommended for this dish).

Meanwhile par boil the rice with a pinch of salt till 80% done

While the dal has cooked, add the parboiled basmati rice and a little more water 1/4 cup and let the rice and dal cook fully.

In a tempering pan, add the ghee and oil. Splitter cumin seeds, split red chillies and bay leaf, switch off and add cumin powder along with a tsp of water so the spices don't burn.

Add this tempering to the khichdi along with salt now to taste, mix well. Serve hot with papad or any fry sauté. I served it with Alu phulkopir bhaja
How to make Aloo – Pulkopir Bhaja
Par boil potato and cauliflower separately with little water and a pinch of salt and turmeric (I microwaved them for 4 mins each).

You may also deep fry the veggies till crisp and drain and use (as is done the traditional way)

In a pan, add oil and temper with 1 slit green chilli and panchphoron. Sauté the onions till slightly translucent.

Add the par boiled veggies, salt & sprinkle 2-3 tsp of water.

Cook covered till veggies are soft. Serve with Luchi (Bengali puffed breads) or any bhaat and Kichuri