Adai dosa (or thick mixed lentil dosa / crepes) are sought after at home regularly. On one of my visits to my husband's rakhi sister's house , & she mentioned a very unique Adai was this wholegrains and whole lentils to add lots of protein and fibre. It comprises 9 grains and is also called Navadhanya Adai.
Needless to say, this is a very filling dish for kids and adults alike and brimming with taste. I tried out a small batch to test it at home. And added some more vegetables for a sumptuous Sunday Brunch. We loved it a lot. Can be had as is, or with some jaggery and ghee or Avial to make a complete meal.
Follow Notes below for more detailed info..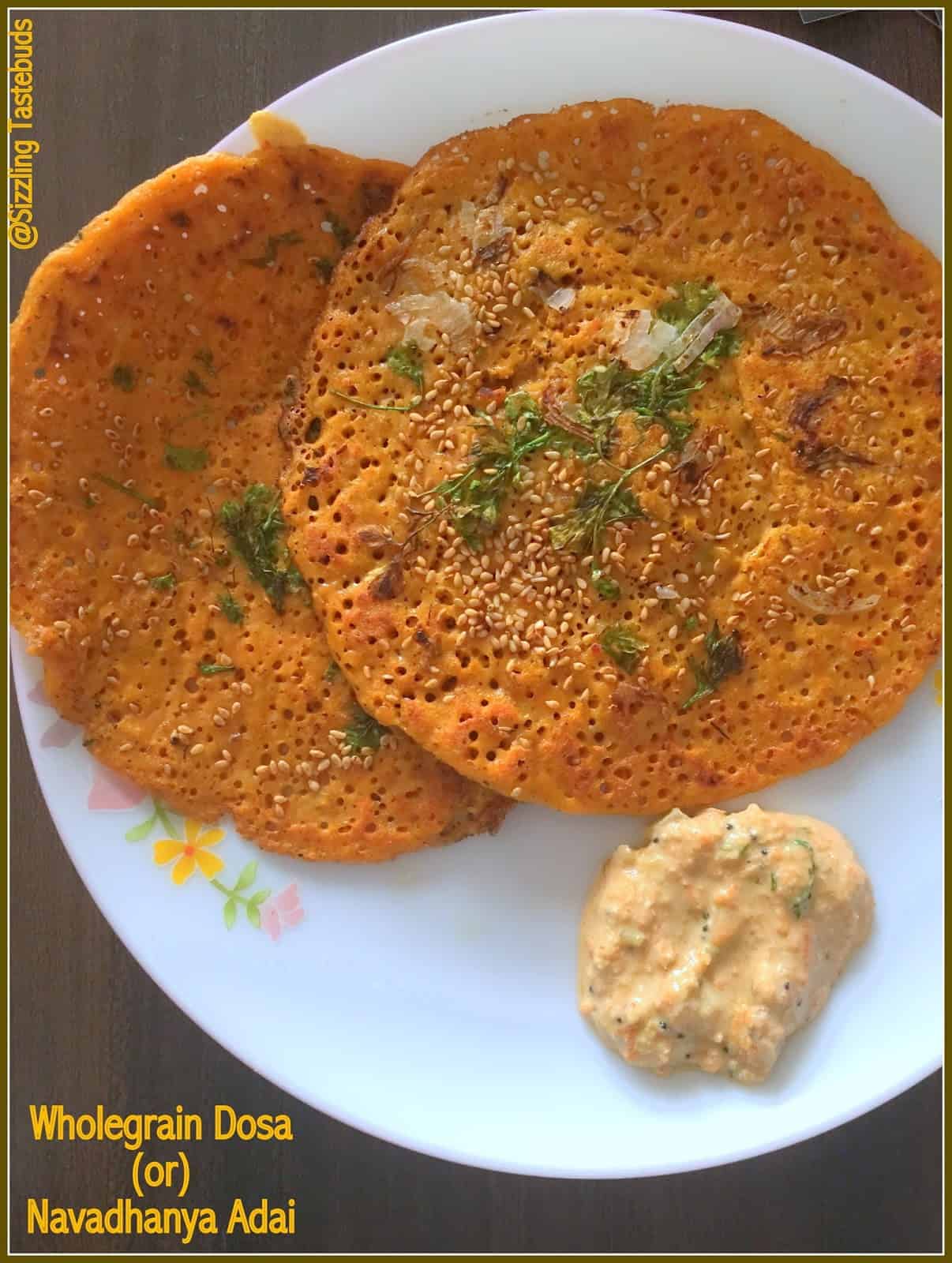 Pin

Some other Adai / Dosa varieties featured on this blog…

Sending this to Alphabet W of the Journey Through the Cuisines (JTTC) Blogging Tamil Mega Marathon. Hope you enjoyed the fare dished out so far.

Prep time : 15 mins , Soaking time : 8 hours, Grinding time : 15 mins,

Fermenting time : 10 hours or overnight (for tropical climes), in chilled weather, fermentation might take longer.

Makes : 8-10 medium sized Adai.

Serving Suggestions : chutney / Jaggery + ghee / Avial.

Wholegrain vegetable Adai : Vegan & GF Lentil Fibre rich Adai / Crepes

Ingredients: (1 cup = 200 ml)
Brown Rice – 1/2 cup
Normal Rice – 1/2 cup
Barley – 1/4 cup
Red chillies – 6 (adjust spice)
Whole Chickpeas / Kabuli Channa – 1/4 cup ( I used the dark brown variety)
Rajma /kidney beans – 1/4 cup
Whole Toor Dal – 1/4 cup
Whole Urad dal (dehusked) – 1/4 cup
Green Whole Moong dal (with the skin on) – 1/4 cup
Masoor – 2 TBSP
Salt to taste
Oil – to fry the dosa
Addons: (totally optional)
Turmeric – 1/4 tsp
grated jaggery – 1 TBSP
Shredded onions – 1/4 cups
grated carrots – 2 TBSP
Toasted sesame seeds – 1 tsp
Chopped coriander leaves – 1 tsp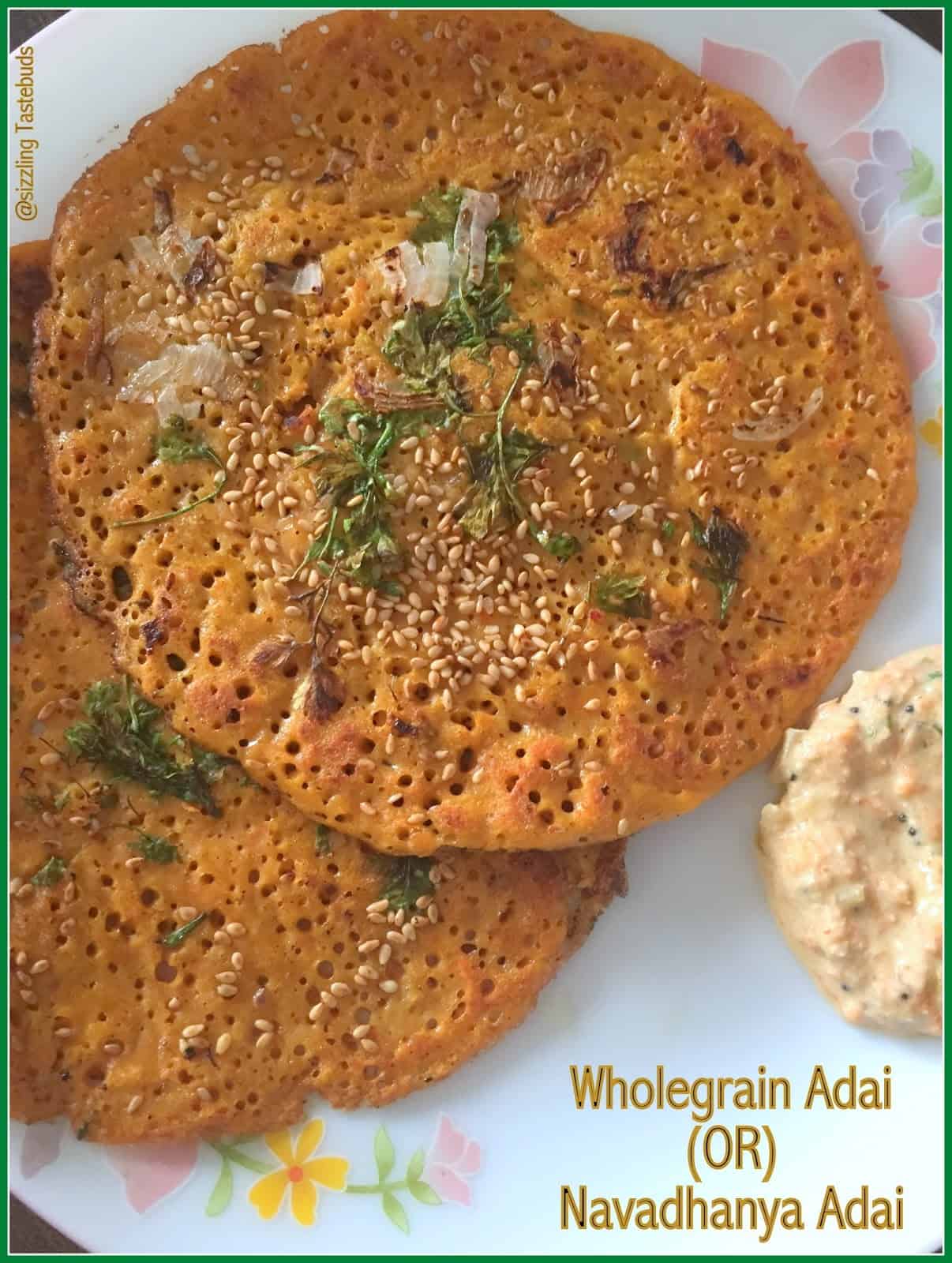 Pin



Method:
Wash and soak the grains for 7-8 hours. I soaked the rice varieties together. And the 7 lentil / pulses varieties together in a separate bowl. Drain and retain the water. Grind the pulses first to a smooth paste. Add the rice in small quantities to a smooth batter (takes about 15/20 mins).
Add salt and mix well. Let it ferment overnight or for 8-10 hours (in very tropical climes or peak summer, it will ferment within few hours itself, dont let the batter go sour else the adai will harden)
Beat the fermented batter.
To a portion of the batter, Tip in the Addons except sesame seeds, mix well.
Pour a thickish Adai / Dosa in the centre of a well heated skillet / tava. Do not spread thin like normal dosa. Sprinkle toasted sesame seeds.
Drizzle oil around the sides, let it cook on one side on low-medium flame (about 2 mins), flip and let it cook on other side (for under 30-45 seconds).
Notes:
In other navadhanya adai recipes, the proportions and grains vary, but this is what worked for us.
Dont let the batter turn sour. Fermentation time depends on the climate outside.
If making for kids, turn down the spice or add some grated cheese while flipping the dosa – they will like it 🙂 for them, you may also use a ghee+oil mixture for pan frying the dosa, it would be very tasty 🙂
As you are using wholegrains, thorough soaking is very essential.
Addons are optional, but makes it very tasty and soft too.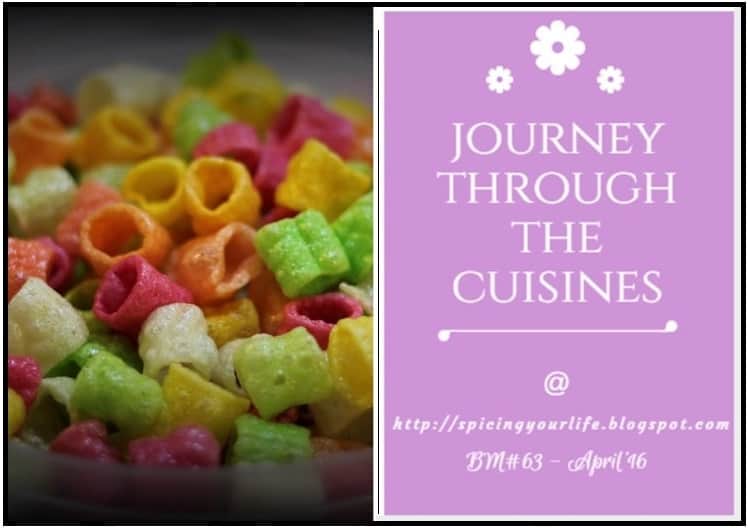 Pin
Check out the Blogging Marathon page for the other Blogging Marathoners doing BM# 63