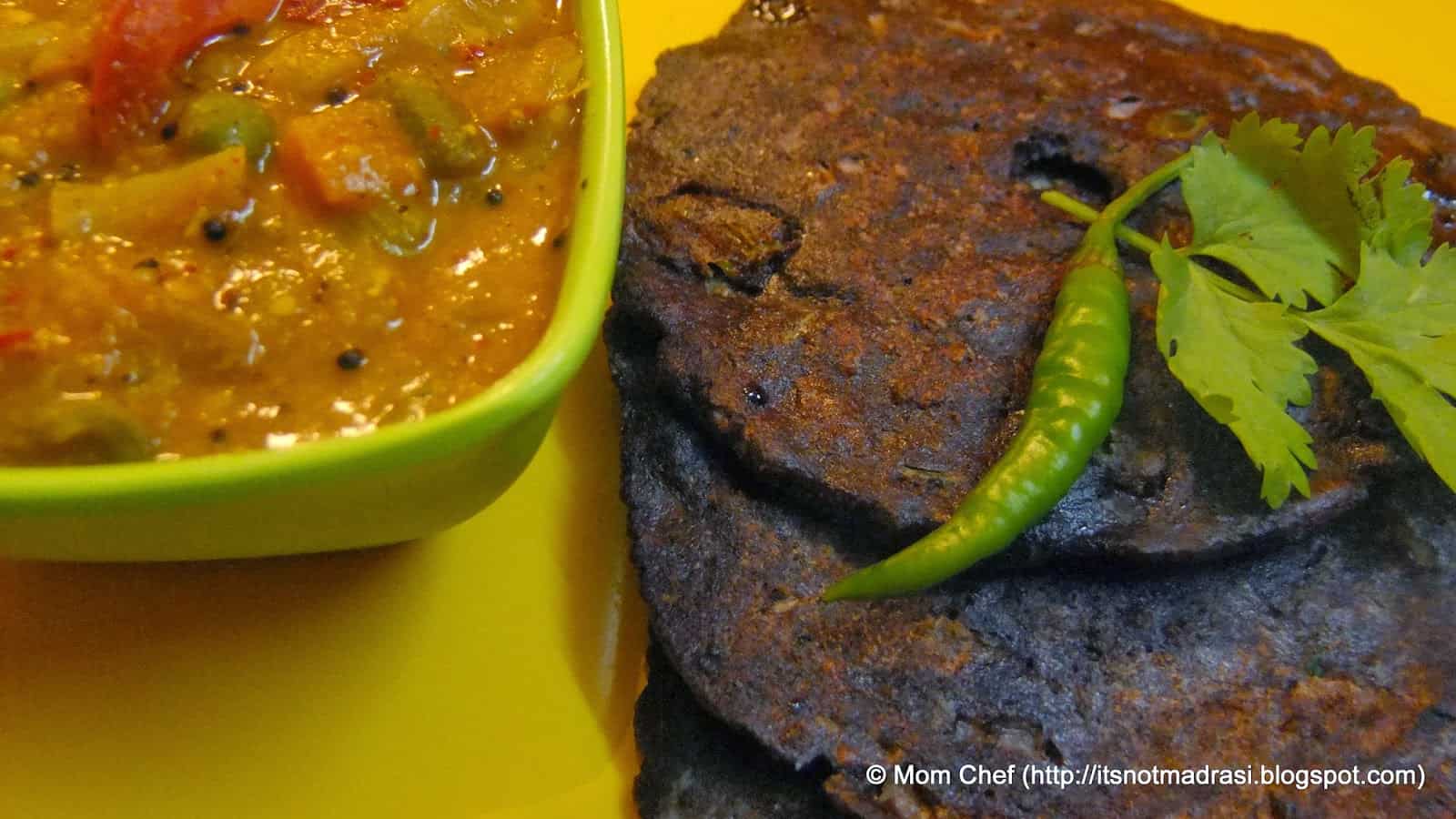 Pin
Ragi Rotti(Rotti = lossely translated as shallow fried bread) is a staple dish of Karnataka. As mentioned in my earlier post of Ragi Mudde / finger millet dumplings , Ragi / Finger millet is filled with calcium. This rotti is made similar to Akki Rotti (Rotti made of rice flour) and is eaten with raw onions, green chillies or just ghee-jaggery combo. This also goes well with Pineapple Gojju (Tangy-sweet Pineapple curry)
Thanks to the revival of health conscious netizens across the world, this humble millet is making its way back to the dining table once more. Sending this dish to my own blog event (Wholesome wholegrain cooking – Ragi for breakfast). You may make the dough for this Rotti overnight and store in an airtight container to be used the next morning. Mom makes this amazingly well, and it tastes yum with Veg Kurma (featured alongside) or just grated jaggery. Also, sending this to day 2 of Blogging Marathon under the theme "Regional Specials- Karnataka".
Preparation time :20 mins. Cooking time : 20 mins. Makes : 9
Ingredients:
· Ragi Hittu / Ragi flour – 3 cups
· Onions (finely chopped) – 2 large
· Grated coconut – ½ cup
· Jaggery – 2 tbsp grated
· Hing / Asafoetida – 1 tsp
· Green chillies – 5 (chopped fine)
· Cumin /Jeera – 2 tbsp
· Salt – to taste
· Coriander and curry leaves – ¼ cup
· Oil – to shallow fry + 2 tbsp – divided use
Method:
1) In a large mixing bowl, add 1/3 cup of warm water. To this add cumin, grated jaggery, hing. Mix and let it rest for a while.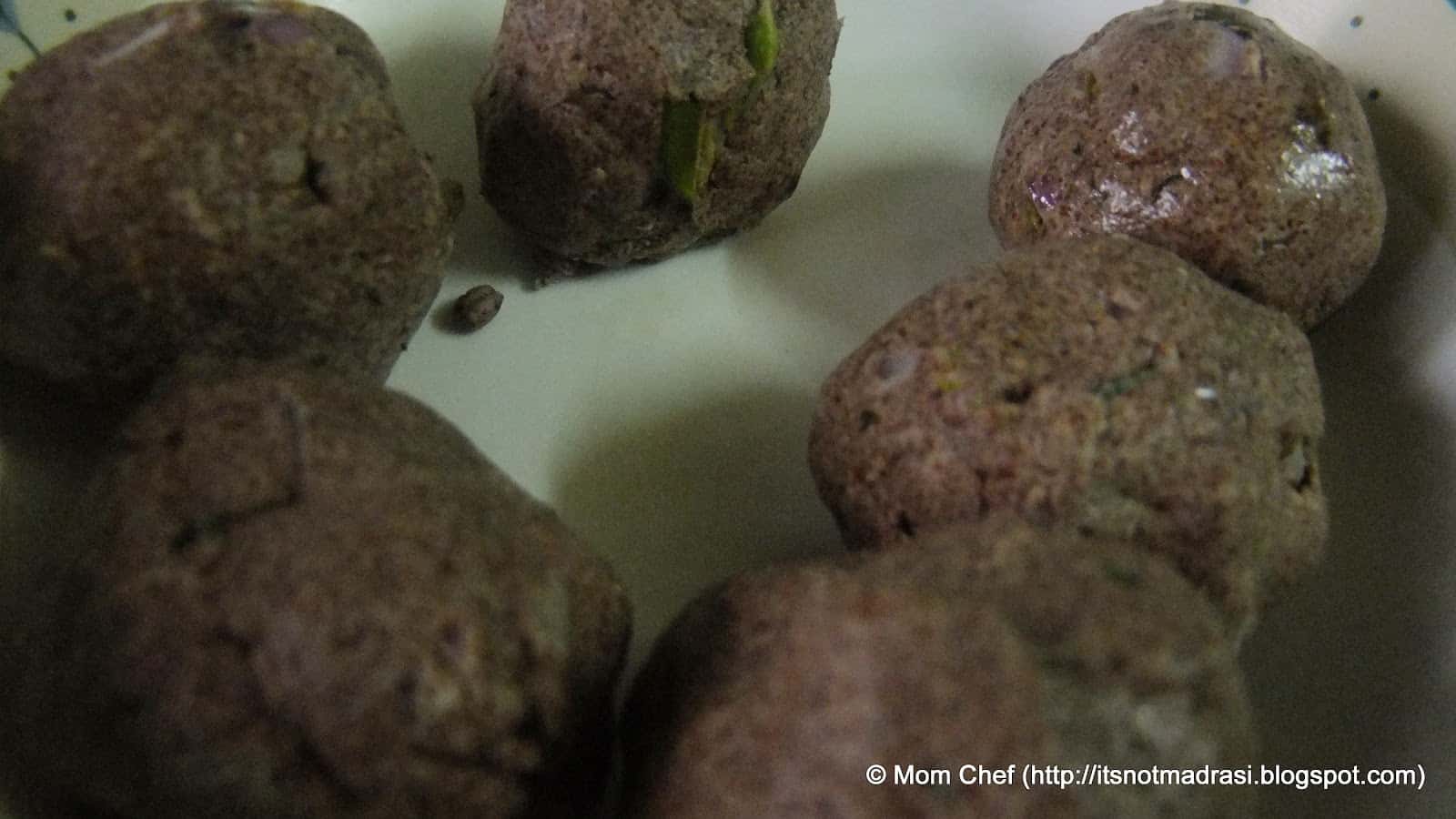 Pic 1
2) To this, add the Ragi flour, onions, grated coconut and salt and mix well. Do not add any extra water at this stage as the onions and salt will leave water.
3) Once the onions are well incorporated, add the coriander, curry leaves and green chillies and mix till the mixture resembles bread crumbs.
4) Now add water a little at a time and make this to a pliable dough. Once the dough is made, rub 2 tbsp of oil on this and cover this for about 20 mins. If refrigerating the dough, cover oil all over and store in an airtight container.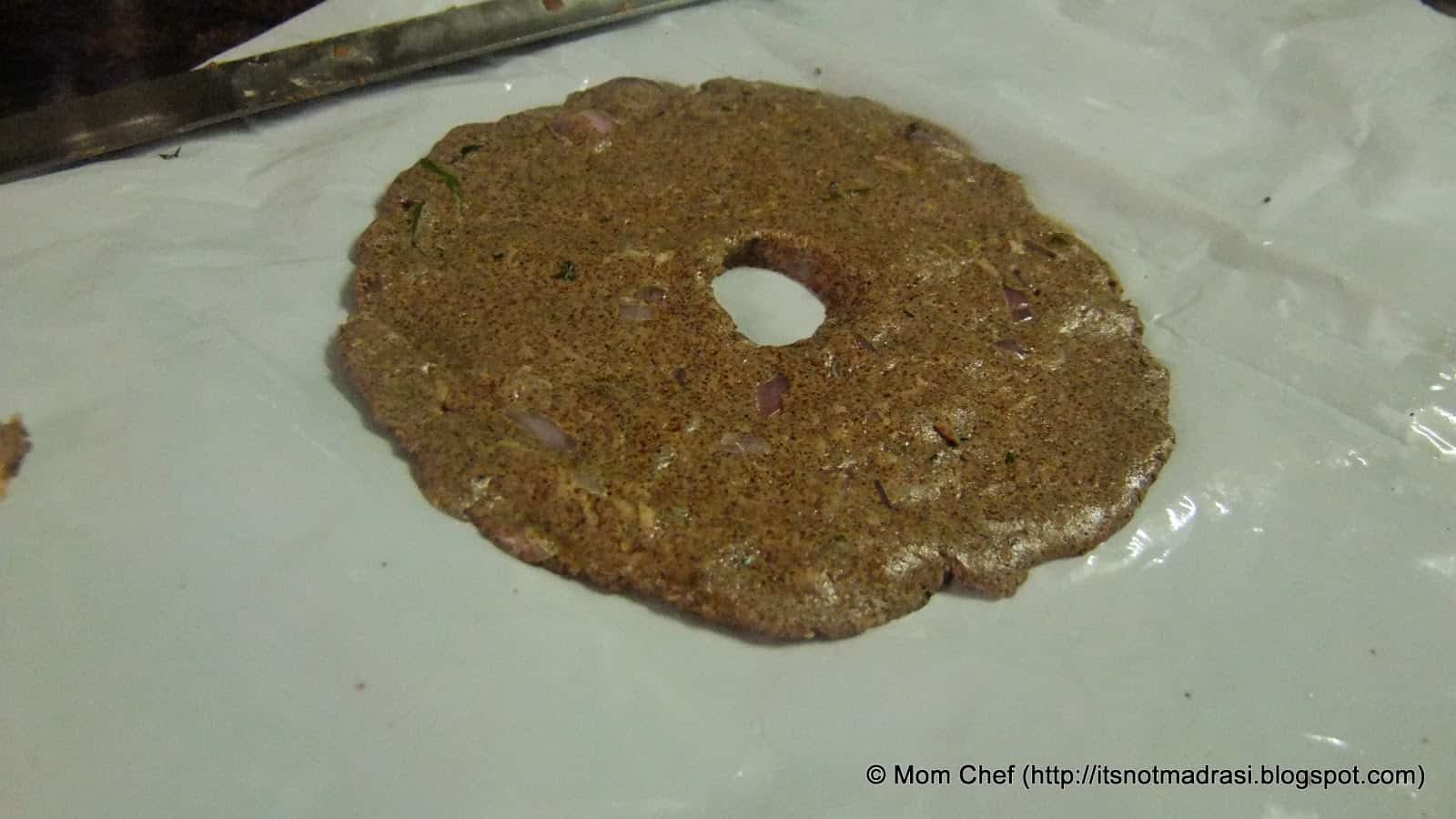 Pic 2
5) Divide the dough into equal portions (See Pic 1)

6) Oil a banana leaf / foil / plastic sheet and take one portion of the dough at a time and flatten out using hands about 6-8 inches in diameter and slightly thick. Make a small hole in the centre to ensure even cooking (See Pic 2).
7) Transfer this Rotti to a hot tava. Drizzle 1 tsp oil in the centre and ½ tsp around the circumference too.
8) Once done, flip over and bake the other side too.
9) Serve hot with jaggery / veg kurma / ghee !
Tips:
1) Use fresh flour always for best results. In case you are using flour that is refrigerated previously, let it come to room temperature before mixing. Also sieving the flour yields a very pliable dough.
2) You may deseed the green chillies if making this for children or use ½ tsp of red chilli powder.
3) Optional add-ins for this Rotti are : grated ginger, grated carrots and cabbage.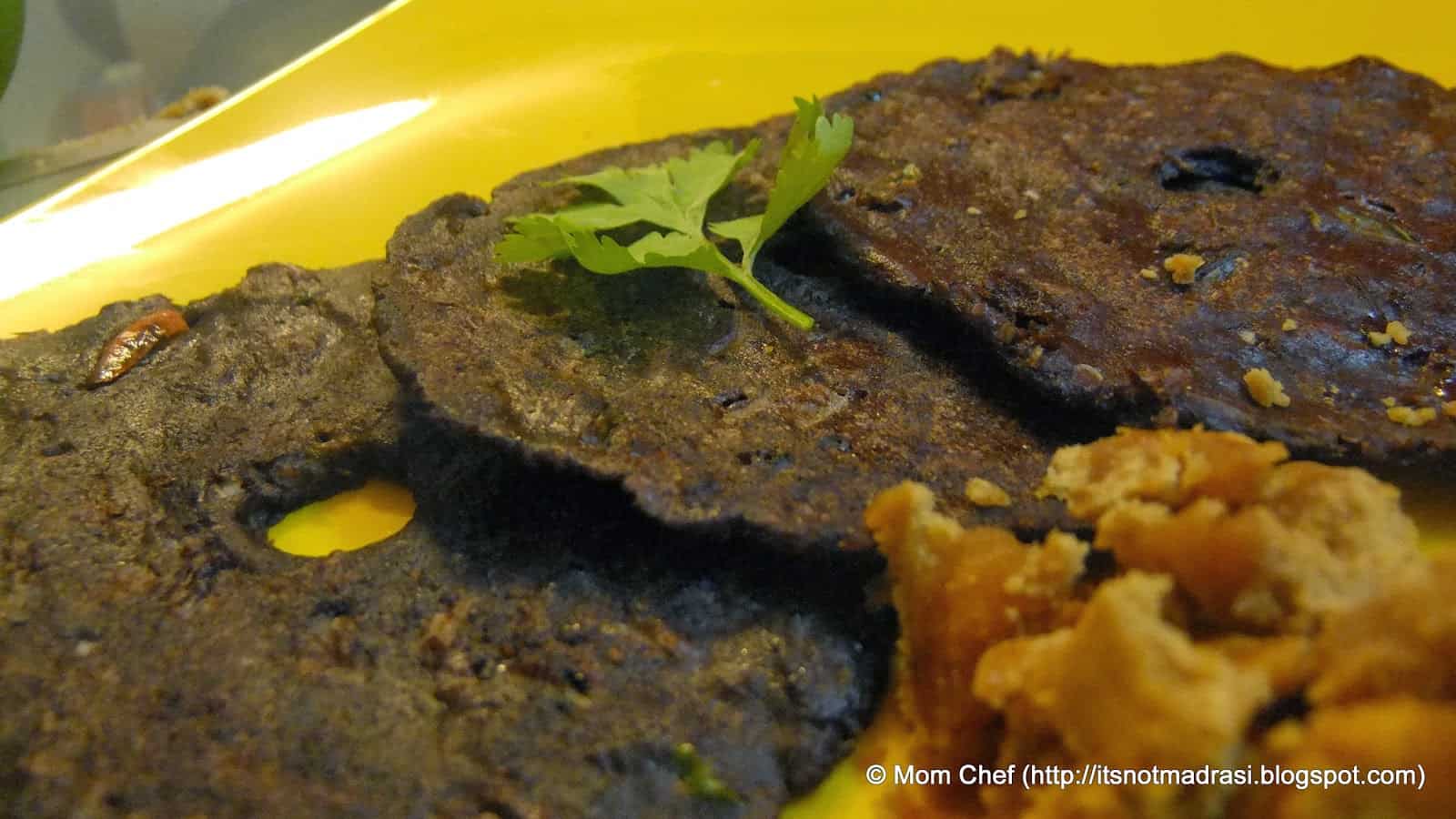 Pin
Check out the Blogging Marathoners doingBM#5along with me
Curry in a hurry under 30 min:Priya Suresh,Srivalli,Usha
Seven Days of Colorful Dishes Kid's Special:Vardhini,
Seven Days of Indian Sweets: Harini,Suma,Veena
Seven Days of Regional Specials: Aarthi,Kalyani,Pavani,Shylaja
Under 15 mins Quick Breakfast:Sushma Pinjala,