For this month of , I was paired with Shobana who gave me two delightful ingredients  -Ridge gourd and Bengal gram for the Shhhh Secretly cooking Challenge with the theme "Chutneys".
It was unusual to see that although we make it frequenty, I was yet to post this thuvayal. Thuvayal or Thogayal as its known in Tamil is different from the nomenclature of chutney in the sense that it has lentils , tamarind and vegetables as the base, in addition to coconut. 
Some chutneys / thuvayals also use onions (shallots mostly), but we dont use them
Its also much thicker than chutneys. And makes it easy to mix with rice as well as as a dip with Idli / Dosa / Pongal / uthappam etc. We had this with Quinoa Adai for breakfast (that explains the early morning rush pictures :p)
Without much ado, lets get started on this thuvayal. Similar thogayals on my blog are : 
Inji Thogayal (GInger chutney)
Pudina Thogayal (Mint chutney)
Paruppu Thuvayal(Lentils only chutney)
Karivepalai Thogayal (Curry leaves chutney)
For dips with Idli / Dosa, check out more than 20+ varieties of chutney here.
So, here's presenting a Vegan, GF dip to go with your dosa / Idli or even rice+sesame oil. Keeps for upto 3 days under refrigeration.
Prep time : 15 mins, cook time : 5 mins, Serves : 3 generously.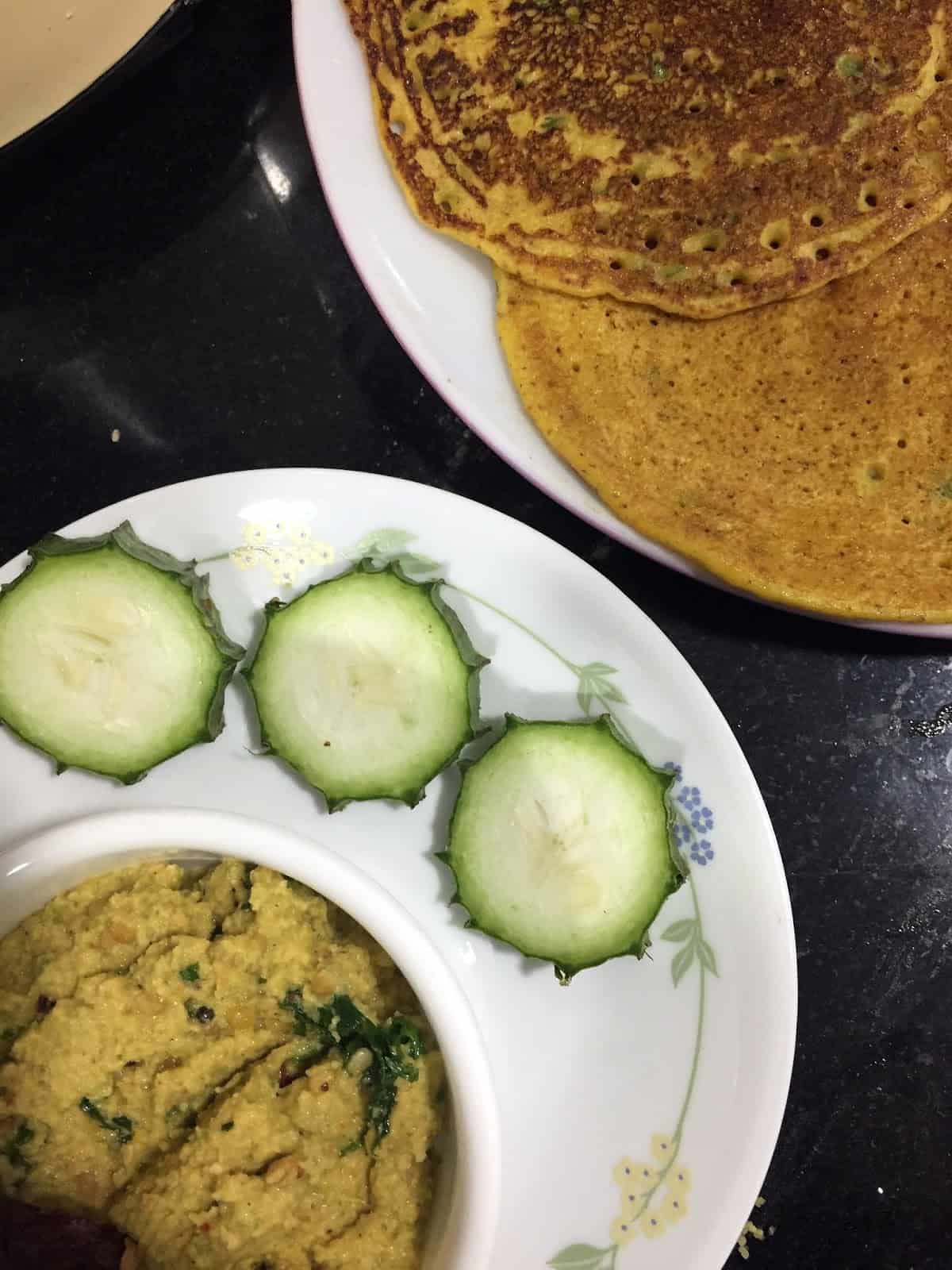 Pin

What you need:
Ridge gourd peels – 1 cup (scrape the hard thorny ridges with the knife, and with a peeler, peel thick peels along with a little flesh, but not too much)
Channa dal / Bengal gram / kadalai paruppu – 2 TBSP
Urad dal / Ulutham paruppu – 1 tsp
Dry Red chillies – 3 large
Tamarind – about small lemon quantity
Fresh / frozen coconut – 1/4 cup
Handful of coriander leaves – optional but tastes great ! 
Salt – to taste
Oil – 1 TBSP
Tempering:
Mustard seeds – 1/2 tsp
Sesame oil – 1 tsp
curry leaves – few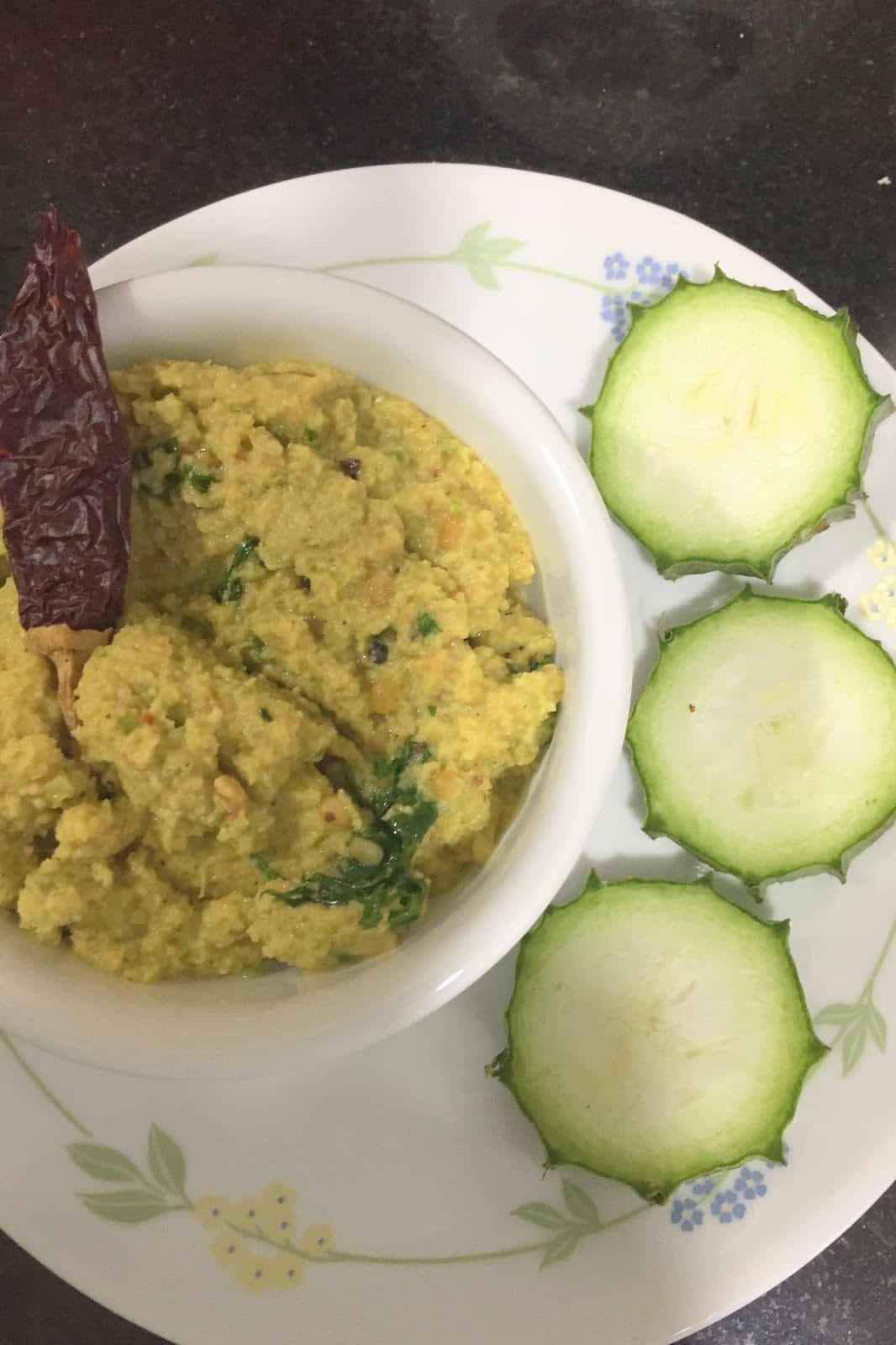 Pin
Method:
In a pan, heat 1 TBSP oil. Saute the dals one by one till golden brown, drain to a plate. Now add the tamarind, red chillies and the ridge gourd peels and saute on low heat for 3-4 mins till the peels turn slightly crisp (remove the chillies after 30 seconds, though).
Cool, grind all the ingredients with adequate salt and very little water to a thick thovayal consistency. add a tsp of water if required to get all the ingredients together.
Make the tempering with the mustard seed and curry leaves. Add to the chutney and serve.