As a blogger / writer, sometimes you have a writer's block… As a
foodie / sous chef at home, this is the first time I was flummoxed
by a theme : cookbook theme for this Blogging Marathon. If I picked one ingredient it suited two
out the three conditions… Am sure my fellow BMers have written eons about
this theme, so let me keep it short … Besan (gramflour) is the main
ingredient across 3 cookbooks and three different avatars this week for BM #
26.
Kicking off with a sweet – Besan Ladoo – for dad's birthday… I am sure he
is blessing us from wherever he is in the cosmos .. Perhaps its natural that I
miss him everyday : for he was my greatest food critic as well as appreciative
& supportive of even a simple Upma that I first learnt to make… This is
for you, dad ! Love you.. Well this week also happens to be my 2nd Angel's 6th
month bday.. Although she can't eat these am sure but would have been mighty
pleased with these yummy Ladoos. So, lets get to the recipe…
Also, linking it to : Sumee's Bon Vivant #13 – Kids Delight , Nayna's Lets cook for Kids & Food Sri Lanka's Cook like a Celebrity Chef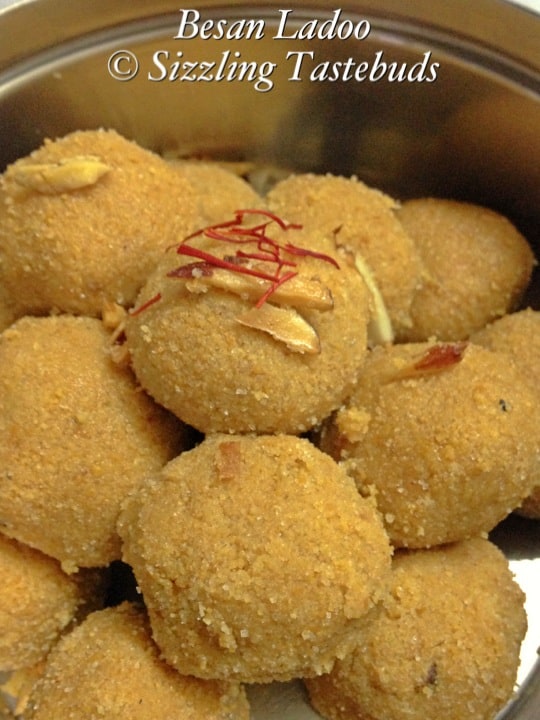 Pin
My notes:
1) Some recipes add condensed milk
and / or semolina (rava) to this. I have kept it neat and simple with few fuss
free ingredients.
2) If you feel the mixture is too dry,add a tsp or more of melted ghee and mix well. Then proceed.
3) If using condensed milk, omit the sugar. If using semolina and no condensed milk, increase the sugar a little bit.
Prep time :
10 mins | Cook time : 15 – 20 mins | Makes : 12 – 14 medium sized ladoos
Source : Tarla Dalal
Keeps : For 5 – 8 under refrigeration
Ingredients:
Besan / gramflour – 1 1/4 cups
Powdered Sugar – 1 cup (you may
increase it by another 1/4 cup if you like it sweeter)
Ghee / clarified butter – 1/2 cup
(melted) + little for greasing
Elaichi / cardamom – 2 nos – powdered
Saffron strands – few
chopped almonds – 2 tsp
Method:
Heat 1/4 tsp ghee and fry the sliced
almonds for 30 secs or till they slightly roast. Transfer to a plate
Sieve the gramflour twice over to
prevent any lumps.
Melt the remaining ghee on low flame.
Tip in the gramflour little by little and roast over a low flame for 6 -8 mins
without moving away, till you get an aromatic flour.
Now add the powdered sugar and
powdered cardamom seeds.
Keep stirrring till the dry mixture
gets mixed thoroughly.
Add the saffron strands and almonds
and mix once more.
Transfer to a clean dry plate and cool
for 8 – 10 mins
Lightly grease your palms and dividing
the mixture into equal parts, make medium sized roundels (or Ladoos), taking
care not to break them. (I made ladoos without greasing them, so the gloss the ladoos is missing)
The ladoos are fragile and require delicate care.
Prepare ladoos with the entire mixture
and store in an airtight container.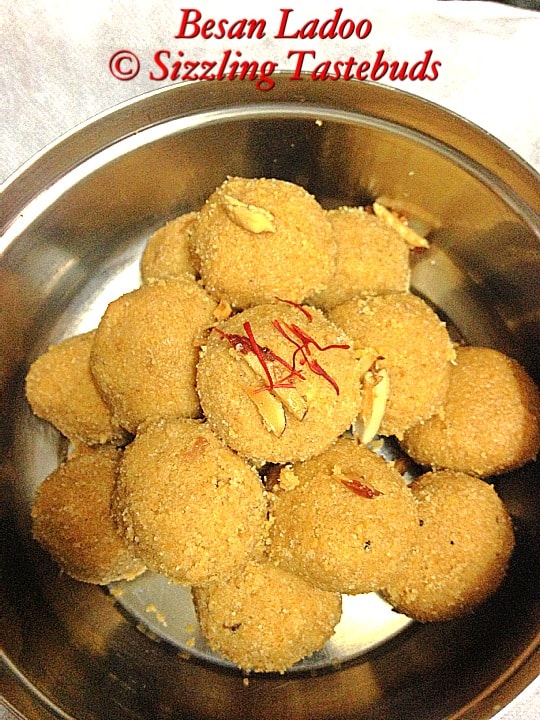 Pin