Some recipes are like dowry – one is accustomed to it since childhood. Some grow on you. Many more – you love to hate at first and then hate to leave them, while they work like magic on you over a period of time. Chilli cheese toast (called CCT in my family) fitted into the latter category . Bottom line – I hate cheese (yes, people like me exist on Planet Earth). S and kiddo love to experiment with different cheese varieties while on vacation (or at home, for that matter)., while for me, its another variant of milk – period ! Cheese strings dangled from Pizzas is still a must-no for me (I prefer it to be loaded with veggies though), but this dish – CCT – has rather grown on me, thanks to it being a standard fixture at our local club, where kiddo wants to go often (more to eat than to swim or play).
Pin

So, while today's program to visit the club was washed out due to heavy rains, the only way to pep her up was to try it at home (yes, try it : While I wanted to make this many times at home earlier,this was my maiden venture,and boy ! I didnt want to fail 🙂 ) .. As the kiddo looked on expectantly, even helping me clear the kitchen counter after the toasts were sent to bake (what a sweet and rare gesture), I was hoping that this would be a moderate success ! One bite into the smoothy creamy CCT on the rather crusty bread slices , and I was hooked !! The basil -cheese combo is sure to perk up your senses ! 🙂 Even mom who is not into cheese had a bite and the verdict was unanimous – Yeh Dil Maange More 🙂 (Want more) !! Try this out, and am sure this will be a hit at any party or as a favourite finger food with kids too

Now, lets get on to my version of Low Cal Basil Chilli Cheese Toast….yes, one with no butter too 🙂

This goes straight to :

Prep time : 10 mins. Baking time : 12 – 15 mins. Makes : 8 to 10 CCTs (halved triangle shapes)

Ingredients :
Bread Slices (White or Brown) – 10 slices, although White bread renders this better
Cheese – 2 to 3 cubes (or use 3 TBSP processed cheesy spread)
Melted Ghee – 1/2 tsp (yes!)
Capsicum (Bell Pepper) – 1/2
Green Chilli – 1 (opt.) – I did not use it as this was for the kiddo
Basil – 1 tsp
Red chilli flakes – 1/2 tsp
Oregano – a dash (opt)
White pepper powder – 1/2 tsp
Salt – optional (As the cheese cubes /processed cheese is already salted, please add with caution)
Method:
1) Grate the cheese cubes. Add finely diced (1/2 mm sized) bell pepper, basil, red chilli flakes, pepper powder and mix well. If using chillies, deseed them , dice and add. Mix again. If using cheesy spread, mix the pepper and the dry herbs and then spoon in the cheesy spread
2) Dip ur finger in the melted ghee and grease the slices
3) Spread a spoonful of the cheesy mixture on the bread slices
4) Pre heat oven to 180 C. Spray cooking oil on a baking tray (or just about brush them with oiled fingertips – you dont need any more oil, trust me).
5) Cut the cheesy slices into half (diagonally) on the baking tray. You may cut them later too, but it bakes faster with smaller pieces.
6) Bake for 8- 9 mins at 200 C and then for 2 – 4 mins on grill mode till the cheese slightly melts.
7) Serve hot with Tomato ketchup 🙂 We had this with steaming cups of green tea while enjoying the monsoons 🙂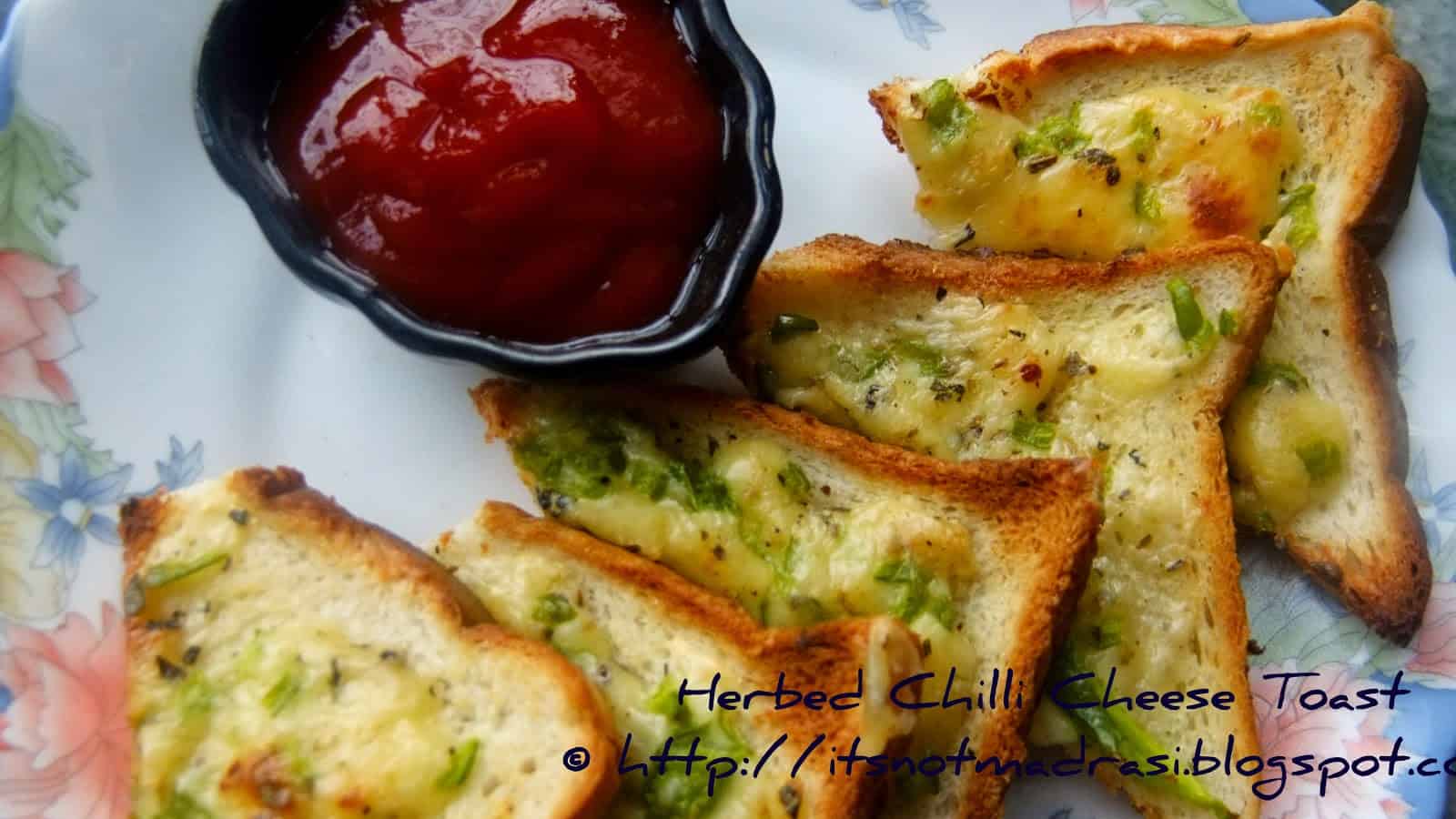 Pin