Combo Meals are my go-to dishes, especially for
Kiddo's lunchboxes or even birthday parties. Made at home, with very little
spice and oil, today's dish Paneer Pav bhaji is a twist and take on the famous
Mumbai Pav Bhaji. As with most Paneerbased dishes at home, this too was a hit… 
Essentially this dish is a paneer (cottage cheese) based tomato gravy with
the goodness of peas, this totally eliminates the need for potato.. I used
store bought store bought Pav (Dinner Rolls) Read on to find out what
substitutes I have used in place of potato (which forms the base for the
original Pav Bhaji recipe). Till then, this goes to Blogging Marathon # 30 , Kids Delight
– Party Ideas at my blog, at
my blog and also to Cook With
Yellow And A Giveway. 
Prep time : 30 mins | Cook time : 15 mins | Serves : 4
Ingredients:
Wholewheat Pav (Dinner rolls)- 8 pieces  (I used store bought ones)
  Bhaji (or gravy)

Kaddu / Pumpkin (Yellow Squash) – 2 cups (peeled and cubed)

Yellow Capsicum – 1 whole 

Onion – 1 no (minced)  – optional
Paneer / Cottage Cheese – 1 cup (or approx 100 gms)
Peas – 50 gms (I used frozen)
Ripe Tomatoes – 4 large
Salt – to taste
Oil – 2 TBSP
Butter – to grease the pav before grilling slightly – 1 TBSP (split use)
Coriander, chopped onion (1 tsp) and lemon wedges – for garnish
Dry Masala powders : 
Pav Bhaji Masala (2 TBSP), Turmeric (1 tsp), Garam Masala (1/2 tsp),
Kashmiri / Deghi Chilli Powder (1 tsp)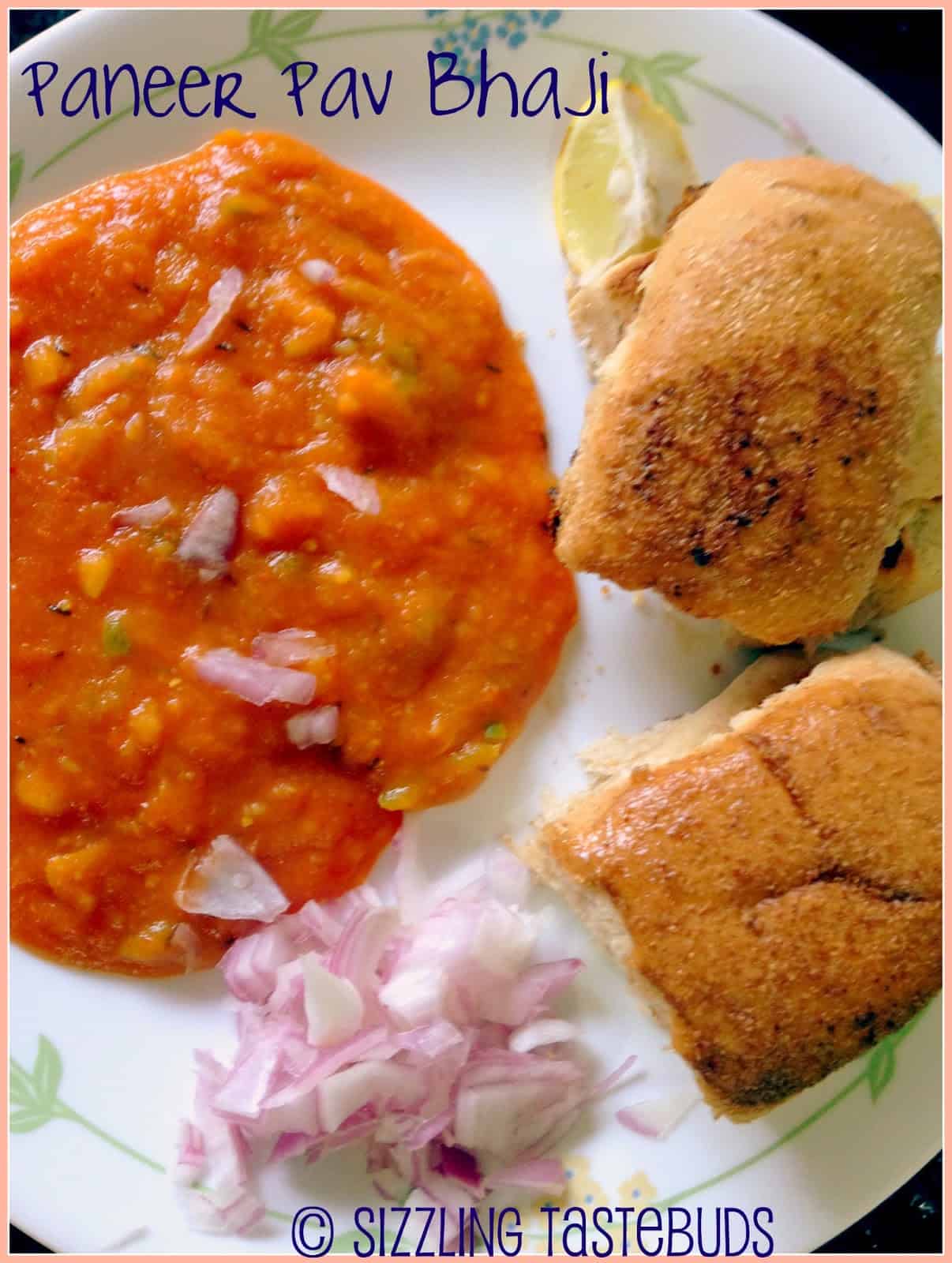 Pin




Method:

1) Blanch and puree tomatoes – Sieve the mixture and keep ready. Slightly grill the yellow capsicum in an oven at 160 deg C. Cool and mash slightly.

2)Boil the peeled and cubed pumpkin (yellow squash) in 4 cups of boiling
and slightly salted water for 10 mins till done but not mushy. Cool and puree.
Do not strain

3) Crumble the paneer and keep aside

4) In a pan, heat oil. saute the onions till they turn pink. Add the frozen
peas and saute well. Now add yellow capsicum , crumbled paneer and saute again for 2 mins.

5) Then add the tomato and pumpkin purees, the dry masala powders, salt and
saute well on a low-medium flame for 8- 10 mins till oil slightly starts to
leave the sides.

6) Check for salt and other spices. When the desired consistency is
reached, switch off the stove.

To serve:

  Heat a tava / skillet / grill and apply butter on the top and bottom of
the pav (make a slit  horizontally if you wish to apply butter there too). Grill
for 1 mins till tops turn golden brown

  Serve a portion of the pav bhaji topped with chopped onions, lemon
wedges and coriander !

Enjoy 🙂