How can we have a Mains and Sides week for Proteins Mega Blogging Marathon without Paneer featuring as a star ? As with most Indian families, Paneer is a favourite with my kids too. I make a lot of dishes with Paneer, but in this particular dish, Tofu (or any vegan cheese) can be easily substituted. So, adapted from Vaishali's recipe, this was one of the few bookmarks I was happy to make twice over and we loved it a lot. Thank you Vaishali, I made a few twists and the kids were thrilled to see a new variation for the weekend dinner.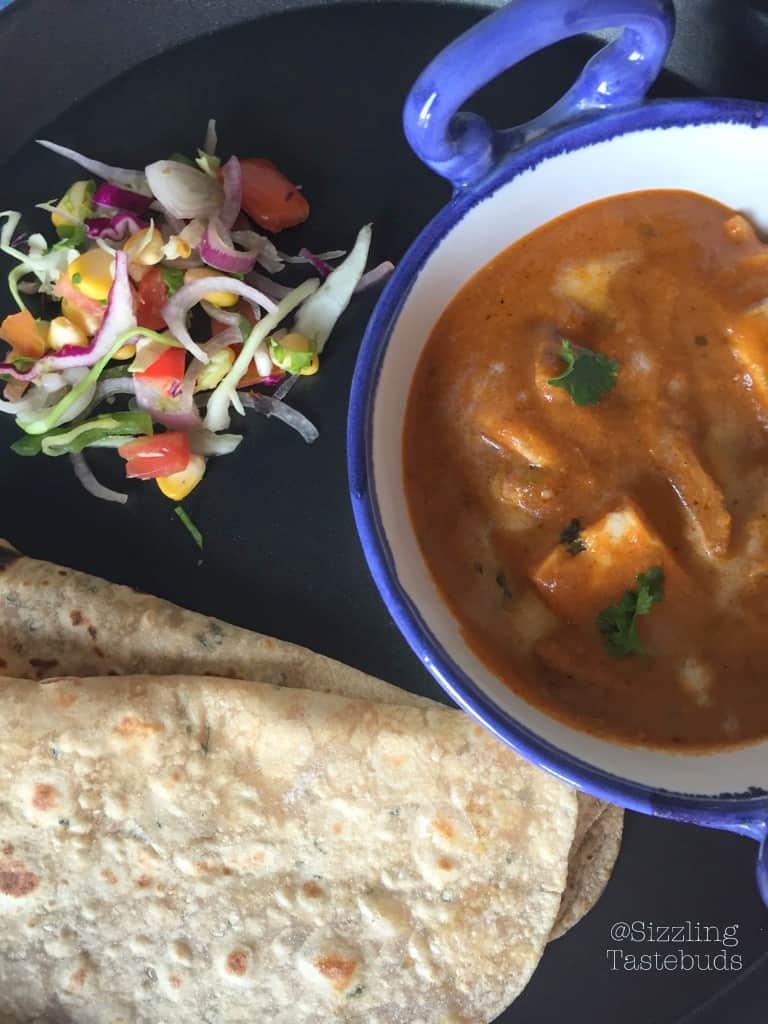 Pin

More Paneer dishes on the blog:

Nargisi Kofta Curry (Mock Egg Gravy)

Shahi Paneer Masala (Side dish for Roti)

Paneer Pudinawale (Paneer in Mint gravy)

Matar – Paneer (Peas – Paneer gravy)

Paneer Potato Curry ~ Cottage cheese and Potato curry

Paneer Kulcha (stuffed flatbread)

Paneer Kebab (appetiser)

Paneer Chilli Bites (Appetiser)

Pista Rasabali (a delicious sweet from orissa)

Mini Paneer & Spinach Tarts (Appetiser)

Paneer Manchurian (indo Chinese starter)

Paneer Bharwa Shimla Mirch (Bell peppers stuffed with scrambled and spiced Paneer)

Paneer Gulab Jamun (Indian Dessert with a twist)

Palak Paneer Parathas (Flat bread stuffed with spinach and Paneer)

Well, as you can see we are a family of Paneer lovers. Lets get to today's recipe. The prep stages are slightly longer but totally worth the effort 🙂

Paneer Makhmali – a GF Paneer based Gravy

Cuisine : Indian, Course : Sides ; Serves : 4

Serving Suggestions :  Flatbreads / Pulav

Prep time : 20 mins, Cook time : 15 mins

Protein Source : Paneer (Cottage Cheese) & Cashewnuts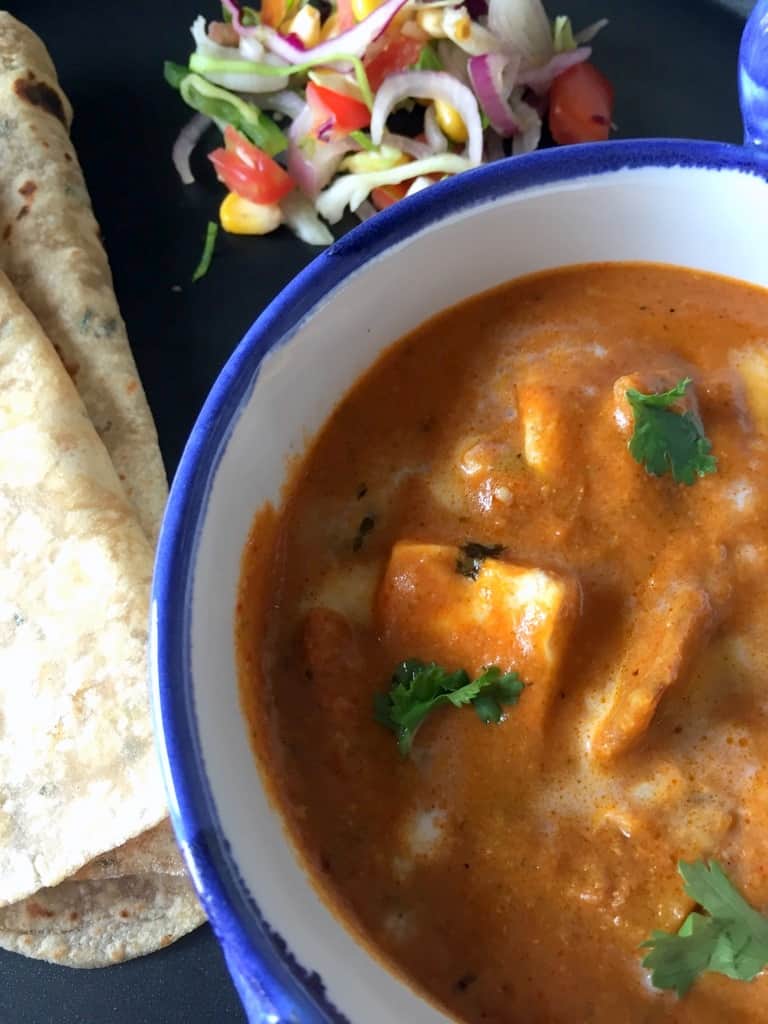 Pin
Ingredients:
Oil – 2 tsp
Malai Paneer – 250 gms – cut into medium chunks
Onion Paste – 2/3 cup
Fresh Tomato Puree – 1 cup
Soaked Cashewnut paste – 1/2 cup (can also use sunflower seeds as in the original recipe).
Salt – to taste
Turmeric – a pinch
Coconut milk – 1/4 cup (opt.)
Ginger – 1 inch long
garlic – 3 medium pods
Kasuri methi – 1/2 tsp (crushed)
Dry spices: Garam Masala, red chilli powder.
Prep work:
Soak 3 TBSP cashew nuts in warm water and grind to a paste.
Blanch and puree 3 medium sized tomatoes.
Dry saute 2 medium onions & ginger and garlic till soft, Cool and puree.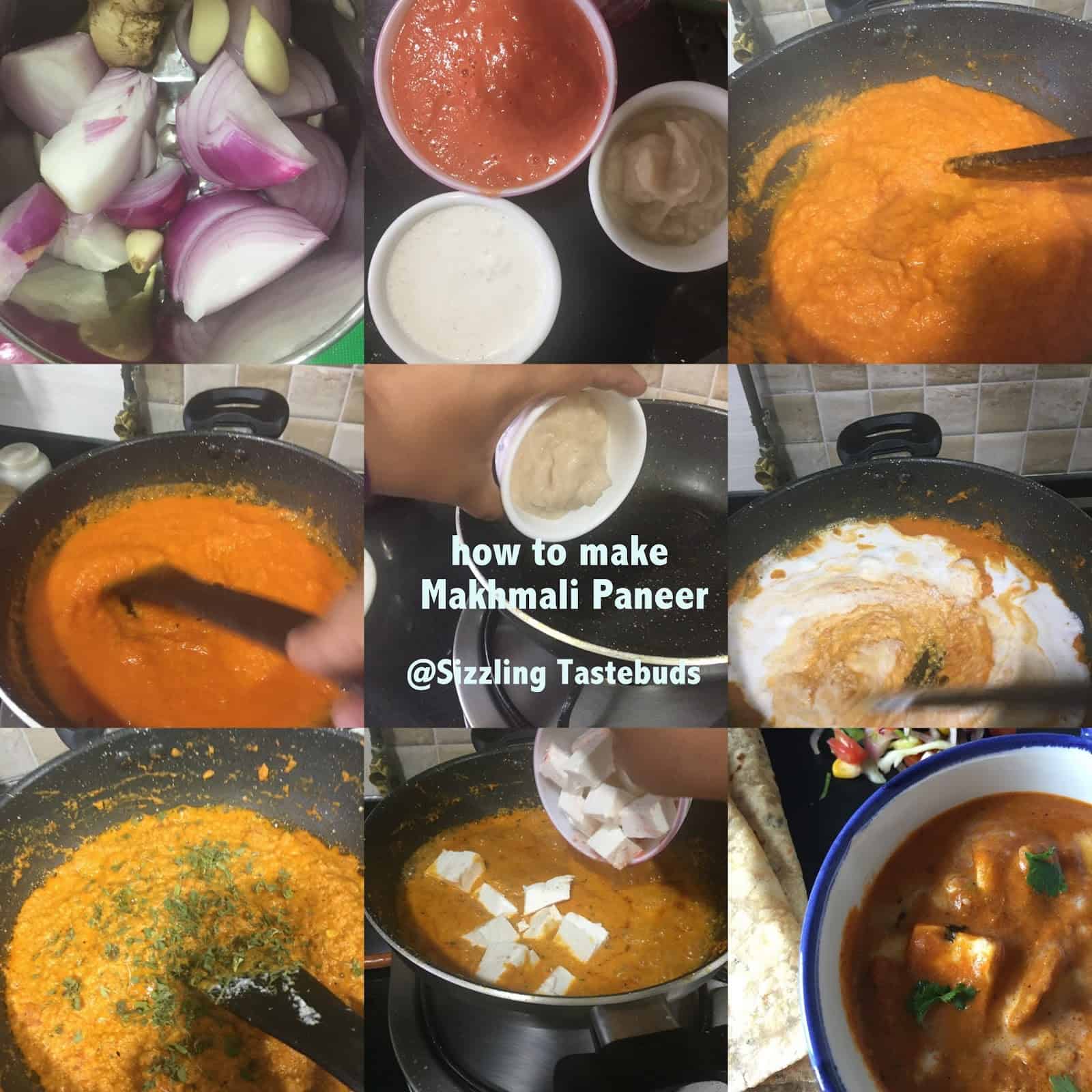 Pin
 How to make:
In a pan, heat oil, add the onion-garlic-ginger paste, saute well. Add the dry spices. saute till raw smell disappears.
Add the tomato puree and the cashew nuts puree. add a bit of warm water and let it simmer.
Then add the kasuri methi, paneer and let it simmer.
Add the coconut milk and let it simmer for 1-2 mins more.
Serve warm with Chapatis / Phulkas.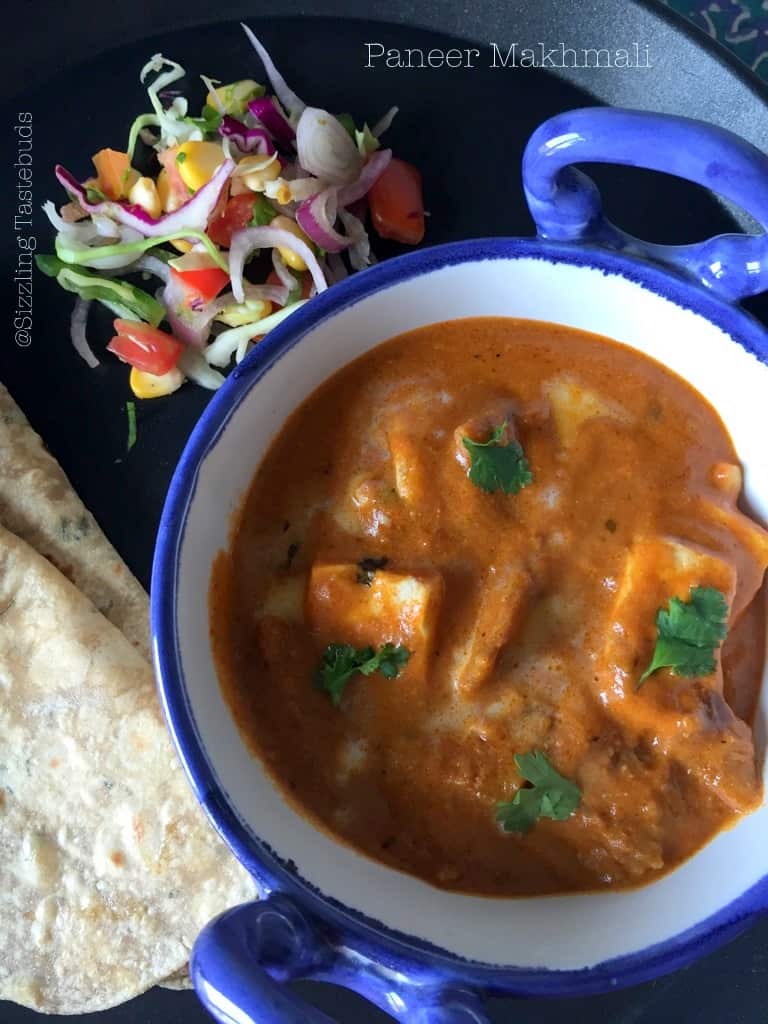 Pin
Pin
Check out the Blogging Marathon page for the other Blogging Marathoners doing BM# 80