Onion Pakodas (or deep fried Onion fritters) and Monsoon evenings are a match made in heaven. I had longg resisted making any deep fried snacks at home, till last Sunday evening both S and kiddo opined to eat it. Boy! Did I race into the kitchen to make these, along with a mixed bhajia platter that disappeared before I could click pics.. I had to make these again, just to take pics (and of course to devour them all over again) ! You can bet we didnt look at the bathroom scale for days after this snacking 🙂
These pakoras bring back distinct memories of an old lady who dished out these fried delights near my school, and these pakodas' aroma attacked our nostrils everytime we passed by her stall (or was it just a shack) every evening on our way back from school. Thanks to my grandmom, eating out was considered a sin (she came about accepting us eating out at restaurants with a pinch of salt till the very end). Although paati (grandmom) and mom made this at home, nothing could beat the garlicky pungency of the pakodas made by that old lady near school and today's Onion Pakoras made at home somehow oozed of that fragrance as they came out of the frying pan. Sending this to Day 2 of BM # 18 under "Warm foods to beat the rain" theme. It couldnt have been warmer or spicier or crispier than this 🙂 Check out the fellow marathonershere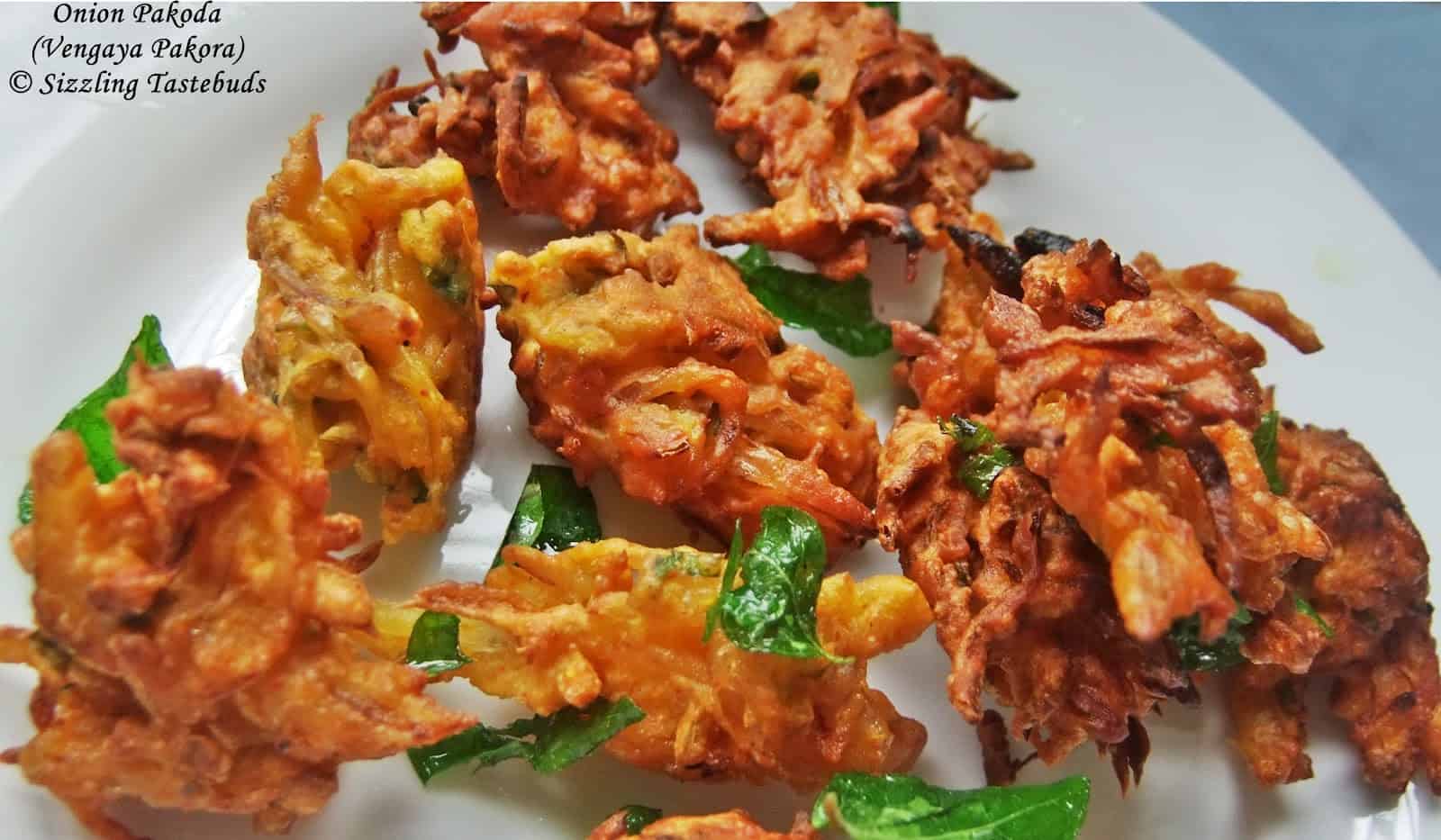 PinPin

——————————————————————————- 

Prep time – 15 mins

Frying time – 10 mins

Serves – depends on how much you get to munch 🙂 🙂

Difficulty level – Easy

——————————————————————————- 

Ingredients:
Besan / gram flour – 1 cup
Onions – 2 large (sliced thin)
Rice flour – ¼ cup
Salt – to taste
Red Chilli powder – ½ TBSP
Turmeric powder – ¼ tsp
Hing / Asafoetida – 1/8 tsp
Dry Coriander seeds – 1 TBSP
Saunf / Fennel seeds – ½ tsp
Oil – to deep fry
Ajwain / Carrom seeds – ½ tsp (crushed slightly)
Water – about 1 -2 tsp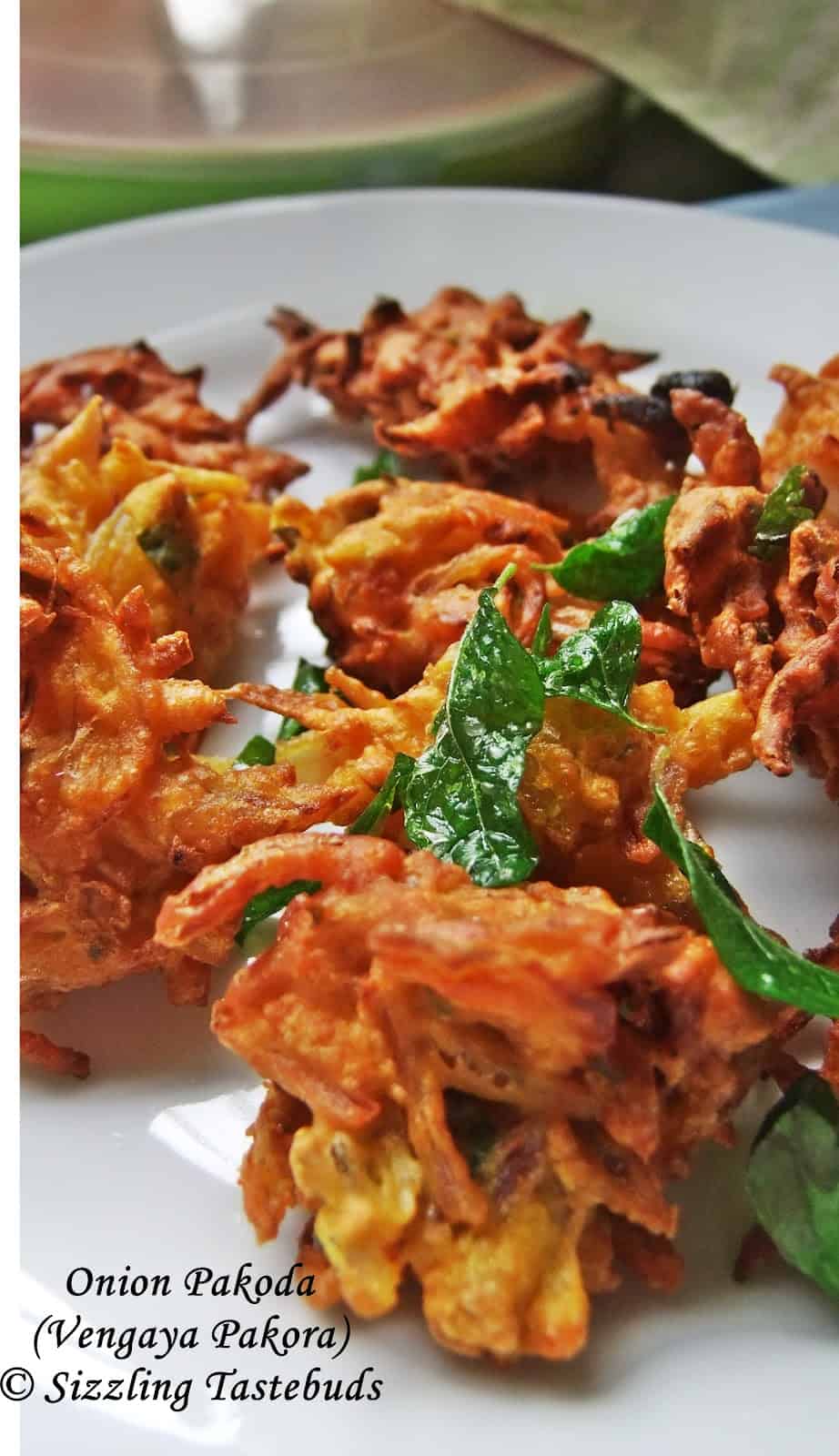 Pin
Notes:
1) Some people like to add soda to this to make it crisper. I didnt add the same
2) To pep this much more, you can add 1 or 2 deseeded and finely minced green chillies.
3) Preferably make the batter sans any water. The moisture from the salted onions is more than enough to make a batter. Ensure the onions are finely chopped lengthwise to give it a crisper look and taste.
4) Addition of coriander and fennel seeds are totally optional, but we loved them for that ethereal flavour. Addition of ginger-garlic paste is also preferred by some, but I avoided adding that to preserve the flavour of gram flour and carrom seeds.
Method:
1) Slice onions finely into hair like thin strips. In a large bowl, sieve besan, salt, rice flour twice over. Add turmeric powder, hing, red chilli powder to this and mix well.
2) Dry roast the coriander seeds and fennel seeds separately. Cool and coarsely powder it with a pestle and mortar.
3) Add the chopped onions to the besan mixture and mix well. Let it rest for 5-10 mins
Now add the coriander-fennel powder, ajwain seeds and mix the onion-besan mixture. The salt from the onions should be enough to get a thickish batter. Use 1 tsp of water if its absolutely necessary.
4) Meanwhile heat oil for frying. When it is hot, turn the heat to low and take a small ladleful of hot oil to the besan-onion mixture. With a ladle / broad spoon, mix this well (Warning ! Do not use hands to mix, the oil will scald your fingers). You should get a thick batter that you spoon out or use your wet fingers
5) Turn on the oil pan to medium-high heat now. With a spoon or with slightly wet fingers, pinch out small portions of the onion-besan dough into the oil  and fry them in batches on medium-high flame till they turn golden brown and crisp
( Note: you are allowed to munch on all this batch and the next even while making these pakodas – try resisting that thoughtJ)
6) Repeat for remaining dough.
7) Serve warm as it is or with coconut chutney (who has time to wait for the chutney to be made when the pakodas are sooo inviting !!) 
Linking this to: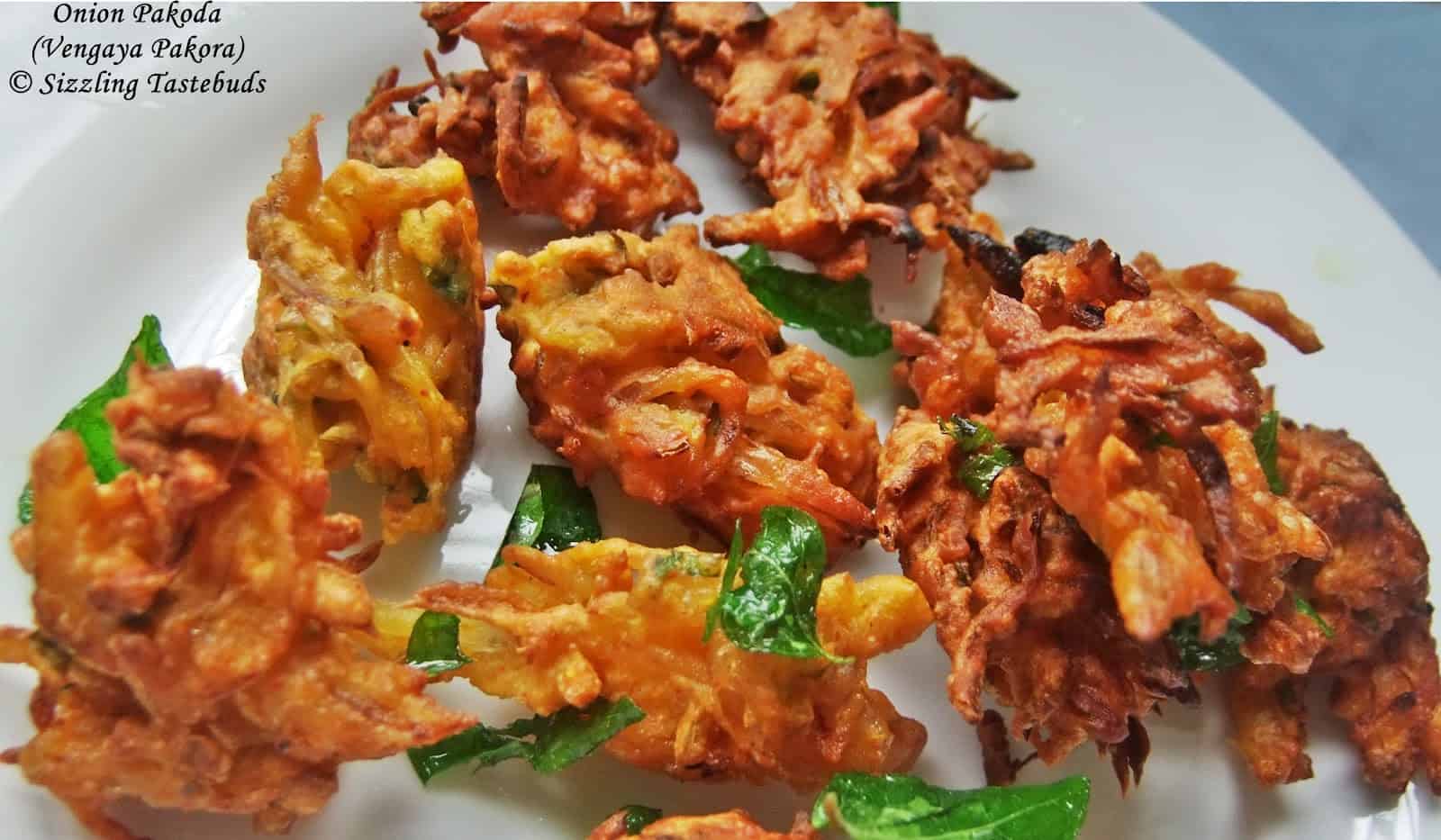 PinPin