Sikkim is a landlocked state with Nepal to the west, China's Tibet
Autonomous Region to the North and East and Bhutan to the East, and India's
state of West Bengal to the South. To that effect, the cuisine of Sikkim is
therefore influenced by the neighbouring states and is mixture of these states.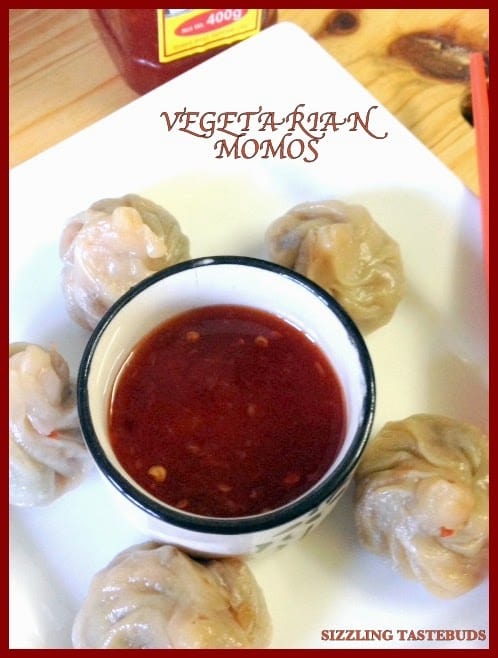 Pin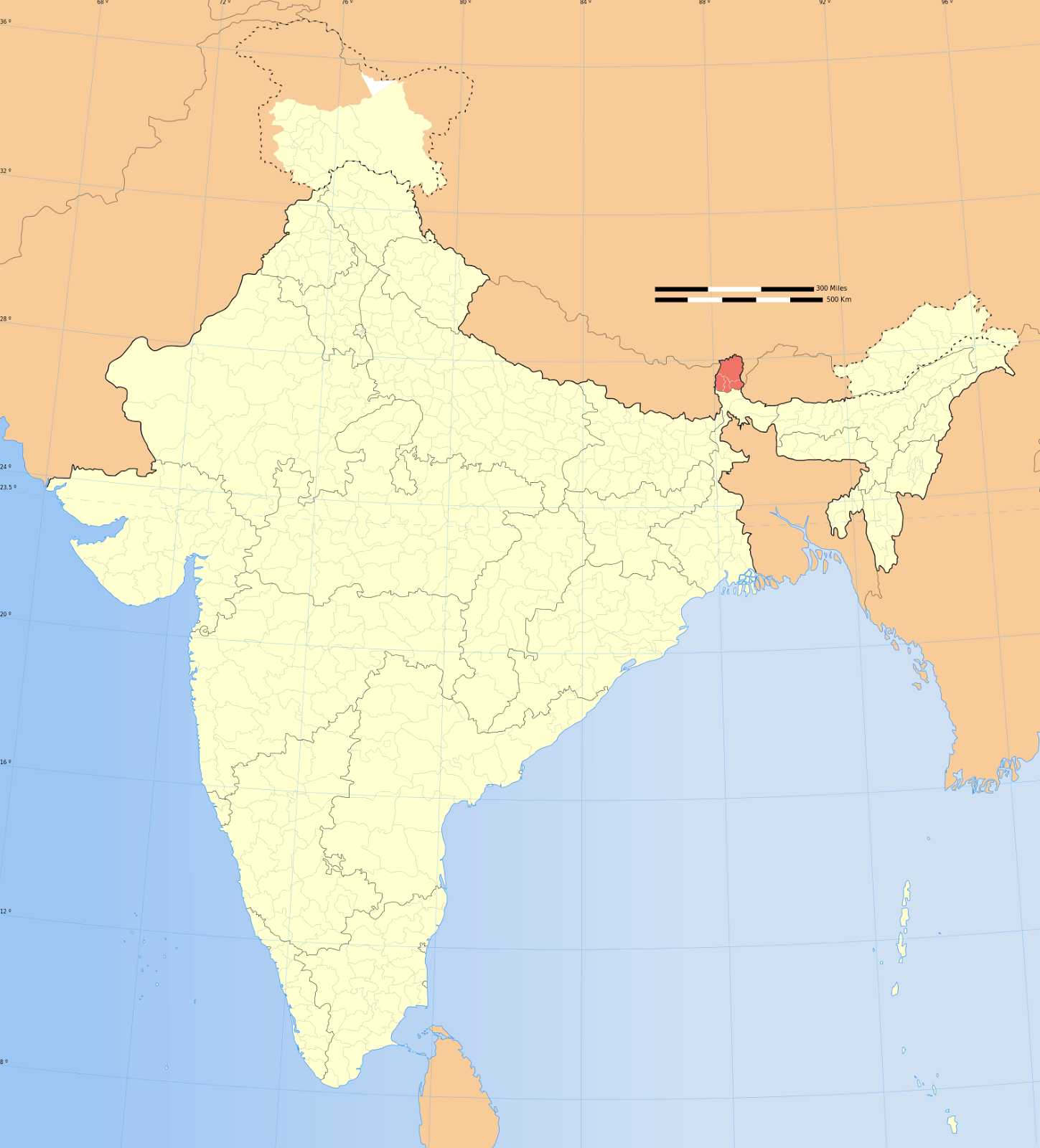 Pin
location map of Sikkim – Courtesy : Wikipedia
Sikkim is the only state in India with an ethnic Nepali majority.[7] Sikkim has 11 official
languages: Nepali (which is its lingua franca), Bhutia, Lepcha, Tamang, Limbu, Newari, Rai, Gurung, Magar, Sunwar and English.[8][9] English is taught in schools and used
in government documents. The predominant religions are Hinduism and Vajrayana
Buddhism. Sikkim's
economy is largely dependent on agriculture and tourism, and as of 2012 the state has the third-smallest GDP among Indian states,[10] although
it is also among the fastest-growing (Source : Wikipedia.org)
Noodlebased dishes such as thukpa, chowmein, thanthuk, fakthu, gyathuk and wonton are common in Sikkim. Momos – steamed dumplings filled with vegetables, buffalo meat or pork and served with soup – are a popular snack
Today,
we explore Sikkim through one of the popular snacks – Veg Momos. Momos are
generally made with All Purpose Flour (APF), and also with a combo of
Wholewheat and APF. But I have tried
making them today with just Wholewheat
flour. Also a tad thicker than the APF counterparts, it was very
healthy. I just tried out a batch which gave me about a dozen momos. Kiddo
found it a little spicy, but for the H and me, it was perfect.
————————————————————————–
BM : 39 ~ Indian State : Sikkim
Recipe : Wholewheat Veg Momos (steamed
dumplings)
Dish type : Snack or Appetiser
Spice Level : Medium
Accompaniment : None or with Soup
————————————————————————–
Prep Time : 15-20 mins, Cooking time : 10 mins ; Serves : 3
Ingredients:
(A) For the outer cover:
Whole Wheat flour – 1.25 cups – sieved with requisite salt
Warm water – about ¾ cup
Oil – 3 tsp
(B) For the filling
Diced veggies (each about 25 gms) : Cabbage, Carrots, French
Beans, Cauliflower, Broccoli
Onion – 1 medium
Capsicum / Bell pepper – medium 1 no.
Green chillies – diced fine – 2 medium
Black pepper powder – a generous pinch
Grated ginger – ½ tsp
Diced garlic – 2 tsp
Soya sauce – ½ tsp (optional)
Salt – to taste
Green Chilli sauce – ½ tsp
Spring Onions – 2 TBSP (optional)
Oil –2 tsp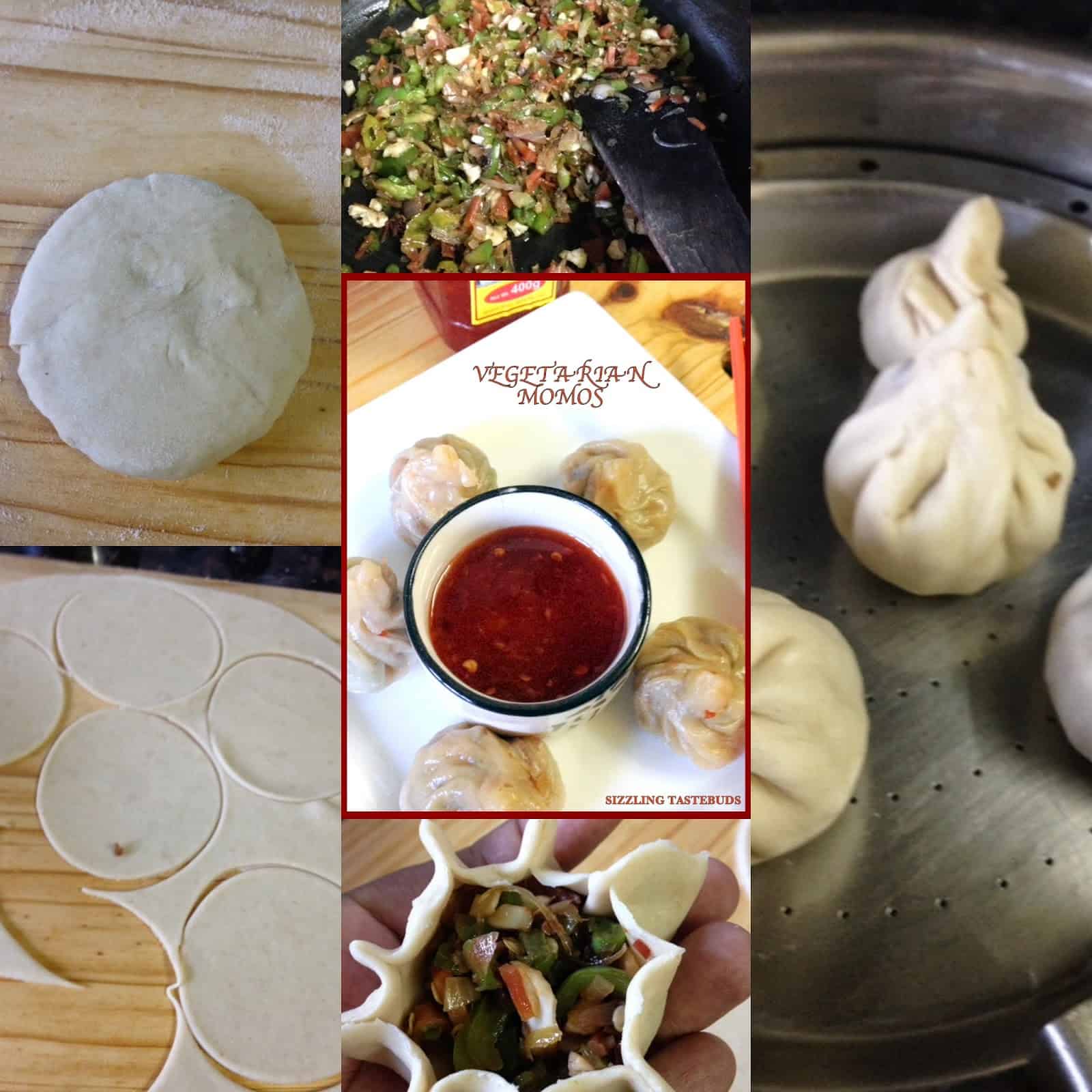 How to make Veg Momos – a photo tutorial
Method:
For the Cover:
Sieve Wholewheat flour with salt. Add warm water little by little
to make a semi soft dough. Add oil and knead once more. Keep covered for 15
mins
For the filling:
While the dough is resting, heat oil in a wok. Saute onions,
garlic, ginger, capsicum till the onions slightly caramelize. Then add the rest of the
veggies and sauté well. Add salt, but no additional water and cook covered for
5 mins, till they retain the crunch. Add the rest of the spices and sauces. Mix
well and let the mixture cool
To make the momos:
Divide the dough into 2 -3 large portions. Roll out each portion
into a large circular disc, which isn't too thick or thin. Using a cookie
cutter of desired size, cut out smaller discs (Alternately, you can pinch out
smaller tiny portions or the dough and roll them, but I find this method very
convenient and time saving).
In a smaller disc, spoon out ¾ tsp of the filling, press the
filling into the disc and make a depression. Pinch out pleats as shown in the
picture.
Bring the pleats to the top and just twist them once, pressing
them at the top to seal the filling.
Work with the rest of the dough in batches and keep the remaining
dough covered at all times with preferably a slightly moist muslin cloth.
Meanwhile bring a steamer with adequate water to a rolling boil
(you might want to use a bamboo steamer lined with plaintain leaves, but as I
didn't have it, normal Idli plates, greased well worked perfect for me)
Place the prepared momos onto the steamer and steam for 9-11 mins.
As I used wholewheat flour, the outer skin turned a tad dark in shade.
If using only APF /Maida, the momos will remain egg white in
colour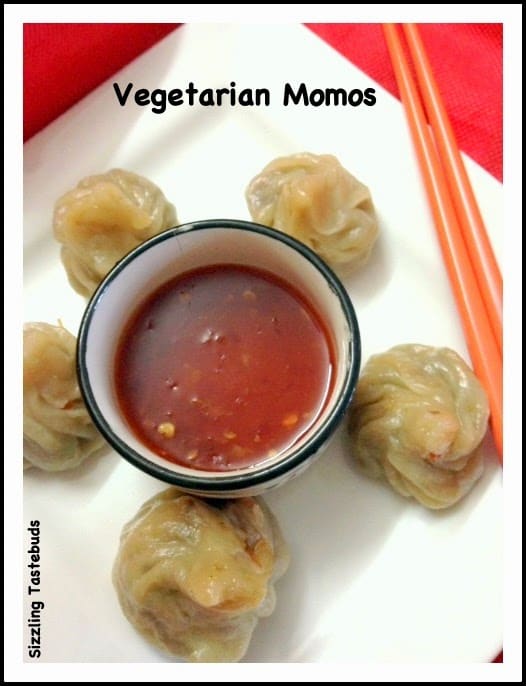 Pin
Notes:
1) Mushrooms can also be added to the veg momos
2) Sweet stuffing can also be made to make sweet momos– add dessicated
coconut, some brown sugar, and some roasted nuts.
3) If too bland, recommend adding a dash of soya sauce or sweet
chilli sauce to liven up
4) Any veggies can be added – it's totally a personal choice.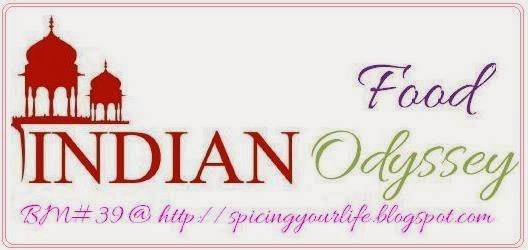 Pin
Check out the Blogging Marathon page for the other Blogging Marathoners doing BM# 39