This Russian Olivier salad had been on my to-do lists for
long. It's an intrinsic part of wedding and corporate buffets, along wit
another similar salad – Caesars salad . Usage of Mayo in this salad – an
ingredient totally detested at home – had been a detergent in making this
earlier. But I had a tin of sour cream that was going to expire, so I mixed a
tbsp of sour cream, a dash of tomato ketchup , 2 tsp of cream and 1/3 cup milk
to make this amazingly tasty salad.This goes to R for Russia for the World
Blogging Marathon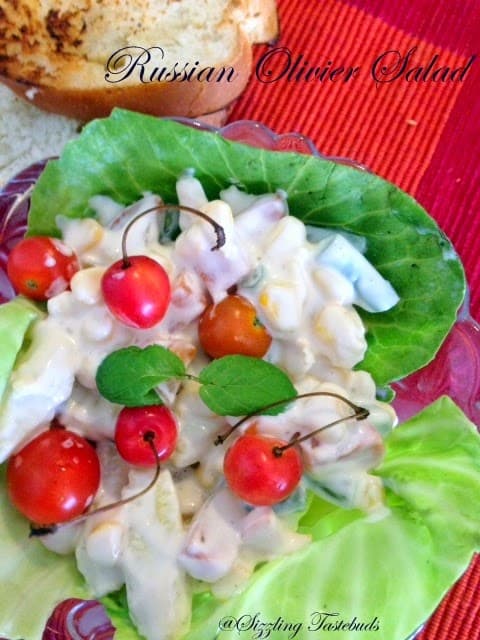 PinPin





Officially
known as the Russian Federation ,Russia is a country in northern Eurasia
It is a federal semi-presidential republic.
From northwest to southeast, Russia shares land
borders with Norway, Finland, Estonia, Latvia, Lithuania and Poland Belarus, Ukraine,
Georgia, Azerbaijan, Kazakhstan, China, Mongolia,
and North Korea.

Pin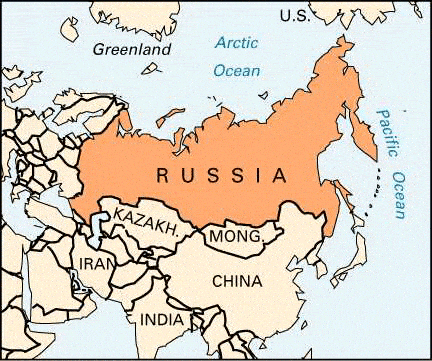 Pin
Russian cuisine widely
uses fish, poultry, mushrooms, berries, and honey. Crops of rye, wheat, barley, and millet provide
the ingredients for various breads, pancakes and
cereals, as well as for kvass, beer and vodka drinks. Black bread is
rather popular in Russia, compared to the rest of the world. Flavourful soups
and stews include shchi, borsch, ukha, solyanka and okroshka. Smetana (a heavy sour cream)
is often added to soups and salads. Pirozhki, bliniand syrniki are
native types of pancakes.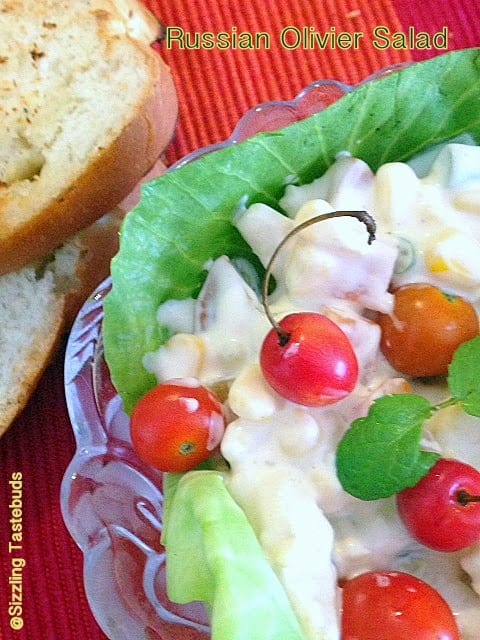 Pin
You can use any combo of fruits and veggies in
this, apples and pineapples being the mainstay. I used a combo of boiled
veggies (beans, carrots, peas – blanched slightly wit a dash of salt), cherry
tomatoes and some peeled and cubed apples. Make sure both the veggies/fruits as
well as the dressing is chilled. You may serve this standalone or with roti/ naan
and gravies as part of lunch. Either way, its gonna be a star !
Country : russia
Dish : russian Olivier salad
Served : as it is
Prep time – 10 mins | cook time – 5 mins
Chilling time – min 1 hour
Serves : 4
Ingredients
Boiled / blanched veggies : carrots , beans,
peas, baby corn – approx 1 cup

Apples – 1/2 medium (cored, peeled and cubed)

Cherry tomatoes – a handful – halved (optional)

Salt to taste

Olive oil – 1 tsp

Lettuce leaves / large cabbage leaves – cleaned
– to serve the salad in
Dressing :
Hung curd – 3/4 cup

Sour cream – 2 tbsp

Tomato ketchup – 1/4 tsp

Milk – 1/3 cup
Method:
Blanch veggies with a pinch of salt. Drain.
Refrigerate this along with the cubed apple
Whisk the hung curd and sour cream well , free
of lumps
Add milk little by little to make a slightly
runny dressing
Add a dash of tomato ketchup and mix well.
Refrigerate  the dressing for 1/2 hour.
Just before serving, add a dash of olive oil to
the veggies, toss.
Now mix the dressing into it. Add requisite salt
and toss once more with the veggies, apples, tomatoes and serve immediately on
a bed of lettuce / cabbage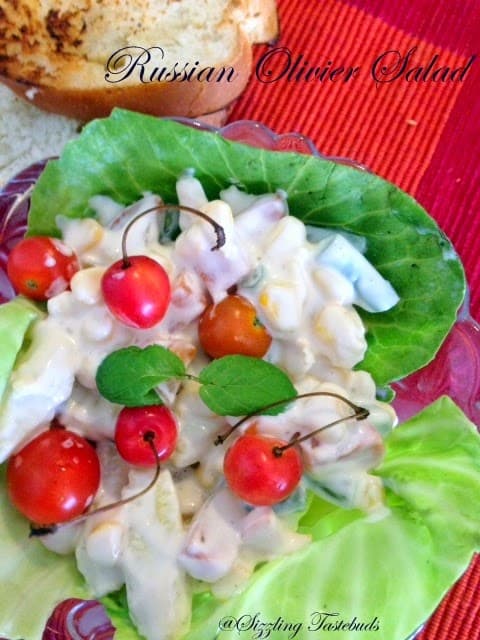 PinPin