We are what we eat,
isnt it ? Satvic food, amongst others counts as one of the ways to cleanse our
body-mind-spirit on a continual basis. While food is mostly need based or even
based on what is grown regionally, its the conditioning that one needs to get
used to, that spices be used in moderation, and that we eat according to our
body type and weather conditions. Thus we have the Simple or Pure Foods
(Satvic), Rajasic (stimulating) or Tamasic (the base foods) in Indian Cooking.
I am sure Indian Thalis (that have been designed over the ages keeping these
things in mind) are more balanced, nutritious and recommended for everyday
dining too 🙂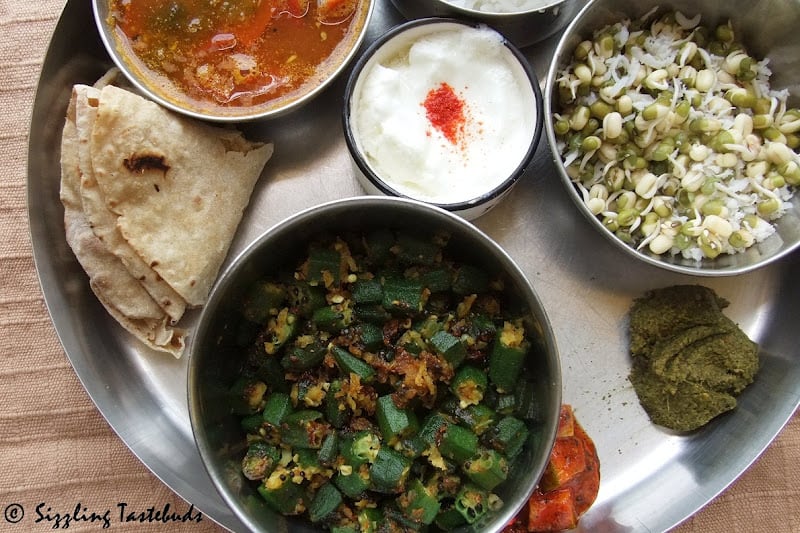 Pin

Ok, before I manage to fully put you to sleep with these trivia, I
present today's dish, nee a pure Saatvic
South Indian Thali (Thali in Hindi means platter). It is
everyday dishes out together without any ginger / garlic/ onions and is also
prepared with just 1 tsp of oil !! Yes, just
1 tsp of oil is used for the
entire thali, and I must admit this was one of the most satisfying meals I have
had in a longggg time 🙂 Thanks to Valli's Thali Mela (to which this also goes
to), I managed to cook an entire meal for myself (for lunch – something that I
rustle up rarely as its cooking for only one person :)), and loved it. Also
sending the Okra Stir fry (which was actually the star of this dish, and my
personal personal favourite stir fry) to Blogging Marathon and my event
Heirloom Recipes hosted by Saras.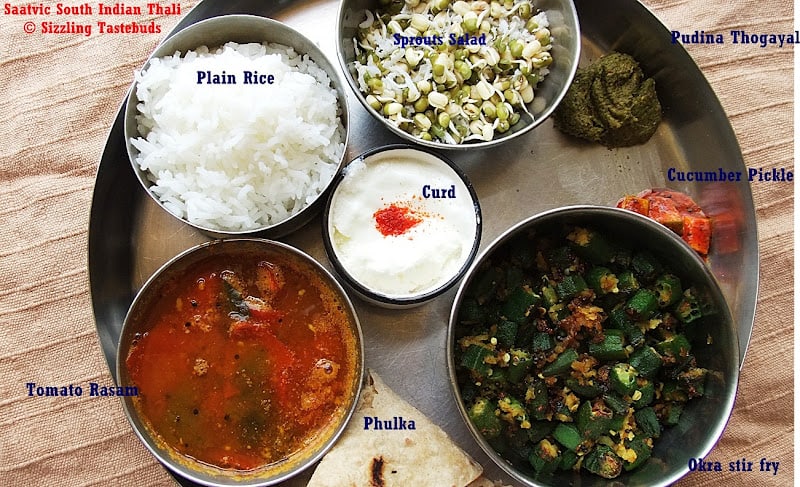 Pin

Lets get to the spread now :

Rice & Bread – Plain steamed
rice & Phulkas (puffed Indian bread)

Accompaniments – Okra Stir fry
(recipe below) & Tomato Rasam

Proteins – Sprouts Salad

Calcium / Dairy – Curd

Dips – Pudina
Thogayal & Cucumber
Pickle (recipe soon).

——————————————————————————————–

For Entire Thali:

Total prep time – 15 mins

Total cook time – 20 mins

Serves – 2 (I have shown
one portion here)

For Okra Stir Fry:

Prep time – 10 mins.

Cook time – 8 – 10 mins

Difficulty level – Easy

Spice level – medium

Serves – 2

——————————————————————————————–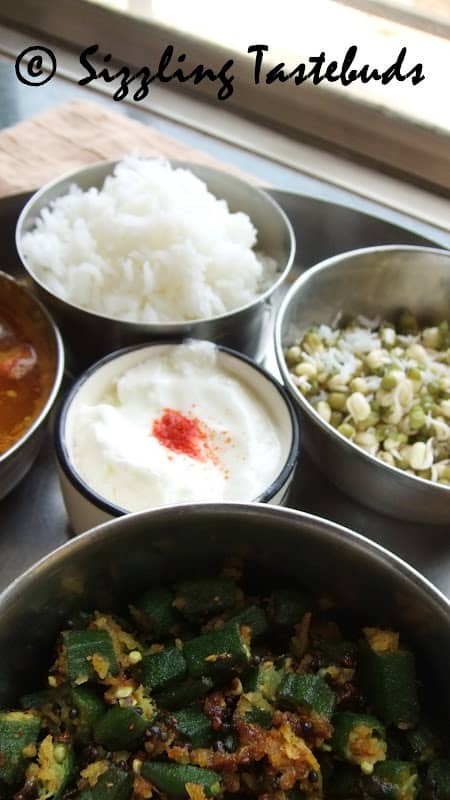 Pin
Ingredients for Okra Stir Fry:
Okra (Lady's finger) – 150 gms
Oil – 1 tsp
Turmeric – a pinch
Salt – to taste
Amchur Powder – 1/2 tsp (or 1/2 tsp of tamarind juice)
Red Chilli powder – 1/2 tsp
Jaggery – 1/2 tsp
Grated coconut for garnish
Tempering : Mustard seeds , curry leaves, hing (asafoetida)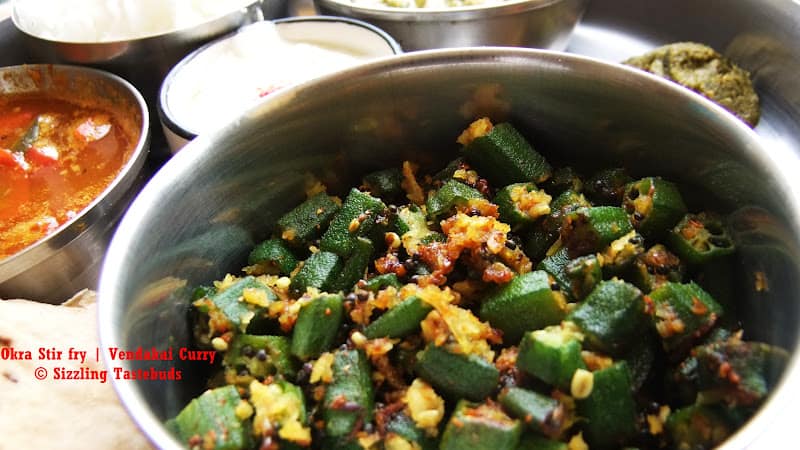 Pin
Method:
Wash, pat dry and trim the Okra. Cut into 1/2 inch bits.
In a pan, heat 1 tsp oil. Splutter mustard, curry leaves and
asafoetida. Add turmeric and chopped okra. Saute for 2 mins. Add salt and cover
and cook for 6-7 mins till done (but not mushy).
Add amchur powder, red chilli powder, jaggery. Stir once and cook
for further 2 mins (without cover).
Finish with grated coconut and serve with Rasam and Rice.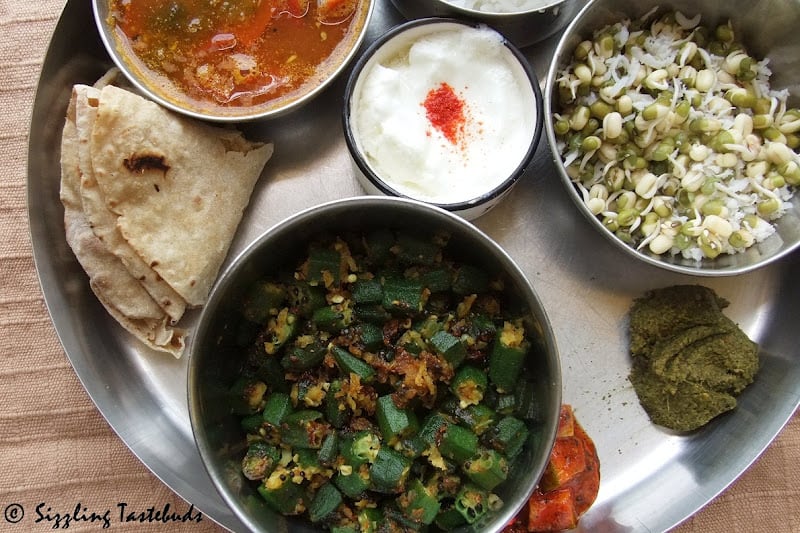 Pin