Given the frenetic
lifestyles we have, its often a compromise – despite serious attempts – to eat
healthy food : a balanced diet that has all the portions of essential minerals
and vitamins that nature offers to us, in a form thats not too modified from its
original form
Like my family, I am
sure all my readers out there (especially moms) strive to give that perfect
meal to their family. In that process, their own health gets compromised,
at least to an extent. Given that the body repairs itself beautifully, but over
the years the damage is too late to correct.
Which is exactly the
reason this new eating series is launched : My Health, My Way – to
focus on each nutrient individually (calcium, carbs, proteins etc) and adopt
healthy living as a lifestyle rather than by accident (or compulsion). Indian
food by itself is so rich in nutrients, lets discover all that and more in a
series of healthy living series .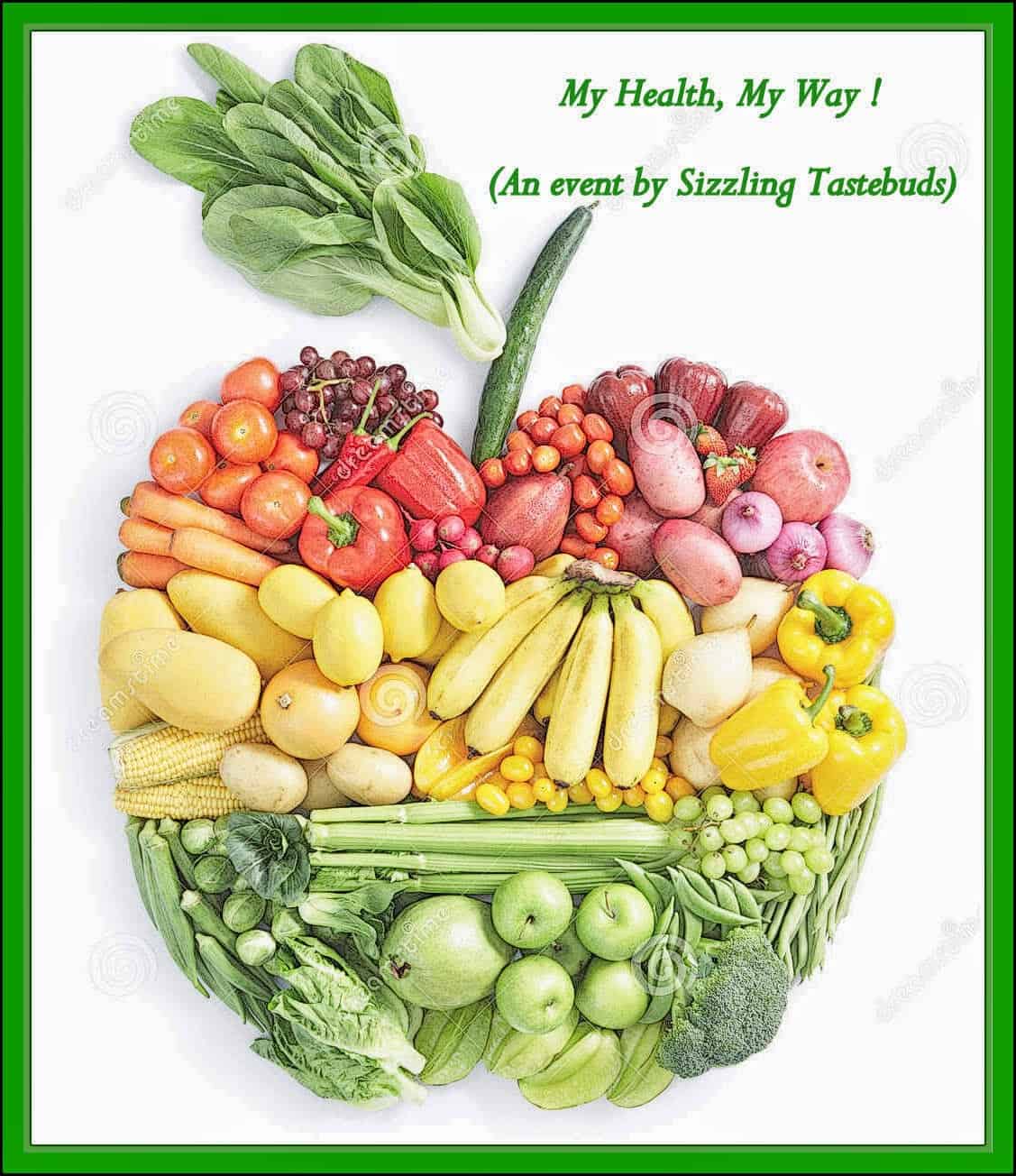 Pin
Starting this month,
there are a series of blogger friends who are hosting this series at their
blogs, the first of which is Calcium Rich recipes which kick starts on 16th
June at PJ's blog, Its a month long event, and further details can be had at
her post.
The following is the
guest hosting schedule. If you are interested to host any month's event (that are not filled yet), drop me
a line at mo[email protected]. For guest hosting, the only condition is that
your blog should be atleast 15 months old.
| | | |
| --- | --- | --- |
| Event Dates | Theme | Host |
| June 16th – July 15th | Calcium Rich | PJ |
| July 16th – Aug 15th | Fibre Galore | Soumya |
| Aug 16th – Sep 15th | Protein Rich | Kalyani |
| Sep 16th – Oct 15th | Good Fats | Priya Srinivasan |
| Oct 16th – Nov 15th | Healthy Carbs | Varada |
| Nov 16th – Dec 15th | Iron Rich | Prachi |
| Dec 16th – Jan 15th 2015 | Vit B12, D,Vit B – Niacin, Riboflavin, Thiamin | <<open>> |
| Jan 16th – Feb 15th | Folic Acid | Suja Ram |
| Feb 16th – March 15th | Vitamin A,C | Mireille |
| Mar 16th – Apr 15th | Good Oils and Fats | <<open>> |
| Apr 16th – May 15th | Millets Galore | Denise |
| May 16th – June 15th | Wholegrains only | Kalyani |
Salient features of this event (this is only to focus more on healthy
eating, rather than viewing the rules as roadblocks to everyday cooking)
1) No refined food
is allowed and substitutions are more than welcome : For eg: Wholewheat or
wholegrains instead of Maida, Palm sugar or jaggery instead of refined sugar.
Olive or even groundnut oils instead of margarine and butter — u get the
drift.
2) Vegetarian /
Vegan entries are allowed (eggs may be accepted at the discretion of the guest
hosting the event for that month). But strictly no meat or liquor.
3) A small write up
on how you make / plan to make healthy changes in your kitchen would be highly
appreciated. If you are sending multiple entries, you can truncate this info to
a few lines.
4) Special focus can
also be provided on usage of millets, wholegrains, vegan substitutes – as this
series is not just for kids but a healthy eating lifestyle for the entire
family. So diabetic specific cooking, arthritic specific cooking, kidney
ailments specific cooking – you can write about all these that you do in your
post.
Looking forward to
your continued support, and making this event a success…
Happy and healthy
cooking !
Eat Healthy, Love life 🙂
Cheers
Kalyani