Oats Moong Tikki
Two healthy ingredients coming together in a medley that's not only yummy but also heart friendly and tasty – Oats Moong Tikki. Wholegrains Oats is used with our favourite lentil Moong dal – to create a quick snack that fights hunger pangs. Like the Moong dal Seekh Kebab, this one too requires the dal to be boiled al dente , not mushy. Addition of potatoes is optional and would give it more volume, although it may not be suited for diabetics. One may use boiled and grated sweet potato instead.
Now, to the recipe. I used sprouted Moong (ground coarsely). You may use soaked and pulsed yellow Moong dal too. Other veggies that I added in this were Cabbage / grated carrots and some onions. Makes for a quick wholegrain snack.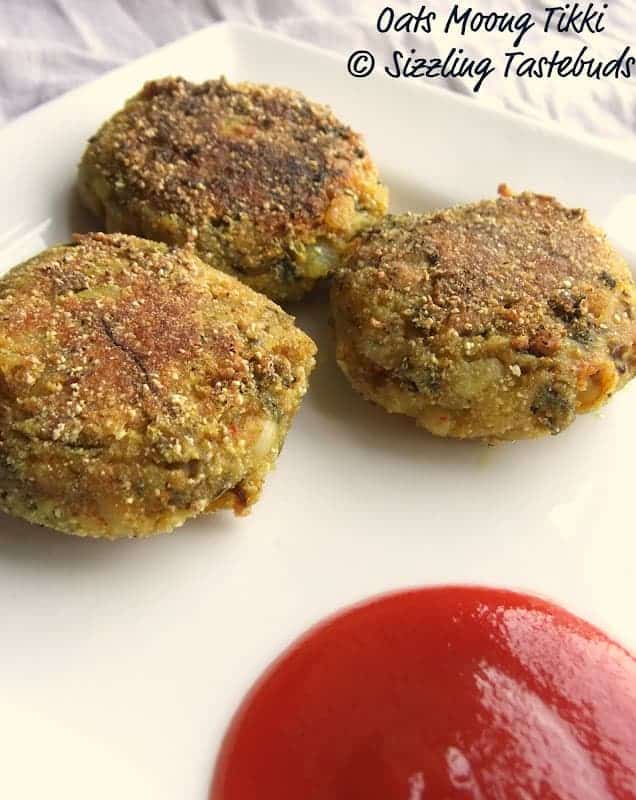 Protein Rich plant sources include most lentils, Chickpeas (Kabuli Channa) etc. Some protein rich starters / dips you might like to make for your next party / potluck as under…
Tikki Chole Chaat | Spicy Chaat recipes
Tikki Chole Chaat is a delicious street food combining tikki (potato patties, shallow fried) with a spicy-tangy chickpea curry. Served topped with onions and chutney
Check out this recipe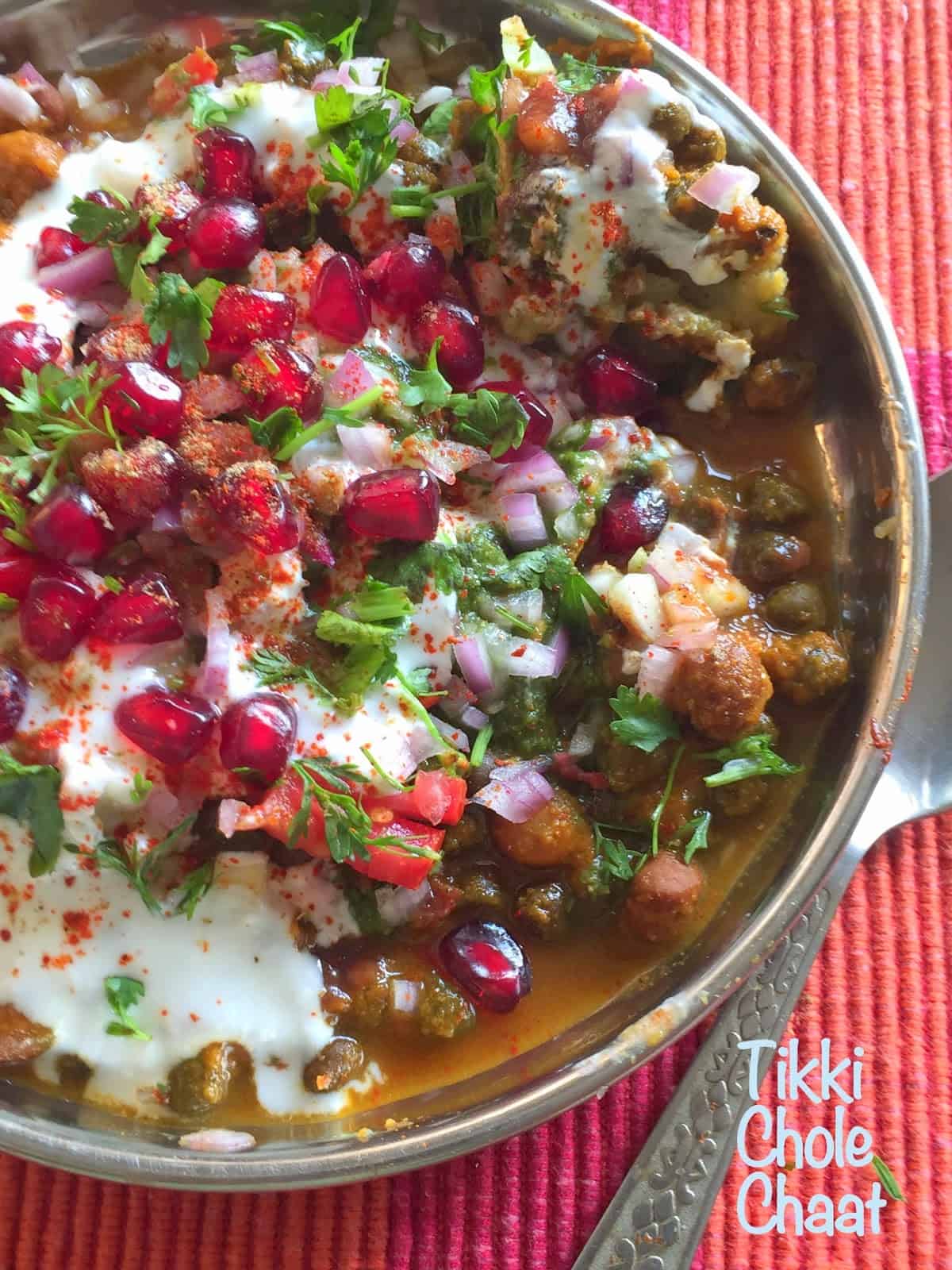 Mango Channa Chaat
A quick, Oil-Free snack of Ripe Mango with boiled Chickpeas topped with spices
Check out this recipe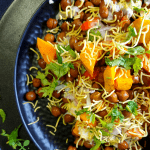 Mung Bean Hummus
Mung Bean Hummus (Moong Bean Hummus) is a healthy, low fat, low oil hummus or dip made with Whole Green Mung Beans and basic pantry spices.
Check out this recipe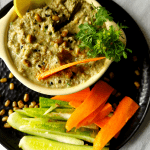 Benefits of Using Oats in everyday dishes
1. Good source of high soluble fibre
2. Helps in weight management
3. Good for cardiac health
Let's get to making Oats Moong Tikki
Prep time – 15 mins ; Cook time – 15 mins ; Makes – 6 to 8 Tikkis
Cuisine – Indian; Course – Snack / startes
Ingredients:
1/2 cup Oats (I used rolled Oats)
1/2 cup Split green gram Sprouts (Moong sprouts, you can also use Soaked whole moong)
1/4 cup Cabbage (shredded)
1/4 cup Onions (minced fine)
1/4 cup carrots (grated)
1 tsp Salt
4 TBSP Olive oil
1 tsp Garam Masala
1/2 tsp Turmeric
1/2 TBSP Chaat Masala
1/2 tsp Red chilli powder
2 Green chillies (minced fine)
1 TBSP Coriander leaves
1 TBSP mint leaves
2 TBSP Semolina (to roll the Tikkis, optional)
How can you use Oats Moong tikki?
These vegan patties can be had on their own with some sauce or the Dahiwali Hari Chutney OR used as filling in burger buns or grilled as kebabs in a frankie or a kathi roll. Like this Rajma-Sweet Potato Tikki (kidney bean+sweet potato patty), or even used with some Ragda or Chole like this Tikki Chole Chaat or Ragda patties (slurp slurp)!! 
Method:
Roast Oats in a dry pan. Cool and powder coarsely.
Boil Moong Sprouts in hot water with a pinch of salt and turmeric for 10 mins till al dente. Drain and grind in a spice grinder to a coarse paste. 
Take the moong paste in a large bowl. Add the onions,chopped cabbage, grated carrots, salt, turmeric and dry masalas. Add green chillies and mix well. Now add roasted and powdered Oats little by little and mix to get a thickish mass (dough like consistency). Divide into equal portions and flatten out
Refrigerate for 20-30 mins (optional, but recommended).
At the end of 20 mins, heat a shallow fry pan. Roll the tikkis in the cornmeal or semolina and place them on the pan. Drizzle oil around the tikkis and cook on medium flame till crispy. 
Serve hot with tomato ketchup or

 

green chutney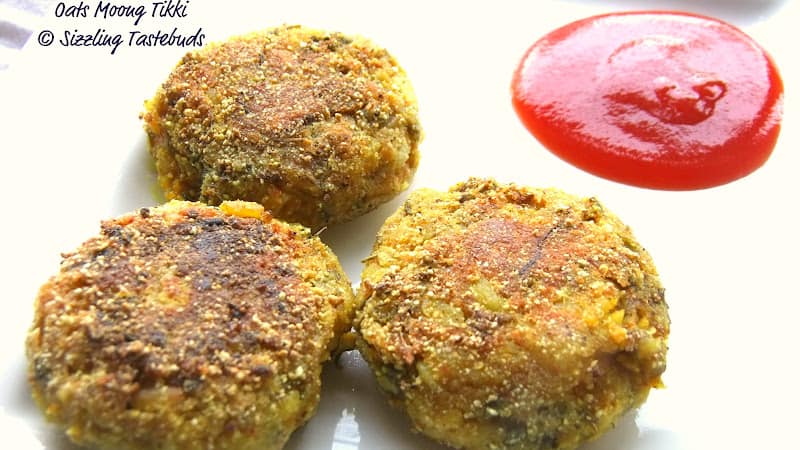 Oats Moong Tikki | Wholegrain snack for diabetics
A delicious and healthy snack made with Oats and split green gram. Served as an appetiser with ketchup or green chutney
Equipment
Bowl

Grater

Wet Blender

Shallow Fry Pan

OR Tava/ skillet
Ingredients
1/2

cup

Oats

I used rolled Oats

1/2

cup

Split green gram Sprouts

Moong sprouts, you can also use Soaked whole moong

1/4

cup

Cabbage

shredded

1/4

cup

Onions

minced fine

1/4

cup

Carrots

grated

1

tsp

salt

4

TBSP

Olive Oil

1

tsp

Garam Masala

1/2

tsp

Turmeric

1/2

TBSP

Chaat Masala

1/2

tsp

Red Chilli Powder

2

Green Chillies

minced fine

1

TBSP

Green coriander leaves

1

TBSP

Fresh Mint leaves

2

TBSP

Semolina

to roll the Tikkis, optional, also use Cornmeal
Instructions
Roast Oats in a dry pan. Cool and powder coarsely.

Boil Moong Sprouts in hot water with a pinch of salt and turmeric for 10 mins till al dente. Drain and grind in a spice grinder to a coarse paste.

Take the moong paste in a large bowl. Add the onions,chopped cabbage, grated carrots, salt, turmeric and dry masalas. Add green chillies and mix well. Now add roasted and powdered Oats little by little and mix to get a thickish mass (dough like consistency). Divide into equal portions and flatten out

Refrigerate for 20-30 mins (optional, but recommended).

At the end of 20 mins, heat a shallow fry pan. Roll the tikkis in the cornmeal or semolina and place them on the pan. Drizzle oil around the tikkis and cook on medium flame till crispy.

Serve hot with tomato ketchup or green chutney