Yes, you read it right – Pav Bhaji can be low fat and low cal too. After the stupendously successful Pumpkin-Chocochip Bread, I was more confident of experimenting with Pumpkin Puree in more of my dishes, especially those which required volume (like Cakes / Pav Bhaji) all the while cutting down extra carbs through butter or even Potatoes. So, one evening on a whim, kiddo asked me to make Pav Bhaji, but I didnt want to load up a lot. So I offered to make it for a Sunday evening snack, and as it was her X mas holidays asked her to help me out as well. She surprisingly agreed (it was the Pav bhaji that worked magic – letting go of Chota Bheem and friends on Television never seemed easier ;-)) Now, since she is too young to chop veggies for the pav bhaji (which was majorly Pumpkin puree etc), I asked her for little things , like getting me the masala powders from the shelves within her reach. And imagine my surprise when the first masala packet she brought out was Pav Bhaji Masala, followed by Amchur & Red Chillipowder. I was touched that my little one was a cute chef in the making:-)  And as she doesn't like Potatoes in most forms (except may be fries), she helped me get some veggies like Carrots and Beans from the refrigerator. She also chose capsicum as she likes the crunch in the Pav Bhaji. So armed with all this, holiday cooking never looked better, and rather tasted better. The Pumpkin puree was a total hit, with even mom approving of the taste. It isnt sweet at all as one might be inclined to think. Rather the masalas we add cuts down the sweetness while the puree increases the volume but with no extra fat 🙂 Try this for a quick evening snack or even make it for school lunchbox. You surely have a winner there. Sending this to Week 2 BM # 11 under "Holiday Cooking" and also to Valli's Snacks Mela , Veena's kids delight and Radhika's Winter Mela. Its a wonderful party idea too, and you might want to increase the spice if serving to elder guests.
Check out the Blogging Marathon page for the other Blogging Marathoners doing BM#11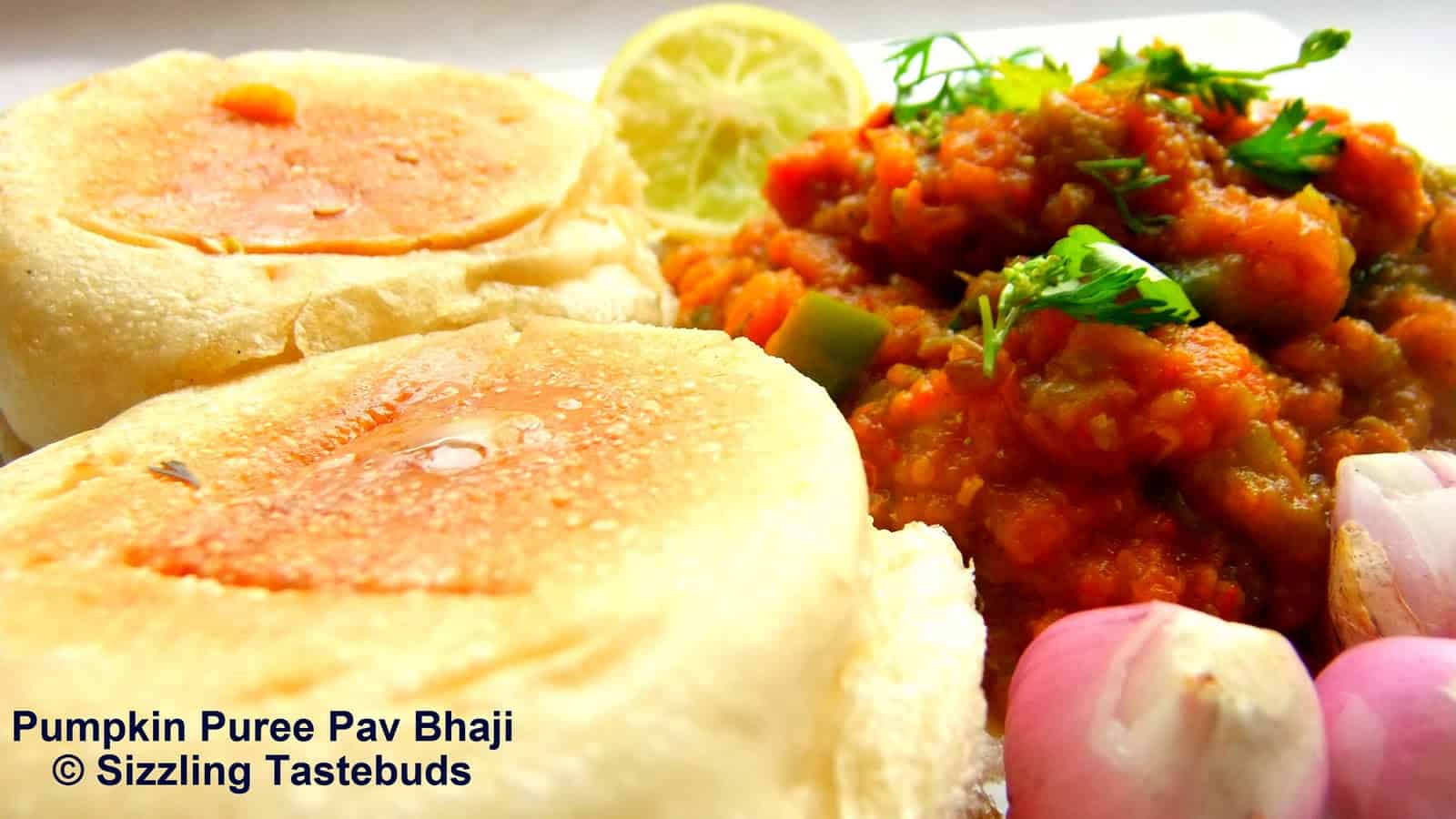 Pin

Prep time : 20 mins. 

Cooking time : 15 mins.

Serves : 3

Ingredients:

(A) Bhaji of the Pav Bhaji:
Pumpkin (Butternut Squash) – 2 cups peeled and cubed
Onions – 1 large minced
Oil – 2 TBSP
Ginger garlic paste – 1/2 tsp
Capsicum – 1/2 minced fine
Carrots – 1 small – grated
Fresh Peas – a handful
French Beans – a handful
Tomatoes – 2 large
Salt – to taste
Turmeric – 1/2 tsp
Garam Masala – 1/2 tsp
Dry Masala (each 1 tsp) – Pav Bhaji Masala, Red Chilly powder, Amchur
Butter – 1 TBSP
Coriander & lemon – for garnish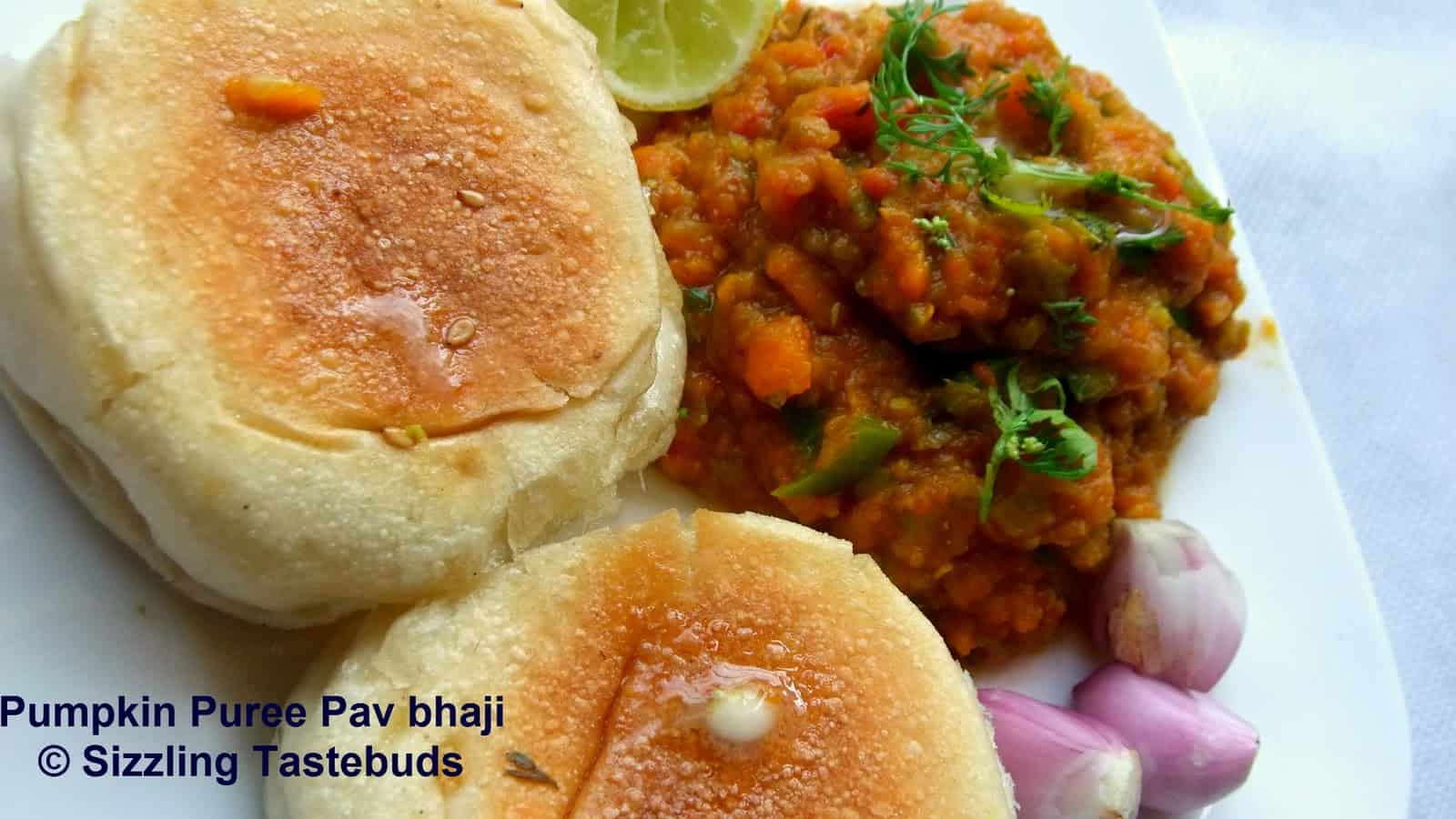 PinPin

(B) To Serve : Pav or Dinner Rolls – storebought or baked at home – 6 nos

Method:

1) Peel the pumpkin and puree the cubes without water in a blender. Similarly blanch and puree the tomatoes separately. Strain and reserve

2) Chop onions and capsicum fine. Blanch peas in hot boiling water for 6 mins.

3) Grate carrots and chop french beans fine

4) In a large non-stick pan, heat oil. Add onions and half the capsicum. Saute well. Add the french beans, ginger garlic paste, salt and saute again till onions slightly brown. Now add the grated carrots and mix again.

5) Once the raw smell goes off, add the peas, pumpkin puree, tomato puree and all the dry masala powders, garam masala and mix well.

6) Cook covered for 10 mins.

7) Add 1 TBSP of butter and half the coriander leaves

8) Switch off stove and transfer to serving plate.

9) To serve, lightly grill the pav with butter / nutralite on a hot tava for 15 seconds.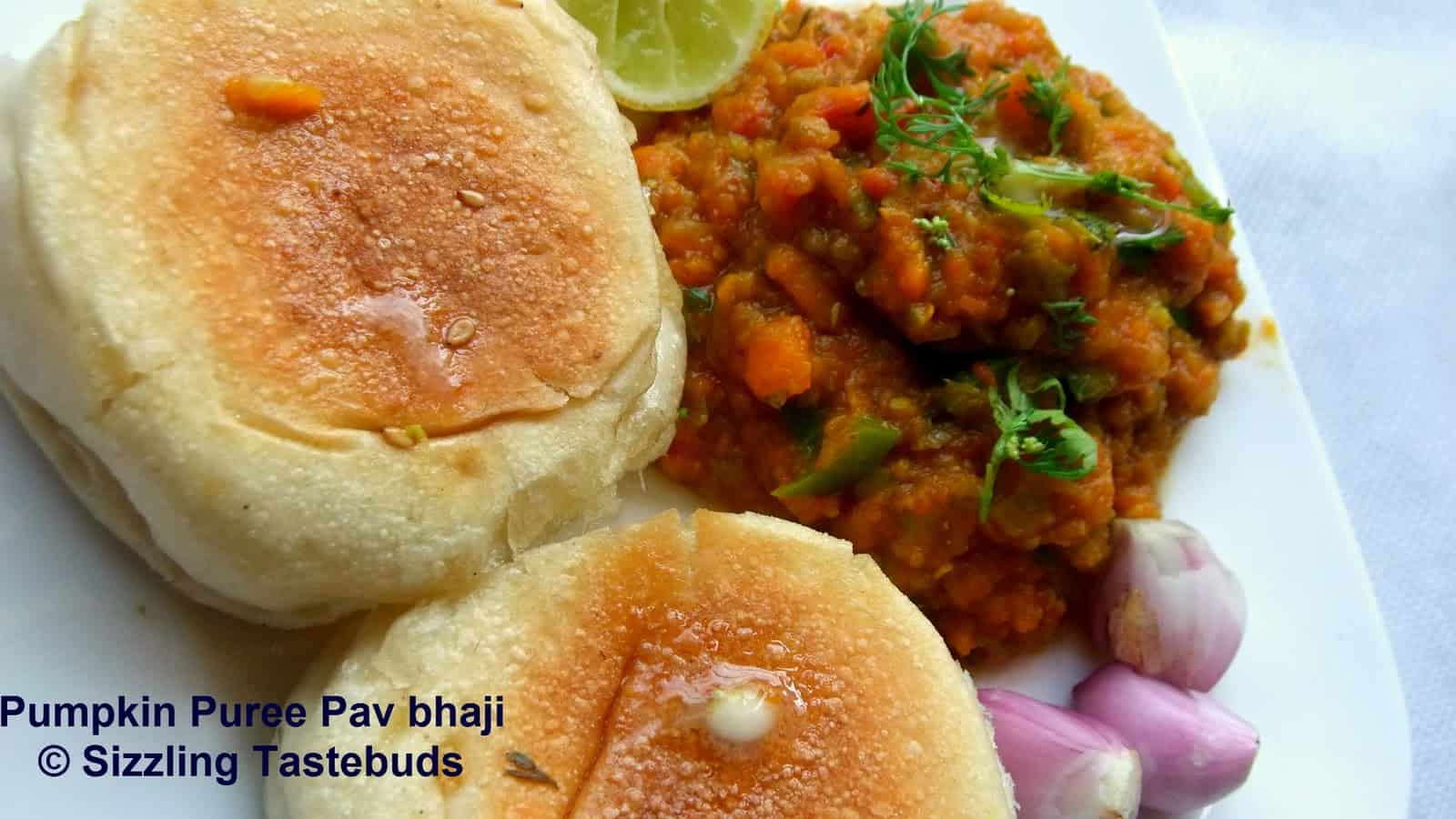 PinPin
10) Serve the hot Bhaji (vegetable gravy) with pav, lemon wedges and some chopped onions.