Summers can be unbelievably fantastic and draining all at the same time ! Most days Yoghurt is a life saver during these summer months. Filled with healthy probiotics, this cure promotes healthy gut flora.
Although of late, I am slightly reducing the curd consumption for myself (owing to being partly vegan), the Tambrahm In me refuses to let go of the Curd Rice that sees many takers beyond the South Indian community, especially during summers. The husband however is a big fan of Iyengar Thayirvadai (South Indian Style Dahi vada) that we keep making often.
When Priya Iyer – our host for this week – suggested the theme #dahidelights for this edition of #191foodiemondaybloghop, it was the right time for one of my favourites to appear on the blog.
Dahi Bhalla was also chosen as I have been paired with Swaty for RecipeSwapChallenge for this Month. Swaty has lived in most parts of North India and that cuisine features mostly on her blog too ! She has a plethora of North Indian dishes as well as some
Delectable bakes so I have bookmarked it many now 🙂
So it's a joint post for both the events – recipe swap challenge + foodiemondaybloghop and am sure you would all agree this is a lip smacking dish, irrespective of any weather or culinary blogging event. Personally, my admiration for this dish went up high whenever my neighbor sent over these melt in the mouth dahi ballad that are frequently made at her place
I have adapted Swaty's recipe to make it NO DEEP FRY with a few changes . Make sure you make the Khatta-Meetha imli/dates chutney and the teekha green chat chutney beforehand.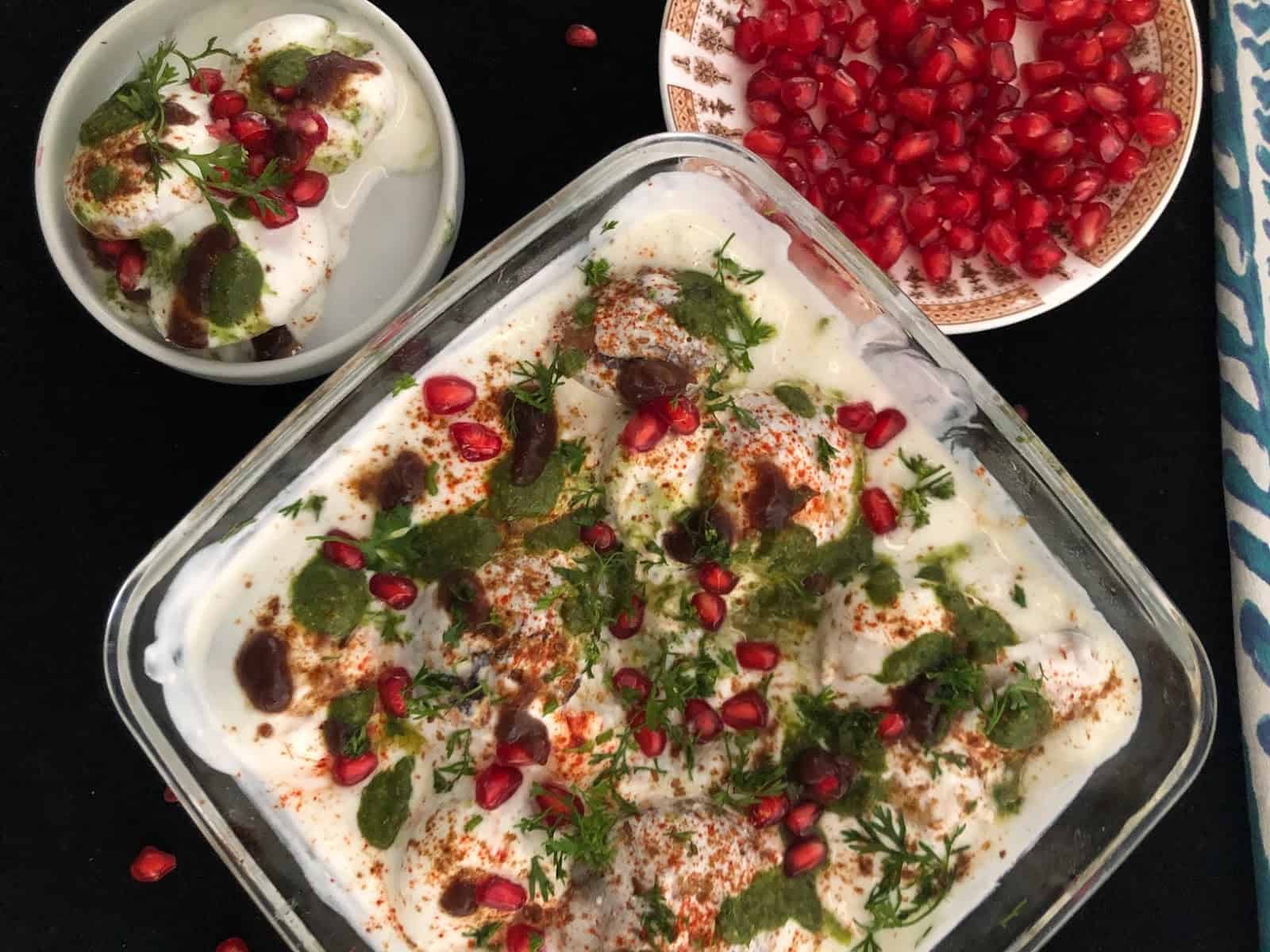 Pin




Other quick recipes with Curd that you might like to make this summer:




Mosaru Avalakki (Yoghurt Poha tempered)

Kurukku Kalan (Raw Banana in spiced yoghurt curry)

and 15+ varieties of Raita and more….

Prep time – 15 mins . Soak time & grind time – 6-8 hours ,

Makes – approx 15-20 servings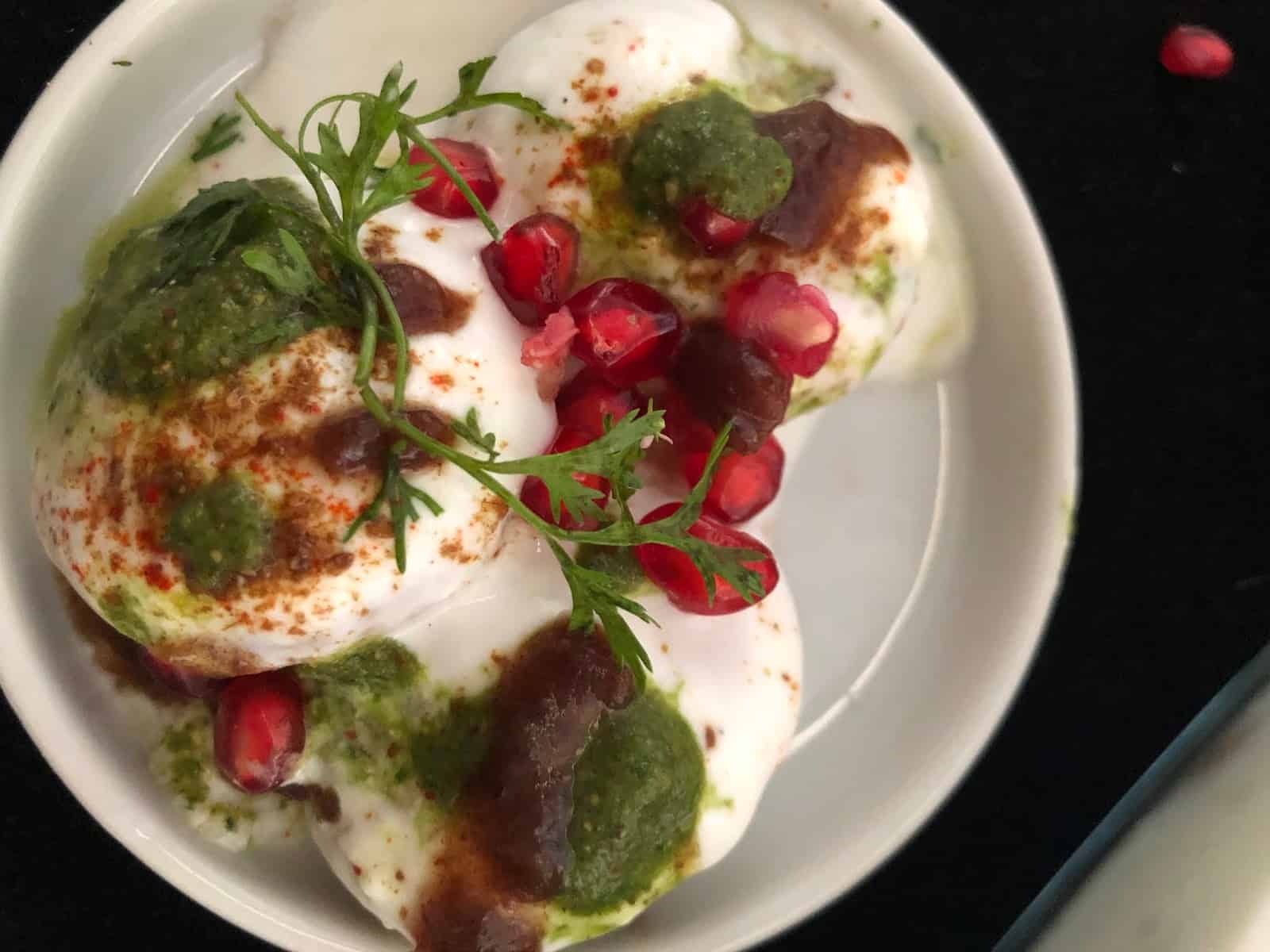 Pin

To make the bhalla:

Moong dal / split green gram – 1/2 cup

Urad Dal / split black gram – 1/2 cup

Jeera – 1 tsp

Salt to taste

Cooking soda – 1/8 tsp

Ginger – 1 tsp

Oil to deep fry / shallow fry – as required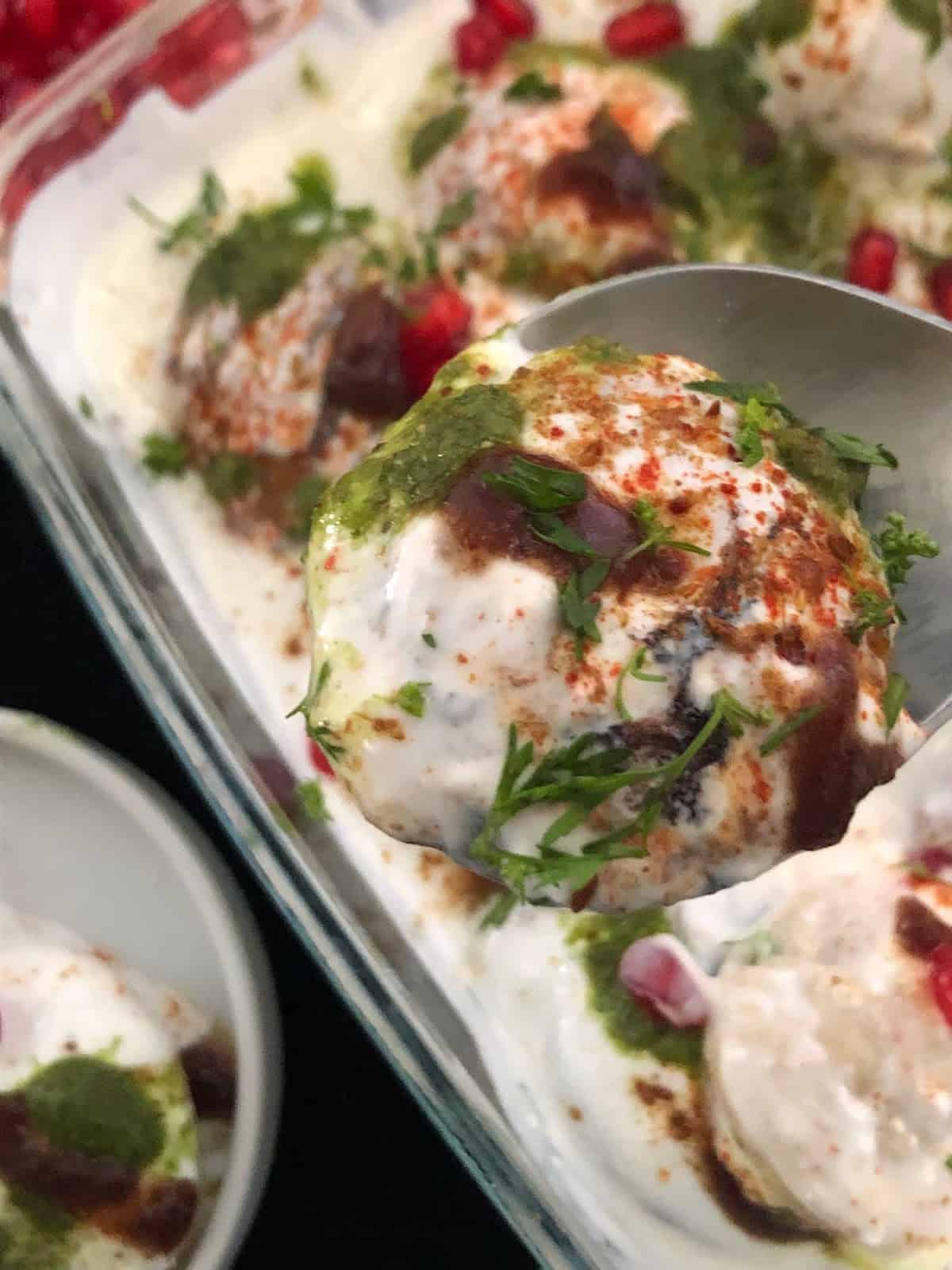 Pin
To soak the bhalla
Warm to hot water – 2 cups
Salt to taste
Hing – 1/6 tsp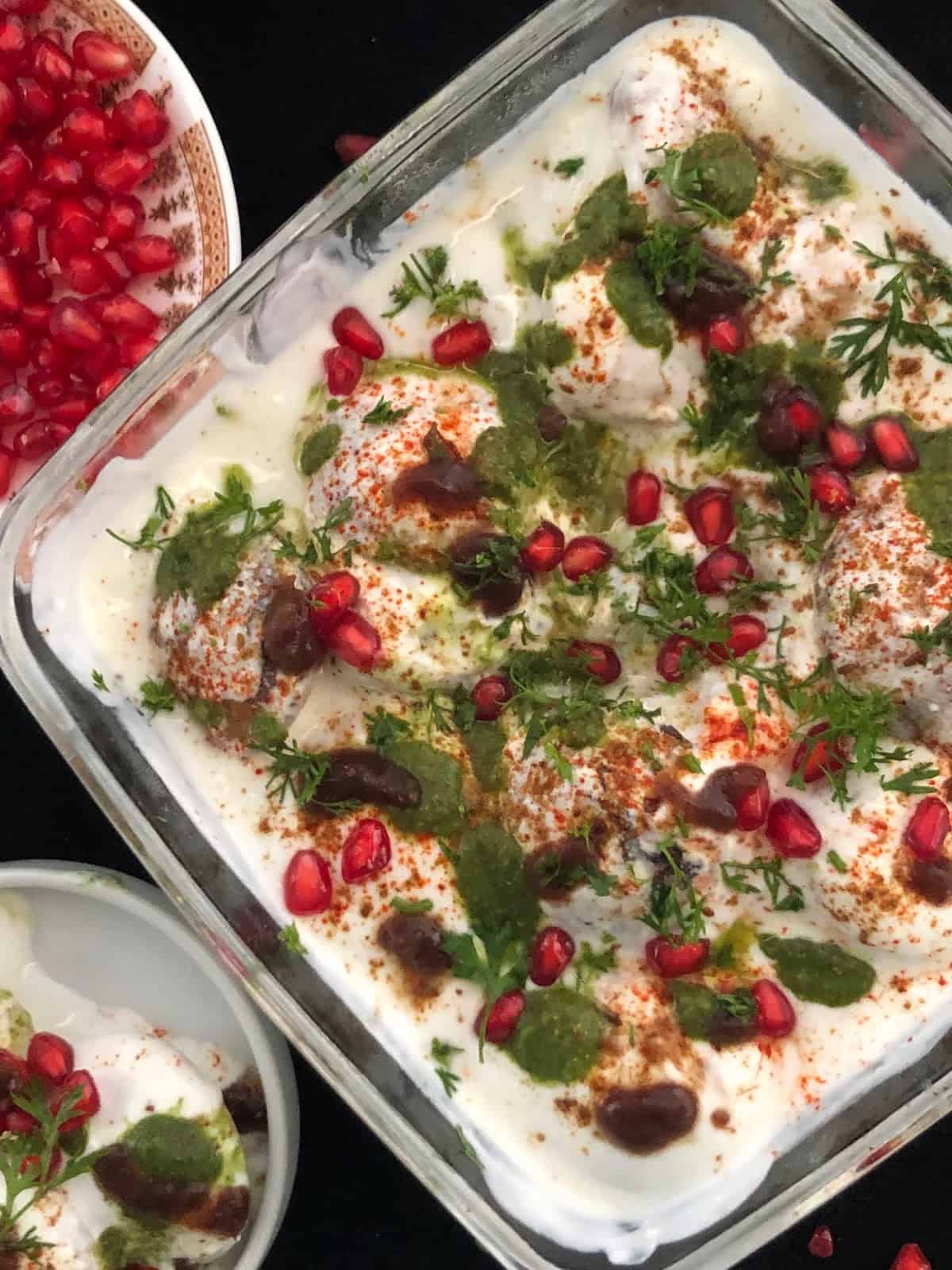 Pin
To serve
Beaten curd with a pinch of sugar – Approx. 1.5 cups
Spices – Roasted cumin powder , red chilly powder
Chopped coriander leaves – a handful
Teekha spicy mint coriander chutney
Pomogranate arils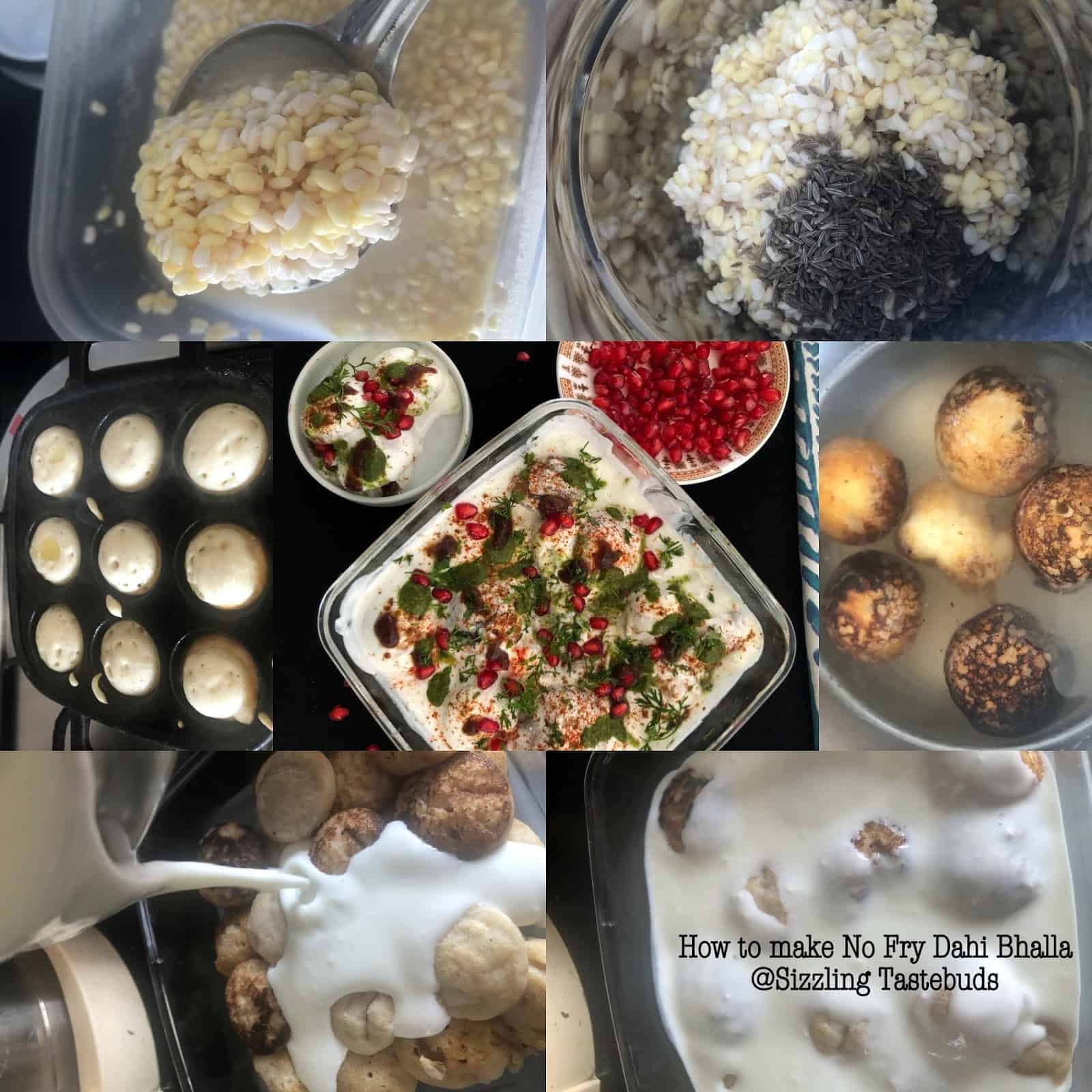 Pin
How to:
Wash and soak both the Dals for over 4 hours. Drain and grind with jeera, ginger and very minimal water to a smooth paste .
In a large bowl, add the batter, salt , soda and whisk well for 8-10 mins till the batter fluffs up.
Now heat up the oil in a kadai if you are deep frying ( I greased up my cast iron paniyaram pan/abelskiver pan). Drop spoonful of the batter into the hot oil or fill 3/4 of each dimple of the paniyAram pan. Drizzle a few drops of oil into the pan, Cook and cover till golden brown on all sides
If deep frying, fry on medium flame till golden brown.
Drain on absorbent kitchen towels. While still hot, drop in Large vessel (water mixed with salt and hing) and soak for 30-35 mins. Gently swueeze out the water and refrigerate till use
Just before serving, whisk thick sweet curd with a pinch of kala Namak and sugar. To serve, take all the soaked vadas in a deep platter or in individual serving bowls , top with whisked yoghurt, top with both the chutneys, spice powders, chopped coriander leaves and serve chilled.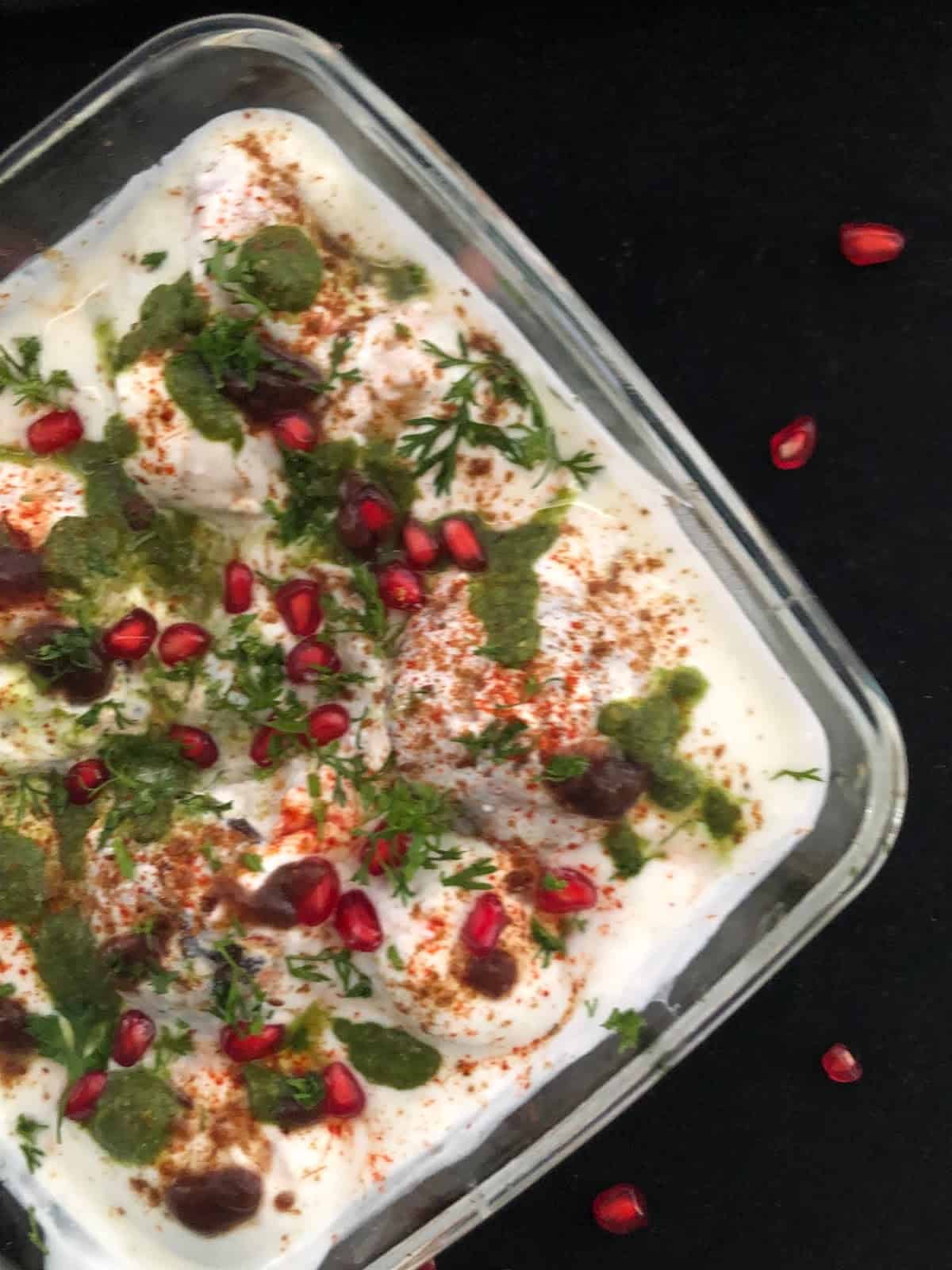 Pin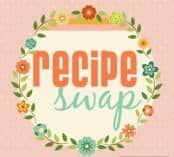 Pin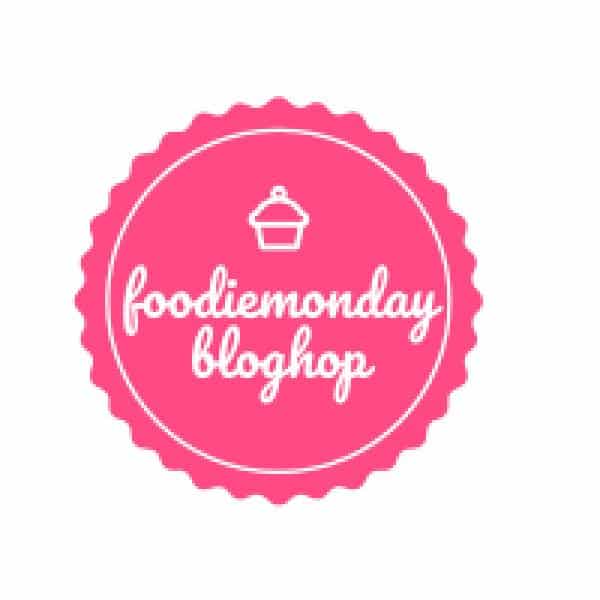 Pin