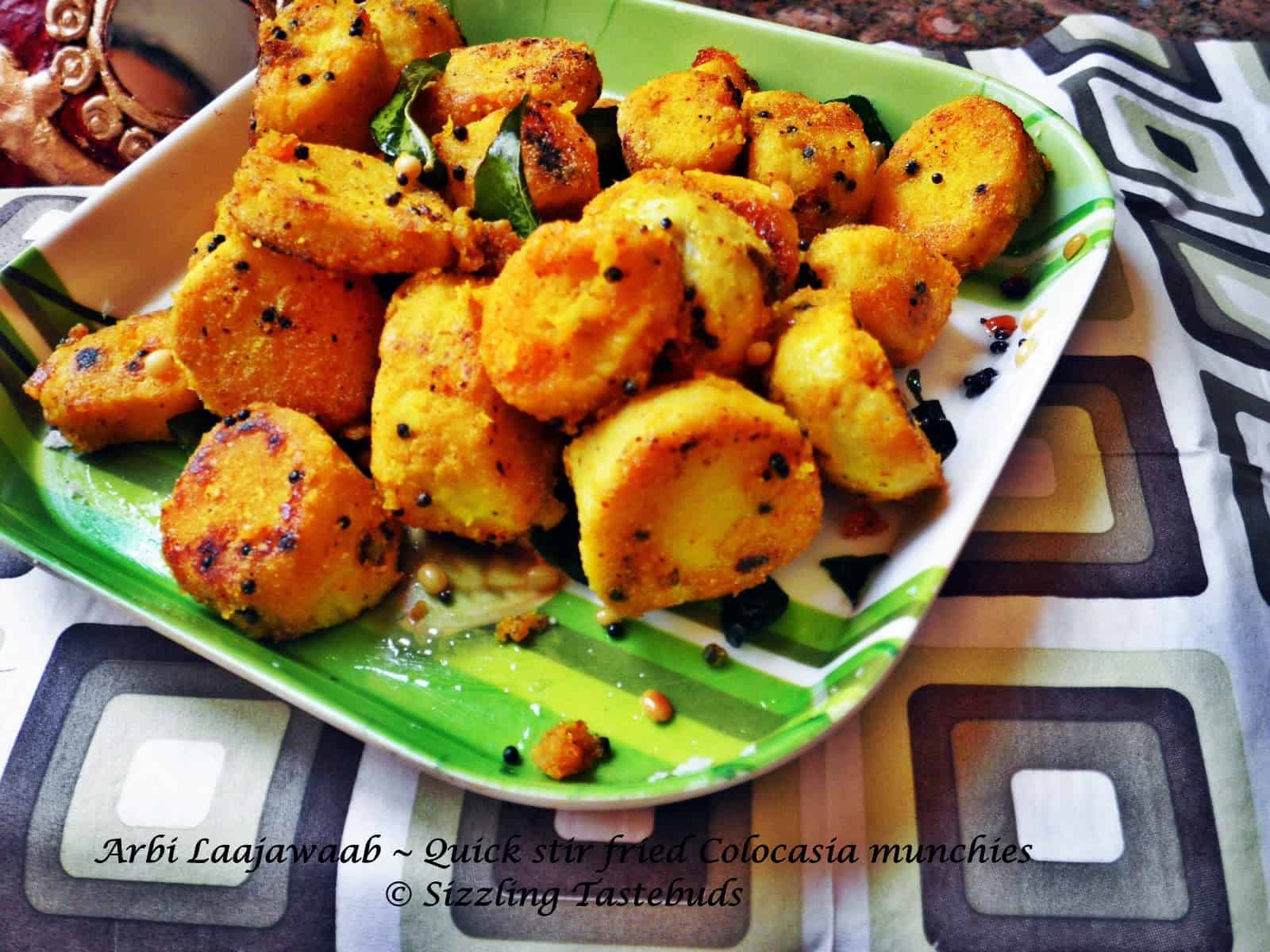 PinPin

Arbi Laajawaab is one of the quickest snacks you can put together for unexpected guests as well as spice up your Indian Thali for any festival / get together. It can be relised both as a snack as well as a dry sabji , and this goes to Blogging Marathon Day 7 for October 2011.If you prefer, you can deep fry these lovely veggies, but I prefer to stir fry them, and didnt compromise on the taste at all. you can also bake / grill them for extra texture (something I am sure to try out next time).With just under 4 – 6 ingredients, this is a super easy and tasty snack to make. Meanwhile, check out the goodness of Arbi here. Check out my fellow marathoners here

In case you missed any of the 6 days' posts under this edition of Blogging Marathon, here goes a quick recap under the theme "Snacks in a jiffy". 

Day 1 – Mini Katori Chaat

Day 2 – Low fat Mini Beetroot Burgers

Day 3 – No Ghee gajar and Lauki Halwa

Pin

Day 4 – Sugarfree Chilli Pine Splash

Day 5 – Schezwan Dill Corn Lollipops

Day 6 – Moong Dal Seekh Kabab

Pin
Prep time : 20 mins. Cooking time : 10 mins. Serves : 2
Ingredients:
Arbi / Colocasia / Sepankizhangu – 150 gms
Masala mix : Salt, red chilli powder (1 tsp), Rice flour (2 TBSP), Turmeric
Chundo / Tarty lime chutney – 2 TBSP
Olive oil – 2 TBSP
Seasoning (optional) – oil (1/2 tsp), mustard seeds, curry leaves
Method:
1) Wash and scrub Arbi well. Heat a large pan with water, and when it comes to a rolling boil, add a pinch of salt and the arbi (with the skin on). Cover and boil for 9 – 12 mins till the arbi is 85% – 90 % cooked, but not mushy.
2) Drain, cool and peel the arbi. With a greased knife, cut them into 1/2 inch thick roundels.
3) In a large bowl, mix all the ingredients for masala (dry powders incl salt) and add the boiled and cut arbi to that. Shake vigorously but not breaking the arbi pieces. Rest for 8 mins to absorb the masala mix (please adjust spice according to palate).
4) In a non stick skillet, heat olive oil. Slowly add the masala coated arbi pieces into the pan. Cover uncooked , occasionally tossing the pieces. When almost fully done, spoon in the lemon chutney (chundo) and give it a vigorous stir. 
5) Add tempering with spluttered mustard seeds, curry leaves . 
6) Serve immediately with tooth picks !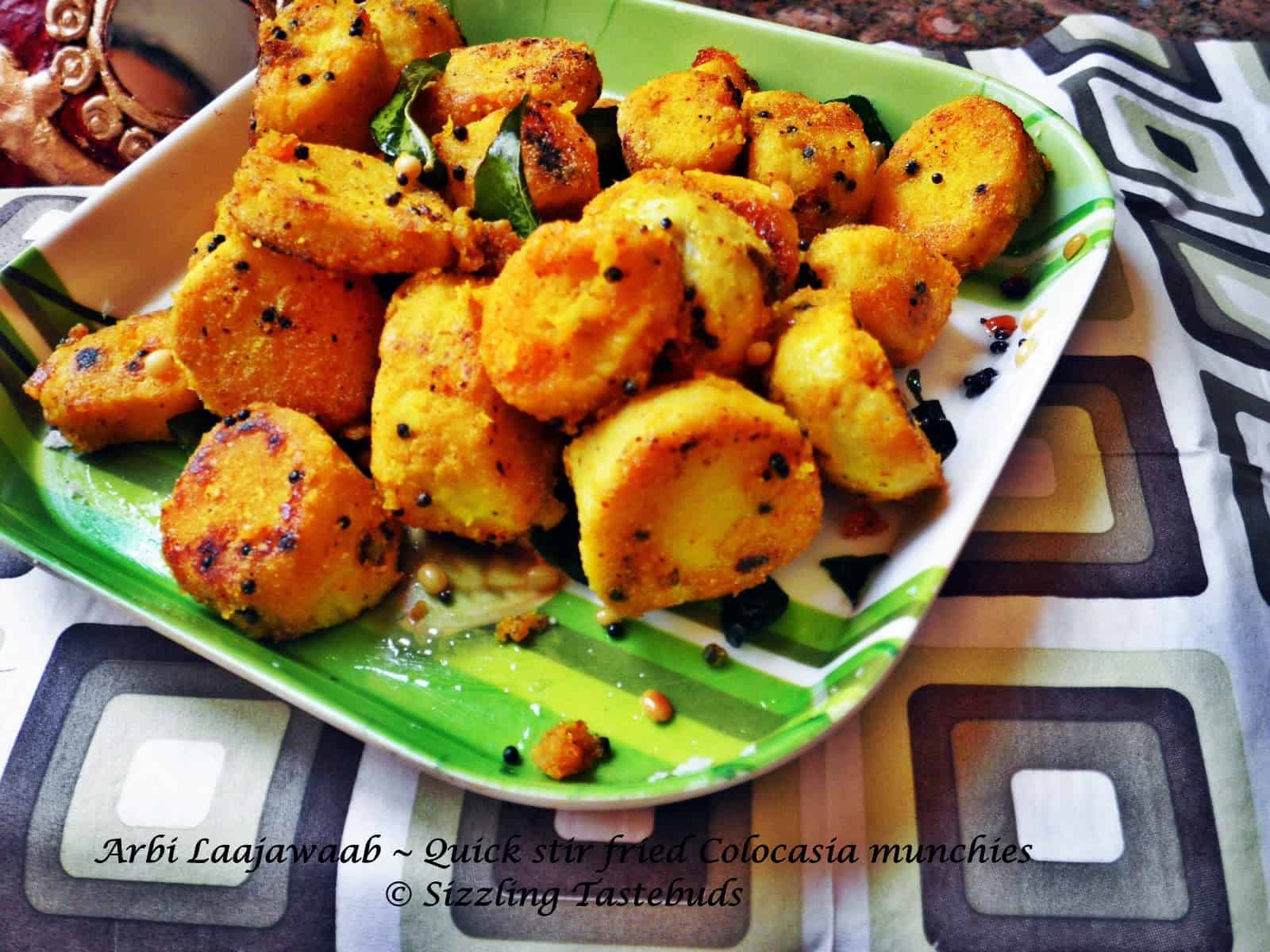 PinPin