I am super excited to announce that I shall be hosting Raven's wonderful event – Cook. Eat. Delicious- Desserts with Strawberry all this October. Raven is a wonderful cook, and runs this yummy blog. So, bring along all your strawberry recipes and participate in this wonderful event, while also having a chance to win a wonderful giveaway !!!
So what are you waiting for ? Read on for more details…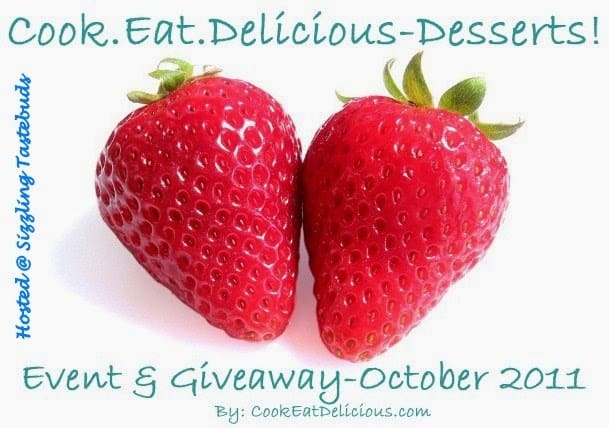 Pin
Strawberries contain a range of nutrients, with vitamin C heading the group. They also contain significant levels of phytonutrients and antioxidants, which fight free radicals. These antioxidant properties are believed to be linked to what makes the strawberry bright red.
So what are these weird free radicals? Free radicals are elements that can damage cells, and they are thought to contribute to the formation of many kinds of cancer.
In addition to vitamin C, strawberries also provide an excellent source of vitamin K and manganese, as well as folic acid, potassium, riboflavin, vitamin B5, vitamin B6, copper, magnesium, and omega-3 fatty acids.
Imagine life with desserts, add to that one of the best loved berries – Strawberry, and you have a winner there . So whip up those yummy desserts – strawberry cheesecake, souffles etc. Furthermore, if you feel that your entry also qualifies to my ongoing event – Global Food Fest, don't forget to link up 😉
So, rush your entries, and grab a chance to win a giveaway 🙂
The event runs from October 1st – 31st

A random recipe will be chosen to win the Giveaway.

Round-up & Winner announcement will be posted on November 5th.

Raven from CookEatDelicious.com is the founder of this event.
Here are the RULES:
1. Cook up any dessert your heart desires, with Strawberries being the star. Only vegetarian recipes allowed (eggs may be used for baking, although I personally would want to learn about egg substitutues or even eggless delights using strawberry)
2. Link back to this announcement and to Raven's Blog: CookEatDelicious.com in your blog post (Use of logo is optional but appreciated)
3. New entries are preferred, with archived ones being re-posted.
4. Multiple entries accepted with only one going towards the Giveaway.
5. Non-bloggers are welcome to send in their entry. Please attach a photo & full recipe.
6. Post a comment in this post after emailing me!
Please email your submission by October 31st , 2011 to momchef77 (at) gmail (dot) com with "CEDD 3″ in the subject line and the following information:
Your Name:

Your Location:

Blog Name:

Recipe Name:

Recipe URL:

1 Dessert Photo
Now the GIVEAWAY:
A lucky winner shall be chosen randomly by Raven and gets to win – "StrawberryDelights" by Karen Jean Matsko Hood : a delightful cookbook with Strawberry recipes for every occasion.So dearies, rush me your strawberry based dishes all this October and win a chance to grab this wonderful book too !
Cheers
Kalyani
Pin