After the super successful editions of My Mother's Kitchen series –One Pot MealsandIndian Mithai Mela, am pleased to announce the third edition under " Foods for fasting – Vrat ka Khana special" … The months of Aashaad and Shraavan in the Hindu Calendar and the holy month of Ramadan, along with the forthcoming Ganesh Chaturthi & Navartri make for excellent opportunities to taste different foods during fasting (upvaas / vrat ka khana)..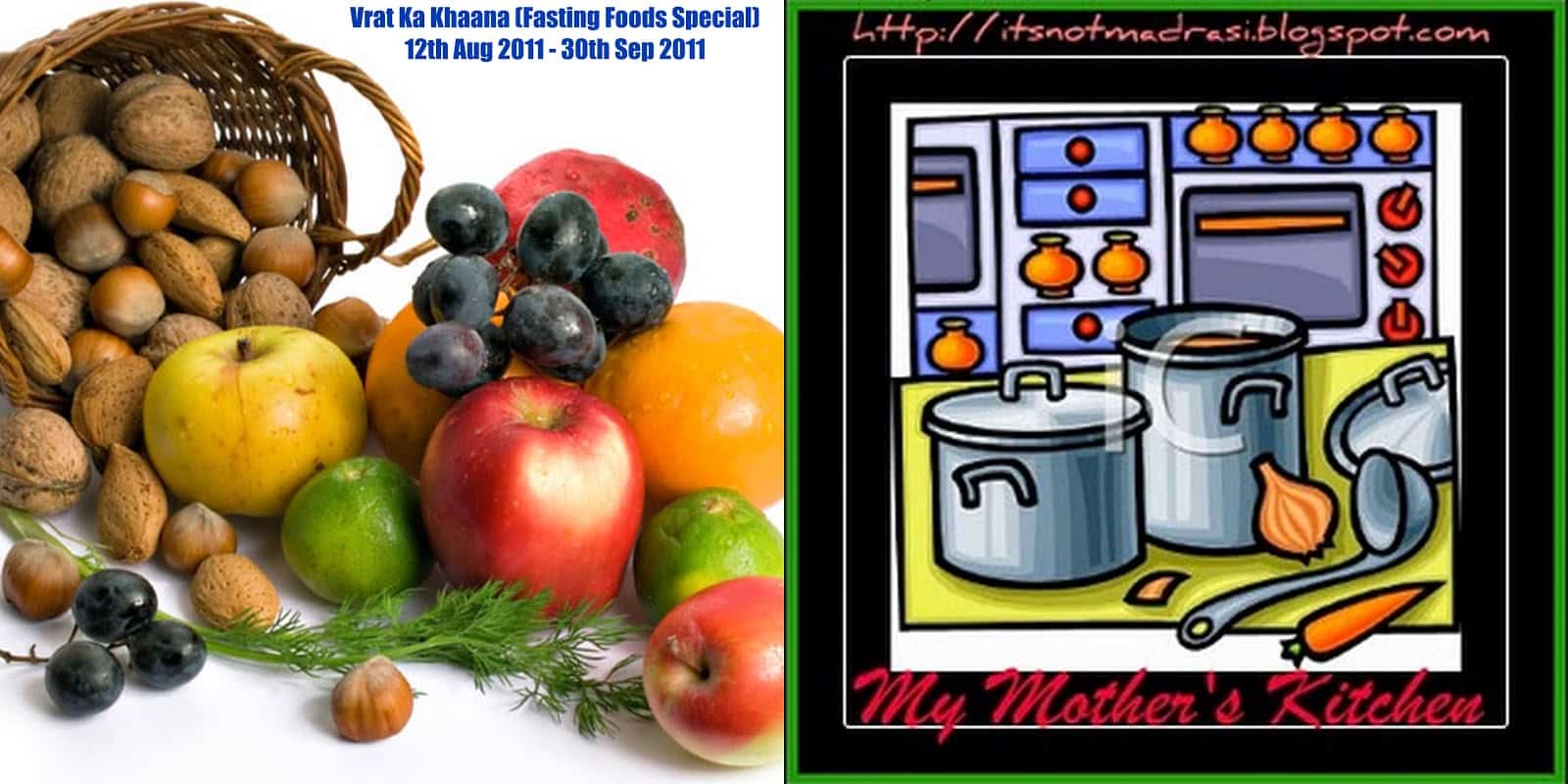 Pin
As St.Augustine said :
"Fasting cleanses the soul, raises the mind, subjects one's flesh to the spirit, renders the heart contrite and humble, scatters the clouds of concupiscence, quenches the fire of lust, and kindles the true light of chastity. Enter again into yourself."—Saint Augustine (354-430 A.D.; "On Prayer and Fasting," Sermon lxxii;Doctor of the Catholic Church)
So, don your thinking caps, and do send in your signature dishes for fasting – some delicious options that quickly come to my mind are : Arisi Upma, Anjeer Barfi, Date Rolls, Rajgire ka Puri , Suran Sabji, Kachcha Kela ka bajji, Sabudana Khichdi etc 🙂 Even some kheers are specially made during fasts. While abstinence from Onion and Garlic is predominantly seen in South Indian kitchens during fasts and Ekadashi (11th day of the fortnight in the Hindu Calendar), some ingredients like Rajgira, sweet potatoes, potatoes, yam are favoured ingredients for dishes made during fasts in North, East and Western India.
If you are interested to know some more details on why fast, how different communities approach fasting, do read the note sourced fromwww.lifepositive.comat the end of this post. Some tips on correct way to fast are also postedhere.
This event is on from 13th Aug – 30th Sep. Some guidelines on how to send in your entries:
a) Only Vegetarian dishes allowed. No eggs or non-veg please.
b)Saatvic ingredients sans onion / garlic may be used.
c) Dishes can be for appetiser / snack / breakfast / lunch / dinner / dessert – basically any course.
d) Send new entries posted between 13th Aug and 30th Sep only. Upto 2 archived entries (reposted with a link to this announcement) are allowed.
e) Link to this announcement is mandatory and all entries should be mailed to me on or before 30th Sep 2011 end of day (local time) along with a picture of the dish (upto 300 pixel). My Email ID is[email protected] and do please indicate subject of the mail as : "Foods for fasting – Vrat Ka Khaana"
f) Would highly appreciate if the logo is used.
UPDATE : I am adding a linky tool below to add in your entries .. However, I would still urge you to mail me too : momchef77 AT gmail DOT com
Looking forward to a highly responsive event , like always 🙂 Appreciate your time !
To quotelifepositive.com,
"Fasting in Islam, observed during the holy month of Ramazan, is far more rigorous. During this 29 / 30-day period, taking even a drop of water between sunrise and sunset is forbidden. At sunset, the fast is broken with the consumption of dates and other fruits. By fasting, the believer proclaims the nobility of the Most High, prostrates before Him and asksforgivenessfor sins. It is a process of purification, physical, emotional and mental, and is accompanied by pursuing good thoughts, good words and good deeds. In India, fasting has always had deep spiritual and religious overtones. Almost every festival involves some sort of fasting, while spiritual adepts of all traditions abide by the code of moderate or no eating.

For Indians, fasting is also prompted by the seasons and time of day, the solar and lunar cycles. In this regard, fasting encourages the maintenance of the body's equilibrium with that of the larger forces of life.Among theJainsit is customary to eat lightly in the morning and reserve their main meal for noontime, for it is believed that the biological clock works best with the sun. For the same reason, they have their evening meal before sunset. The 8th and 14th day of the lunar moon, when the gravitational effects of the sun and moon are at their peak, are also observed as fast days. The Jains also observe a four-month fast, Chaturmas, during which the use of tamasic (non-vegetarian, deep fried, stale, hot etc) foods like garlic and onion, and even certain vegetables are disallowed.

Both in the South and in Maharashtra, in India, Ekadashi, the 11th day of the lunar moon, is observed as a fast day. In Maharashtra, the Chaturthi, 4th day of the lunar moon, is also a fast day. However, fasting amongHindusand Jains, unlike inIslamor Christianity, does not always mean zero consumption. Often it takes the form of abstinence, when certain foods are forbidden, and only a restricted variety permissible. Fasts connected with the festivals of certain deities, such as Gokulashtami (for Lord Krishna) and Mahashivratri (for Lord Shiva), are broken with revelry and feasting in the evening.Fasting, by abstaining from non-vegetarian or tamasic foods, is also observed during the month of Shravan (the peak of the rainy season) because digestion is considered sluggish during the rains. Because of the dietary restrictions imposed by fasts and their frequency, a whole cuisine of fasting food has emerged, particularly in the Indian state of Maharashtra, employing the use of items like varai, sago, potatoes, peanuts and rajgeera. Cereals are strictly forbidden, but the sumptuous delicacies offered in their place (for some reason, most fasting foods are rich and redolent with clarified butter, milk, etc) actually makes the fast a feast!"