As soon as I announced Magic Mingle # 2, I was also excited to try out new varieties using the commonplace ingredients – Ginger & Almond. And started to bookmark some exciting recipes too. But as luck would have it. I kept running out of the key ingredients – it was like almonds and ginger were playing hide and seek.
When I had both of them, I ran out of flour. With the last 10 days been super hectic, this is almost a post that didnt happen. Till this morning, that is. When i dragged myself to the grocers and ensured I bought all the ingredients, my little one back from her sports Day squealed for some chocolatey dish 🙂
Well, I melted in by her (rare) endearing requests and what turned out was this yummilicious Low fat Choco Ginger-Almond Fudge. We could barely wait for it to set in the refrigerator, and there was a third disaster waiting in the wings….. my camera ran out of batteries….. 🙁
Not to be daunted (after all I had a deadline to meet – with today being the last day of MM #2), I quickly used my P &S camera (dusting it from a forgotten cupboard) and although the light was quickly running out, I managed a few clicks, of the remaining few fudge pieces. I am not a chocolate person as mentioned in my previous posts on Chocolate cake. But this mild sweet fudge was truly divine and am glad I made this 🙂 Off to the recipe 🙂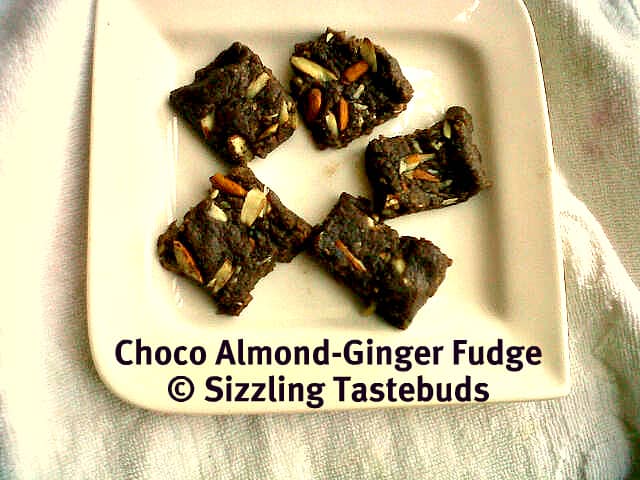 Pin
This is a super quick and easy to make delight for both kids and parents alike 🙂 And is one yummy delight for kids' birthday parties too … I am yet to see few kids not liking chocolate, especially on a birthday party !
Prep time : 10 mins. Cook time : 10 mins. Makes : 16 medium sized pieces.
Keeps for a week, max – under refrigeration
Ingredients:
Almonds- 1/2 cup
Ginger Powder – 1 tsp
Pistachio – 3 TBSP
Cashew – 10 nos
Milk Powder – 1/3 cup (this was mildly sweet – used Nestle brand)
Sugar – 1/4 cup
Dark Cooking Chocolate – grated – 4 TBSP
Butter – 3 TBSP
Cardamom – 1 or 2
Milk – 1/4 cup (I used low fat)
Chocolate Chips (mildly sweet) – 2 tsp
Method:
1) Melt chocolate and half of the butter over a double boiler (or microwave till melted)
2) Slightly roast almonds and the other nuts and coarsely powder them. Reserve few whole almonds for garnish (sliced).
3) Powder the sugar and cardamom together
4) In a non stick pan, add the rest of the butter, powdered nuts, sugar, ginger powder, milk powder and milk well on a very low flame.
5) Slowly add the milk and the melted chocolate and mix well. Tip in a little more ghee / butter if required and keep stirring on a low flame till it starts leaving the pan. Add in the choco chips at this stage
6) Lightly grease a flat plate and line butter paper over it. As soon as the fudge begins to thicken (about 3 mins), pour into the lined plate. Spread the fudge immediately with a flat ladle and event the edges. Cool for 10 mins.
7) Mark equal sized pieces with a pizza cutter. Chill in the refrigerator for 2 – 4 hours. Cut and serve.
Sending this to: