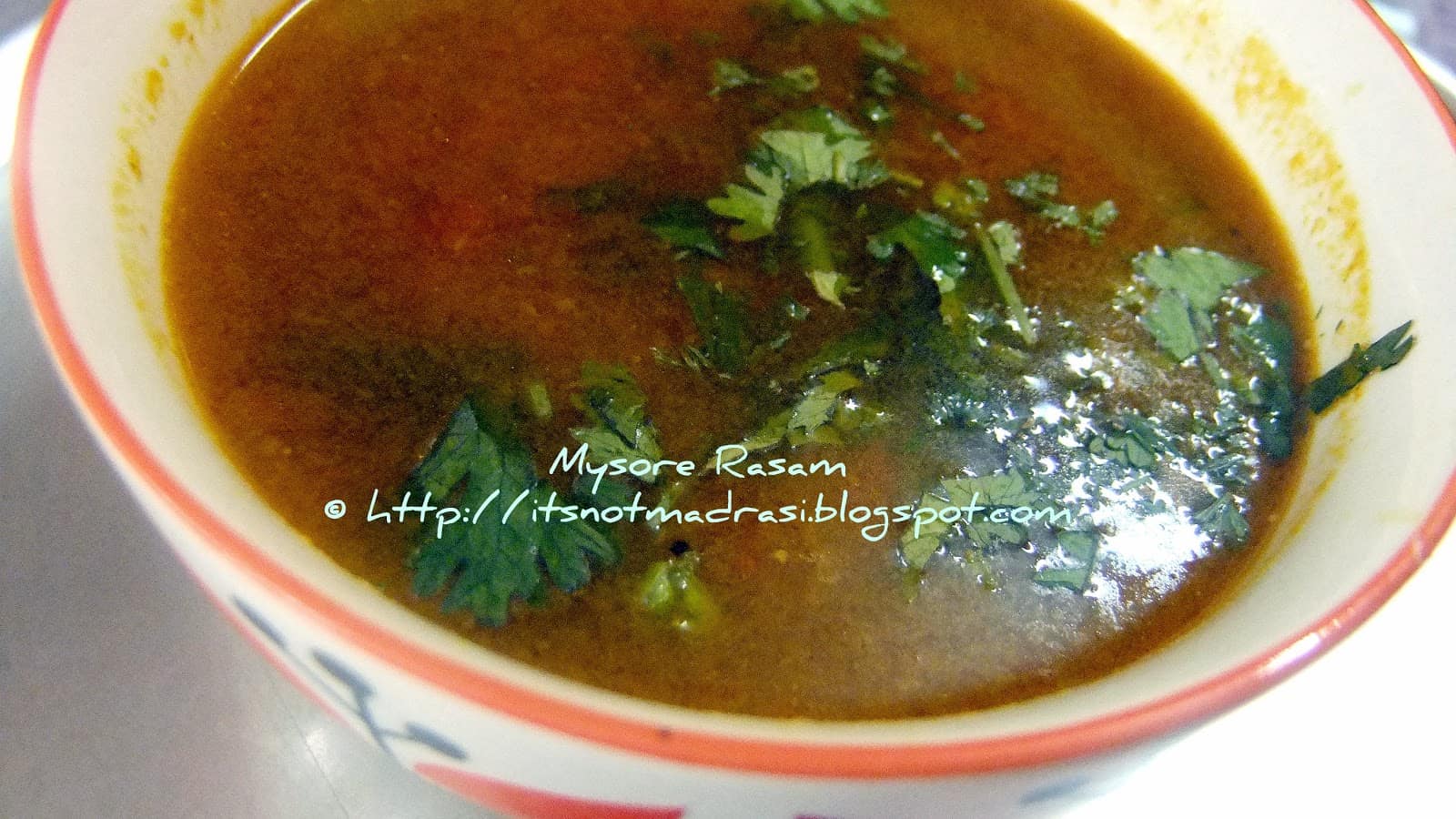 Pin
Continuing my series of Cookbook recipes for Blogging Marathon, I present from the book "Samaithu Paar" an evergreen classic – Mysore Rasam. Rasam by itself needs no introduction – it's a comfort food, a staple in South Indian homes, and is part of any South Indian Thali worldwide. Rasam can be loosely translated as a broth, mildly spiced with just a hint of tamarind and with or without cooked lentils (toor dal mainly).
In most Indian kitchens (and even weddings), I am told that cooked lentils are not directly added to Mysore Rasam , but rather the lentil extract (or kattu as it is called in Tamil /kannada) is added along with tamaraind / tomato making it as light as a shorba. This is directly consumed as it is on rainy / wintery evenings as a soothing comforting drink or mixed with hot steamed rice and ghee !! Yummmm..
Check my fellow marathonershere
Prep time : 10 min. Cooking time : 15 mins. Serves : 4
Ingredients :
· Toor Dal – 1/8 cup
· Tomatoes – 2 large
· Tamarind – small gooseberry sized
· Ghee – 2 tsp
· Rasam Powder – 1 tsp
· Jeera / Cumin – ¼ tsp
· Dhania / Coriander – ½ tbsp
· Dry Red chilly – 1 no (Kashmiri Red chilly preferred)
· Turmeric – ½ tsp
· Jaggery grated -1/2 tsp (Opt.)
· Asafoetida / Hing – ¼ tsp
· Salt to taste.
· Tempering : Mustard seeds, curry leaves, coriander
Method:
1) Soak Dal for 10 mins and pressure cook with a pinch of turmeric and 1 tsp of oil for 4 whistles with adequate water (about 3 cups)
2) Meanwhile , soak tamarind in warm water for 10 mins and extract juice (abut 2 TBSP)
3) Blanch and finely chop tomatoes
4) Dry roast cumin, dhaniya seeds and red chillies and grind in a spice grinder along with rasam powder and hing.
5) Once dal is cooked, decant the water on top to a vessel. Mash the dal lightly separately.
6) In a deep bottomed pan, heat ghee. Add the water from the dal (lentil), salt, jaggery, ground spice powder and let it come to a rolling boil. Add 2 tbsp of cooked dal now. Check for salt and continue boil for 2 mins more. Transfer to a serving bowl.
7) Prepare tempering with ghee, mustard seeds, curry leaves and coriander and pour onto the rasam. Drink it as it is, or mix with hot steamed rice !!