At our place love chickpeas in most form – Sundal / TIkki / Chole / Oven Roasted chickpea snack etc. So picking this dish for Morocco was a breeze, and boy did we love it!! Even mom who isn't too much into 'experimenting' had a spoonful of this and loved it.I made it almost like a thick
broth, so for me it was a one pot meal – very hearty and filling. 
You can also
make it for weekends, and have it with just toasted breads / pita for a filling dinner. Am sure it would
taste awesome ! 
With the winters / chilly days almost around the corner, its so comforting to dig into a bowl of warm soups like these right ? 
????????For 21 different types of vegan / vegetarian soups that you can make at home – click here 
Homemade Vegetable stock is used to make this, but in case you cant find
it, use plain hot water instead. The only thing to note is you can pretty much
tone down and up the spice factor in this soup, and that the chickpeas must be
cooked through – you dont need a mushy mass, but it needs to be cooked really
well to get a good consistency.So, go ahead and make this – am sure it would be a winner especially on cloudy
or wintery days. 
The original recipe called for both cooked brown lentils
(whole) and chickpeas, but I used only the latter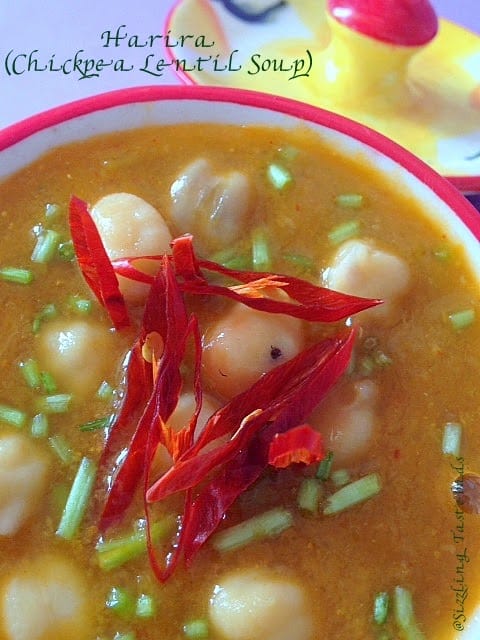 Pin

 ************************

Country : Morocco

Dish : Harira – Lentil and Chickpea soup

Spice level : Medium to high

Serving suggestions :  Toasted bread or just as a broth

Prep time : 15 mins | Cook time: 20 mins | Serves : 4

Adapted from here

 

 ************************




PIN FOR LATER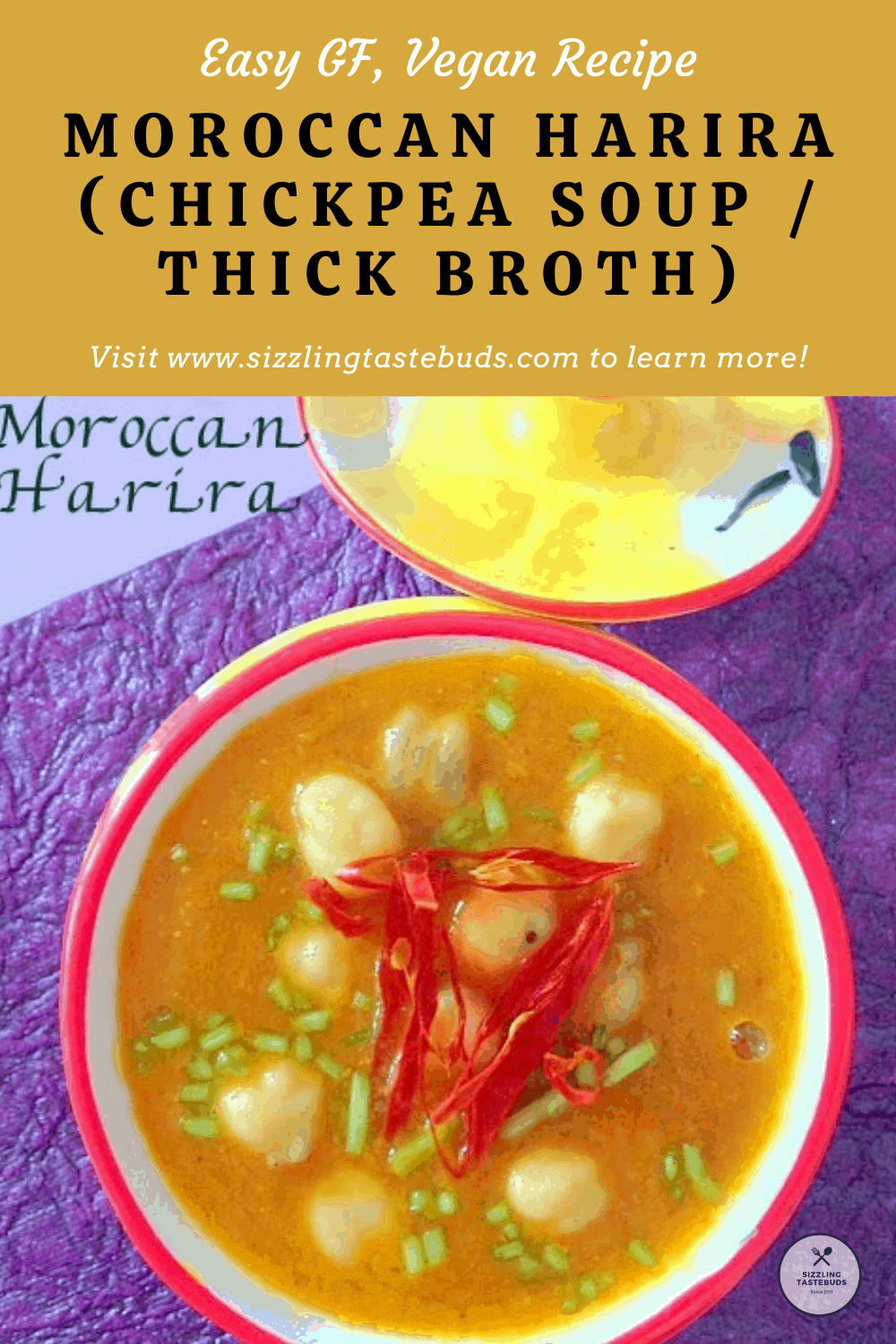 Pin
Ingredients:
Cooked chickpeas – 1 cup (if using canned, drain well and use)
Cooked brown lentils – ¼ cup (I skipped this)*See notes
Onion – 1 large – minced
Diced tomatoes – 2 large
Homemade Vegetable stock -4 cups (or use soup bullions with hot water)* See Notes
Olive oil – 1 TBSP
Garlic – 1 tsp – finely minced or about 3 pods, crushed.
Ginger grated – 1 tsp
Cayenne pepper / red spicy chilli powder – ½ tsp
Ground jeera / cumin – ½ tsp
Salt – to taste
Sugar – 1 tsp (opt.)
Lemon juice – 1 tsp (opt.)
Garnish : diced fresh red chillies, coriander.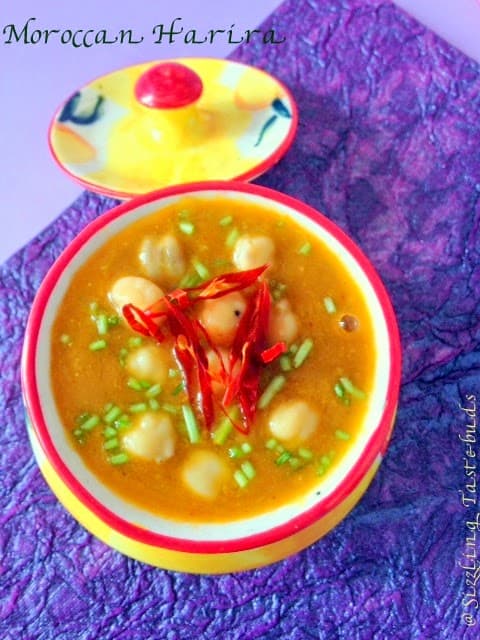 Pin
Method:
In a large soup pot, heat oil. Saute onions, garlic and ginger for
3-4 mins. Add the tomatoes and lightly sauté (we want them chunky).
Now add salt, pepper, ground cumin, stock and bring to a simmer.
Puree one handful of the boiled chickpeas without additional water. Add this
puree and the cooked chickpeas and lentils (if using) to the stock and simmer
gently for 8-10 minutes.
Finish with lemon juice, coriander and sliced fresh red pepper.
Serve hot with pita or any other bread !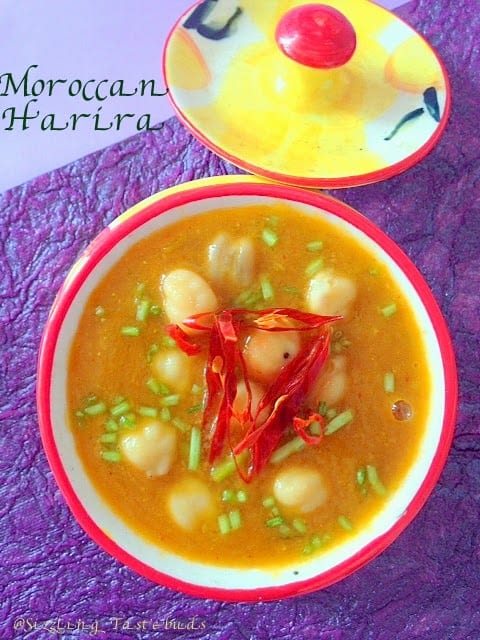 Pin
*Notes:
1) If using bullions, go easy on the salt as it already contains salt.
2) If using brown lentils, soak them for 30 mins and parboil them, we don't want them too mushy.