Tired of eating the same Idli varieties ? Then try this fuss free Moong Dal Spicy Idli that's not only low on carbs (yes, there is but a handful of rice in the batter), but is also spicy and goes well with any chutney or Molagapudi for the breakfast time. I was looking for steamed food options, when a previous edition of "Prevention" magazine carried this Idli variety.


For a South Indian like me, this was double jeopardy – too tempting to try out, but at the same time was unsure about the results. However, the man's complis at breakfast this morning laid all that to rest. Although the elder kiddo was not sure why her Idlis were not the usual 'white coloured' button shaped ones, she ate them too. Just to make it all the more healthier, I added a bit of grated ginger & crushed pepper, and they turned out to be super nutritious and healthy too !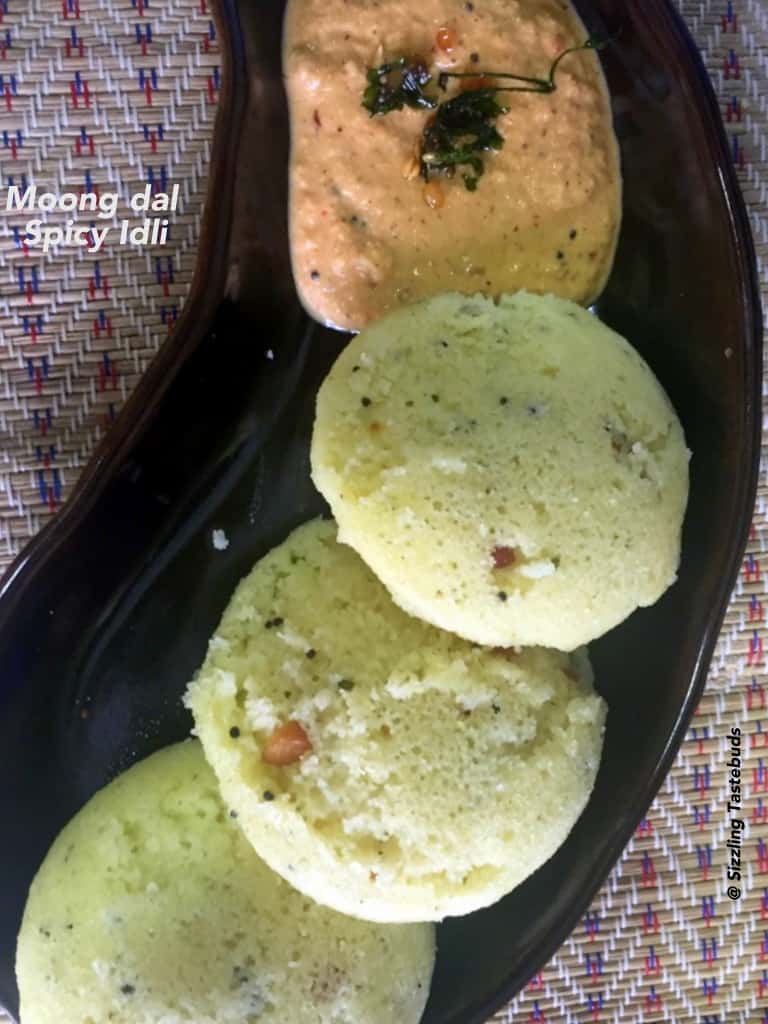 Pin


This is definitely added to my list of healthy breakfast options.

———————————————————————————————–

Prep time – 10 mins + 4 hours of soaking time

Cook time – 10 mins

Makes ~ 12 – 14 Idlis (medium sized)

Fermentation time – Min 8-12 hours

Serving Suggestions – Any chutney or Sambhar or Molagapudi

Difficulty level – Easy

———————————————————————————————-

Ingredients: ( 1 cup = 200 ml)
Whole moong dal (with skin on)- 3/4 cup
Whole Urad Dal – 3/4 cup
Rice Rava

(homemade)

– 1/2 cup
Raw rice – a handful
Salt – to taste
Tempering:
Oil – 1 tsp
Cashew nuts – a few
Mustard seeds – 1/2 tsp
channa dal / split bengal gram – 1 tsp
Grated ginger – 1/2 tsp
Chopped chillies / ground pepper – 1/2 tsp (I didn't add this for the lil one's idlis)
Method:
1) Wash and soak the dals and rice together for 3-4 hours. Grind to a smooth Idli batter. Add the rava and mix well, let it ferment overnight or for a min of 8 hours.
2) Beat the batter well. Add salt and mix again.
3) Grease the idli plates well.
4) To a portion of the batter, make the tempering using the above ingredients in the list, and add to the batter, whisk thoroughly. The rest of the batter can be made plain without plain as well.
5) Pour this into greased dimples of the Idli plates.
6) Steam for 10-12 mins (this might require a little more time than the usual idlis)
7) Cool,un mould and serve the hot idlis with any chutney or molagapudi
8) Serve while hot/warm only. Doesn't freeze well or keep beyond 3-4 hours once prepared. The batter however keeps for 1-2 days under refrigeration.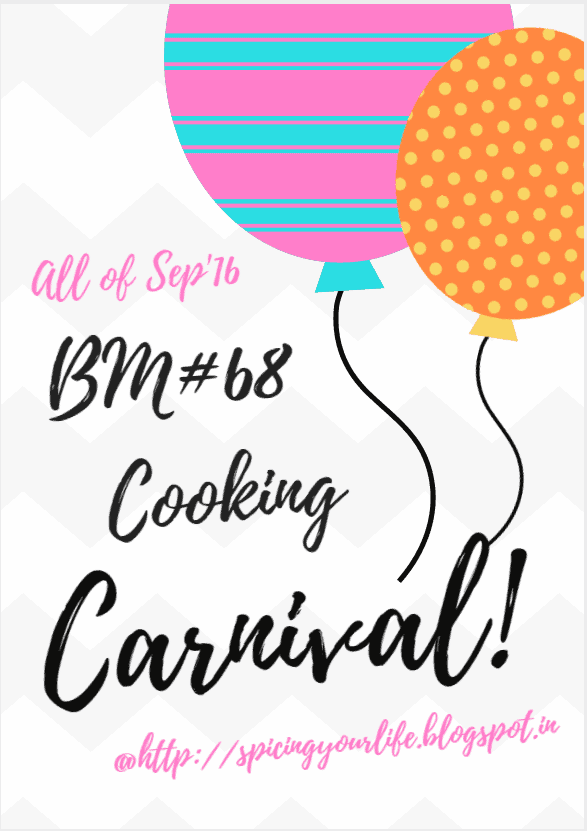 Pin

Check out the Blogging Marathon page for the other Blogging Marathoners doing BM# 68