Frankly, finding new and healthy varieties of breakfast has become an obsessive pastime now – be it browsing through an old copy of Good housekeeping at the dentists' or bookmarking seemingly endless versions of Idli / Dosa to rustle up for mornings is now a routine (not the dentist's visits though, ouch!). Bread is a no-no for S and kiddo for breakfast, they dont mind a quick sandwich (at snack time mind you, not breakfast) and having Idli / Dosa batter in more than required quantities is definitely not my type. Also,Rava upma for weekdays is ruled out, and poha is just about accepted as the last bastion..
So, when I made this Curry Leaf Poha or Kariveppalai Aval Upma, we all simply loved it a lot.. Aval Upma (or Poha) never seemed sooooo 'tamilian'.. Obviously, since it contained our family favourite condiment – Karivepalai Thogayal (curry leaf Chutney)- in a lip smacking version  of Aval Upma (Psst : This is a dish using leftovers, but when the result is great, why question the roots, err leaves, right?) .. Well, the last night, in an over excited state ,I made a large portion of Karivepalai Thogayal for dinner, which strangely went unfinished, because generally, this thogayal is polished off.But I wasnt gonna waste it, right? So, the Poha came about thus. While this is not an exact recipe, but more of churning out a new dish from leftovers, it definitely added a new dish to the menu card, and wonder who was most happy 🙂
To check how to make Curry leaf Thogayal, click here.
Sending this to Radhika's Let's Cook – Rice event as well as my event Kitchen Chronicles #5 – Cooking with leftovers – hosted by Veena, Nayna's Let's cook with leftovers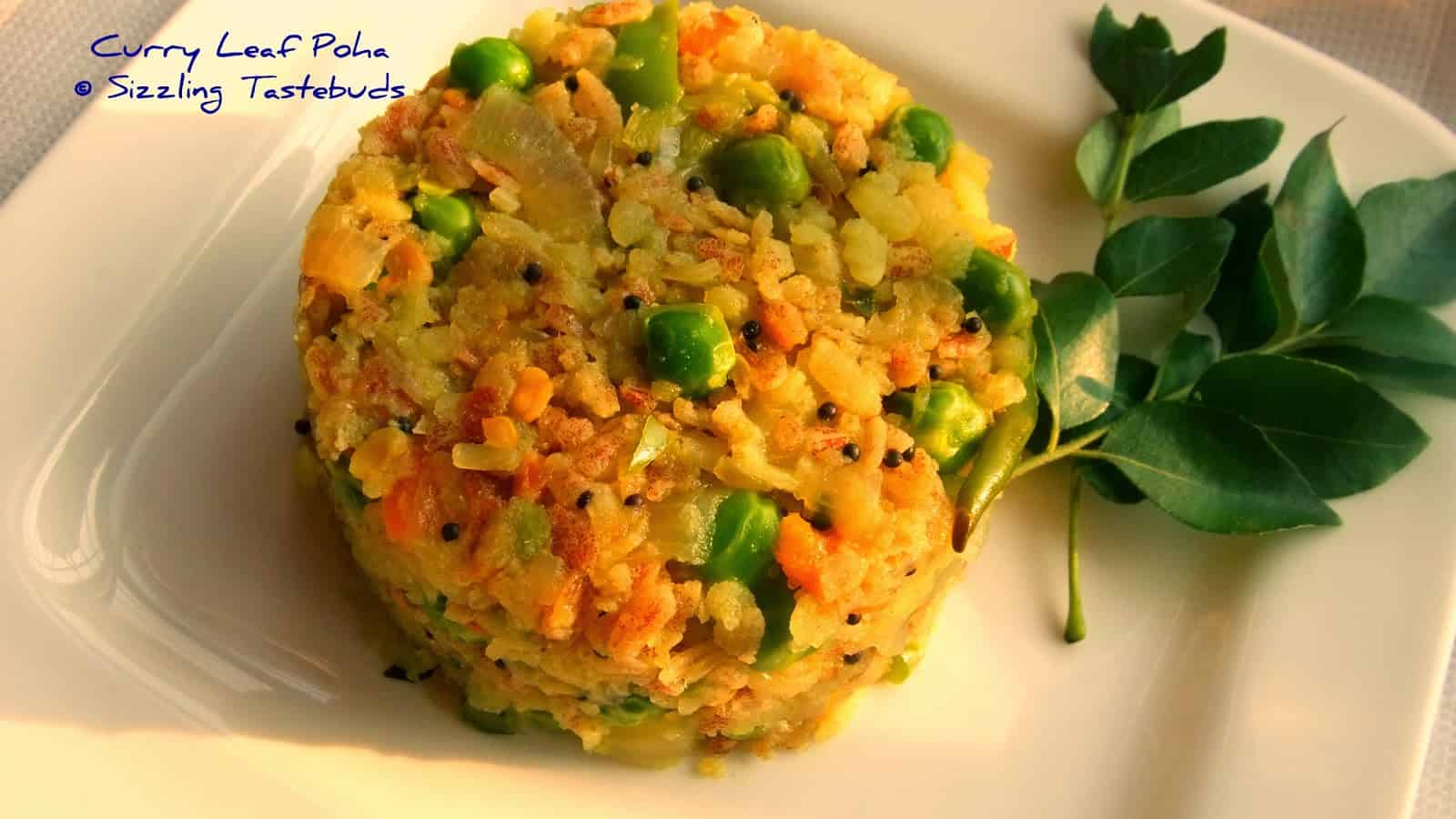 Pin

Prep time : 10 mins. Cooking time : 10 mins. Serves : 2

Ingredients:
Aval / poha (thick variety) – 1 cup

Oil – 1 TBSP

Boiled veggies (carrots/ peas/ beans) – 1/4 cup (these too, I recycled from boiled leftovers)

Onions – 1/2 – chopped fine

Karivepalai Thogayal

leftovers – 2 TBSP+

Tomatoes – 1/4 diced (opt.)

Salt – to taste (remember the chutney also has some salt)

Coriander leaves – garnish

Tempering : mustard seeds , urad dal & curry leaves, green chillies (2)
Method:
1) Bring the frozen chutney (thogayal) to room temperature. Microwave for 1 min or lightly saute in a dry pan for 2 – 3 mins. Keep aside
2) Wash and drain poha in a colander for 5 – 8 mins (I find this method better than soaking them in water, which makes them very mushy)
3) In a non stick pan, heat oil. Splutter tempering ingredients. Add the onions, salt, chutney and saute well. Sprinkle little water and cover cook on sim for 3-4 mins. Now add the boiled veggies, tomatoes and mix well till tomatoes turn mushy (my verdict: As the thogayal contains tamarind, you may omit the tomatoes)
4) Add poha, coriander leaves. Give it a nice stir. Sprinkle little more water and cook on medium-high for 4 mins.
5) Serve spicy hot Curry leaf Poha with a bowl of curd / yoghurt. We enjoyed it as it is.