If
there is one food memory from my Bangalore days that I was allowed to carry
forward, it would be rava idli with veg sagu (semolina idli with mix veg
curry). Set Dosa too is served with Sagu and Chutney. There was something about
these two combos that are full of warmth, comforting and filling too ! I was
amazed to see I am yet to post homemade Rava Idli, although I have posted two
varieties of Set Dosa here and here.
Today's
post is a super combo with chapati,Roti,Rava Idli, Naan, Poori or even dosa. I
personally love this curry coz its healthy, and entire curry can be made with less
than 2 tsp of oil for 4 people. Mom taught me a super healthy mode where she
steams the cut veggies in a steamer. And entire curry comes together in less
than 15 mins (once the veggies are chopped).
You
may use fresh or frozen mixed veggies, and except maybe brinjal and okra, you
can pretty much add anything. Although the classic version of this saagu is
made with beans, carrots, cauliflower and peas. I had a handful of baby corn
which I added today. Lets get to making this delicious curry / gravy. Hope you
had fun reading all 3 posts this week with Nargisi Kofta Curry, Rasila Gobhi
Matar and today's Mixed Veg Saagu as part of Side dishes theme for BM#45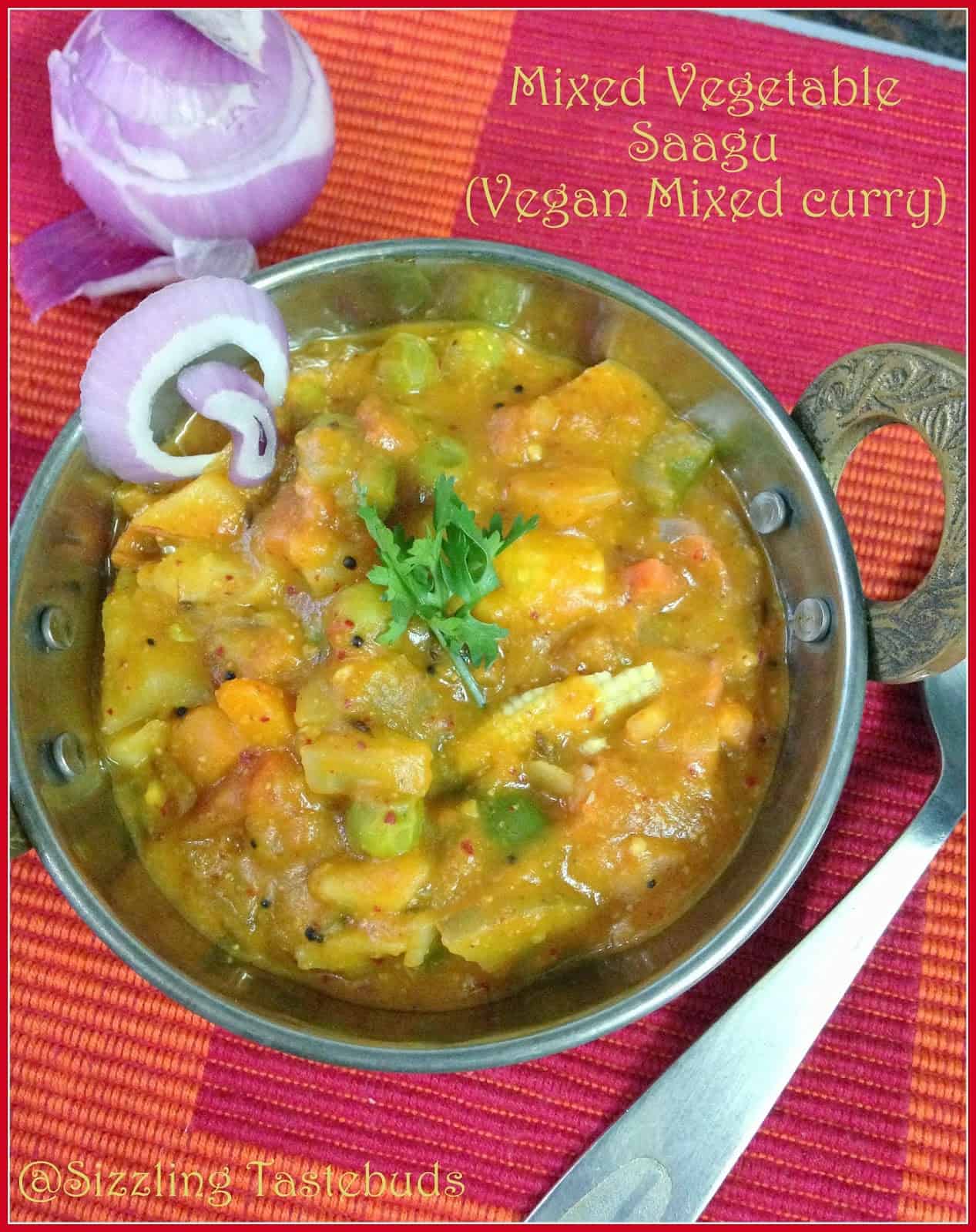 Pin
Prep
time : 15 mins | Cook time : 15 mins | Serves : 4
Ingredients:
Fresh
or frozen mixed veggies (beans, carrots, cauliflower, peas, baby corn) – 1 –
1.5 cups
Oil
– 2 tsp
Salt
– to taste
Tempering
: oil – 1 tsp, Mustard seeds, Curry leaves
Turmeric
– 1/2 tsp
Masala
paste:
Fresh
coconut – 1/3 cup
Pottu
kadalai / fried gram – 3 tsp
Onions
– 2 nos (medium sized)
Green
chillies – 2 nos
Ginger
– 1 inch
Garlic
– 2-3 pods (opt.)
Red
chillies – 2 nos
Saunf
/ Fennel Seeds – 1 tsp
Black
pepper – 1/2 tsp
Jeera
/ Cumin – 1/2 tsp
Cinnamon
– 1/2 tsp
Elaichi
/ cardamom – 1pod (opt.)
Cloves
– 2 nos
Khus
Khus / poppy seeds – 1/2 TBSP
Coriander
leaves – a handful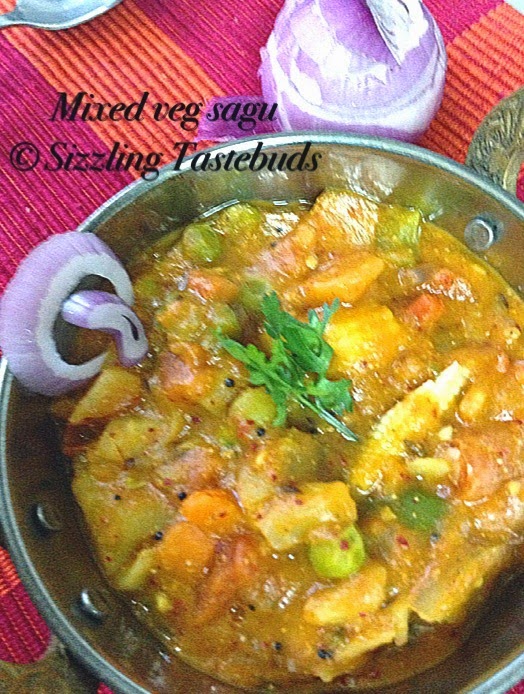 Pin
Method:
Dry
roast poppy seeds and fried gram separately – stage 1 .
Fry
the onions, ginger, garlic, red chillies,green chillies and coriander leaves in 2 tsp of oil
for 4-5 mins till onions turn pink. Cool – stage 2
Grind
these two (stage 1 and stage 2) with the rest of the ingredients under masala
with minimal water to a smooth paste.
Blanch
or steam veggies with a pinch of salt till 3/4 done but not mushy. Drain water
completely.
In
a pan, add oil, splutter mustard seeds, curry leaves, add the ground paste and
saute for 6-8 mins till the raw smell disappaears. Add water as needed to make
a thickish gravy.
Now
add blanched or boiled veggies, turmeric and lightly saute again, simmer on
low-medium for 3-4 mins.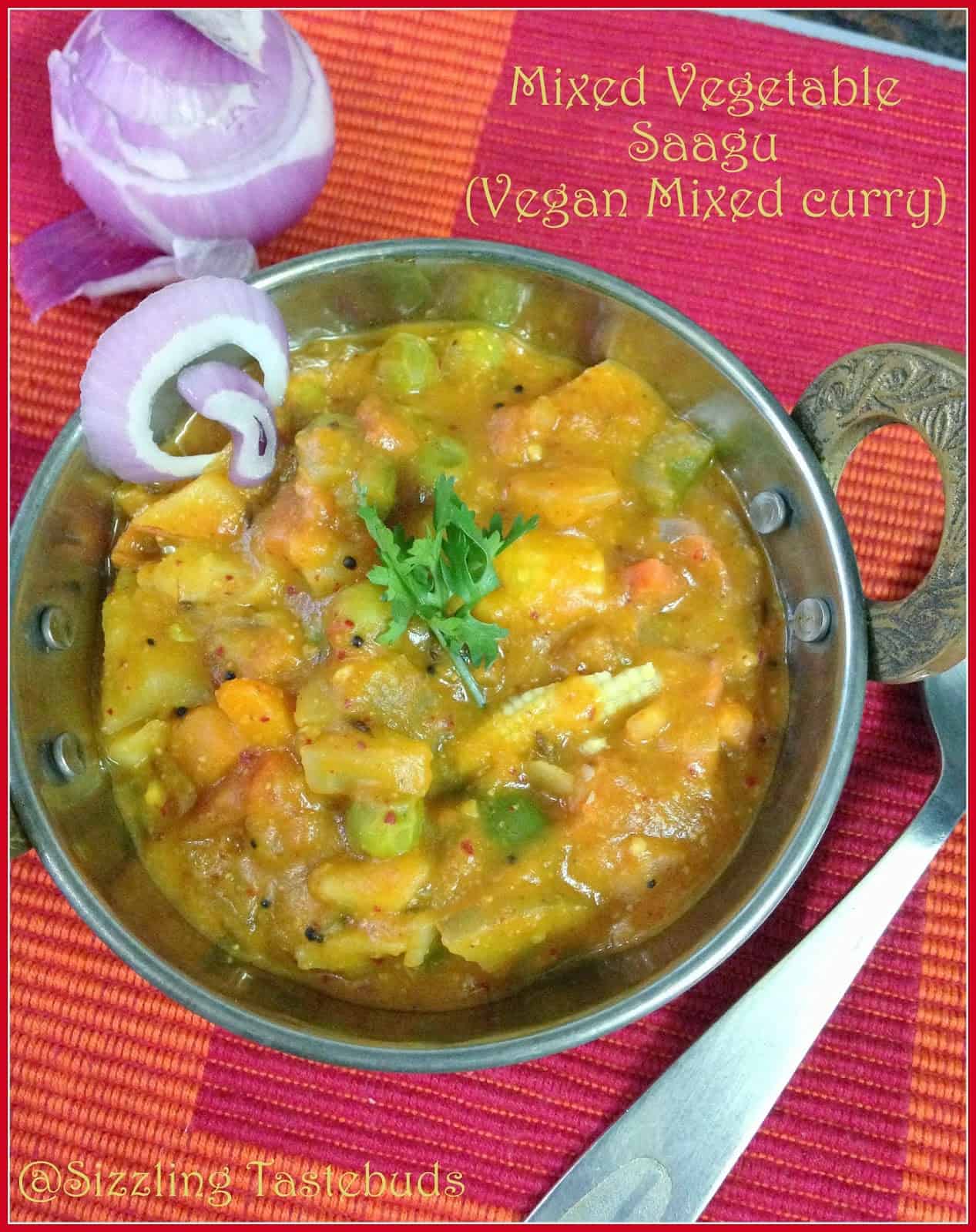 Pin