The dear husband is actually non-fussy
when it comes to food. Except for his pet peeves. Like today's dish.
Right from the start of marriage
(including the wedding menu, where we 'forgot' to ask for his micro
preferences), he fails to understand why should two vegetables be mixed when
they can be eaten separately. Like Potato and Brinjal are brilliant veggies. Separately.
He wouldn't touch this in the initial days.
I pursued making them though, for I love
this combo a LOT !! When the girls were born and he grew wiser, he wanted to be
a model father, and now both elder one and the dad tolerate this.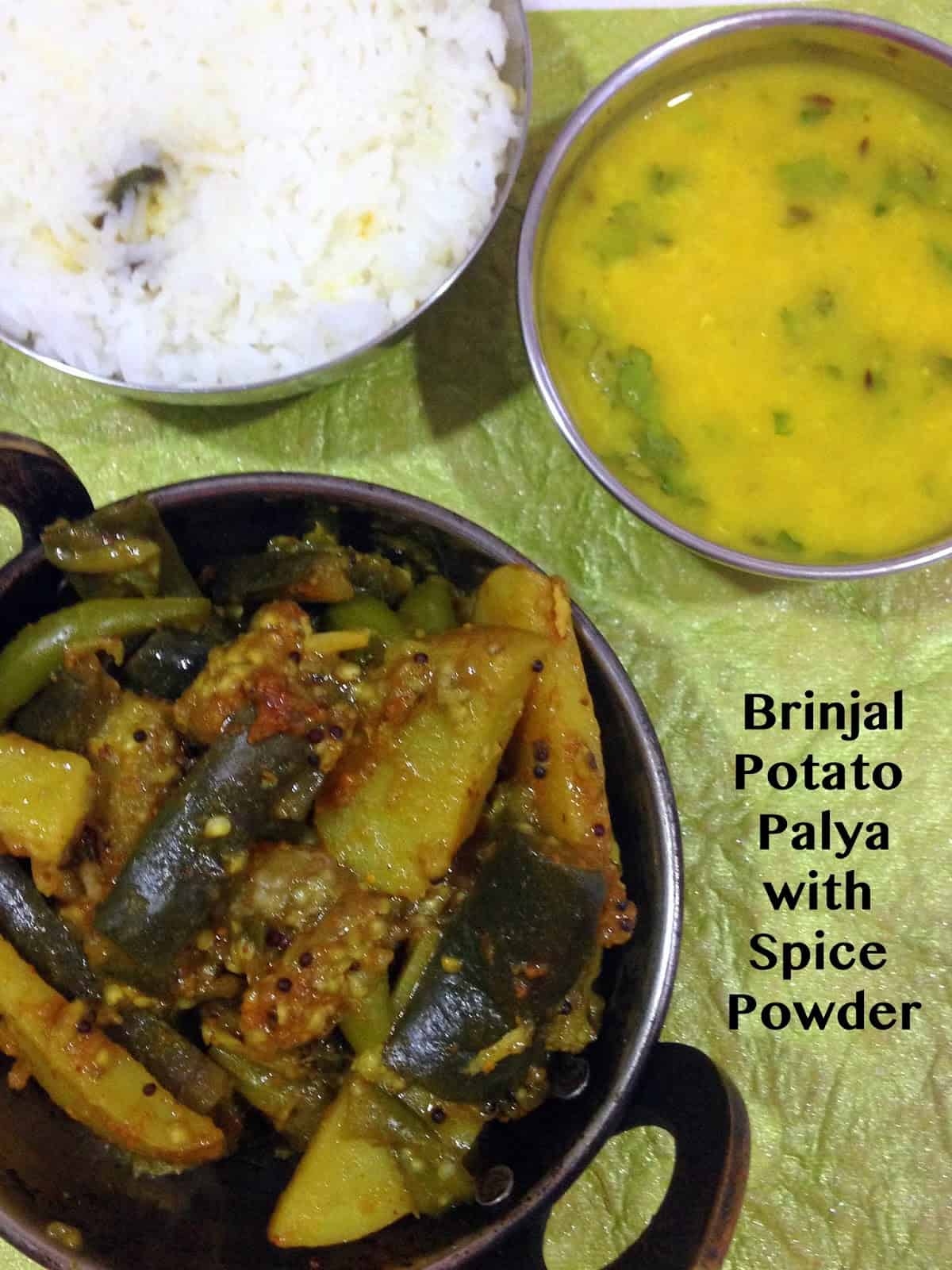 PinPin

The special magic
in this is the spice powder thats used and that gives a super kick to the whole
dish. I use the spice powder as in this curry, and even add capsicum (bell peppers),
carrots and even fresh peas (more mixed veggies in one dish means more vexed
husband :D). And it teams up so well with Curd rice or plain rice + Rasam / Sambhar

Lets get to make this…

Prep time : 10 mins, cook time : 15 mins,
serves :2

Course : Side dish / accompaniment, vegan 

Ingredients:
Brinjal (long variety – green or purple) –
150 gms – 2 medium
Potato – 1 large or 2 medium
Salt – to taste
Oil – 1 TBSP
Vangi bhath powder – 2 tsp**
Jaggery – 1/2 tsp
Tamarind paste – 1/2 tsp (substitute with
1/4 tsp amchur / dry mango powder)
Dry coconut grated – 1/2 tsp (totally
opt.)
**For
the Spice powder (Makes 1 serving):
Dry coriander seeds – 1 TBSP
Channa Dal – 1/2 TBSP
Dry Red chillies – 3 or 4
Clove – 1 or 2
Cinnamon – 1/4 inch stick
Grated Dry copra / dried coconut – 1/2 tsp
Oil – 1 tsp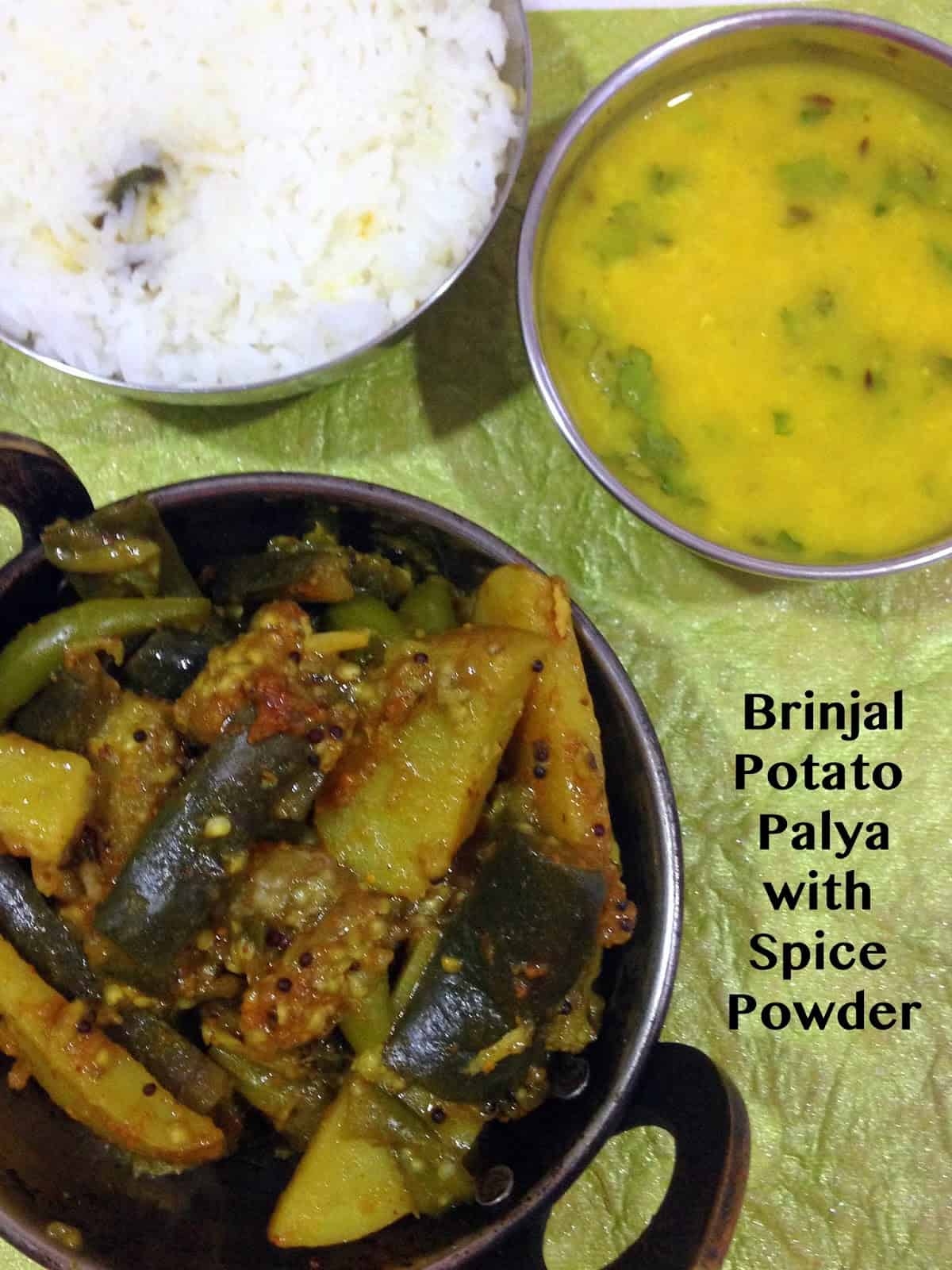 PinPin

Method:
Wash and scrub potatoes, with the skin on
(thats how we prefer it), cut into 1.5 inch long thickish batons and reserve in
slightly salted water.
Wash brinjals and cut them lengthwise the
same size as the potatoes and also add them to the water along with the
potatoes.
**If you dont have spice powder, In a pan, heat 1 tsp of oil. Fry the dry coriander
seeds, dry red chillies and channa dal. Keep aside. In the same oil, turn off
the flame and roast the rest of the ingredients for 1 min. Cool and grind the
spice mixture. If you have the spice powder, skip this step
Meanwhile drain the
potato and brinjal onto a kitchen towel and pat them dry.
In a pan, heat oil, splutter mustard,
asafoetida, curry leaves, turmeric. Saute well. Add the pat dried veggies,
saute for 2-3 mins on medium heat. Add salt , sprinkle very little water and
cook covered for 8-10 mins (keep sprinkling water if required totalling not
more than 3 TBSP)
Once veggies are done (they should be
still cooked but firm), add whole spice powder, tamarind paste, jaggery. Saute
gently for 1 min.
Finish with grated coconut if using.
 Sending this to
Blogging Marathon