Tambli / Tambuli is a classic Karnataka dish (more so in western / north western karnataka) and can be loosely called 'raitha' or 'pachadi'.. And I would term this is more like the Tamil dish "pacha mor" (made in Iyer / Iyengar households). But for me, its more than that,especially for those who swear by authentic Karnataka cuisine.
Its a heady mixture of digestive spices and is super healthy for the fact that its extremely cooling (especially for digestive disorders).
While we didn't make this often at home, I remember having this first at a friend's housewarming when I was all of 8 / 9 years old, and that taste still lingers on. 
Food and memory seem to have an irrefutable connection with man and each one of us tries to recreate that food we tasted first in our own homes. This dish – Zucchini Tambuli – is made from various plants / shoots and herbs and zucchini can easily be replaced by cucumber/ridge gourd/Dodda Patre(ova leaves)/ginger
Today, I tried this out with Zucchini and we loved it a lot (this came as close as it could to Indianising Zucchini). Best served with hot steaming rice and some pickle / dry curry, and it serves for a super filling & healthy meal.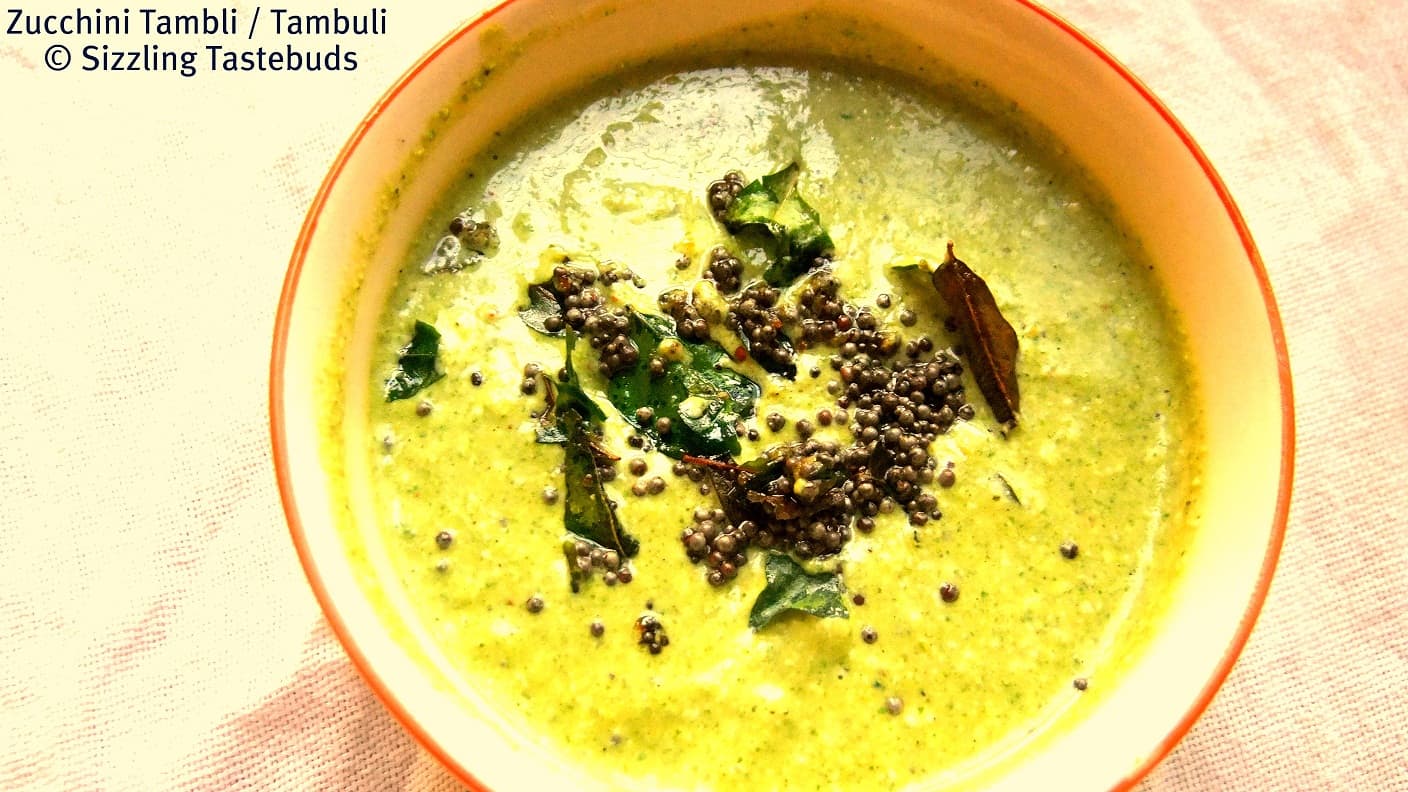 Prep time : 10 mins. No cook. Serves : 3. Keeps for 2 days under refrigeration
Ingredients:
Zucchini – 1 large no (you may also use ash gourd / ridge gourd / cucumber)

Curd / Yoghurt – 3/4 cup (slightly sour)

Freshly grated coconut – 3 TBSP

Cumin / Jeera Seeds – 1 TBSP

Red chillies – 2 no (or green chillies – 1 no)

Salt – to taste

Sugar – a pinch (opt)

oil – 1 TBSP
Tempering:
Ghee – 1 tsp

Mustard seeds, Hing (Asafoetida), Curry leaves
Method:
1) Cut zucchini (or peel and grate). Fry it in 1 TBSP of oil and cook with a little water till soft (5 mins)
2) Grind together coconut, cumin and chillies to a smooth paste. Add the cooked zucchini and pulse just once (we want the zucchini to be slightly chunky)
3) Whisk the yoghurt with salt and sugar. Add this above paste to the curd / yoghurt and mix well.
4) Prepare the tempering with ghee, mustard seeds, hing and curry leaves. Add to the Tambli.
5) A delicious healthy dish is ready 🙂