The opportunity to review Eastern
Masala Products came to me via Facebook as early as June. Due to personal
constraints, and losing all the pictures due to a data crash, I had to start
all over again. Aveta from Eastern products was very patient with me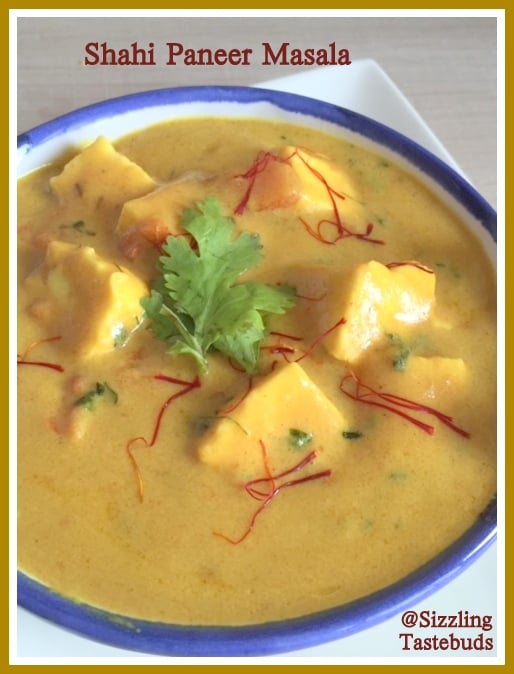 Pin

The first thing that was striking about the hamper was I got
not one, not two but several masala packs to review-  Chaat masala, Brahmin Sambhar powder, Shahi
Paneer Masala and the like – all neatly wrapped in a jute bag and the packs
themselves were very attractive to look at.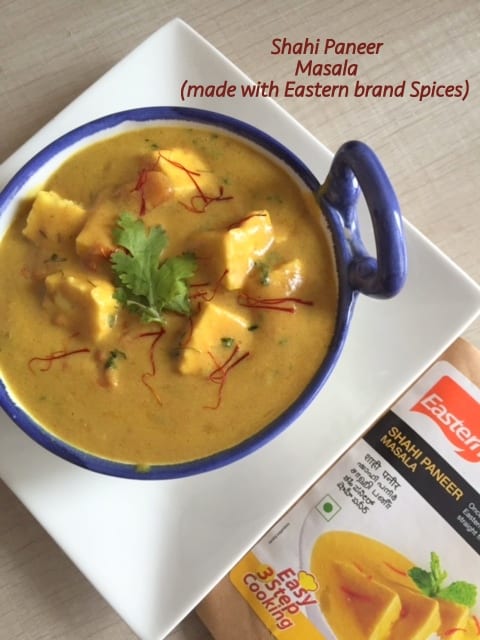 Pin

Thank you Eastern, and Aveta. Although long overdue, here's the
first of the reviews. The others shall follow shortly. , And here we are
reviewing the first product that came in my hamper – Shahi Paneer Masala.

Paneer is an anytime favourite at home – Palak Paneer / Parathas / Frankie/ Gulab Jamun / Kebabs / Paneer Pulao– pretty much everything with Paneer is quickly lapped up at home.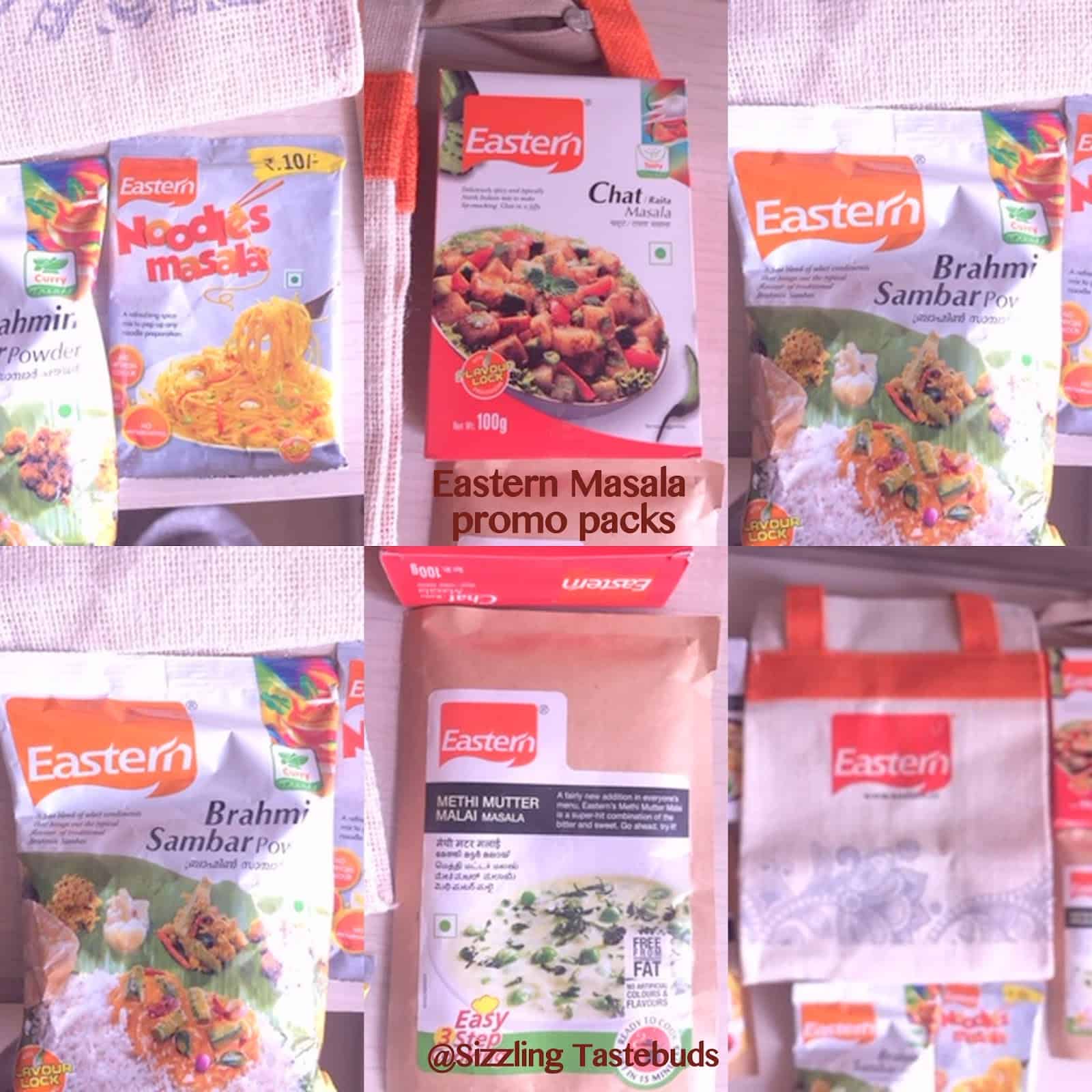 Pin
Highlights of #TheEasternExperience :
·     
Unlike
other ready to use Masala packs, this had a smoothy consistency,
·     
Easy
to understand instructions (literally step 1, 2 and 3 and you are done) !
·     
Also,
the salt and other condiments used was not overpowering.
·     
The
gravy didn't leave any oil residue and was silky smooth
Lets get to make this now
Prep time : 10 mins, cook time : 15 mins, Serves : 4
To make this, you would need:
Eastern Shahi Paneer Masala – 1 pack
Paneer cubes – about 200 gms
Tomatoes – 2 nos (medium)
Oil – 1 TBSP
Milk – 1 cup
To finish : Cream – 1 TBSP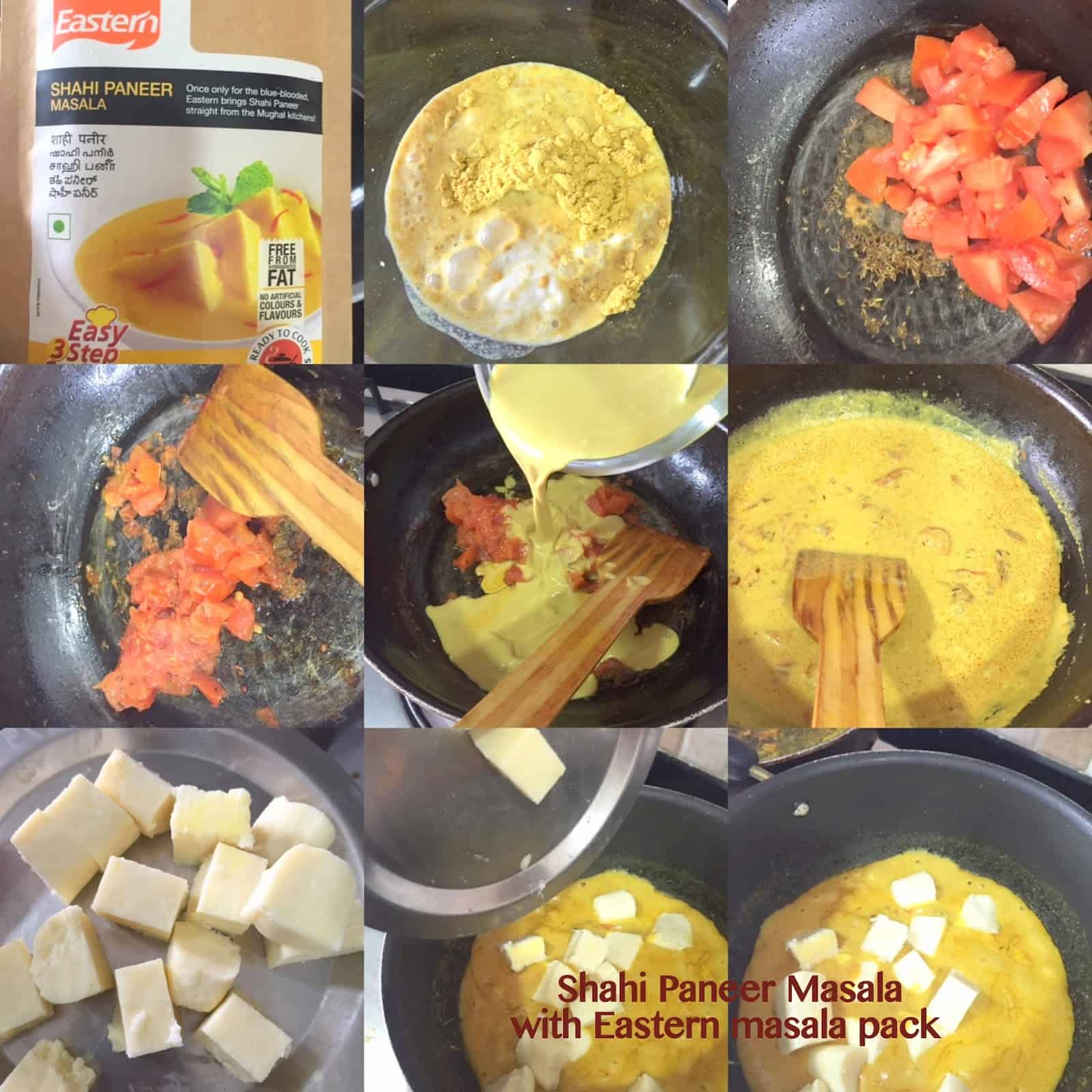 Pin
Method:
Cut a pack of Everest Shahi Paneer Masala into a bowl. Whisk
well with 1 cup of milk into a lumpfree mix.
In a pan heat oil and sauté cubed tomatoes. Let them soften a
bit. Take it out and sauté paneer cubes in the same oil for just 1-2 mins.
Reserve the paneer cubes in warm water.
Now add the shahi paneer masala mixture . Mix and let it cook
on simmer for 6-8 mins.
Add the drained paneer cubes , let it simmer for 3- 4 mins more
and finish with cream and a sprig of coriander leaf
Enjoy it with hot rotis or even veg pulao.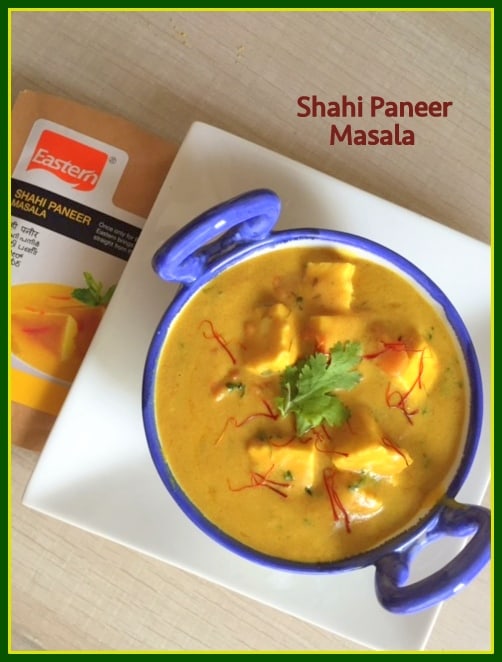 Pin