I am yet to see a kid who doesnt relish pizzas. While home made pizzas are not really relished by the kid (says Dominos is far more cheesier), she quite liked these Mini Pizzas, more so as she helped me assemble these mini delights 🙂 It was more than half the battle won as she choose the toppings too (including the extra extra cheese). I used a combo of tomato sauce + store bought pizza sauce, and the combo was quite tempting to we adults as well. This makes for a great option on weekend nights as well when one is bored with the usual Dal- Roti combos 🙂 We like the Herby Cheesy Pizzas that we make often too, but this was more kid-friendly, I guess 🙂
One can also play around the toppings : For the kiddo, we used a 'popular' combination of bell peppers and tomatoes (and of course Cheese) while S & I had brocolli and baby corn as extra toppings. Considering that although we used store bought mini pizza base, the cost of making these was not even 1/10 of the "branded" pizzas while the delight factor upped by 200% 🙂 🙂 So, am sure this will feature regularly on our weekend menu 🙂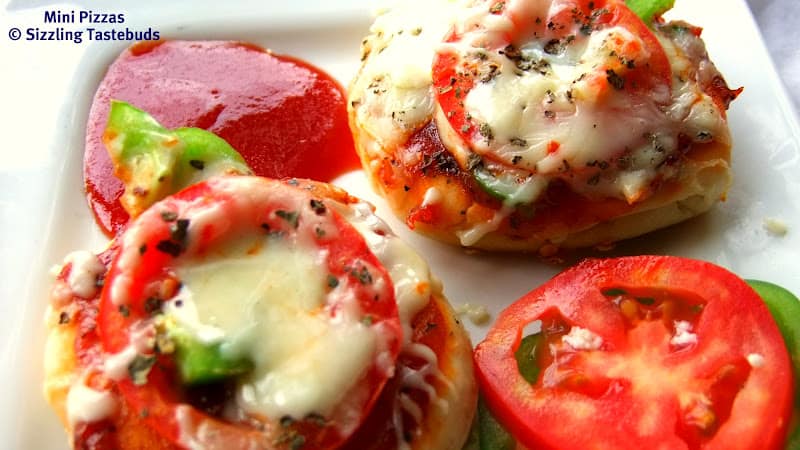 Pin

Sending this to BM # 14 along with my event Bake Fest, Rasya's I am the star, Sobha's Just for Fun, Nayna's Lets Cook Speedy Snacks along with Resh's Say Cheese. Check out the other Marathoners here.

Prep time – 10 mins

Bake Time – 15 mins (per batch)

Makes : 6 mini Pizzas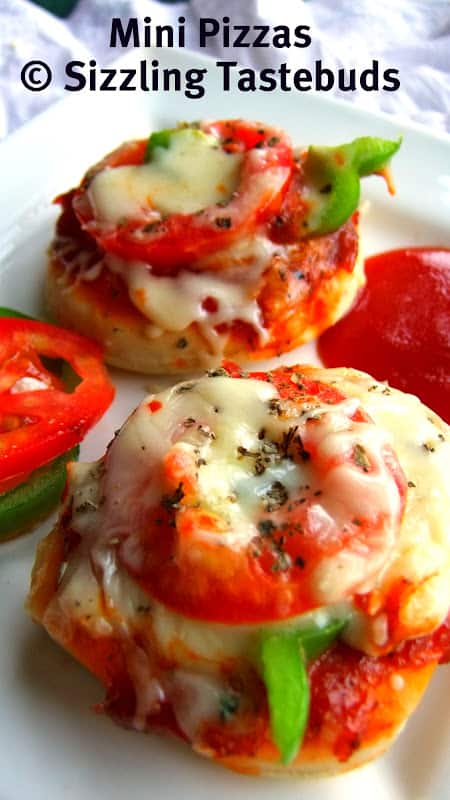 Pin

Ingredients:
Mini Pizzas – 6 nos
Pizza Sauce – 3 TBSP
Tomato Ketchup – 1 TBSP
Veggies : Bell Pepper / onions / tomatoes / baby corn / Broccoli
Italian Seasoning – 1/2 TBSP
Grated Mozzarella Cheese – 1/2 cup
Olive oil – for brushing
Method:
1) Take the mini pizza bases and brush them with olive oil liberally. Now apply a nice thick layer of Pizza sauce. Stack up the veggies on them and sprinkle grated cheese.
2) Meanwhile preheat oven to 180C / 375F. Line a baking tray with foil and grease slightly.
3) Place the mini pizzas on the lined tray. Sprinkle Italian seasoning and make for 10-12 mins till the cheese melts.
4) Serve warm with tomato ketchup.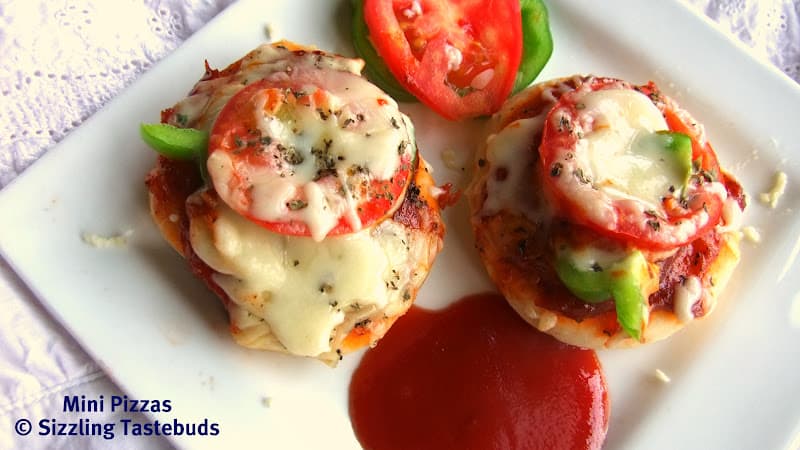 Pin