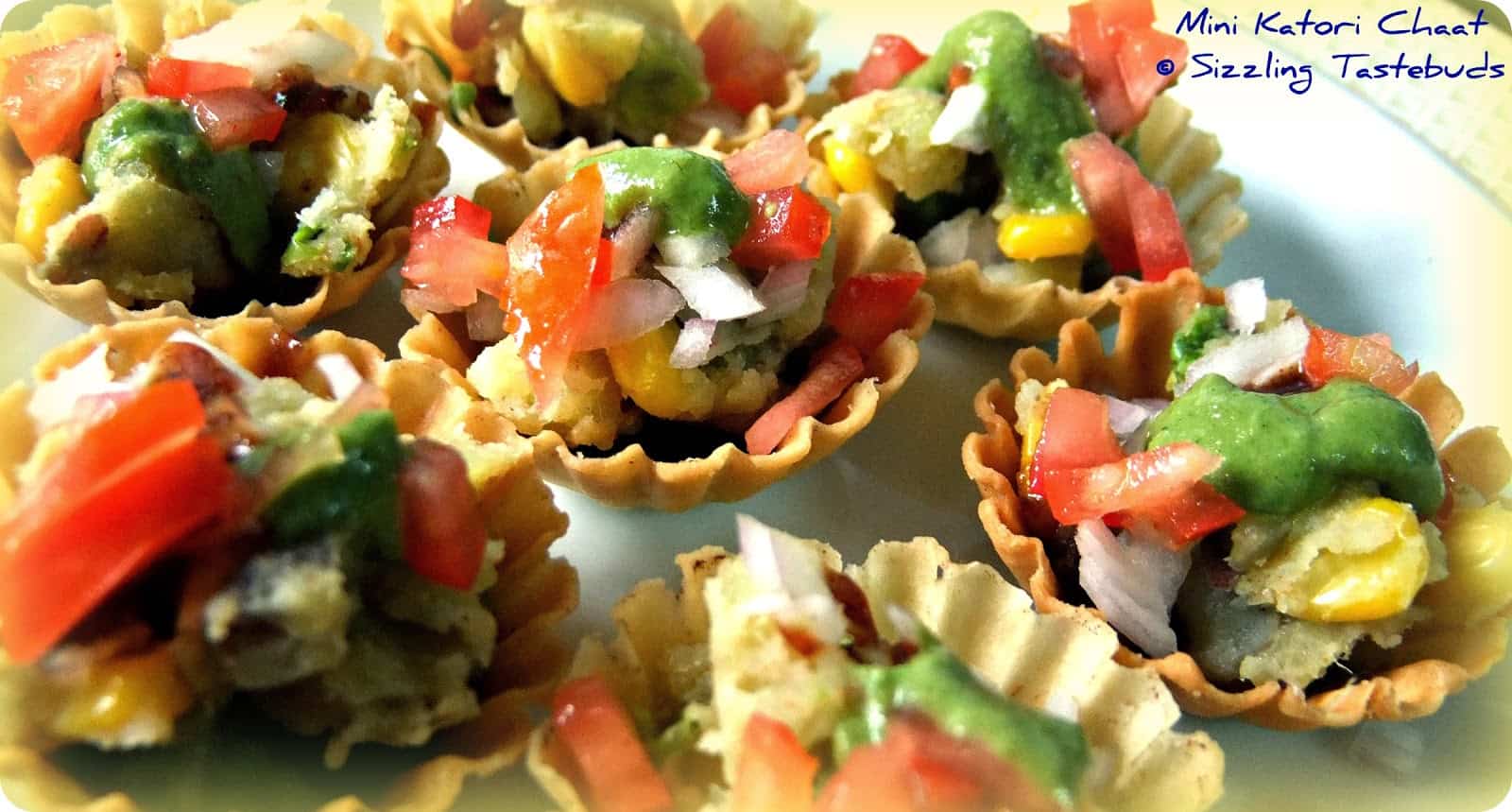 Pin

 I am sure the Diwali preps are already done at your place, and the sweets and savouries have been made, the house spruced up as we are all set to welcome Lakshmi the Goddess of wealth, into our homes this week 🙂 And there would be guests – both announced and unannounced – who would drop in from time to time, especially in the festive season. The following 7 days would feature a series of snacks that can be made in a jiffy (well, not instant, but quick) that you can put together with most ingredients that are at home. This is part of Blogging Marathon # 9 , week 2 for October 2011, and am sure you would enjoy this series as much as I love to present it to you. Before we go further, would take this opportunity to wish all my readers and their families a very happy and Safe Diwali ! Wishing you every prosperity and good health this festive season 🙂 

Check out the Blogging Marathon page for the other Blogging Marathoners doing BM#9

Today's snack – Mini Katori Chaat – can be put together in less than 20 mins (including 10 minutes of cook time). You can use these to surprise your guests as well as for kids' birthday parties / potluck for any parties. you can use any chutney of ur choice, and I used homemade mint-coriander chutney (jain style) along with date chutney and we enjoyed the taste a lot. Also, I have used baked canapes here – feel free to use any base of your choice. This topping is so versatile, you can also use it as a topping for mini pizzas 😉 

Do check out other Chaat / Street food options here.

Prep time : 15 mins. Cooking time : 10 mins. Makes : 25 single serve chaat cups.

Ingredients:
Canapes / Katori – 25  nos.
Onion – chopped – 1 no
Date Chutney – 1 TBSP
Tomatoes – 1 no – finely chopped
Salt – to taste
Chaat Masala – 1 tsp
Black pepper powder – a dash
Amchur powder – 1 tsp
Boiled and grated potato – 1 no.
Boiled corn – 1/4 cup              
Coriander and mint leaves – for garnish
Sev (Ompudi) – for garnish (opt.)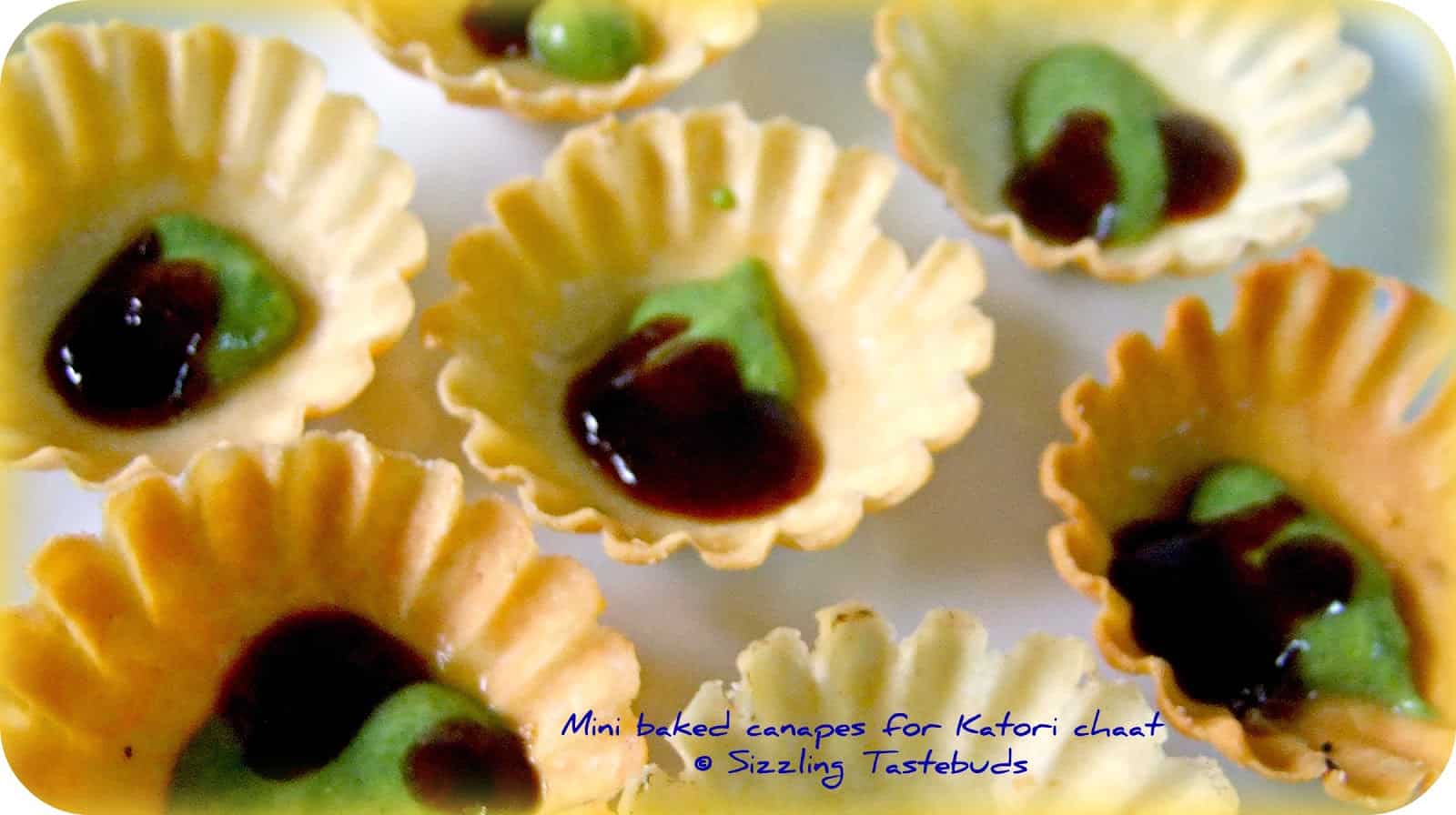 Pin
Method:
1) Boil, peel and grate potatoes. Blanch corn in salted water for 10 mins. 
2) Meanwhile, chop onions and tomatoes finely.
3) Just before serving : mix onions, tomatoes, boiled corn, grated and mashed potatoes, salt, amchur, chaat masala, pepper powder well.
3) In baked canape, line with the mint and date chutneys. add a tsp of the above mixture. Top again with a dot of green / date chutney. Sprinkle coriander / mint leaves and sev (ompodi) if using and serve immediately.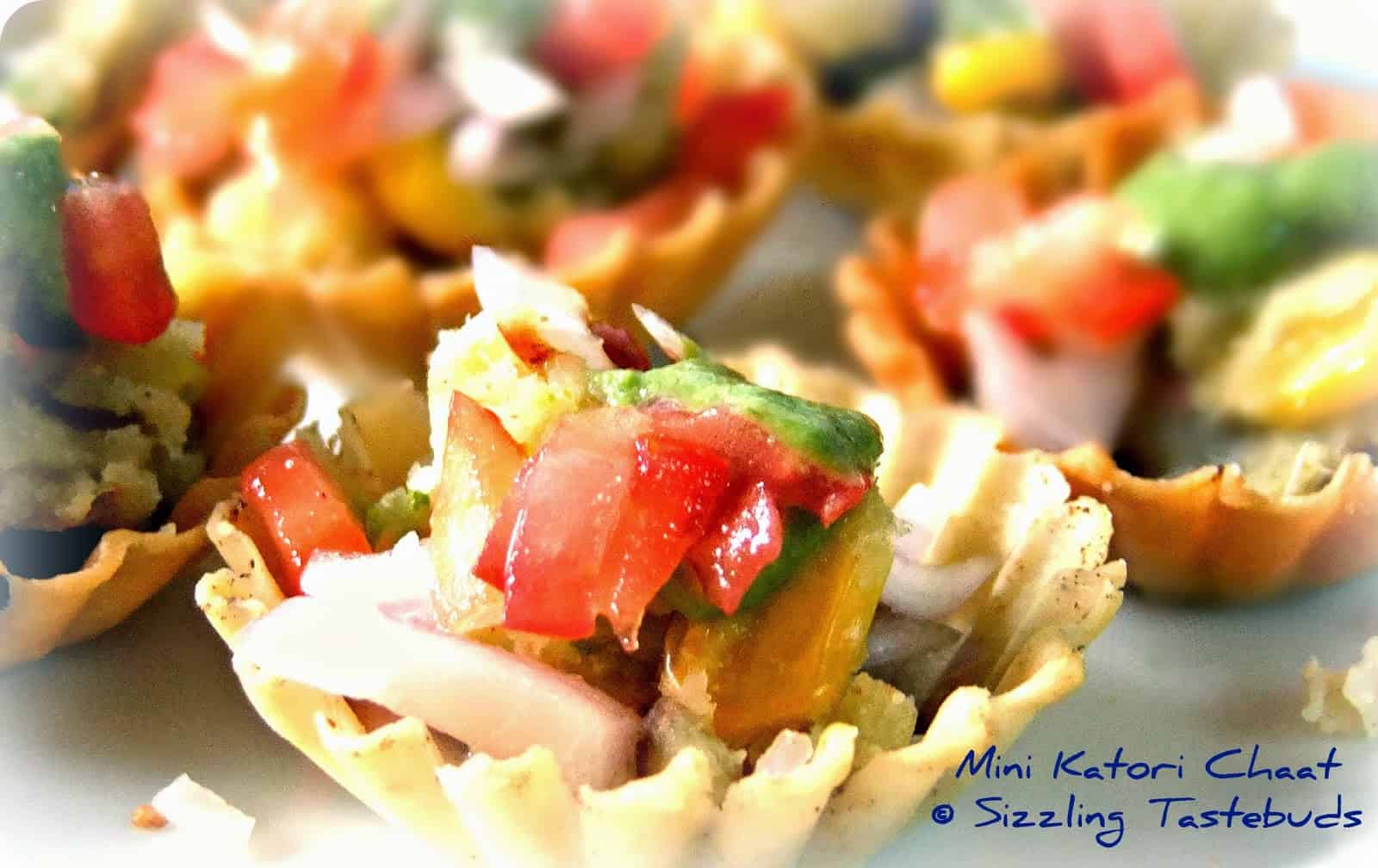 Pin