We begin
our journey into the International Blogging Marathon – a brain child of
Valli, and the preparation for this has been going on since so many months.
Like the Indian Blogging Marathon where we covered Indian states, this month
will see us savour dishes from across the world in an alphabetical order.
What's interesting is more than 25 bloggers are participating in this from
across the world, and the countless chit chat we have had is not funny.
Bordering from humour to early leaders who had their lists and cooking done
even before some of us were hearing about the country for the first time, it
all comes down to comfort homemade food, cooked with love and enjoyed by the
family 🙂

Pin
One
particular Googly thrown at me by the husband was no Maida (APF) and no refined
sugars and very low fat to be used during this entire Blogging Marathon.. Rather than a hurdle,
I took up the challenge, faltered a bit (read a lot), altered my recipe list a
hundred times, and then ended with dishes that was welcomed by all in the
family.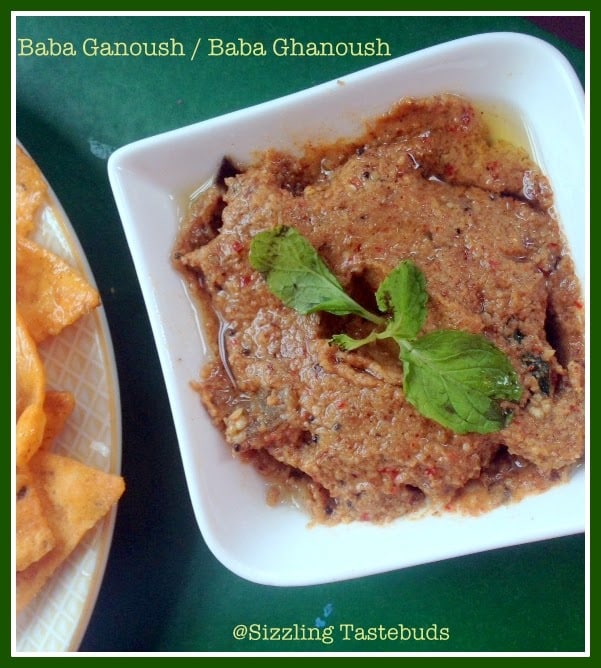 Pin
So stay
tuned as we take you across the world through different countries
alphabetically all this September. Words fail me when I thank Valli and
the entire team of gals for their constant support and motivation (sometimes
into the wee hours of the night , whatsapping endlessly).
Loads of bookmarks
and world cuisine books were consulted, and reconsidered again and again, till
we started cooking something doable and tasty and healthy for the family. Not
to mention the loads of information that google and wiki provided and sifted
through them to present little tidbits for you along with the food made for
that country.
Hope you
enjoy this joy ride with me …
When I
had to choose for Alphabet A for today, I hopped between Austria and Armenia
and Algeria many many times before settling on Armenia. Top 5
things about Armenia that I learnt —

Flag of Armenia (Wiki)
Bordered
by

Turkey

to
the west,

Georgia

to the north, the de
facto

independent

Nagorno-Karabakh Republic

and

Azerbaijan

to
the east, and

Iran

and the Azerbaijani

exclave

of

Nakhchivan

to the south, Armenia is
a unitary, multi-party, democratic nation-state with an ancient cultural
heritage. Armenia is

landlocked

in the

South Caucasus

.
Located between the

Black

and

Caspian Seas

,
the country is bordered on the north and east by

Georgia

and

Azerbaijan

,
and on the south and west by

Iran

and

Turkey

.

The
native

Armenian

name for the country is

Hayk'

. The name in the

Middle Ages

was
extended to

Hayastan

, by addition of the

Persian

suffix

-stan

(place).
Steeped in history, Armenia houses
the

The

Etchmiadzin Cathedral

, Armenia's Mother Church
traditionally dated 303 AD, which is considered the oldest cathedral in
the world
Armenian
cuisine is as

ancient

as
the history of Armenia, a combination of different tastes and aromas. The
food often has quite a distinct smell. Closely related to eastern
and

Mediterranean cuisine

, various

spices

,

vegetables

,

fish

,
and

fruits

combine to present unique dishes.

The
main characteristics of Armenian cuisine are a reliance on the quality of
the ingredients rather than heavily spicing food, the use of herbs, the
use of wheat in a variety of forms, of legumes, nuts, and fruit (as a main
ingredient as well aa to sour food), and the stuffing of a wide variety of
leaves.
(Source:Wiki
and The Lonely Planet)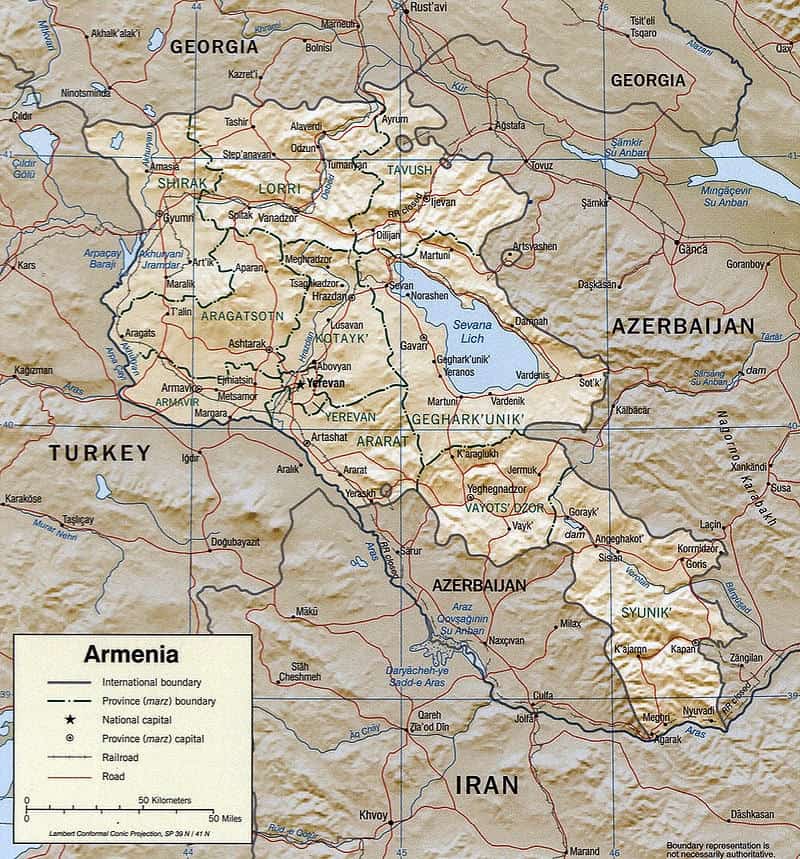 Location Map of Armenia – Courtesy CIA
Baba Ghanoush (aka Baba Ganoush), like so many
other middle eastern – Eastern Europe recipes, belongs to Armenia amongst so
many other countries due to its geographical location, its cuisine is
influenced by neighbouring Persia, Turkey and Iran. Its a versatile dip made
with roasted garlic and eggplants and goes great with Pita crusts or veg
crudites alike. Great dip to make-ahead for parties too.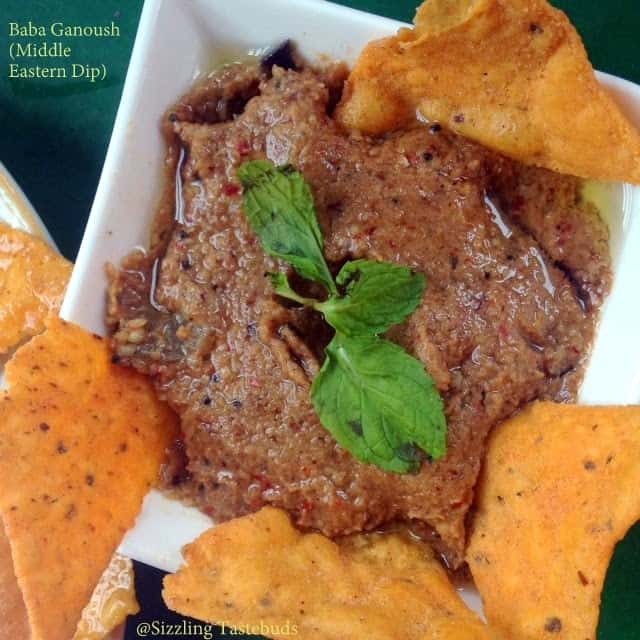 Pin
So, at the end of a longish
post, lets get to the recipe :
***************************
Country – Armenia
Dish – Baba Ghanoush | Recipe type – Dips, served
warm or cold
Spice level – Medium | Difficulty level – Easy
Recipe adapted from Here
Prep : 20- 25 mins | Cook time : 10 mins | Serves :
4
Serving Suggestions : Pita breads, crackers, Veg Crudites, and also as a side dish for
flat breads / yeasted breads ( I served it with Tacos)
***************************
Ingredients:
6-8 pods garlic
1 medium sized eggplant
Red Onions – 1
Raw Tomato – 1 (Ioptional –
but I added it)
Coriander chopped – ¼ cup
Tabasco Sauce – ½ tsp (I
used really spicy version)
Basil leaves (fresh or
dried) – ½ tsp
Olive oil – 1 TBSP
Tahini (or sesame paste) –
½ TBSP ** (See Notes for a quick version) – optional
Salt &
pepper – to taste
Method:
In a lined baking tray,
lightly grease the tomatoes and wrap the peeled garlic pods in double foil.
Bake at 180-190 C for 14-15 mins till tomato is roasted and garlic shrivels and
darkens a bit (To speed up the process, I heated a large iron wok instead and
seared the garlic till they were roasted, and charred the tomatoes a bit)
On a medium gas flame, turn
the oiled eggplant several times (with a fork / knife inserted at the crown)
and keep turning till the eggplant is roasted evenly on all sides (this will
take about 9-10 mins) – I roasted the eggplants a tad longer coz S likes it that way so you see a darker version of this dip
Cool both garlic, tomatoes
and eggplant. Peel off skin of eggplant and lightly mash it with a fork. Chop
up the roasted garlic and tomatoes (into smaller chunks)
In a large bowl, add this
mashed up eggplant, diced garlic,basil, tomatoes, coriander (or parsley),
Chopped onions, salt, pepper and the rest of the ingredients. Mix well.
It can be lumpy or smooth
as you like it.
Serve with canapés /
crackers or anything else you might fancy. It keeps for upto 4 – 6 days under
refrigeration, so you might enjoy it as a sandwich spread the next day
too 🙂

** Notes:
For a quick Tahini paste, blitz roasted sesame seeds with olive oil, a sprig of basil and thyme and some salt / pepper. I used black sesame seeds for this paste
Also linking to Beulah's Eggplant event, hosted for Nayna.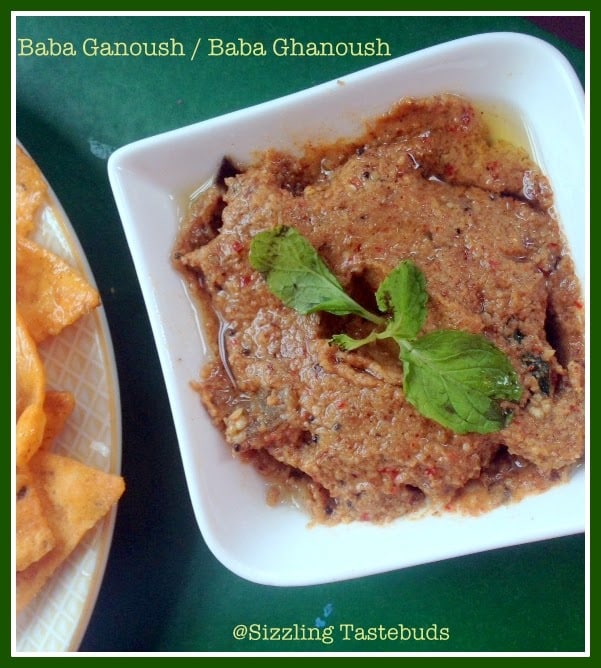 Pin