Whats
not to like in Pakoras ? (aka Pakodas in South India) – these gramflour
fritters are popular as street food as well as quick snacks for both kids or
unexpected guests. Yes, moderation is the key. We dont deep fry even puris that
often but when I made these, they flew off the shelf (rather pan) in no time…
Addition
of fenugreek leaves was a last minute brain wave (call it requirement) as I had run
out of onions (which was the original plan). But glad we made it and munched
happily. It was perfectly spicy so we didnt even need any ketchup to go with
it… Make a batch as this goes to BM#53 and Kids Delight hosted by Sandhya.
Hope you enjoyed this week's series with Sprouts Sundal, Dahi Ragda Chaat and today's Methi Pakora. Stay tuned till next week with another theme….
Similar recipes:
Gatti Pakoda (dense and crunchy gramflour fritters)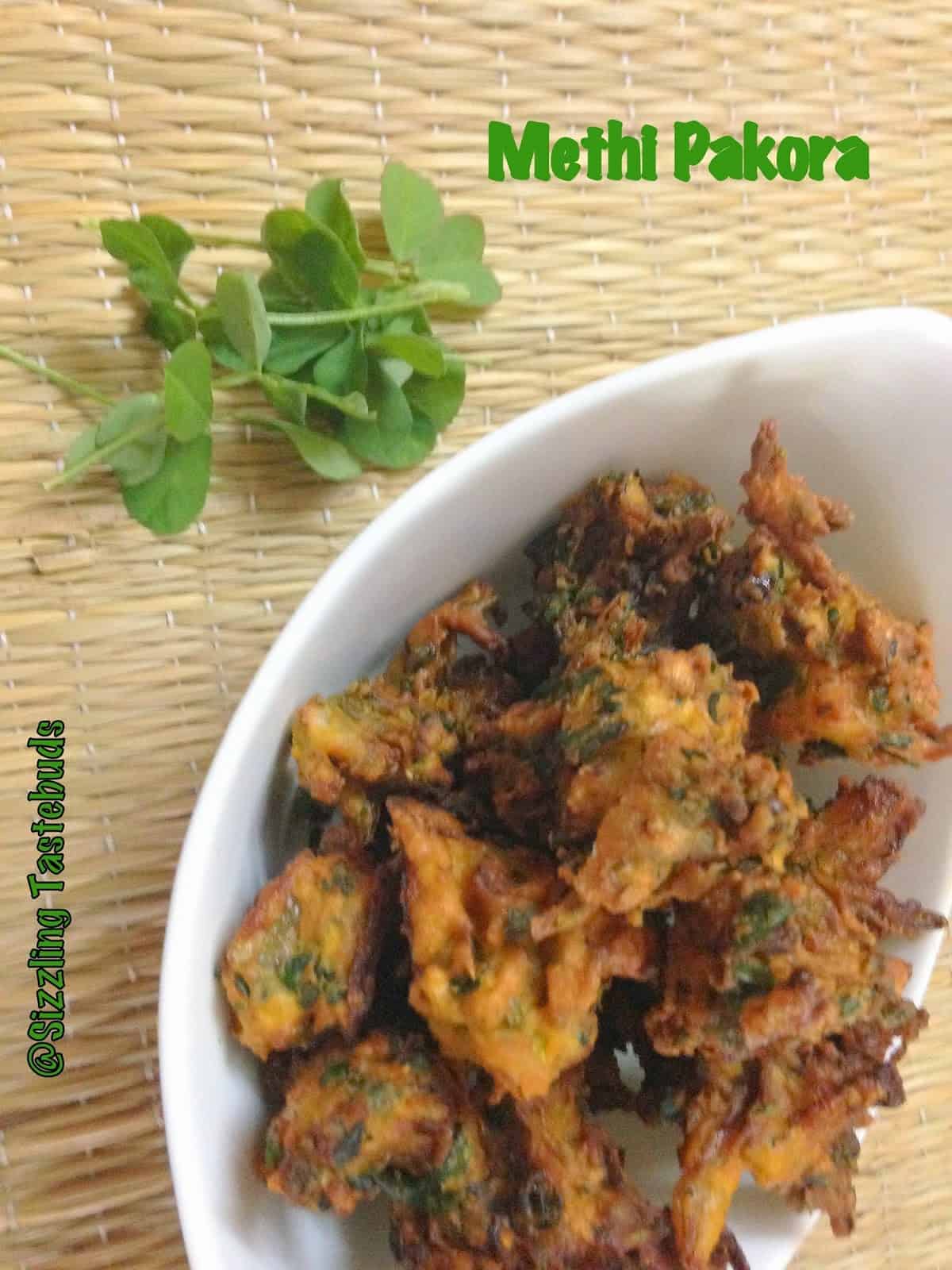 Pin




Prep
time : 15 mins | Frying time : 15 mins | Serves : 4

– spice level : medium to high.

Vegan fritter with gramflour and fenugreek 




Ingredients:
Besan
/ Kadalai maavu / gram flour – 1 cup
Rice
flour – 3 tsp
Salt
– to taste
Finely
chopped fenugreek / methi leaves – 1/2 cup (fresh or frozen)
Red
chilli powder – to taste (about 1 1/2 tsp ) – adjust to taste
Hing
– a generous pinch
Turmeric
 – a dash
Ajwain
/ carrom seeds – 1/2 tsp
Crushed
whole coriander seeds (dhaniya) – 1/2 TBSP (optional)
Oil
– to deep fry – divided use.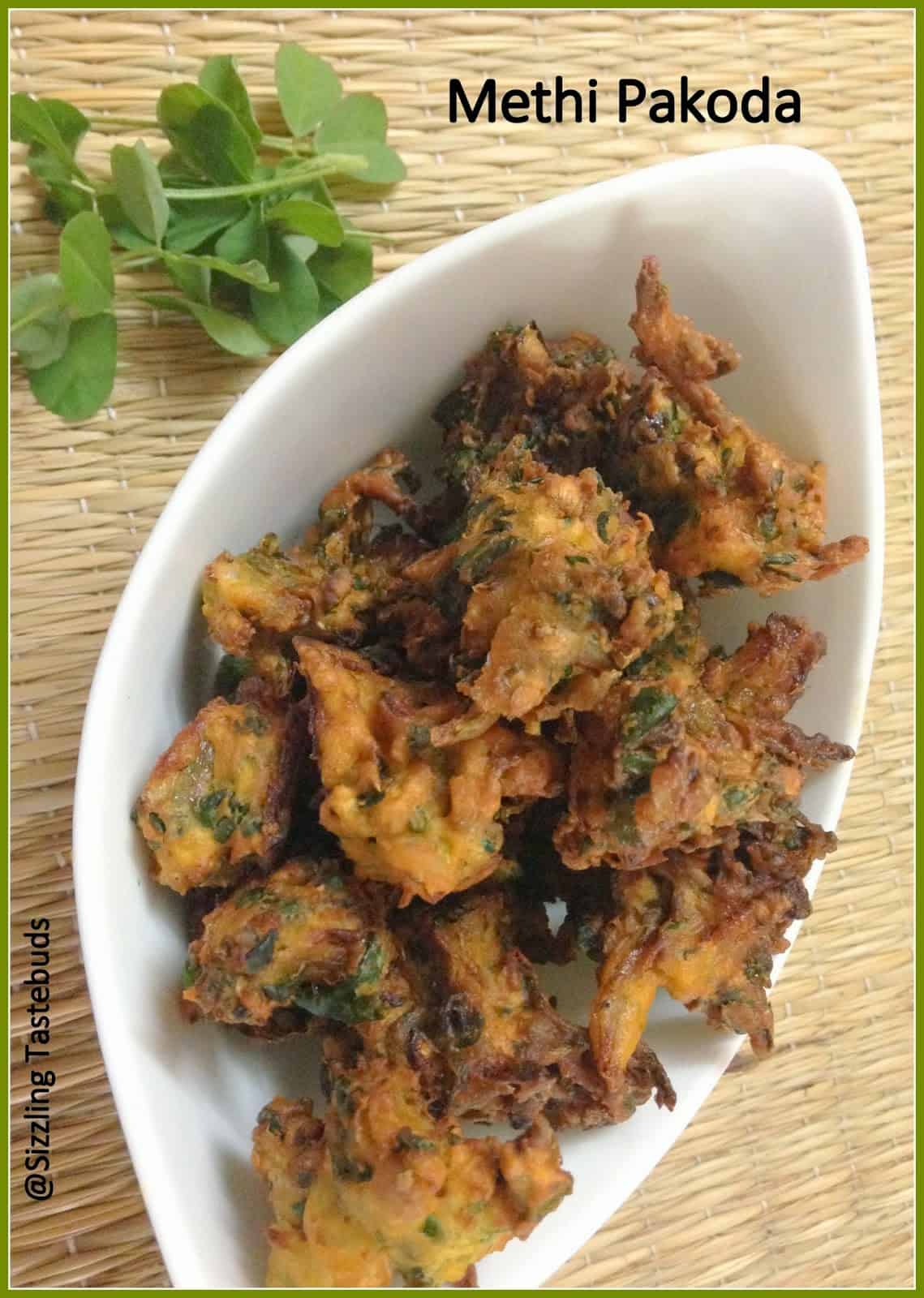 Pin

Method:
Sieve
the flours together with salt. Add a ladle of hot oil (heated separately for 1
mins) and gently mix with a spoon. Now add the rest of the ingredients (except
the oil for frying) and mix well. 
Methi
leaves would leave out water in 2-3 mins. Add water very slowly (max 1/4 – 1/3
cup) and make a thickish batter. check for spice and salt
Keep
the rest of the oil on medium-high heat. Use a greased spoon or wet hands to
drop small pakoras (or bite sized pieces) into the hot oil once ready. Be sure
not to overcrowd the frying pan (or kadai)
Fry
on medium heat turning the batch over in the oil occasionally. Fry till golden
brown and drain on kitchen towels.  Fry the rest of the batches similarly.
Serve
hot when crispy.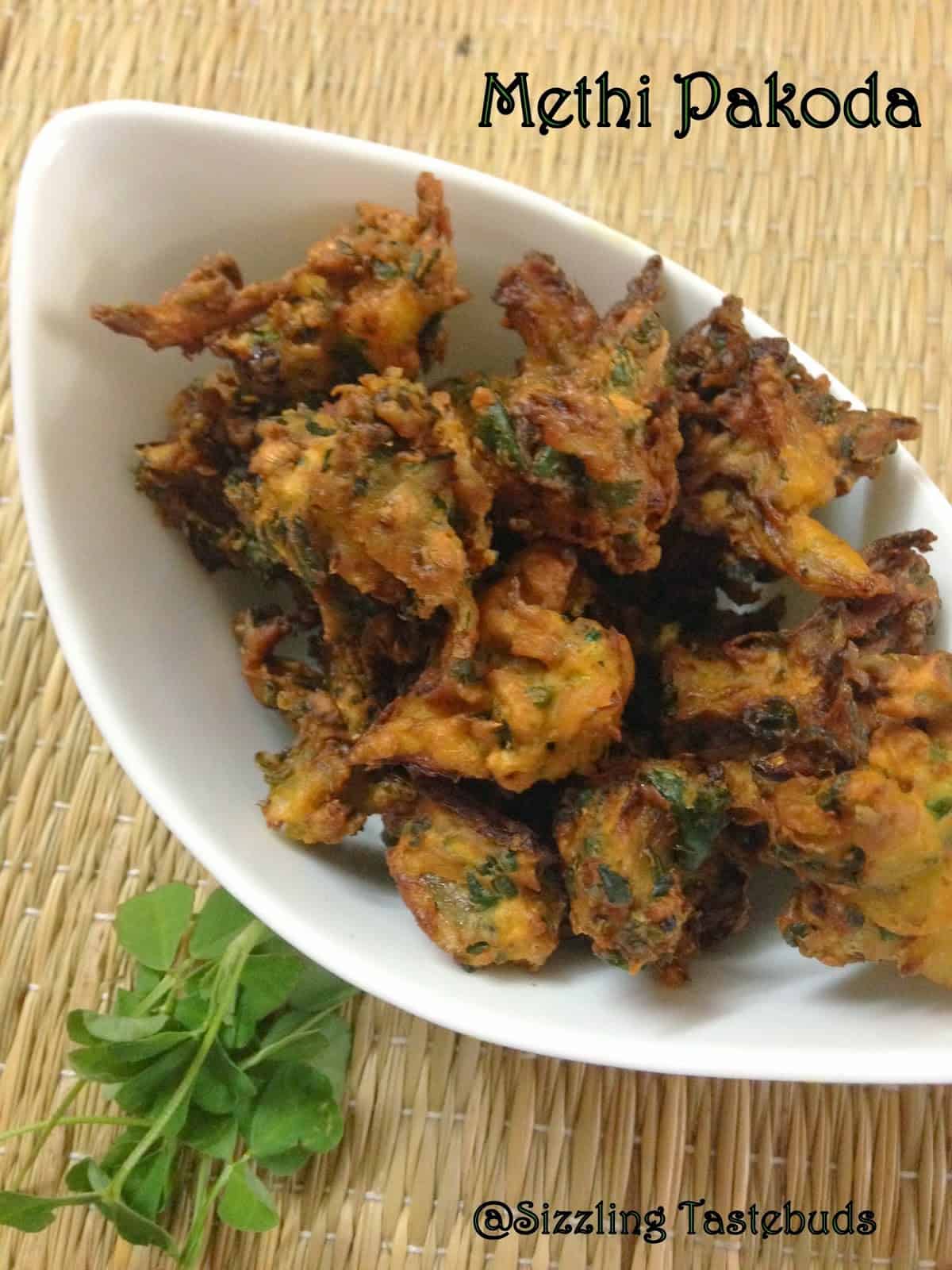 Pin