Some dishes do have the ability to bowl you over with their sheer punch… I am a self confessed bitter gourd hater, and didnt like it in any form – gojju / sambhar or palya (dry curry). Sis on the other hand loved it to bits, so Amma used to make two different  curries the day she cooked Bitter gourd, and the situation was no different after marriage. S can have bitter gourd almost everyday – in fact he likes the bitterness so much that he forbade me to add any jaggery while cooking this veggie… 
Alas, the brain does mature, and being in the midst of knowledge explosion, one is bombarded with information on the goodness of Karela (bittergourd). So, while I was talking to my friend in Bangalore last week, she told me about this wonderful curry that she has started making almost twice a week with Karela, and with no bitterness at all. Now, I was a little sceptical, and the doubting Thomases took ground in my brain, till I finally tasted it, and apart from a tinge of bitterness, it was good to go.
Upkari is a catch-all term in Brahminical Konkani cuisine (and also extends to coastal Karnataka) to describe veg curries (mostly dry) made with veggies alone or with a mixture or any whole lentils (eg : Beans – chickpeas, potato-green gram etc) along with a coconut masala paste.. So, today I added boiled and mashed green grams along with a little gramflour. For all those Karela lovers out there, you dont need any new excuse to eat this, do you ? Sending this to Alphabet H under Blogging Marathon # 32and also to Valli's Side Dish Mela…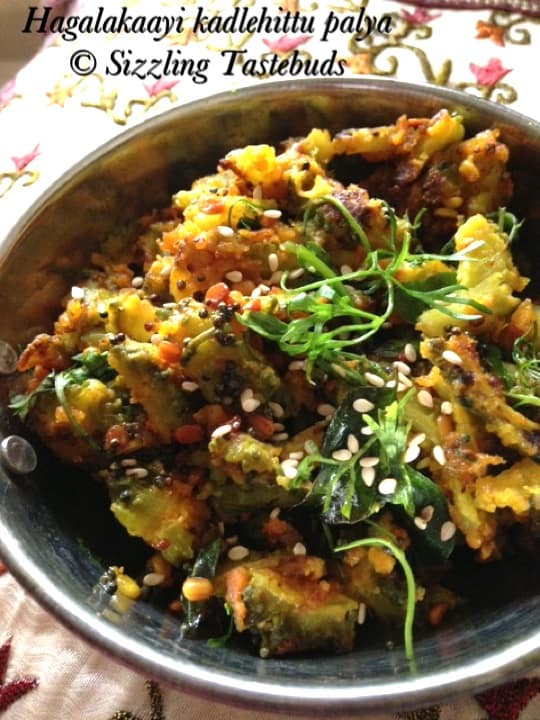 Pin

Prep time – 15 mins | Cook time : 15 min | Serves : 2

Bittergourd dry curry with gramflour-coconut masala




Serving suggestions : Rasam / Kozhambu / Roti / Phulka

Ingredients:
Fresh bitter gourd – 1 large or 2 medium
Boiled Green Gram – 4 TBSP (optional)
Coconut –  2 TBSP grated
Gramflour – 2 TBSP
Jeera – 1/2 tsp
Red chillies – 1 or 2
Asafoetida – a generous pinch
Salt – to taste
Oil – 1 tsp
Turmeric – 1/4 tsp
Til seeds / sesame seeds – 1/2 tsp (toasted) – optional
Tempering :Mustard seeds, curry leaves
Method:
Scrape bittergourd slightly, and scoop out the seeds & cut into half moon thickish roundels
Wash the cut pieces and steam for 1 whistle in the pressure cooker with a pinch of turmeric.
Drain out all the water.
In 1/2 tsp of oil, roast the chillies separately. Dry roast the gramflour for 1-2 mins
Grind coconut, jeera, asafoetida, chillies, gramflour and salt to a smooth paste with very little water
In a pan, heat remaining oil. Splutter mustard seeds and curry leaves. Add the cooked bitter gourd and saute for 2 mins, taking care not to mash it up. Now add the ground paste and saute till the raw smell disappears…
Check for salt. and add the boiled and mashed green gram. Stir for 1-2 mins. Add the gramflour and toss it a bit
Finish with toasted sesame seeds and serve