A potato salad is quintessential when you think of Vegetarian
cuisine outside India. Wiki tells us we have about 60-80 varieties of Potato
Salad across the world – and these are documented recipes. There might be
atleast that many or even double that number which are followed by home chefs,
sometimes a guarded recipe passed down generations.. There's definitely
something about the tuber that makes it endearing to potato lovers across the
globe, be it in the warm or cold versions.
Today, we try a Warm potato salad – Meleg Krumplisaláta (Pronounced as May-leg KROOM-plee-shaw-lah-taw) from Hungary (a Central-European Nation) that had us tickled pink as we had it over one weekend for
brunch along with some delicious soup that will feature shortly.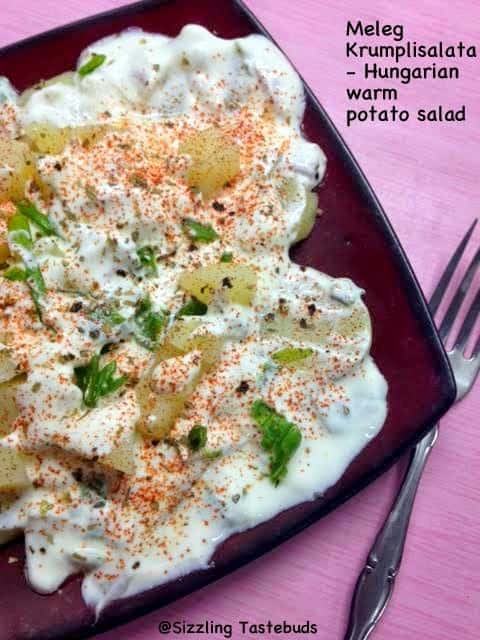 Pin

The original recipe also included hardboiled eggs which we
skipped. Its a delicious salad that you cant have enough.. Crazily enough even
my LO was licking her teeny weeny portion as if she liked it :-)) Before we get
to the recipe, a small snapshot of Hungary.

Pin
Hungary is a

landlocked

country in Central
Europe.It
is situated in the Carpathian
Basin and is bordered by

Slovakia

to the north,

Ukraine

and

Romania

to the east,

Serbia

and

Croatia

to the south,

Slovenia

to the southwest and

Austria

to the west. The country's capital and
largest city is

Budapest

.
Hungary is home to the largest synagogue in
Europe (

Great Synagogue

), built in 1859 in Moorish
Revival style with a capacity of 3000 people, the largest medicinal bath in
Europe.
Hungarian cuisine is a prominent feature of the
Hungarian culture, just like the art of hospitality. Traditional dishes such as
the world famous

Goulash

(gulyás stew
or gulyás soup) feature prominently. Dishes are often
flavoured with

paprika

(ground red peppers), a
Hungarian innovation.
Desserts include the iconic

Dobos Cake

,

strudels

(rétes), filled
with apple, cherry, poppy seed or cheese,

Gundel pancake

, plum dumplings (

szilvás gombóc

), somlói dumplings,
dessert soups like chilled

sour cherry soup

and sweet chestnut
puree, gesztenyepüré (cooked

chestnuts

mashed with sugar and rum and split into
crumbs, topped with whipped cream).

Perec

and

kifli

are widely
popular pastries.
Pin

*****************

Country : Hungary

Dish : Meleg Krumplisaláta – Warm potato salad

Serving suggestions : grilled veggies or meats

Prep time : 15 mins | Cook time: 10 mins | Serves : 4

Adapted from here

*****************

Ingredients:
Potatoes – firm : 6 no – boiled, peeled and sliced
Salt & pepper – to taste
Butter / Olive oil – 1 TBSP (I used the latter)
Sour Cream – 1/2 cup (See quick tip for Sour cream substitute for
this salad)
Onions – 1 medium (finely chopped) or use green and white portions
of scallion
Garnish : finely chopped parsley or chives or dill
Method:
Peel the boiled potatoes and get thickish slices (you can also
cube them if you wish).
In a pan, saute onions in butter or olive oil. Add sour cream and
stir on low flame, add salt and pepper. switch off flame in 2 mins
Drizzle this sauce over the warm sliced potatoes. Drizzle more oil
if you wish and garnish.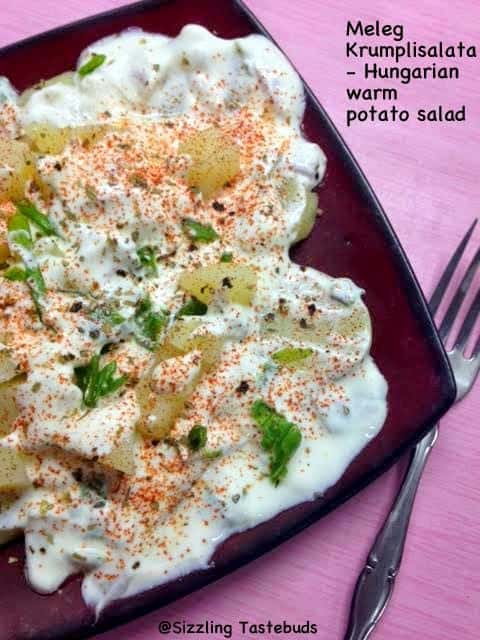 Pin
Quick tip for Sour cream :
Blend together about 50 gms of paneer,
a dollop of yoghurt and a dash of lime juice to get a smooth, instant sour
cream substitute.
Either way, ensure that the sauce isnt boiled or simmered, but
just blended enough to pour over the potatoes. Add a dash of milk to make the
sauce a lil more runny, if you wish.
Lets see what the other marathoners have dished out for the WorldBlogging Marathon