I make Sundals(cooked /steamed salads)
quite often in my kitchen – not really waiting till Navaratri (Indian
Festival), when its made for 9 days at a stretch as an offering to the Gods. For
those days when you don't feel like making rasam or sambhar, this protein
filled salad makes for more than your daily protein requirement . What's more
the sprouted and cooked legumes provide enough amino acids in growing kids –
esp to strengthen bones n aid in immunity. Takes lil or no oil, low on salt and
the spice addition is optional – what more do you want from healthy food ?
Today's colour for BM#29 is brown – another of my personal favourites – and whole masoor dal Sundal is not only fibre rich but is quite filling as a meal by
itself (which Is what I pretty much what I had for a late lunch, and it lasted
me for few hours)…. Preparing this Sundal is similar to the Channa dalor chickpea version, only thing to note is that this wholegrain takes a little longer to cook. So soak
it in hot water and its done :-)) Also sending it to event at my space – Healthy Me, Healthy Us
Notes : You may also sprout this legume and use it in Sundal – in that case, take care not to cook it fully, else the goodness of sprouts is lost : you may alternatively boil in slightly salted water till al dente.
Ingredients
Whole masoor dal – 1/2 cup
Oil – 1/2 tsp
Salt – to taste
Tempering – mustard seeds, grated ginger, green chillies, asafoetida
Grated coconut – 2 tsp
Coriander and curry leaves – few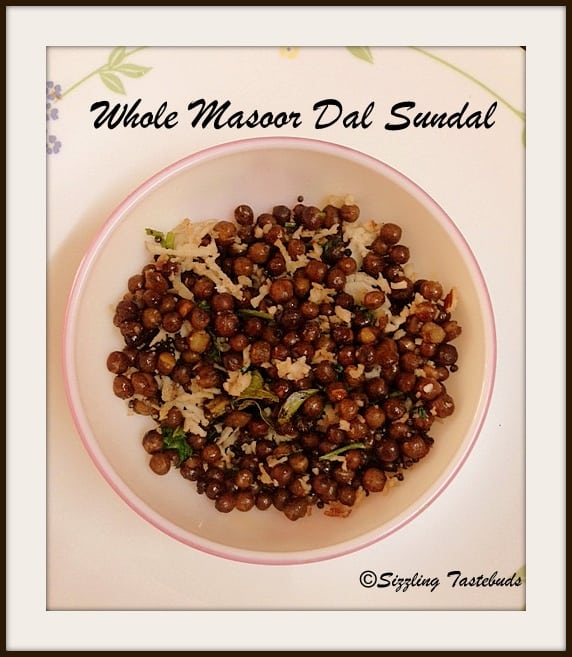 Pin

Method
1) Wash, pick and soak whole masoor dal overnight in hot water
2) Next morning drain the water and pressure cook with half salt for 3-4 whistles
tll cooked but not mushy
3) Drain excess water from cooked legume.
4) In a pan, heat oil. Splutter mustard seeds, hing and rest of the tempering. Add
cooked masoor and remaining salt.
5) Adjust salt and spices. Sauté fr 2-3 mins till dry
6) Add coriander and curry leaves and serve.

Optional addition : 1 tsp of Lemon
juice after you take it off the fire.