Mango Ginger is not Mango+Ginger but rather a tangy spicy root (looks like ginger, tastes like raw mango). This pickle is my next favourite to Quick Mango Pickle. For me, as a person, I personally prefer quick pickles rather than waiting for it to be done (ok, patience is not my virtue when it comes to Pickles, but different strokes different folks, right ? ) Of course, its another matter if someone (read mostly mom) makes it for me and sets it in the fridge that I can just spoon over – thats another matter, truly ! But coming back to today's pickle, this was lying in my drafts ever since we made them (and consumed them too- so dont have the final pics), but I really thought this ought to be published and more so, for my Pickles and Preserves Fest & Giveaway thats on at my space here (have you sent your entry for the giveaway on this event?? If not, rush). Now over to the lipsmacking Mango Ginger Pickle !
Also sending this to Jayanthi's event – WTML, event by Gayathri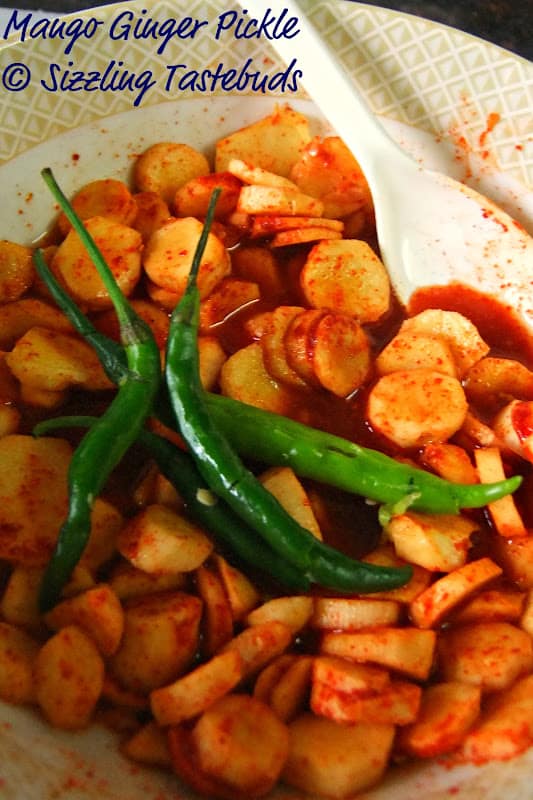 PinPin

———————————————————————————————-

Prep time – 15 mins

Cook time – Nil (unless you temper the pickle)

Standing time – 12 hours min

Stays for – upto 2 – 3 months under refrigeration

Difficulty level – Medium

Serving Suggestions – Serve with Curd Rice or any other Rice Variety

———————————————————————————————-

Ingredients:
Mango Ginger – 100 gms
Lemons – 12 nos (or 1/2 cup fresh Lemon Juice)
Green chillies – 25 gms
Rock Salt – 3 TBSP
Red Chilli powder – 2 TBSP
Tempering:
Sesame Oil – 4 TBSP
Mustard seeds – 2 tsp
Asafoetida – a generous pinch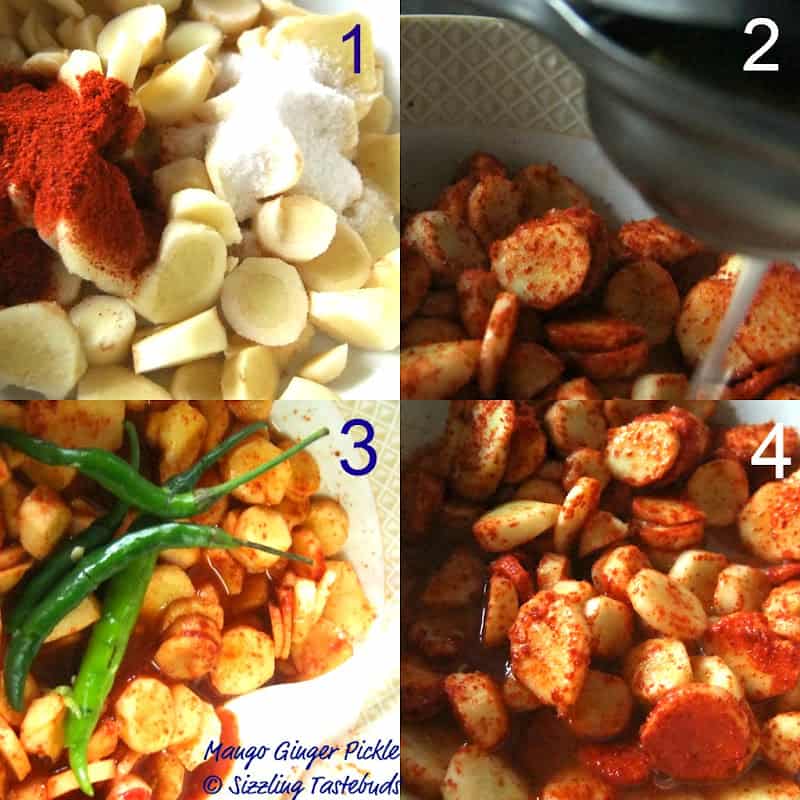 Pin
Method:
1) Wash and peel the Mango Ginger (Maa inji). Dry them thoroughly with a soft wet cloth and cut into thick roundels (as in the picture)
2) Wash, dry and slit green chillies (you may also deseed them if you wish). But be sure not to slit them through the length, but only 3/4 of the length.
3) In a large dry glass bowl, add the chopped Mango Ginger. To this add powdered rock salt, red chilli powder and the slit chillies. Let it stand for half an hour when the salt melts. Now add the juice of a dozen lemons directly to the bowl (or use 1/2 cup freshly squeezed lemon juice). Stir with a dry spoon. Allow it to stand for 3 – 4 hours, and then keep it covered for overnight or a minimum of 12 hours. The ginger would have softened by then.
4) For the tempering : Heat the sesame oil to smoking point and turn the heat to low. Now splutter mustard seeds and add asafoetida. Cool the tempering thoroughly (room temperature). Then add to the pickle, mix well and serve.
5) Bottle the pickle in a sterlised air right jar and refrigerate for longer shelf life.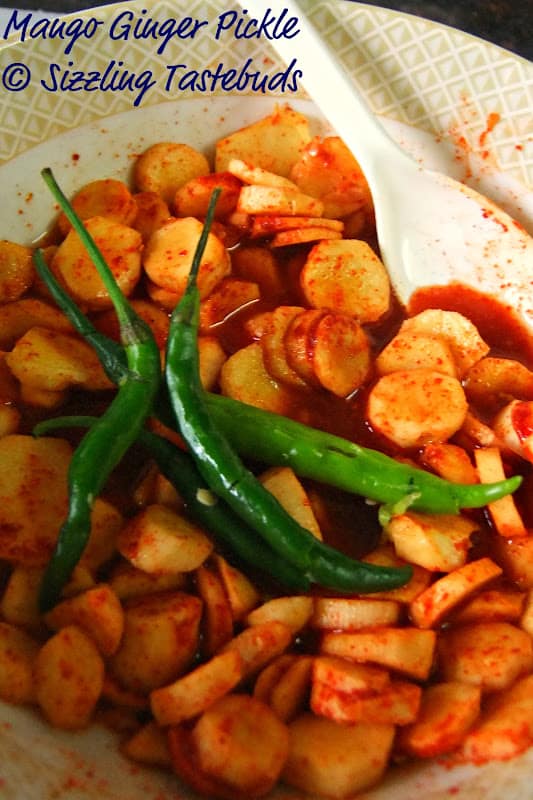 PinPin