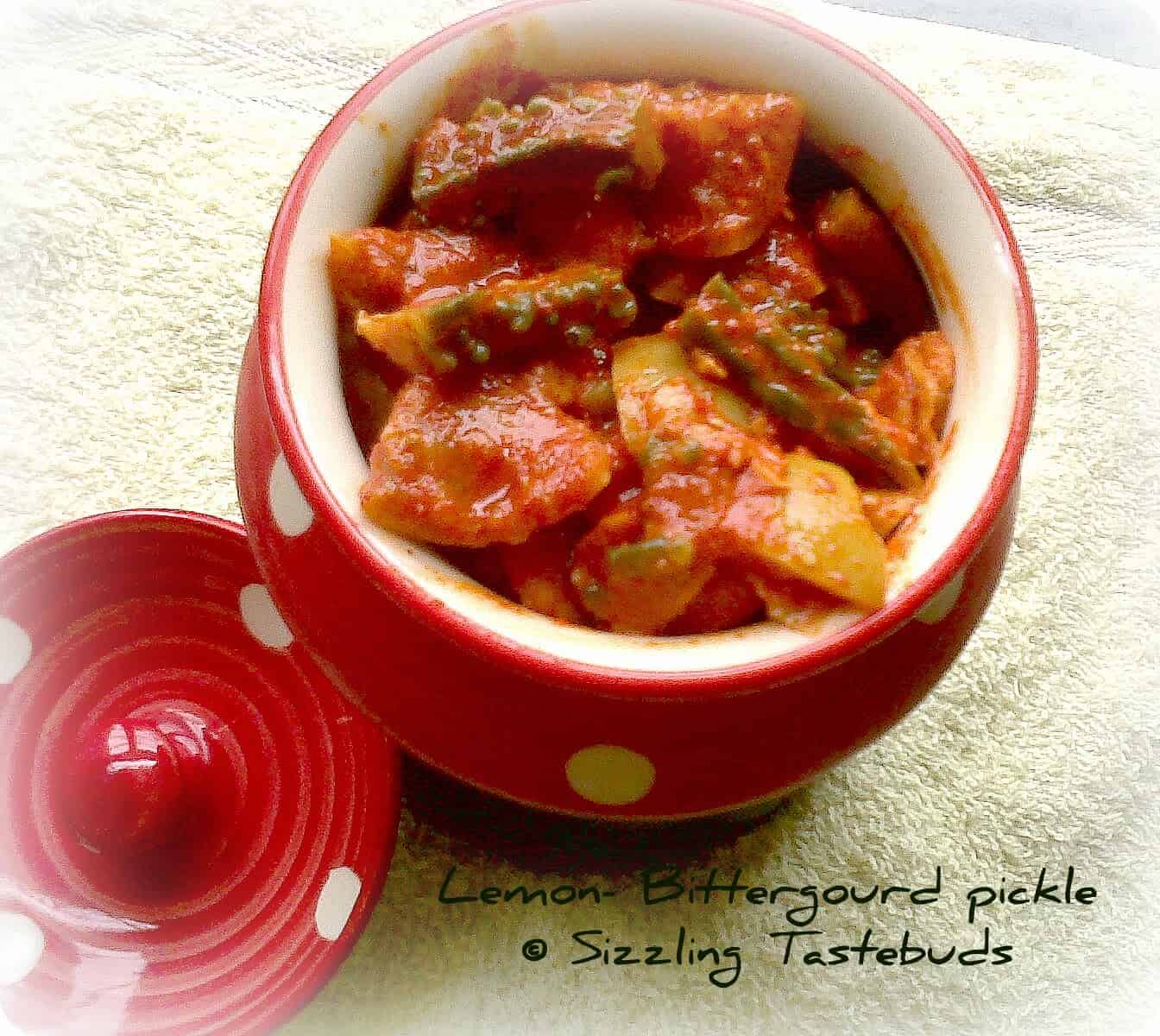 PinPin

Can't believe how fast time flies – its the last day of the first week ofBM. I truly enjoyed this "No Fire Cooking" .I am sure you also read with delight my previous 6 posts under this theme —-Beetroot Peanut relish, Jaggery Poha ~ Sweet Flattened rice ~ Sihi Avalakki, Funny face Sandwich (Whole wheat Butter free Sandwich), Sugarfree Fruit Ginger Mocktail , Fruit Chaat with Honey and Nuts

Looking forward to tomorrow for the next week of BM under a new theme. Till then, presenting today's post – a tangy mouthwatering pickle that mom makes – Lemon Bittergourd Pickle (Nimbu Karela ke Aachaar). Of course, it needed tempering, but who was to wait that long ! Had this with some cooling curd rice and it was bliss !! The bitter gourd didnt taste bitter at all, and liberally spiced with Maa Inji (Mango Ginger), this was 7th heaven come to earth.. As I write this post, can't wait till dinner time, when another helping of this divine pickle becomes inevitable. This goes straight to : BM Day 7 along with Valli's Condiment Mela and Flavours of Southevent so, here goes the recipe…

You may also enjoy these pickles:

Prep time : 45 mins + pre-prep and soaking time. Makes : About 150 gms. Keeps well under refrigeration for 6 – 9 months.

Ingredients:

Lemons (ripe and juicy) – 12 nos – quartered or 1/8 pieces.

Lemon juice – 9 – 10 TBSP

Salt – to taste (approx 2 TBSP) – adjust to taste

Bitter gourd – 100 gms

Maa Inji (Mango ginger) – 100 gms

Masala ingredients (Please adjust to personal taste / preferences)

Red chilly powder – 4  tbsp (Kashmiri variety)

Red chilly powder – 2 tsp (khaaram / hot variety/ tikha lal)

Mustard powder – 1 TBSP

Methi powder – 2 TBSP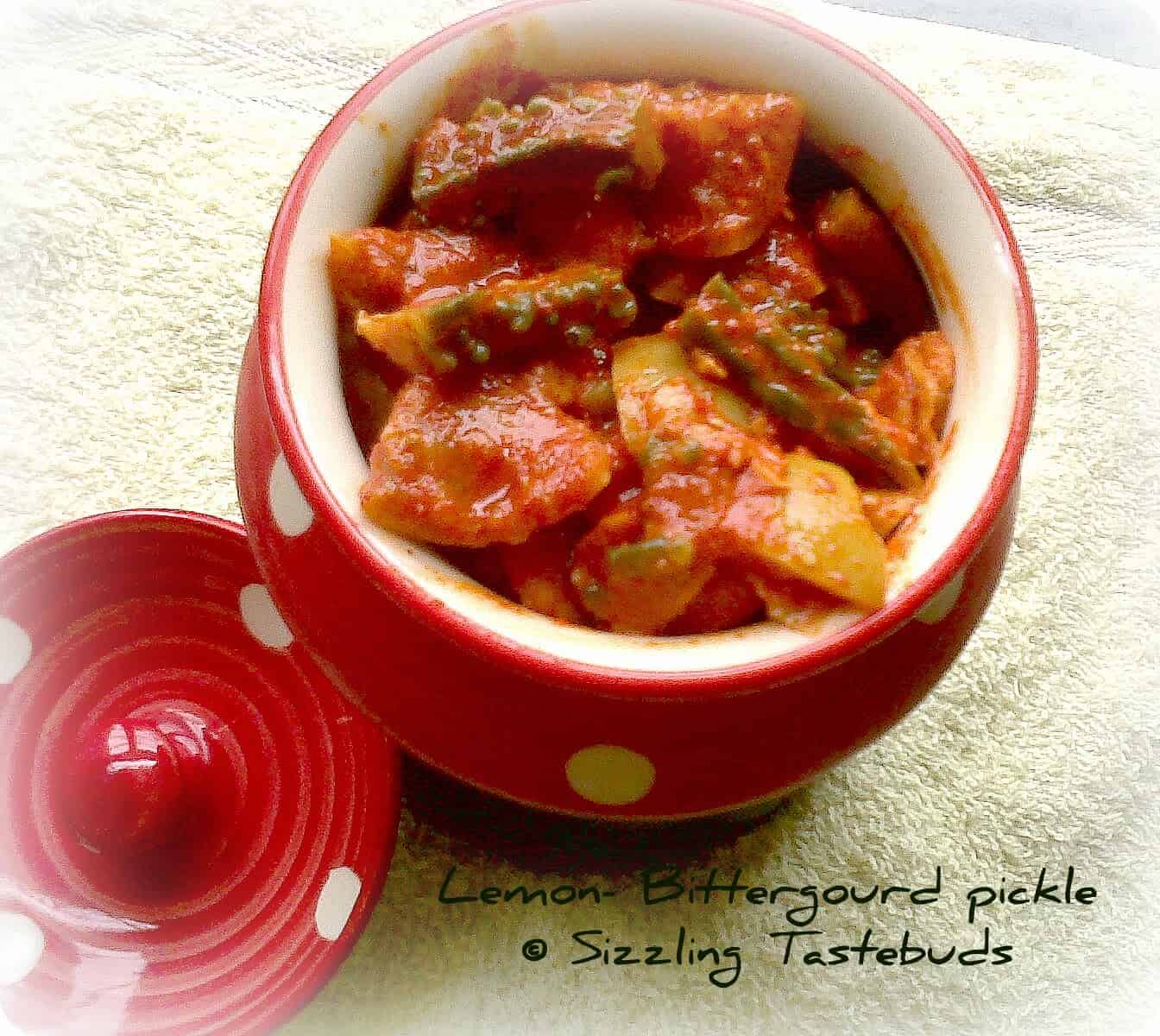 PinPin

Method:

1) Wash and pat dry the lemons, mango ginger and bitter gourd.

2) Cut lemons into quarters or 1/8 (if using large size lemons). Lightly scrape bitter gourd and cut into 1 1/2 inch pieces. Scrape, peel and cut manga Inji into small thin discs of 2 cm dia.

3) In a large DRY glass bowl, mix all the three ingredients. Now slowly add the masala powders one by one and with a DRY wooden spoon. Mix well.

4) Add salt to taste, and mix again. Keep covered for 3 – 4 days, stirring twice a day.

5) On the fourth day, add lemon juice and stir well. Transfer to a sterilised glass container or a ceramic container. Serve with curd rice.

Notes: 

1) For tempering : Sesame Oil – 4 TBSP. Mustard seeds – 1 TBSP, Asafoetida / hing – 1/4 tsp. Prepare the tempering. cool completely and then add to the pickle before serving.

2) For masala powders, ensure you dry roast the methi and mustard separately and cool them. Grind and store.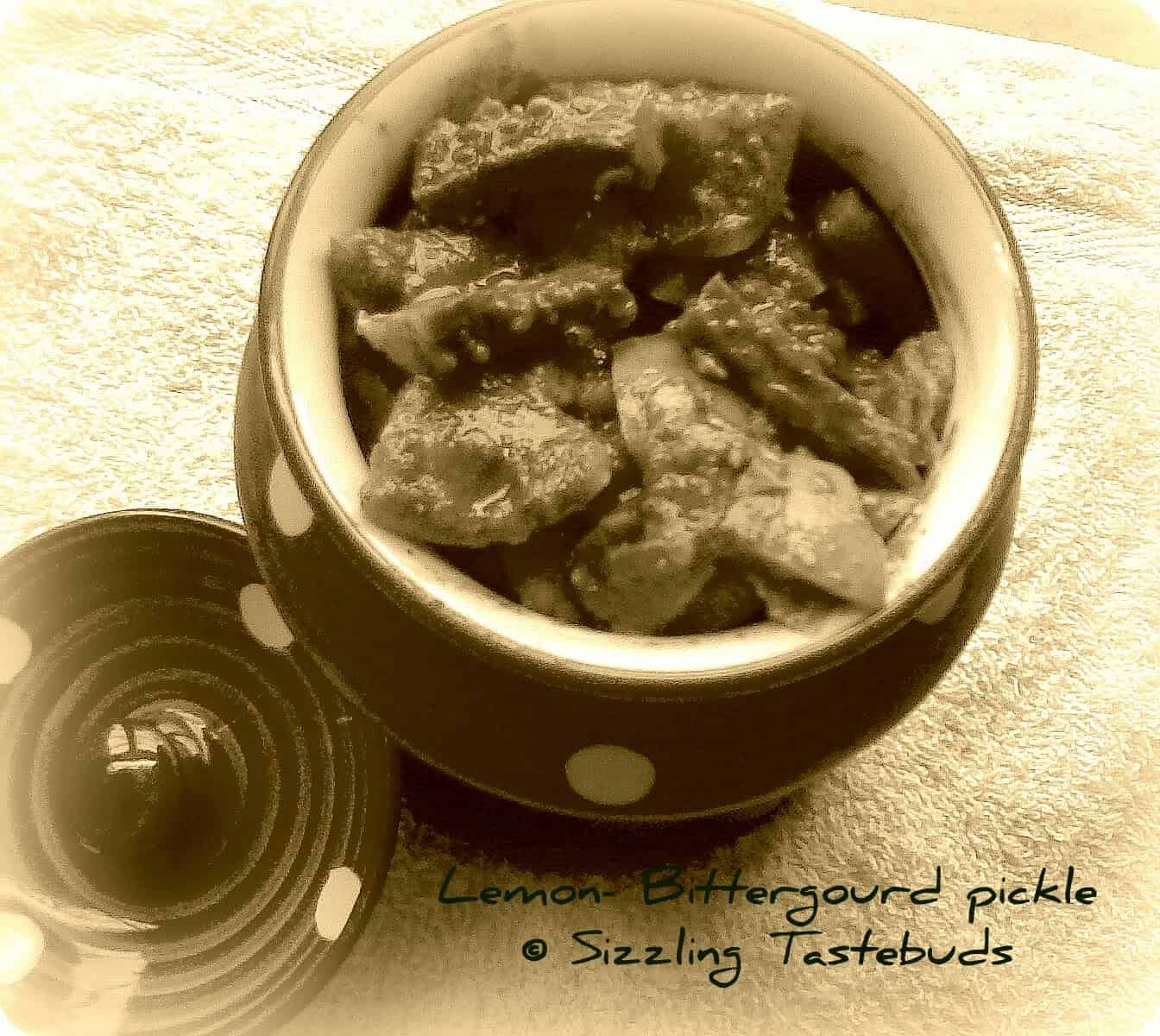 Pin