TheMagic Mingle(MM) Challenge for
February 2013 is here. The past 13 challenges have been interesting and exciting,
and am sure the MM members are also keen to know this month's ingredients.
Well, as this is V2.0 of MM, the challenge notch is a lil higher:-) And so, the
ingredients although well within the reach of any homemaker get more exciting
and challenging. Which is exactly what this month's challenge does – with…
Urad Dal & Lemon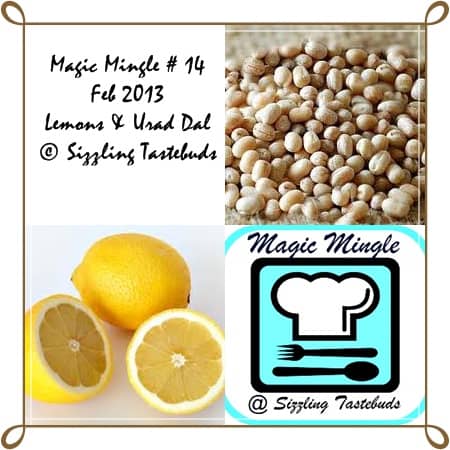 Pin
Urad dal can be used in whole / split /
flour form. Lemon rinds / juice / candied peel can be used. However these are not
garnish but must feature as the main ingredient. Quite an eclectic combo
on the face of it. I quite myself dont know how these ingredients would need to
 combined, but very excitedto see how the co-minglers fare ..
As usual, a snapshot of the rules:
(a) Use of Logo is mandatory, and so is
visiting the MM posts and leaving a comment. 
(b) Once the post is up, do link it to
the linky tool below.
(c) This event is open only to MM
members from 1st-15th Feb 2013. If you are keen to join us, drop  me a
line at momchef77@gmail.com.
(d) Only vegetarian and eggless entries
allowed
(e) The entries can be across cuisine
and region and any number of entries from MMers are welcome !
So, get set go. MMers, lets rock 🙂 
Cheers
Kalyani