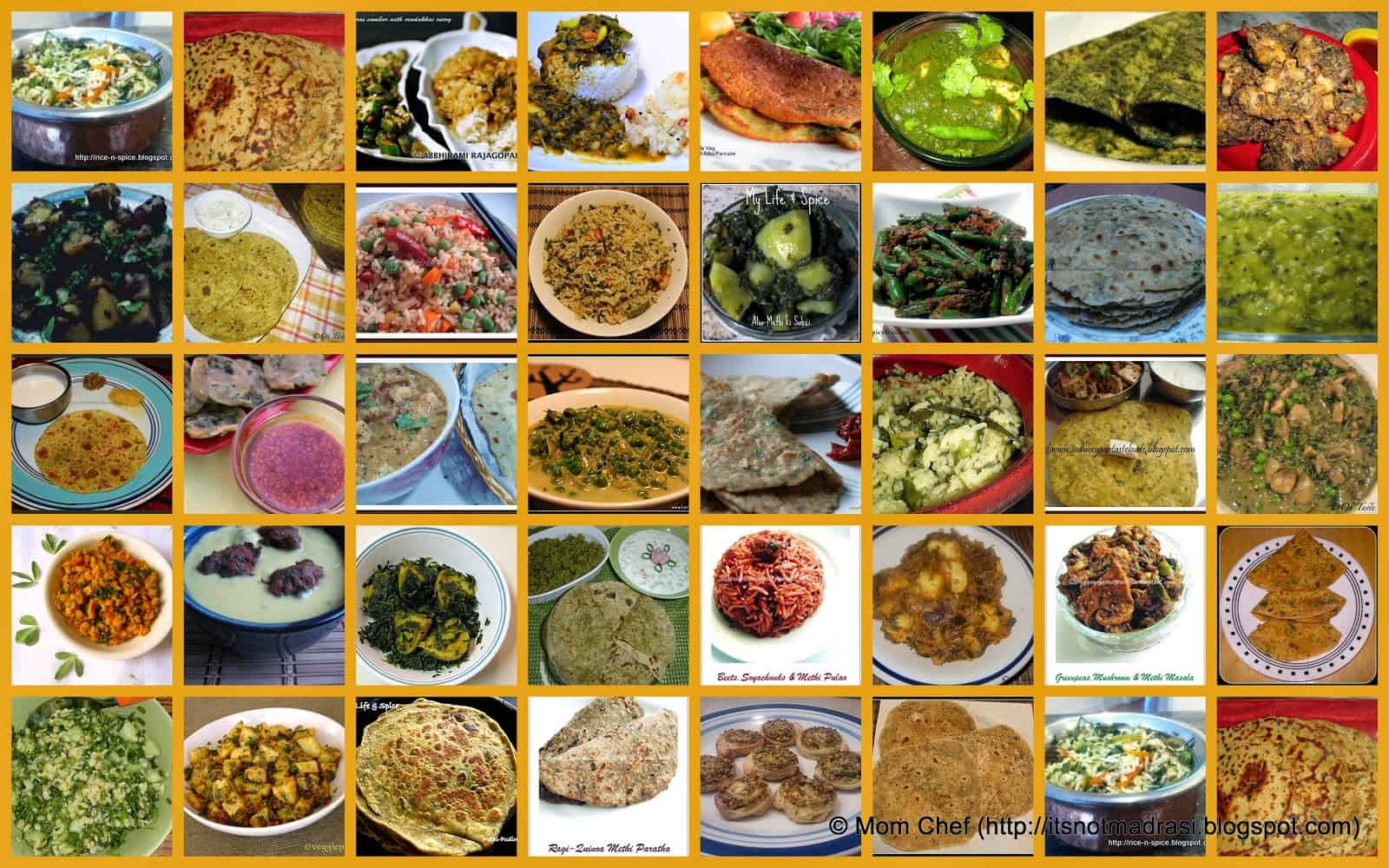 Pin
Honestly, reactions to the first event that I hosted on my blog – PJ's Cooking with herbs and flowers is overwhelming!

I received a 31 blogger friends sending in me a whopping 40+ entries to this wonderful event that saw Malai Methi Matar, Methi Paratha and Methi Thepla rooling the roost, while recipes like Ragi Quiona Methi Paratha & Methi Pinwheels were interesting.
Thanks to PJ for allowing me so graciously to host this, and more patiently handholding me too ! Although I would have loved to hyperlink the pictures to each entry, I found myself badly pressed for time : am sure you would enjoy the medley of entries that preceeds this post !!
I have however hyperlinked each of the entries below alphabetically below. My sincere apologies if any entries have been left out inadvertentlyJThanks a bunch to all those who sent in their entries. And now PJ's event moves to RS's space .
Also, do participate in my ongoing event at my blog – Healthy Lunchbox Ideas guest hosted by Vardhini.
Mouth watering entries follow …….
Cheers,
Kalyani
1. Archana sent this lovely Methi Dal bursting with vitamins and goodness of health
2. Aarthi of Yummy Tummy sent me crispy Methi Pakoras
3. Abhirami of Soulful Creations sent yummy Vendaya Keerai Sambhar
4. Anisha 's creation was this different but lipsmacking Potato Roast with Ajwain and fenugreek
5. Ankita from Eat Hearty cooked up my all time favourite Methi Malai Matar
6. Binitha Shajesh 's entry from her blog YoursTastefully was an awesome Hara Bhara Chaman
7. Deepika Jain of My Life and Spice mailed me two wonderful recipes – Methi Thepla and Aloo-Methi Sabji
8. Denise of Oh Taste n See has sent me FOUR amazing entries – Vendhaya Keerai Kuzhambu, Tofu Methi Thepla, Aloo Methi Masala & Methi Mushroom Mutter Masala
9. Eat Hearty sent me Methi Malai Matar with a great step by step recipe
10. Harini from Sugar and Spice sent me several mouthwatering recipes – Methi Malai Matar, Methi Roti & Methi Rice
11. Harini-Jaya of Tamalapaku send in their lovely Methi Channa Dal
12. Krithi's Kitchen dished out Lovely Kasuri Methi Paneer which I tried- was deliciousJ
13. Krithika's space Foodieworkz sent us yummy methi channa sabji
14. Madhusmita who blogs at Red Spice gave us this yummy Methi Parathas
15. Nutan's space Rice n Spice dished out healthy Methi Pulav
16. Neetu from Tips and deals sends us this lovely Methi Paratha
17. Panchpakwan's recipe Methi Kadi Pakoda was awesome
18. PJ (who conceived this wonderful idea of Herbs and Flowers) has sent in some wonderful entries here – Methi Pulav, Methi Paratha and Kasoori Gobhi
19. Priya from Priya's Easy n Tasty Recipes sent me very healthy and unusual recipes – Beets Methi Pulao, Ragi Quiona Methi Paratha, Mushroom and Wheat Bread Soup, GreenPeas Mushroom Methi Masala
20. RS blogging at Relishing Food sent me this lovely Methi Thepla along with letting us know how to grow methi leaves
21. Sadhana of Sensible Veg had this 4-lentil Adai with fenugreek for this event
22. Shailaja of ShyskitchenChronicles had this Methi Thepla Paratha with a unique spinach twist
23. Shylaja of SouthIndian Home has this mouthwatering Methi Pulav for us
24. Simply Sensational has sent this unusual Ragi Paratha with fenugreek
25. Suma of Veggie Platter sends me this aromatic Methi Aloo Sukke
26. Supriya of Queen of my kitchen sends me two great entries – Tender Methi – Mung Dal Salad & Methi with Gram Flour Subji
27. Trisha of My Hobbie Lobbie has made these healthy Whole Wheat Methi Parathas
28. Usha from MySpicyKitchen sent this unusual Fenugreek- Green Beans Stir Fry
29. Vaishali of RibbonsToPastas has sent these cute n healthy Methi Theplees
30. Vardhini's Spicy Life dished out Methi Paratha and fragrant Methi Dal
31. Vatsala from Show and Tell has this wonderful Paneer Methi Pin Wheel