After a brief hiatus from blogging, feels good to be back 🙂
And what better enticement than to
announce the next challenge for Magic Mingle. The ingredients for
this month are Coriander and APF(All purpose Flour). Coriander can be used in
fresh (leaves) or dried (seeds) form. APF is All Purpose Flour or also commonly
known as Maida.
All vegetarian and eggless entries can
be linked by the members only from 5th June – 15th June 2012 using these two as
the primary ingredients in their dish. Use the linky tool appended here to link
your entries.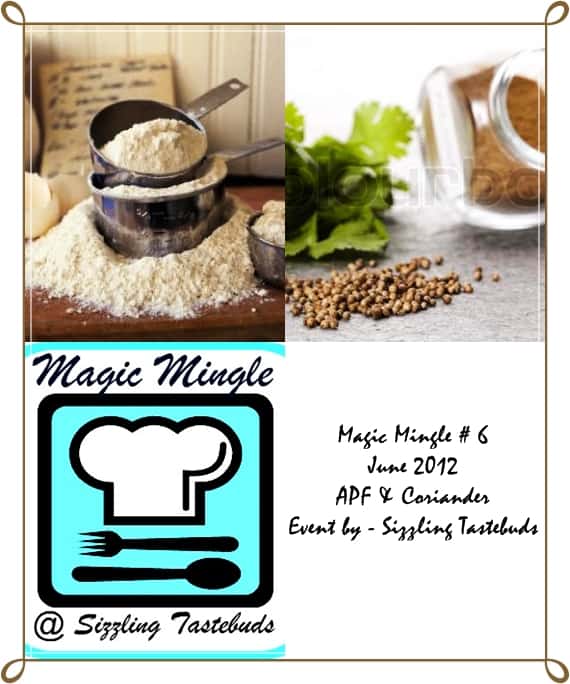 Pin

Last month'sTop Contributor award goes to Gayatri ! Congrats
Gayatri, your (virtual) award is on your way to your inbox, please accept it 🙂 Other
members, do link more than 2 entries using these ingredients, and win the Top
Contributor award for June '12 – something I am sure you would love to proudly
display on your blog 🙂

Be sure to include the above logo
mandatorily in your post. Once you post the entries, do drop in a email to
[email protected] For all those members who haven't posted in
the last 3 MM challenges (without prior intimation), please note as per the
rules we discussed earlier, you would not be part of the group. Such member IDs
have been deleted from the mailing list.

For those who wish to join us on this
wonderful journey, do inbox me your blog name and email ID to
[email protected]

So, lets get cracking on this month's
challenge. Look forward to all your entries.

Cheers

Kalyani