Do you feel sometimes you are in a time warp, where everything around you flies in a frenzy and you have little or no control over what happens around you ? Of late, things around me seem just like that. With kiddo's school reopened two months ago, I am caught in a whirlpool of activity on the personal front, not to mention that many days when the hunger pangs strike me around noon, I realise I need to rustle up something for lunch. And today was one of those days, when nothing seemed to get done : the housework, errands that I needed to run, my professional commitments, and I was in absolutely no mood to dish out anything elaborate.
Which is when this yummy and tangy coriander chutney (aka Kothamalli Chutney) saved me. I couldn't help smile a mile long : this definitely meant lesser dishes to do, and even lesser cooking. Quite a treat, this tangy chutney from the morning's breakfast went well with hot steamed rice, and with a few roasted papads, I was singing like a lark. Quite a breeze to make, this is adapted slightly from Priya's Coriander and Onion Chutney, except I didn't add Onions and modified a few other ingredients. I had already blogged my grandmom's signature recipe Kothamalli Thokku and Mint-Coriander chutney for Chaats,so my favourite ingredient being coriander, I chose this recipe from her blog.
Incidentally, Priya who is my Blog Hop partner for this edition of Blog Hop Wednesdays needs no introduction. It took me about an hour of browsing through her veg index to even decide what to recreate for this week's version of Blog Hop. Ingredients I couldn't even imagine had been brought together in many wonderful medleys – a food hopper's delight, I wish I had more opportunities to even try out some stuffJ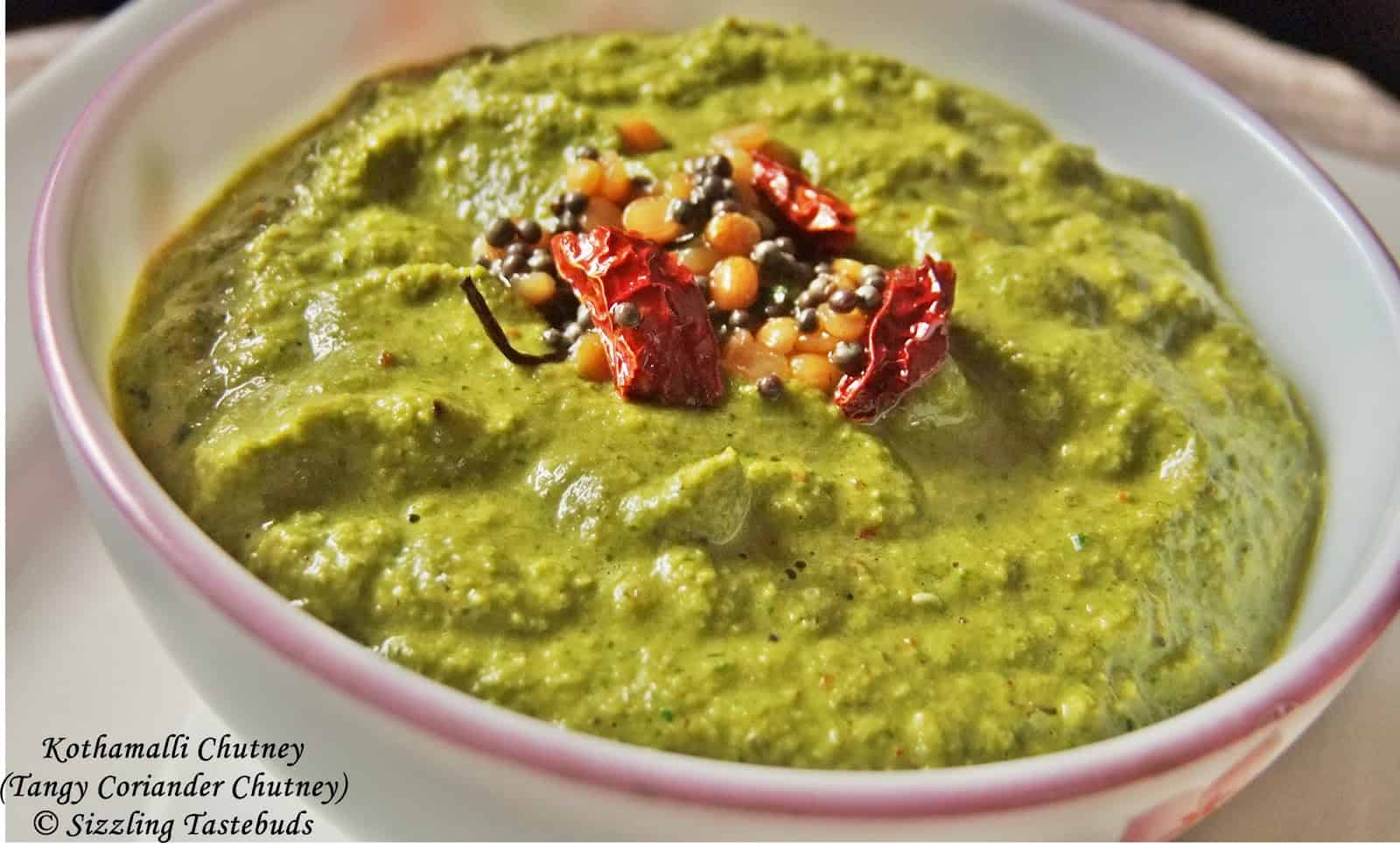 Pin

Coming back to this chutney, this goes well with all Dosa (flat pancake) as it did with Sevai Rava Idly (recipe here) , and tastes just as wonderful with Plain steamed rice. Keeps for about 2 days, under refrigeration.  I even used it to spread it on a slice of toasted bread and enjoyed the combo thoroughlyJ

————————————————————————————-

Prep time – 10 mins

Cook time – Nil

Serves – 4 (I had a large bunch of coriander – approx 1.5 cups , so adjust the spice accordingly)

Difficulty level – Easy

Serving Suggestions : Idli/ Dosa or Utappam / Steamed rice 

————————————————————————————-

Ingredients:
Fresh Coriander leaves – 1.5 cups – cleaned and sorted
Tamarind – a medium sized gooseberry sized roundel (or 1 tsp if using tamarind paste)
Red chillies – 2 nos (substitute with green chillies if you prefer)
Pottu Kadalai / Fried Gram – 4 TBSP
Jaggery grated – 1 TBSP
Salt – to taste
Oil – 2 TBSP
Tempering : Mustard, urad dal, curry leaves, asafoetida.
Method:
In a dry pan, roast the fried gram for 1 – 2 mins. Remove to a plate.
Heat 1.5 TBSP of oil. Add the chillies and tamarind roundel and fry for 45 seconds, remove immediately
In the remaining oil, add coriander leaves and on a very low-medium flame, sauté the coriander leaves till they wilt slightly and acquire a nice gloss and shine.
 Turn off the flame and let all ingredients cool thoroughly.
Grind the coriander, tamarind, fried gram without water first. Then add requisite salt, jaggery and little water and grind to a smooth consistency.
Transfer to a serving bowl.
Prepare tempering with mustard, urad dal, asafoetida and curry leaves in oil. Transfer to chutney bowl.
Serve with Idli / Dosa / steamed rice.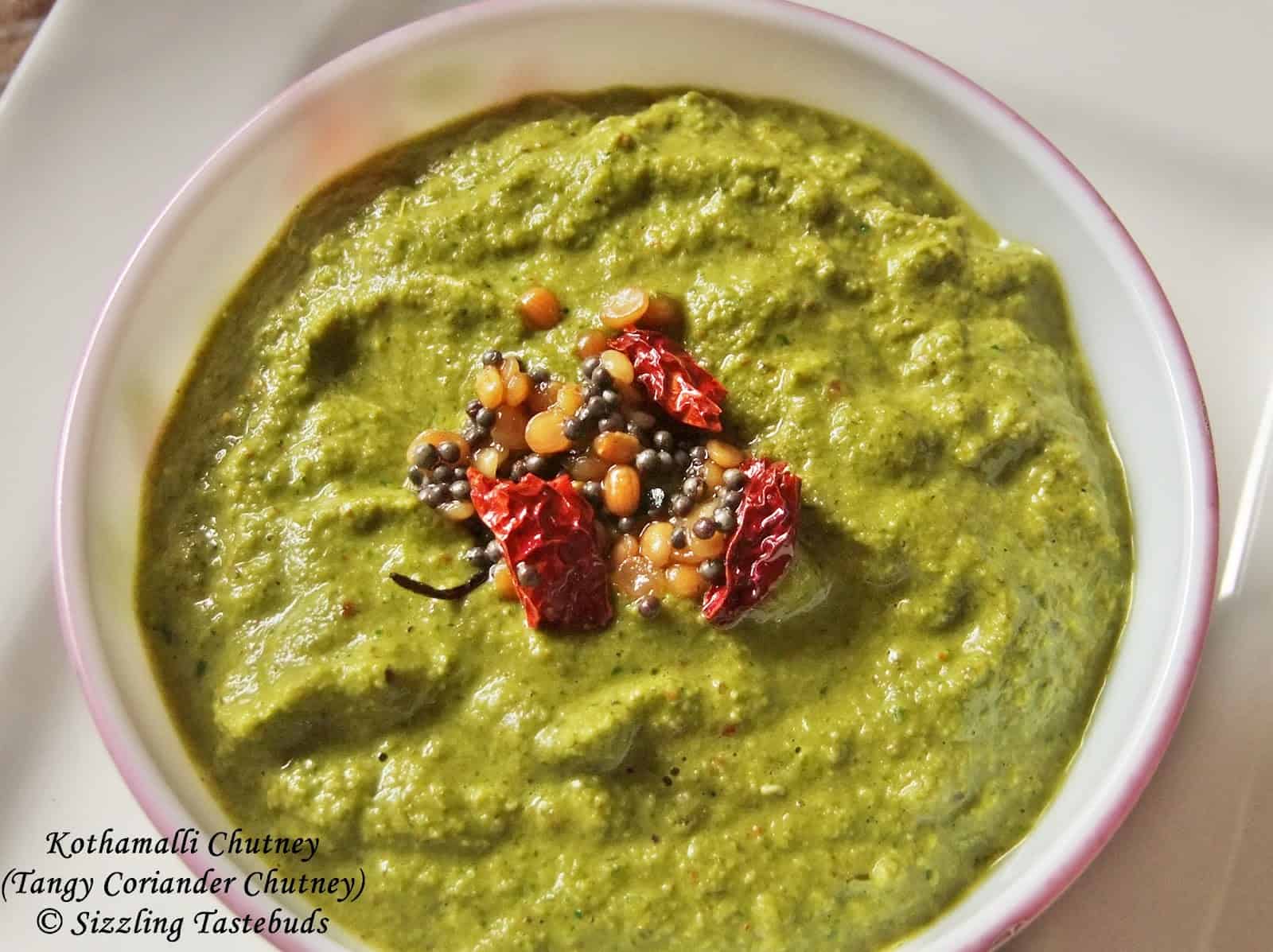 Pin