The origin of Gazpacho is said to be the south of Spain, especially
the Andulasian region. Gazpacho is traditionally a chilled soup, and made with
raw tomatoes , chillies and yes, old bread !! Spanish cuisine and tomatoes have
something like a never ending relationship and this soup is no different.
However I guess as tastes evolved, the Gazpacho part remained (chilled raw
soup) but Tomato got substituted with other veggies. Which is something I did
today too. With Cucumbers.
Its barely the beginning of March, but
we are already experiencing very dry and harsh climate here! This chilled soup was
just perfect for lunch time. I made some changes to the original recipe as I
had run of out mint, but the end result was mindblowing ! I would definitely
make this for my family again. and thanks to Valli I finally start exploring Salads
and Soups under my blog's menu which was sorely wanting to be filled up with
choices… Sending this to Day 3 of this week's BM theme of Soups and Salads. Also to Priya's Healthy Me- Healthy Us event
The
last 2 days saw me dishing outCheesy Manchow Soup&Roasted BellPepper-Broccoli Salad with Orange Vinaigrette.
Prep time : 15 mins | No
Cook, refrigeration time : 30
mins | Serves : 2
Difficulty Level :
Easy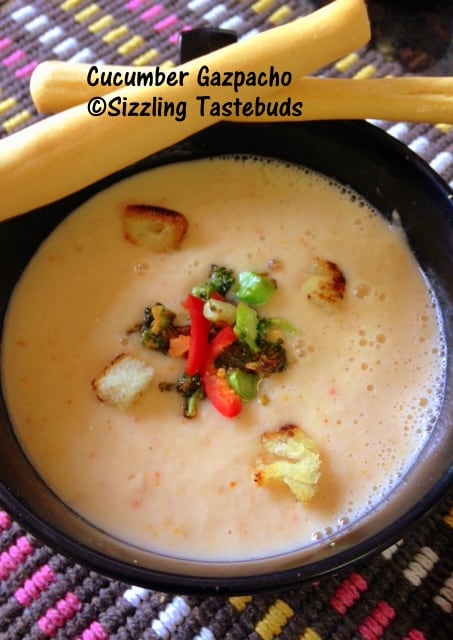 Pin
For the soup:
Seedless Cucumbers – 1/2 cup
Medium Onion – 1/2 no
Garlic pod – 1 no
Serrano peppers or Jalapeno – 1/2
(deseeded)
Yoghurt / Curd – 1/2 cup
Mint Leaves – 4 to 6 (I skipped this
as I didnt have them)
Lemon juice – 2 tsp
Bread slice – 1 (I used the thicker version)
Salt – to taste
EVOO (Extra Virgin Olive Oil) – 1/2
TBSP
Cold water – 1/2 cup (I used 3 – 4 Ice
Cubes)
For the Garnish:
Fresh Red chillies – cut into tiny
pieces
Roasted garlic – 1/2 tsp
Roasted Broccoli (optional – but I
love to use my fav veggie) – cut into bits – 1 TBSP
Croutons – few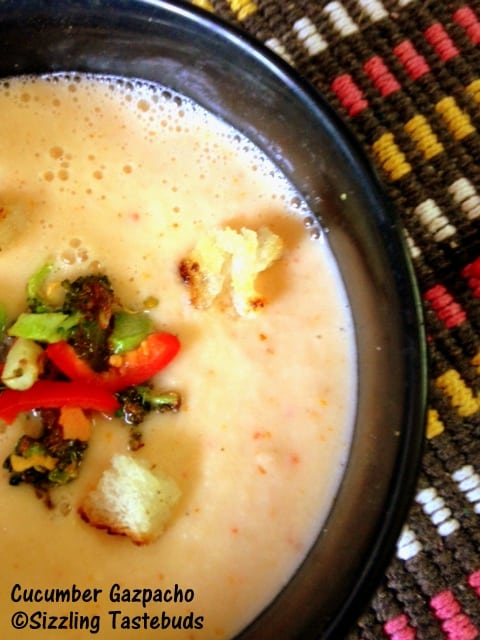 Pin
Method:
Pulse all the ingredients of the soup
with 1/2 of the Cold water. Wait for a min and again grind till very smooth,
about 2 – 3 mins. Add water as necessary till you get the desired consistency
Transfer to a bowl and refrigerate for
30 mins atleast till well chilled.
Serve in bowls or cocktail glasses.
Drizzle 1/4 tsp olive oil on top (or lemon oil). Place garnish on top and serve
immediately.
Linking this to Archana's Soups and Salads Kids Delight event , created by Srivalli.