This one definitely has my grandmom's recipe written all over it. As I write this post, I remember her slaving over the dim lit kitchen hovering over a large iron Kadai (pan) while the aroma of this earthy and heavenly Kothamalli Thokku wafted through the house, while we walked in right after school. We waited hungrily as this thokku would be mixed up with steamed rice and gingelly oil and wolfed down at dinner time. And even in the time of no refrigerators, Paati made sure that she bottled them in glass containers (that she called jaadis all the while preserving them for a good fortnight or two – if they lasted that long !!). This side dish goes even well with hot chapatis / dosas alike, and keeps well for about a month under refrigeration. You may also use this as a quick chutney to mix with rice & ghee for a lunchbox item teaming it with potato wafers 🙂 Yumm !
And like most homemakers of her generation, Paati (my maternal grandmom) excelled in preserving food stuffs in different forms and creating new dishes out of leftovers. And to think most (read 97%) of these were saatvic stuff (no onion-no garlic). I wish some of her cooking genes have passed on to me, and this post is a tribute to a gutsy lady that I spent most of my childhood years with. I have made this based on what memories remained with me. Next time, am sure to add less methi seeds, but we still liked the bitter-sweet-tangy thokku a lot:)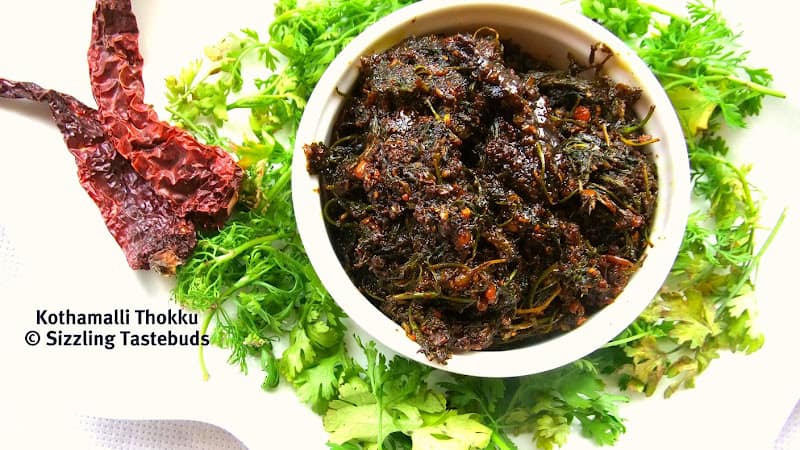 Pin
Sending this to :
Srav's CC: Vegan Diet – Only Plant Based, Gayatri's Walk Through Memory Lane, Radhika's Lets cook with greens, Rosh's Gimme Green & my own event Holi Fest –Colourful Palette along with Julie'sEP Series:Herbs & Spices(Cilantro & Cumin)
Prep time – 30 mins
Cook time – 20 mins
Makes – Approx 100 gms of this preserve
Ingredients:
Fresh Coriander leaves – 4 cups (packed) – cleaned and sorted
Salt – to taste (approx 2 tsp)
Jaggery – same quantity as tamarind or a little more if you prefer
Turmeric – 1/2 TBSP
Oil – 6 to 8 TBSP (Gingelly oil)
Mustard seeds – 1 tsp
Asafoetida – a very generous pinch (about 1/4 tsp)
Channa dal (Kadale paruppu) – 1/2 TBSP
Spice Mix- to grind:
Fenugreek seeds – 1/2 tsp (reduce a bit if you dont like the bitter taste)
Dry Red whole chillies – 4 to 5 (adjust spice)
Tamarind – a big lime sized ball
Coriander seeds – 1/2 TBSP
Oil – 2 TBSP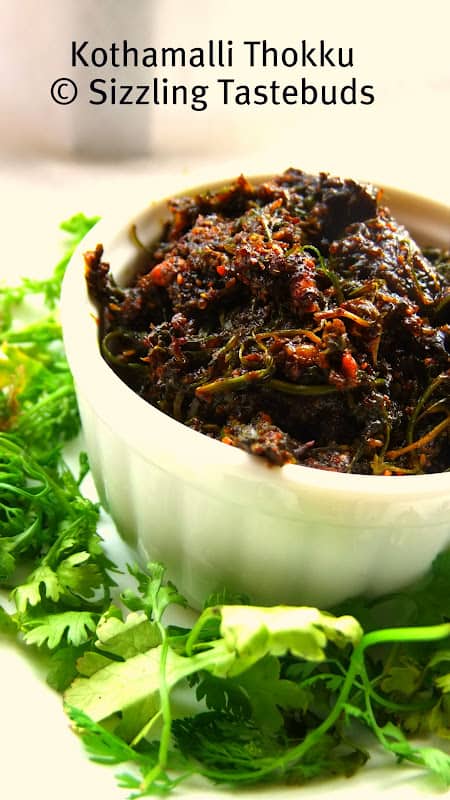 Pin
Method:
1) Wash, clean and air dry coriander leaves on a large thin kitchen towel. Remove thick stalks / dirt if any. Chop the coriander finely and reserve.
2) Meanwhile, dry roast the fenugreek seeds, remove to a plate. Heat oil (1/2 TBSP). Add Red whole chillies, coriander seeds and fry till they are slightly roasted. Remove and mix with fenugreek seeds. In the remaining oil, fry the tamarind ball till it becomes crisp (on low flame only, else the tamarind gets charred immediately). Add 1 tsp more oil if required. The tamarind is to get crisp but not charred. Remove to a plate. Cool this mixture and grind in a spice grinder.
3) In a large iron deep bottomed pan (kadai), heat half the quantity of oil (4 TBSP). Add the turmeric,asafoetida ,Channa dal and coriander and fry till the coriander starts wilting and dal turns slightly brown
4) Now add the ground spice mixture, salt, rest of the oil and on low flame, mix it well till the spice mixture gets incorporated with the coriander. Keep stirring till the mass turns darkish and oil starts leaving the sides. If at any point you feel its too dry, add 1 – 2 tsp of BOILED and cooled water and stir (feel those upper arms muscle get a thorough workout). Add jaggery at this point and mix well.
5) Once it starts leaving the sides of the pan, you would get a cooked tangy-sweet aroma, turn off the stove and let it further cook to a gooey (lehyam) kind of consistency. Leave it in the pan only for 1/2 hour to absorb all the flavours.
6) Cool completely and store in a sterilised airtight GLASS jar.
7) Use a clean and dry spoon everytime you take out a bit to use.
Note: Although its completely tempting to gorge on this thokku in a go, consuming more than 1/2 tsp a day is not recommended.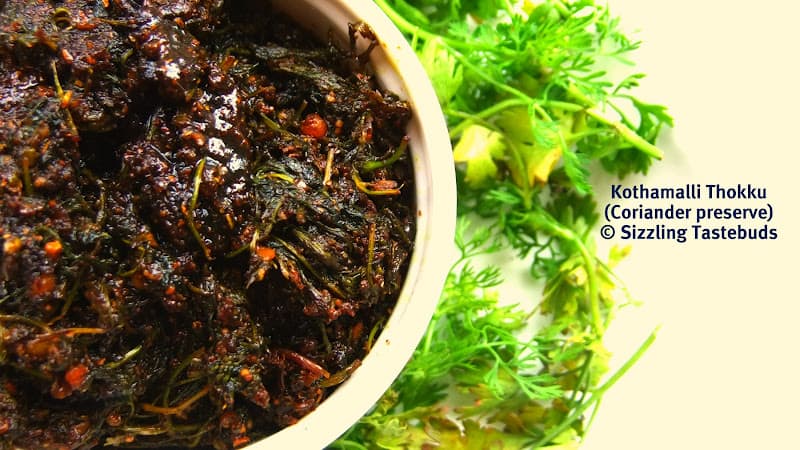 Pin