Kollu or horse gram is known not only for its diuretic properties, but as an excellent source of vitamins and fibre as part of weight loss. As its a heat-generating ingredient, its used sparingly at our home, although I add the boiled stock often to soups during winters / rainy season. 
Kollu Rasam (Horesegram spiced broth) was a staple at my grandma's and I love it with some ghee and steamed rice. I also used Kollu / horse gram in my Uluva Chaaru biryaniwhich was very well appreciated.
Horse gram is gluten-free, high in iron, calcium, and protein, and contains no fat, cholesterol, or sodium; horse gram has the highest calcium content among pulses. It is also a good source of natural antioxidants. One-hundred grams of cooked horse gram has 22 grams of protein, 57 grams of dietary carbohydrates, 287 milligrams of calcium and 7 milligrams of iron.  The study found that horse gram is rich in polyphenols, which have high antioxidant capacity. It also found that horse gram has the ability to reduce high blood sugar following a meal by slowing down carbohydrate digestion and reducing insulin resistance. The majority of antioxidant properties are in the seed coat, and any dish made of whole grain horse gram is better than dishes made from the sprouts, which have less of the anti-diabetic medicinal property. – source : here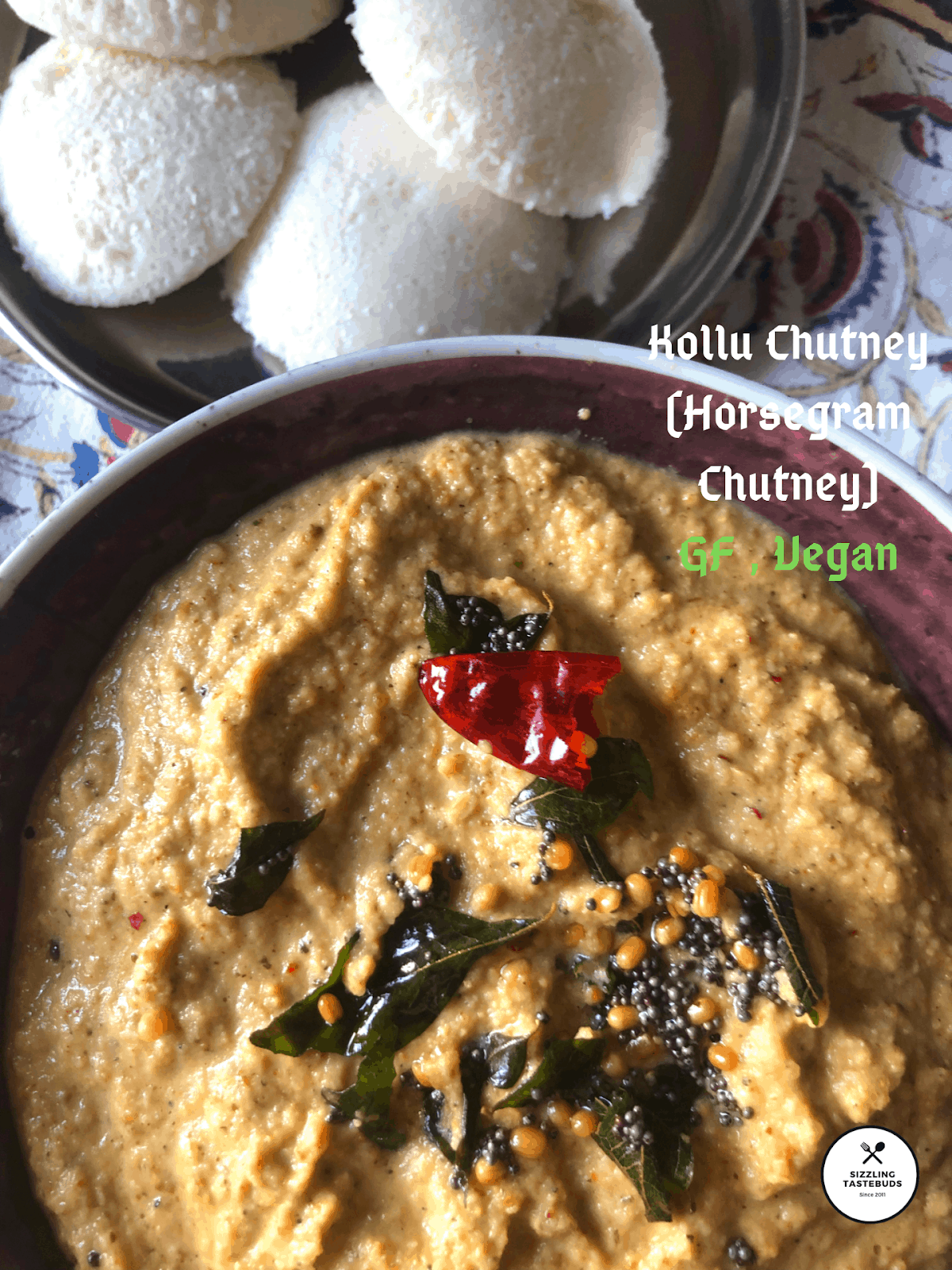 Pin

Today we have the Kollu Chutney (PS: I wanted to make it as Thuvayal / Thogayal – a denser version of chutney which goes with Rice + sesame Oil) , but added a little additional water so I served this with Thinai Idli (foxtail millet Idli)

As part of the A-Z Recipe Challenge month, we have to choose an ingredient from alphabet H,  and although I had Honey and Harissa as serious contenders, I guess heart is where the hearth is, and I choose Horsegram.

Let's get to this Vegan, GF and plant based chutney. It goes great with Idli / Dosa/ Pongal / Paddu (Paniyaram) and we all loved the tangy-crunchy proteinicious dip with our morning breakfast.

This dish also goes to the MLLA  # 130 event that I am hosting (an event by Lisa. featuring lentils / legumes) all this July.



Readers – if you have any lentil/ legume entries that you would like to share, head to the linky tool here and simply add your recipe !!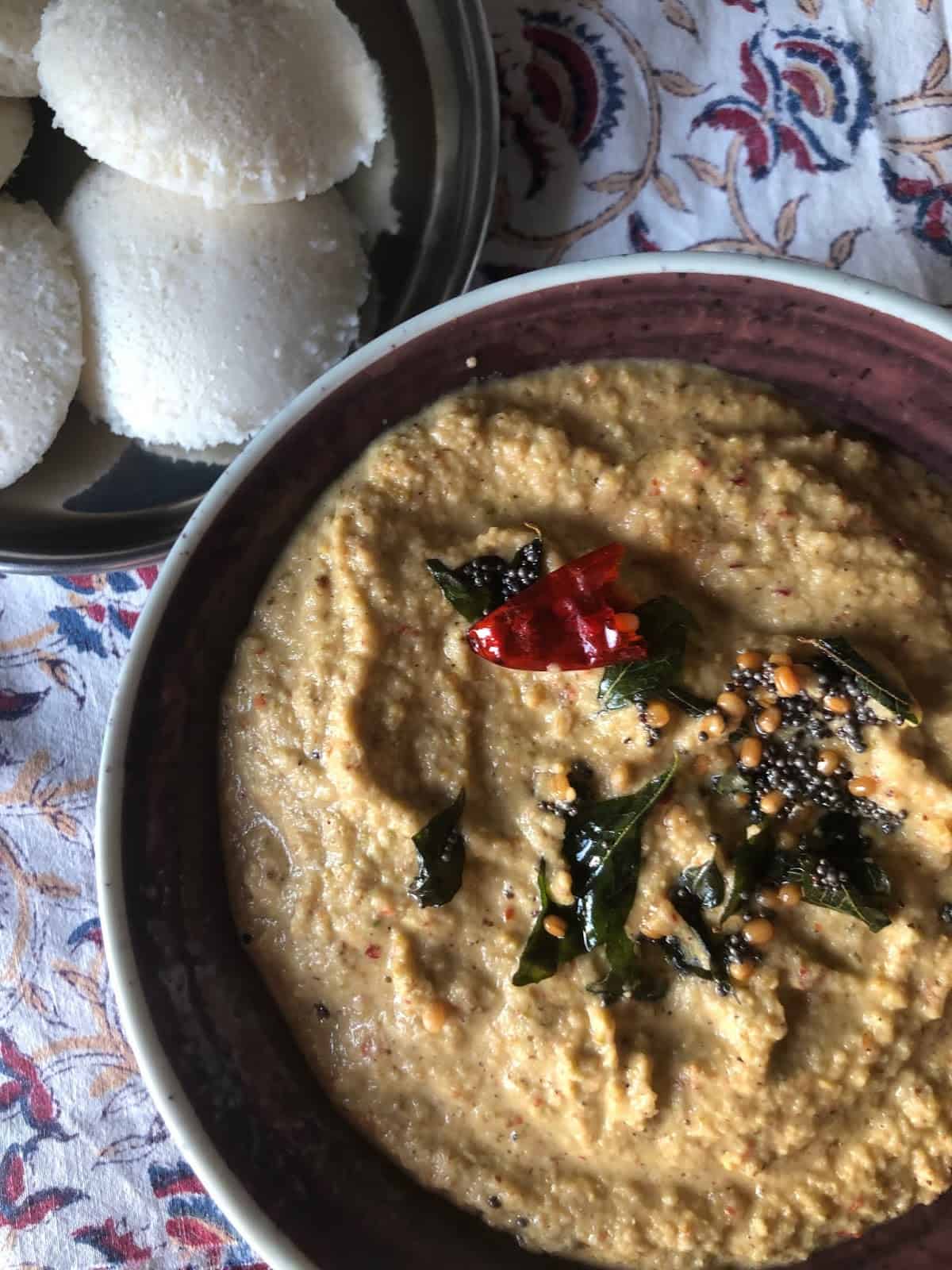 Pin
Prep time – 15 mins, Cook time – 5 mins, Serves – 4
Ingredients:
Kollu / Horsegram – 100 grams
Fresh Grated Coconut – 1/3 cup
Channa Dal / Kadalai Paruppu / Kadalebele – 2 TBSP
Urad Dal / Uddina Bele / Ulutham Paruppu – 3 tsp
Red chillies – 3 to 5 (adjust spice)
Tamarind – a small gooseberry size
Salt – to taste
Jaggery – 1 TBSP
Oil – 2 tsp
Tempering:
Oil – 1 tsp, curry leaves, urad dal 1/2 tsp, mustard seeds 1/2 tsp
Asafoetida (skip for GF)
In a pan, dry roast the horse gram for 2-3 mins on low/ medium heat till it becomes warm and slightly turns golden brown. Transfer to a plate.
In the same pan, heat 2 tsp oil, add the dals , chillies, tamarind and fry till the dals turn golden brown. Transfer to a plate. Switch off the flame and add the grated coconut and fry for 1 min (this step is optional, but increases the shelf life of the chutney). 
Cool all roasted ingredients, grind to a coarse paste (with very little water). Add salt and jaggery to taste. Remove to serving bowl.
Make the tempering spluttering the mustard and urad dal with other tempering ingredients. Pour on the chutney. 
Serve with Idli / Dosa / Paniyaram for a GF, Vegan meal 🙂
Other recipes with Kollu / Horsegram:
Kollu Rasam (Horesegram spiced broth)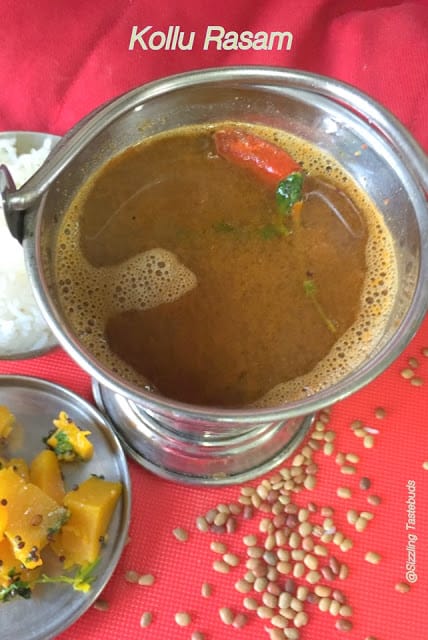 Pin
Uluva Chaaru biryani (horse gram broth Biryani)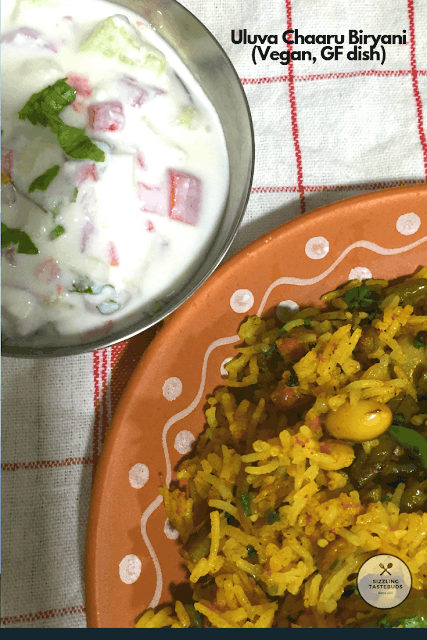 Pin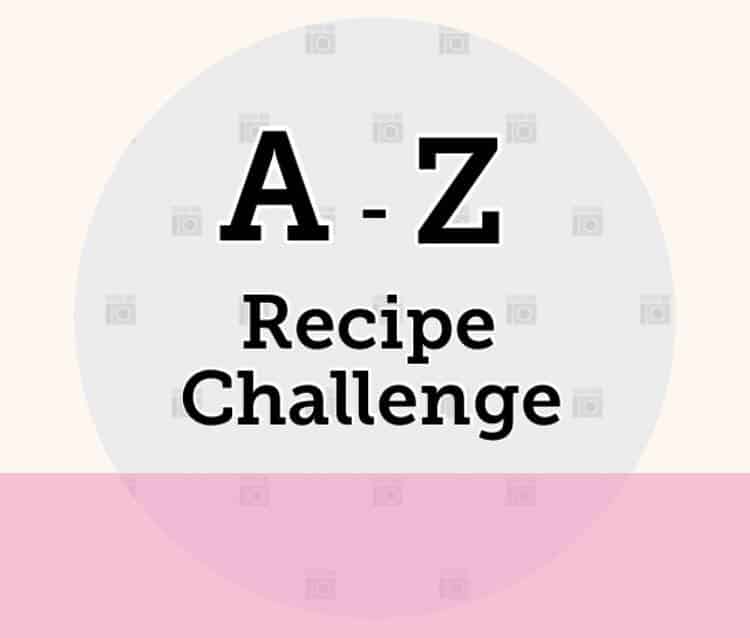 Pin