One of the first dishes that got exported fromSailu's Food intomy kitchen was this spicy and tasty Carrot Garlic chutney  -she is one of my favourite food bloggers and both her writing and Andhra preparations appeal to me 🙂 This dish – Carrot Garlic Chutney – is a favourite in my family and I make this often with Dosa / Adai and use the rest to spread it on bread to make a sandwich etc. Its a lovely scrumptious chutney, and tastes great with hot steamed rice and ghee too 🙂 Loaded with the goodness of beta carotene (from carrots) and Vit B12 from the Pottu Kadalai (fried gram),  this also helps me cut down the coconut required for any chutney. In fact, I have made this with no coconut at all many times in the past without compromising on the taste.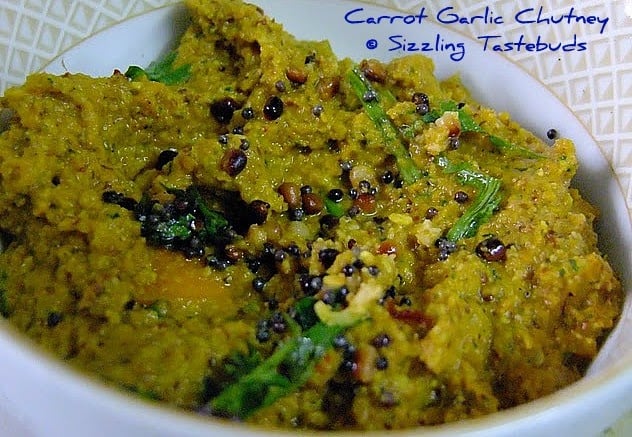 Pin

Update: Sending this to Vardhini's Herbs & Flowers – Garlic Event started by PJ

Other chutneys which you can check out are:Vegetable Peel Chutney,Inji Thogayal (Ginger Chutney)

Prep time : 10 mins. Cooking time : Nil. Serves : 3

Ingredients:
Carrots – 1 large (do not discard the peel) – cubed fine or wafer thin slices.
Red chillies – 1 or 2
Green chillies – 1 (opt)
Garlic – 4 -5 pods (medium)
Green coriander – about 3 TBSP (opt)
Grated coconut – 3 tsp (opt)
Fried gram / Dalia / Pottu Kadalai – 1.5 TBSP
Methi seeds / fenugreek – 1/2 tsp
Tamarind – small lemon sized
Jaggery grated – 1 tsp (opt)
Salt – to taste
Oil – 1 tsp
Tempering :
Oil – 1 tsp, Urad dal – 1 tsp, hing / Asafoetida – 1/2 tsp, Curry leaves – few
Method:
1) In a small pan, add 1/2 tsp of oil. Fry garlic and carrots (and washed peel) together till it leaves a fine aroma. Transfer and cool.
2) In the same pan, add another 1/2 tsp of oil, fry methi seeds, green coriander, red and green chillies and tamarind taking care not to burn the methi seeds. Cool and add fried gram and stir once more.
3) Dry grind ingredients from step 1 and 2 above with salt, jaggery and coconut. Now add very little water and grind to a a chutney consistency – this is thicker than the usual runny coconut chutneys. Transfer to serving bowl.
4) Check for salt. Prepare tempering with the ingredients. Pour on the chutney and serve withKanjivaram Idli/ Dosa /Adai/Akki Rotti or just lap it up with hot steamed rice and ghee !! Slurp !!